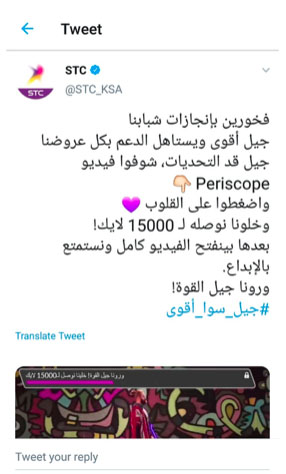 A live campaign was rolled out during the first two phases of the launch. In the first phase, a short video loop enticed people to Like the Twitter live stream on Periscope to reach 15,000 Likes.
Once people tapped on the live stream, it showcased a preview of the hero video with a level bar on top that displayed in real time: "Show us the power of your generation! Let's reach 15,000 Likes".
The unique custom execution that was developed for this particular STC campaign was a world-first activation for us at Twitter, befitting of a big identity unveiling. We're happy to have been entrusted by STC to bring such a prototype to life that was developed by our Creative Technologists in the UK."

Stephanie Terroir, Head of Brand Strategy, MENA, Twitter
Solutions used
Audience targeting
You want your message to be heard by the right person. Let Twitter's targeting capabilities help.