Perspectiva
Comece pela torcida que dá o que falar, e nunca para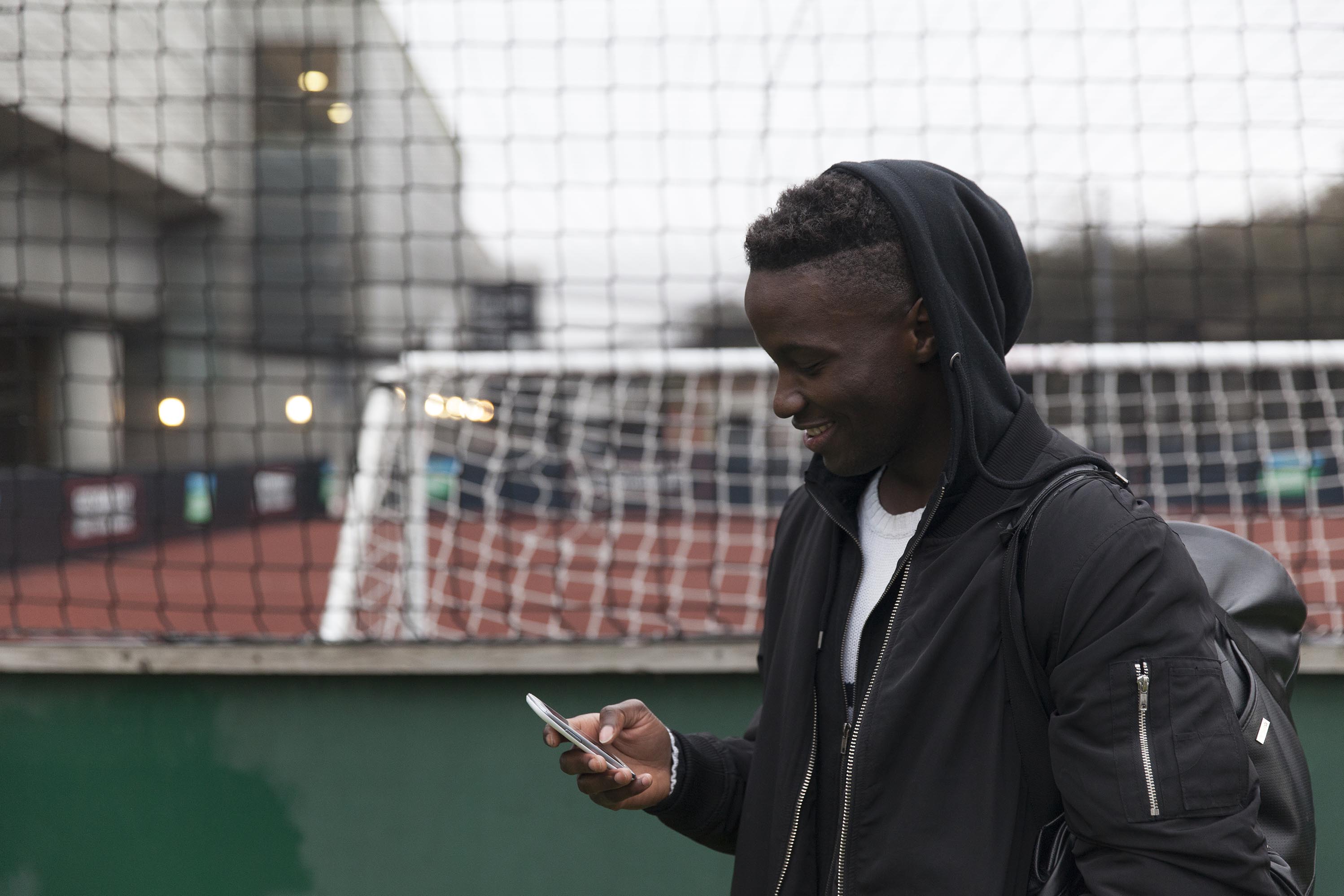 Onze jogadores em cada time, uma bola e noventa minutos de jogo. Os ingredientes da paixão mais Tweetada do Brasil, o #Futebol, estão aí e o alcance desse amor vai muito além das quatro linhas.
Os Loucos por Futebol estão sempre prontos para entrar em campo e ditar, enquanto os jogos rolam ao vivo, o que será comentado nas rodas dos amigos, os temas para as reportagens de revistas e jornais e os memes que o pessoal do trabalho irá falar no bar (até que venha o próximo, claro).
São aqueles que se conectam diariamente em torno do esporte que corre no nosso sangue. Além da legião de torcedores, os Loucos por Futebol englobam os times do coração, seus torcedores e muitos produtores de conteúdo. Uma rede que balança a cada escalação, a cada queda, a cada contusão, a cada vitória, a cada contratação.
Os Loucos por Futebol influenciam as pessoas dentro e fora da plataforma, principalmente na hora de decidir uma compra.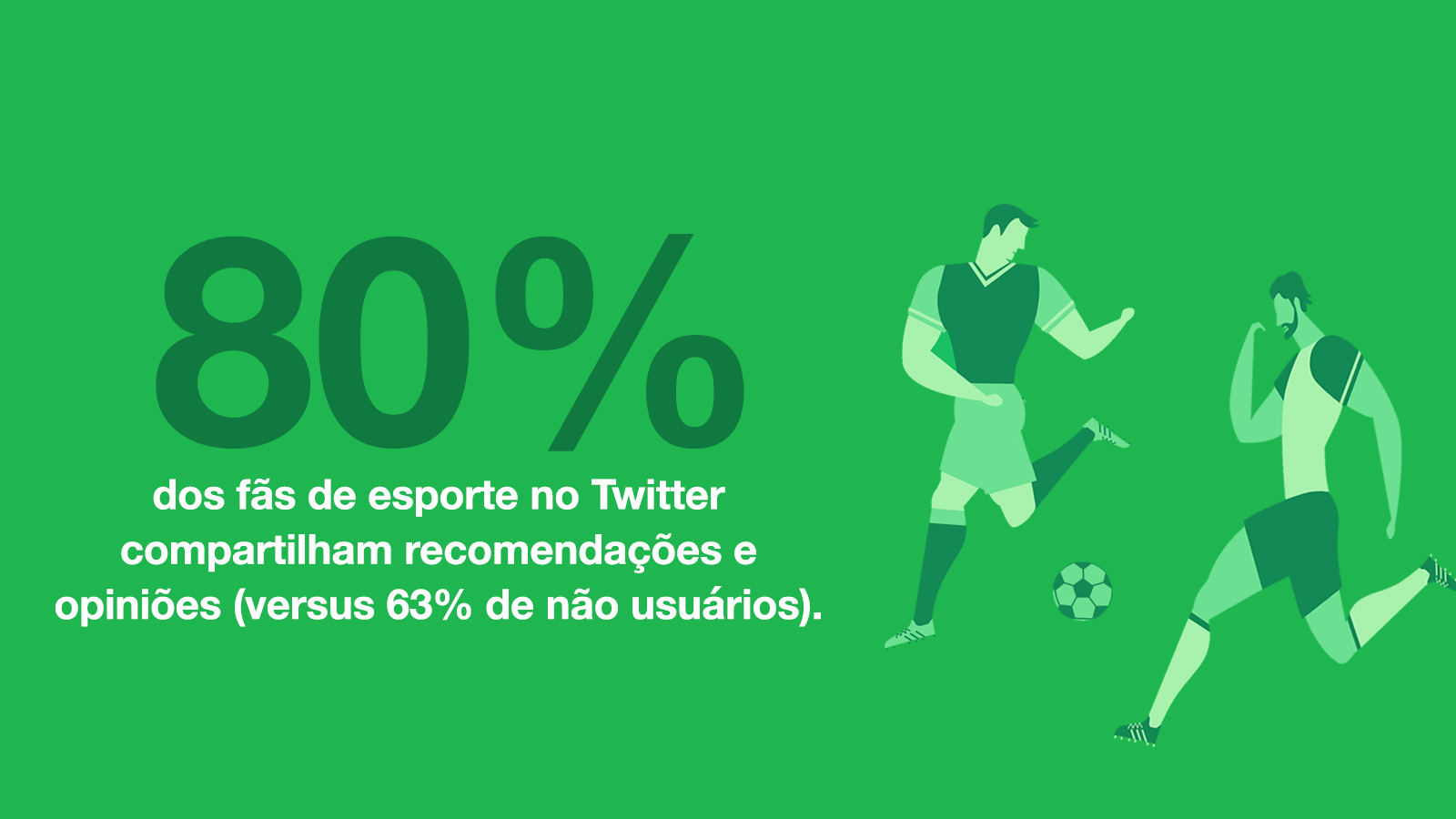 As marcas têm no Twitter o lugar ideal para reverberar campanhas e conceitos. A nossa audiência é influente, gosta de compartilhar e indicará para sua marca o que será consumido agora e no futuro próximo. As pessoas no Twitter ditam o que será tendência.
Não para, não para, não: atenção durante todo jogo, sem respirar
Todo fanático é meio técnico, meio juiz e 100% torcedor. Durante a partida, sugere alterações, expulsa jogador, manda voltar o lance, demite técnico e não desgruda o olho da sua timeline no Twitter.  
Campeonatos estaduais, #Brasileirão, #CopadoBrasil, #LibertadoresdaAmérica. Aqui tem jogo quase todo dia. O que isso significa para sua marca? Que até o juiz dar o apito final vai ter gente assistindo, se lembrando do conteúdo visto e compartilhando informação no Twitter. E as conversas continuam mesmo depois que o jogo termina, até a próxima partida, e assim por diante.
E quando não tem jogo? Os dias não são perdidos para os fanáticos por #Futebol, que acompanham pelo Twitter os treinos, as mesas redondas e todas as análises da TV e da internet. Apaixonado, esse público está de olho nos Tweets oficiais de jogadores e de seus respectivos clubes.
E, é claro,  produzindo muito conteúdo: foram mais de 171 milhões de Tweets mencionando #Futebol só em 2018.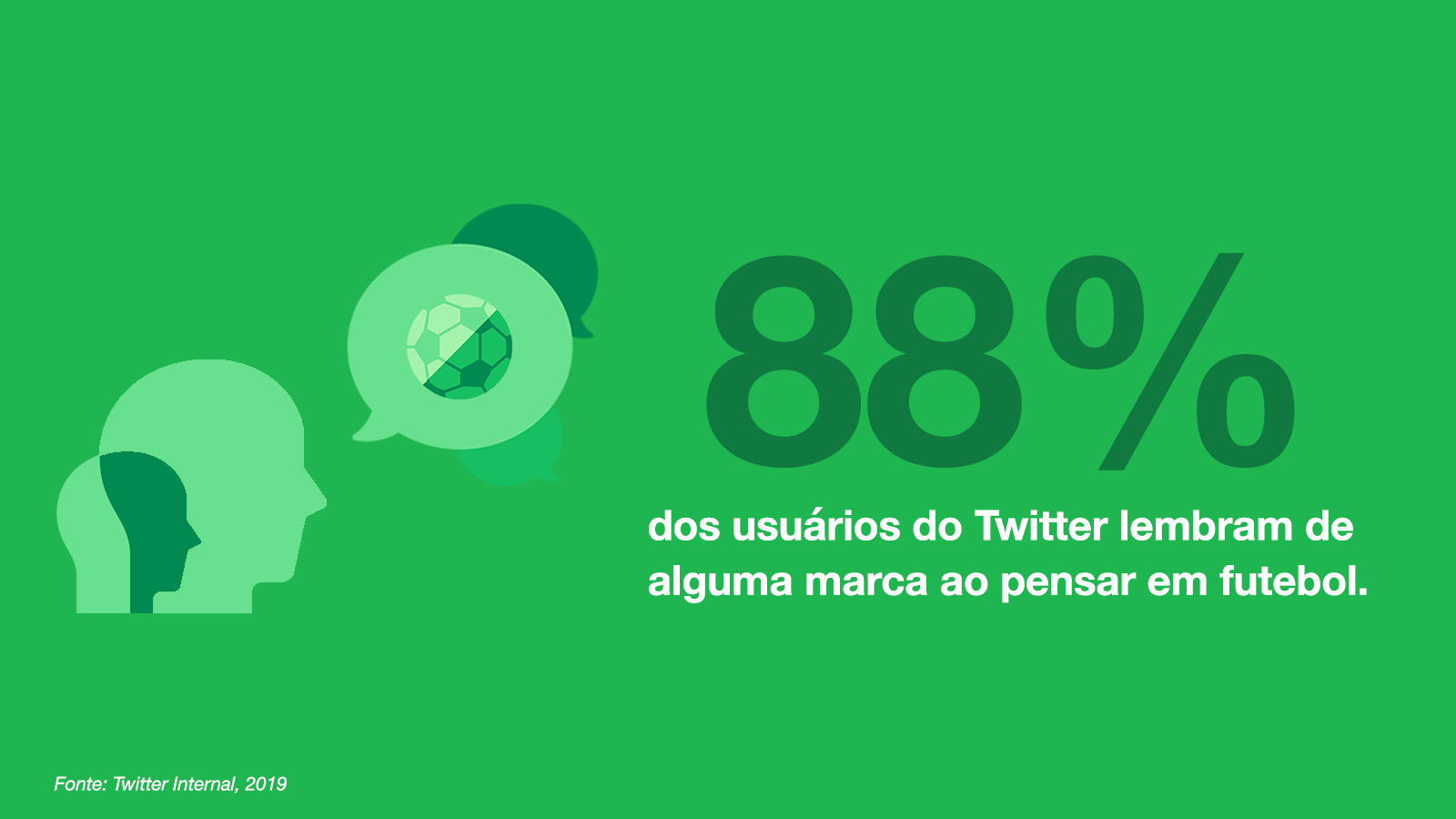 A cada quatro anos ainda tem Copa do Mundo, época em que um festival de Tweets e memes rola solto. E não apenas a Copa masculina: o futebol feminino gera cada vez mais conversa: foram mais de 315 mil Tweets mencionando "futebol feminino" ao longo de 2018.
The zoeira never ends and o resultado aparece
O melhor lugar para uma marca estar é no Twitter também porque, aqui, a diversão e o compartilhamento nunca param. Quando se fala em #Futebol, temos uma fábrica de memes e hashtags que viralizam na velocidade de um atacante driblador na hora do contra-ataque. 
E todo esse universo de engajamento gera resultados para a sua marca: as pessoas do Twitter são 19% mais propensas a comprar um novo produto que a média online e espalham muita conversa, afinal 99% do conteúdo de um time de futebol no Twitter não é produzido por ele mesmo, e sim pelos Loucos por Futebol que estão todos os dias por aqui.