Is your brand ready to connect with football fans?
Football fans chase the action both on the field and on Twitter. An estimated 50 percent of Americans on Twitter follow professional football,1 but the football audience comes to Twitter to connect with their favorite players, get the latest news, and become real-time commentators with other fans. In fact, pro football is the most Tweeted-about league in the US, with 130 million pro football-related Tweets in the last year.2
Twitter is the place to be for fans and for marketers during the biggest game of the season. It's where a predominantly young audience spends the majority of game time talking about everything from the action on the field to the halftime show to big-budget ads. It's the perfect time for brands to join the conversation.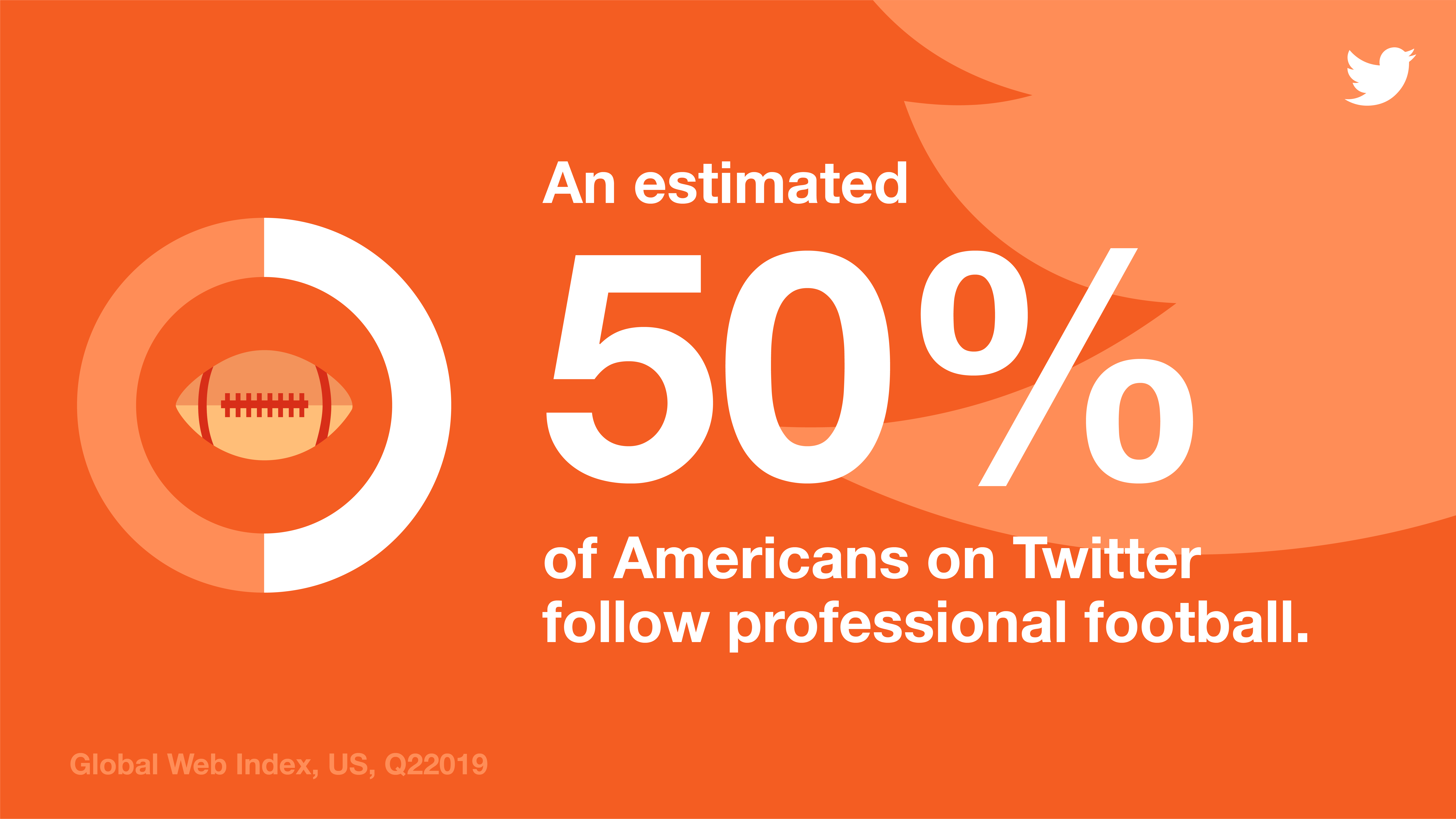 For brands and marketers, being on Twitter during the game is a big score — according to a recent Twitter-commissioned marketing modeling mix study, Twitter delivered 60 percent higher ROI compared to other digital channels measured.3 And in 2019, championship-related Tweets were 320-plus percent more likely to be mentioned in the media versus an average of content from other leading social platforms.4 
Young, engaged, and hungry for pro football-related content, the audience is predominantly made up of Gen Z and millennials. Two-thirds of the postseason audience on Twitter is under 35, while males make up the majority of the conversation on Twitter.5
By tracking the conversation during the game to see who is Tweeting and what they're Tweeting about, marketers have a special opportunity to craft interesting and relevant content for this super-engaged audience.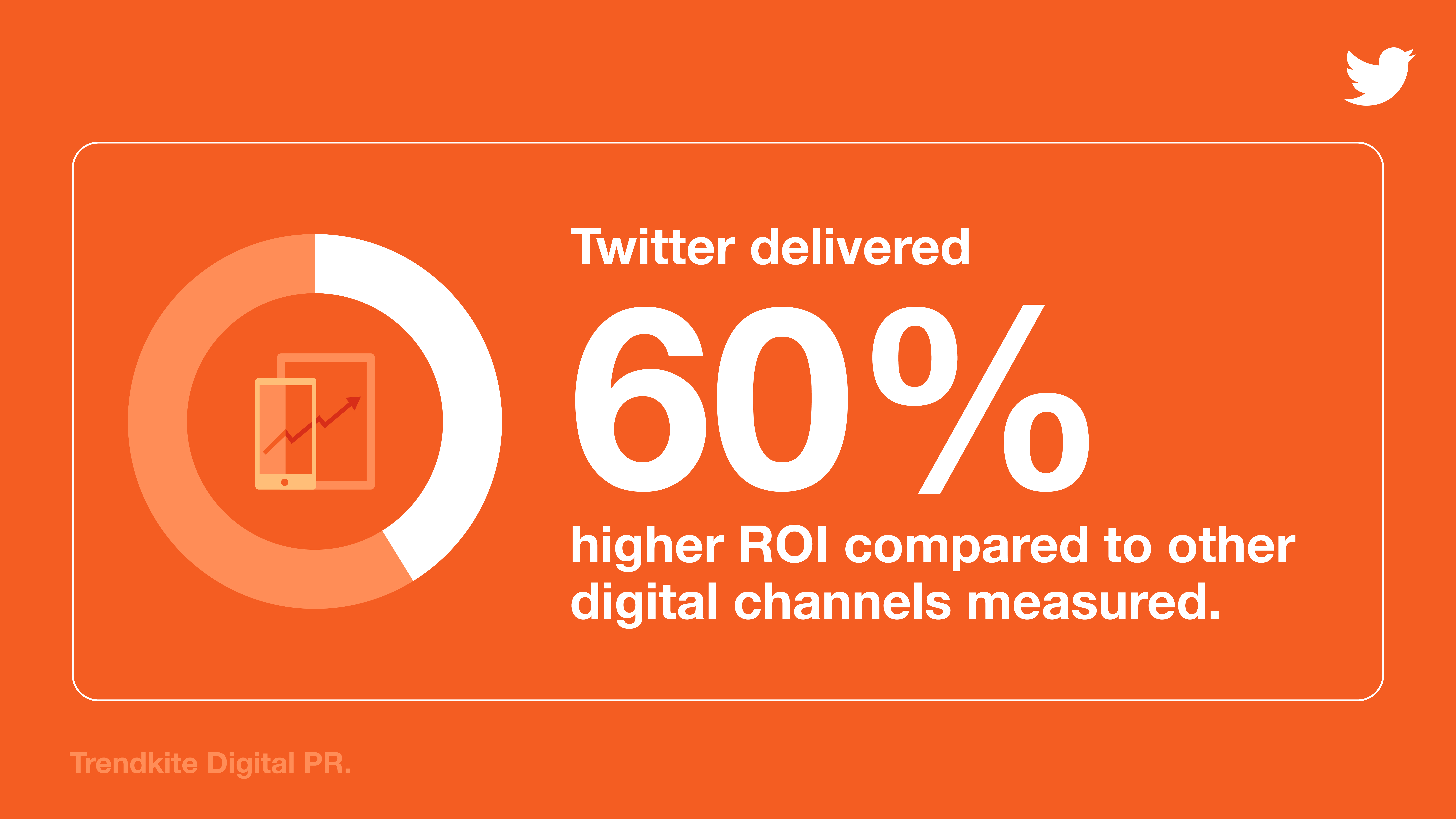 What's everyone talking about on football's biggest night?
As the most Tweeted-about league in the US, most pro football-related conversations capture what's happening in real time — before, during, and after the game. 
According to Twitter data, conversations leading up to the event are centered around nostalgia, superstitions, food and drink, and of course, the teams competing for the trophy.
Come kickoff time, fans on Twitter turn the conversation toward the play-by-play action, the halftime show, and the ads. In fact, ads are the most Tweeted-about topic on game day — historically, they've even received more Tweets than the game itself!6
Knowing when to kick off a campaign
Brands looking to engage with the postseason audience on Twitter should focus on their flighting strategy. Over 50 percent of brand marketing campaigns on Twitter only activate on the actual event day(s), which can hurt rather than help a brand's scheduling strategy. 
Instead, brands should focus on expanding their flight dates to achieve efficiency and impact. Brands that connected during the surrounding days in addition to the event day(s) were likely to see two times the engagement, over 35 percent higher view-through, and three times better cost efficiency.7
To expand their flight dates, today's top brands take a phased approach: 
    1.     Immerse
    2.     Hype (organic and/or paid) 
    3.     Participate (paid) 
    4.     React (paid and organic)
Much like a football team playing for the championship trophy, a marketer's success on Twitter often boils down to having a disciplined, fine-tuned, and flexible game plan leading up to — and on — the day of the game. As one legendary football coach once said, the secret to winning is constant, consistent management.
Footnotes:
1. Global Web Index, US, Q22019
2. Twitter Internal: September 2018 - August 2019
3. *Note: Average media and average social ROIs calculated from studies where individual channel performance was shared for comparison (n=11) Source: Twitter Brand & Category Marketing Mix Modeling Studies (2014-2019) Global results (n=176) Multiple Vendors (Analytic Partners, Annalect, AV&Co, Data 2 Decisions, Ipsos, IRI, MarketShare, MediaCom - Business Science, Market Fusion Analytics, Nielsen, ThinkVine)
4. Trendkite Digital PR. Top Tier article mentions. Data shown is number of articles where each social media company is the only social media company mentioned in that article. Data is global. Comparison vs. competitor avg. Data pulled for 2019 event
5. Source: Twitter Internal, NFL conversation volume, US, Jan. 5 - Feb. 16, 2019
6. Crimson Hexagon, Twitter conversation data, 2019
7. Twitter Internal, Jan 2018-Mar 2019, US campaigns $50K+
The latest marketing insights from Twitter. Delivered right to your inbox.
You're good to go.
Thanks for subscribing.
We'll be in touch soon.