Caso de éxito
@ComedyCentral segmenta a fans y consigue descargas de su app con Tweets Promocionados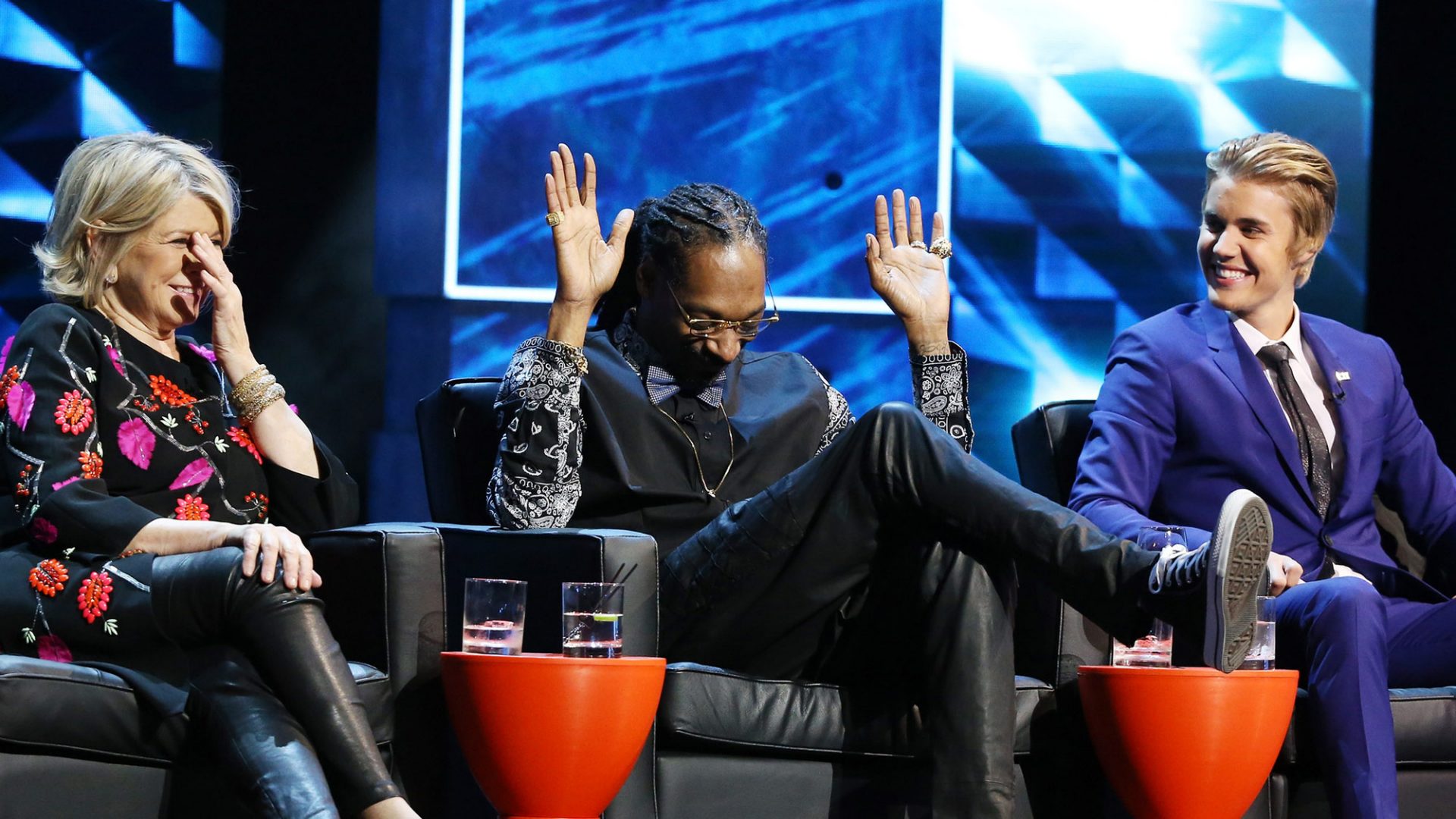 14,5%
tasa de conversión de clics para descargar apps
66%
menor coste por descarga que el objetivo
1,48M
Tweets totales con #BieberRoast en 24 horas
La marca de entretenimiento @ComedyCentral usó Twitter para generar conocimiento días antes del estreno del programa "Comedy Central Roast of Justin Bieber." Inmediatamente después del #BieberRoast, @ComedyCentral pudo segmentar a las personas que estaban hablando del evento y mostrarles un anuncio para instalar la app. 
"Días antes del estreno, observamos una interacción e interés increíbles por el evento en todas las plataformas sociales", dice Grace Low, senior manager, multiplatform marketing en Comedy Central. "Centramos nuestro trabajo en animar a los espectadores a ver la emisión del estreno y a interactuar en conversaciones sociales en tiempo real. Para que el diálogo siguiera activo, pusimos contenido exclusivo en la app de Comedy Central y usamos Twitter como parte esencial de nuestro plan del marketing general para el evento".
@ComedyCentral usó las señales de segmentación exclusivas de Twitter para dirigirse a fans y mostrarles un anuncio de descarga directamente en sus cronologías. Para re-interactuar con los fans que ya habían instalado la app, los anuncios mostraban el botón de "Reproducir" y con solo un toque podían ver directamente el vídeo usando un deep link.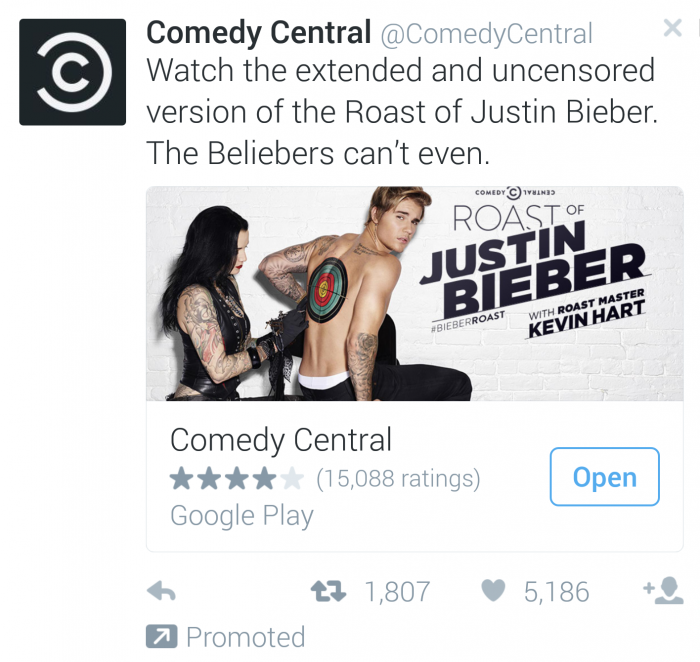 Dirígete a la audiencia con más probabilidades de interactuar con tu contenido. 
La campaña usó una combinación de segmentación por palabra clave, conversación de TV y seguidores del protagonista del evento (@justinbieber). La campaña también segmentó a los seguidores de los participantes en el Roast, entre ellos @snoopdogg, @Ludacris, @MarthaStewart, @SHAQ, @realjeffreyross, @chrisdelia, @hannibalburess, @natashaleggero y el presentador del evento @KevinHart4real.
"Twitter nos proporciona una forma de interactuar con nuestros fans y unirnos a la conversación en tiempo real", dice Shawn Silverman, VP of brand marketing en Comedy Central. "La precisión de la segmentación de Twitter nos permitió dirigirnos a fans de Justin Bieber, fans de los participantes del Roast y a gente que estaba hablando del evento, animándolos a que se descargaran la app".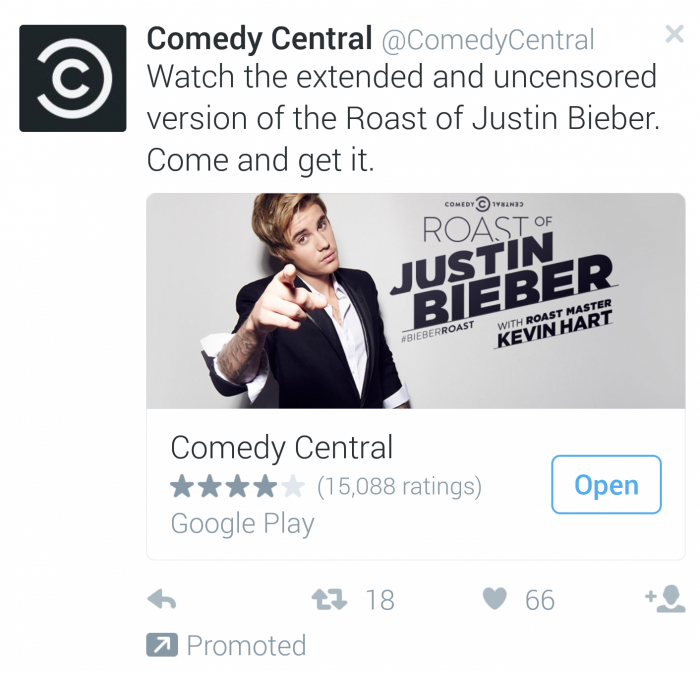 Incentiva la acción con contenido exclusivo. 
Después de que #BieberRoast se estrenase en Comedy Central, una versión extendida del especial estuvo disponible en exclusiva en la app. 
"Inmediatamente después de que el Roast se emitiese, lanzamos una versión extendida y sin censurar exclusivamente para la app", dice Low. "Usamos la segmentación por palabra clave para identificar fans que estaban viendo el especial y enviando Tweets sobre él. Este método hizo posible ofrecer contenido de alta calidad a una audiencia muy interesada. Twitter fue la mejor plataforma que usamos para dirigirnos a esta audiencia a medida que las conversaciones iban sucediendo".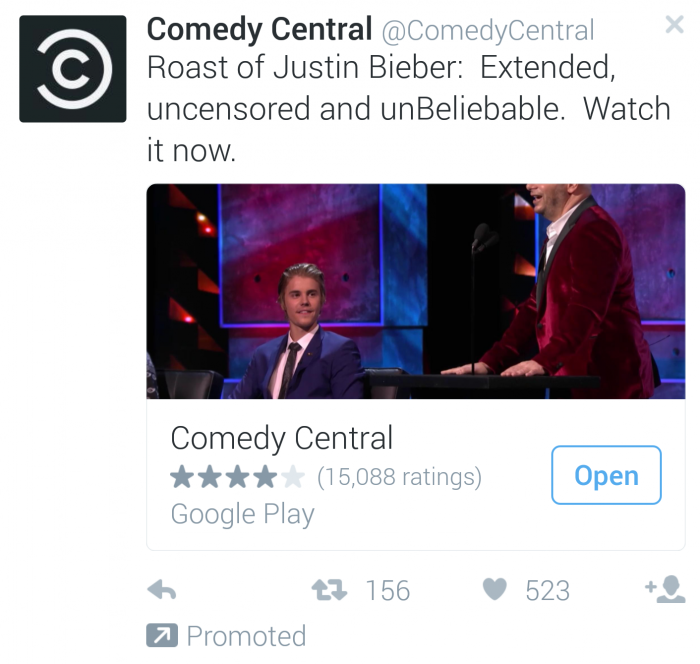 Promueve la interacción con rich media. 
@ComedyCentral tenía muchísimos recursos creativos a disposición de la campaña, desde imágenes personalizadas de Justin Bieber y fotos de famosos que habían usado el Twitter Mirror durante la alfombra roja. En la creatividad de la Image App Card, @ComedyCentral usó fotos de los comediantes y otros famosos que participaron en el programa, además de fotos personalizadas de Justin Bieber.
"La gente en Twitter se desplaza por sus cronologías en busca de contenido, lo que nos da la oportunidad perfecta para promocionar nuestra app", dice Silverman. "Tenemos una audiencia muy atenta en Twitter, y la creatividad del anuncio nos da una gran oportunidad de usar contenido atrayente para dirigirnos a fans de la comedia en sus cronologías cuando están con ganas de descubrir cosas nuevas".

La campaña de Tweets Promocionados dio como resultado un coste medio por descarga de menos del 66 % del objetivo de @ComedyCentral. La precisión de la segmentación generó una tasa de conversión de clics para instalar la app del 14,5 % y se enviaron 1,48 millones de Tweets con #BieberRoast en 24 horas.
"Sabíamos que iba a ser un verdadero momento de cultura popular y queríamos estar allí donde estuviesen nuestros fans: en Twitter, hablando de Justin Bieber y el Roast", dice Low. "Pudimos dirigirnos a millones de fans en tiempo real y ofrecerles un anuncio sin salirnos del tema y manteniendo la relevancia, lo que resulto de gran importancia para el éxito de la campaña".
Los productos para la promoción de apps móviles de Twitter nos permiten conectar con los fans que están más dispuestos a interactuar con la app de Comedy Central. Al aprovechar la segmentación granular, junto a un tipo de creatividad que promociona contenido de video exclusivo en la app, hemos observado un rendimiento excepcional.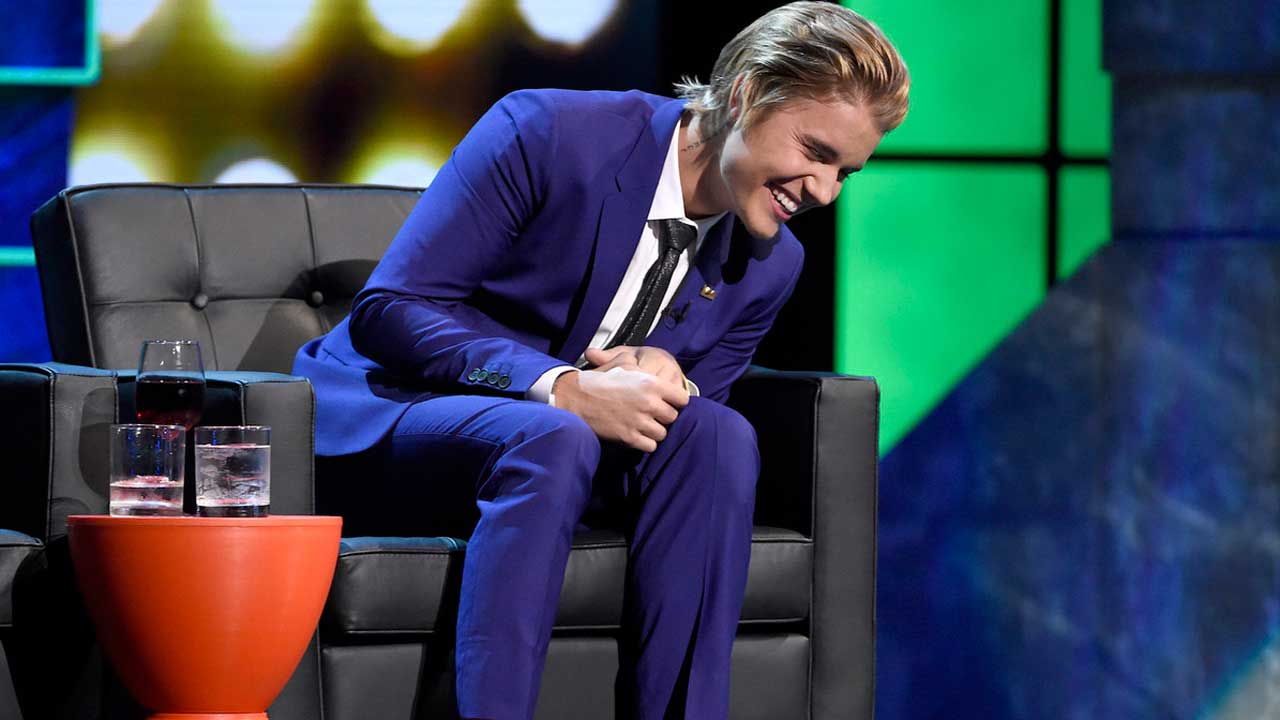 Crecimiento de apps móviles
Haz crecer tu app móvil llegando a una audiencia receptiva que siempre está buscando descubrir cosas nuevas.
Las marcas se están conectando con la gente en Twitter de manera única y creativa, y tú también puedes.