Case Study
#ConBBVATúMandas, conoce cómo BBVA logró impactar a su audiencia de forma efectiva y eficiente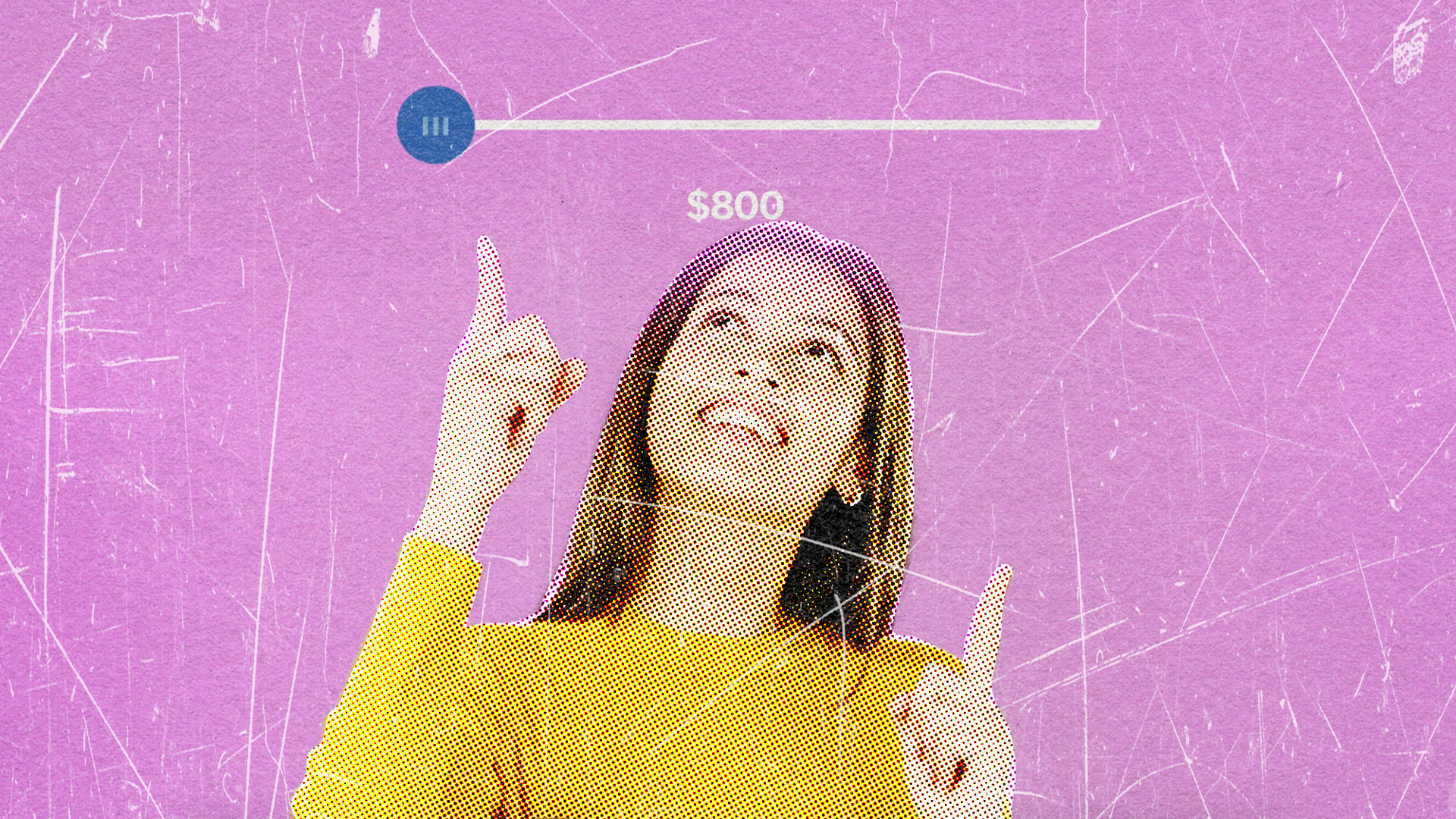 +29M
De impresiones totales de la campaña
90.5%
de reach on target en el segmento de 25-49 años
40%
De las personas en Twitter tienen la app de BBVA como top of mind
Mientras las big tech han comenzado a incursionar en los servicios financieros representando una nueva competencia para la banca, BBVA tenía el reto de reforzar su liderazgo en la banca digital y posicionarse en el mercado como punta de innovación tecnológica con una experiencia diferenciada que ofrece a sus clientes facilidad y accesibilidad en su vida cotidiana.
Esta acción se logró mediante la introducción de una característica específica en su aplicación móvil, convirtiéndola en un asesor financiero que oriente a los consumidores a tomar las mejores decisiones financieras mediante un simulador de intereses, una innovación que calcula cuántos intereses se pagarán de acuerdo al pago correspondiente elegido en tu tarjeta, adaptando así el gasto con tus necesidades.
Con esta nueva característica, BBVA se posiciona como un líder en innovación tecnológica de servicios financieros, con una experiencia valiosa y única de fácil acceso en el día a día para sus consumidores, elevando la confianza que ya tenían con sus clientes. 
Para crear awareness en el lanzamiento de la nueva función de Simulador de Intereses de la aplicación móvil de BBVA y posicionar al Banco como un líder en la innovación de tecnologías financieras, en conjunto con Twitter se llevó acabo un takeover mediante una Tendencia Promocionada de Spotlight con el hashtag #ConBBVATúMandas por medio del cual la campaña contó con gran alcance y visibilidad el día del lanzamiento (16.2M impresiones, +57% vs el benchmark). 
La audiencia objetivo de este proyecto estaba constituida por personas de 25 a 45 años de edad, ya que este segmento tiene un mayor nivel de digitalización y cuenta con un mayor consumo en su capacidad de crédito; por lo que fieles a los objetivos de posicionamiento y awareness antes señalados; BBVA y Twitter crearon una estrategia basada en video conectando con contenido relevante y atractivo para este segmento a través de una campaña de pre-roll: Twitter Amplify Preroll.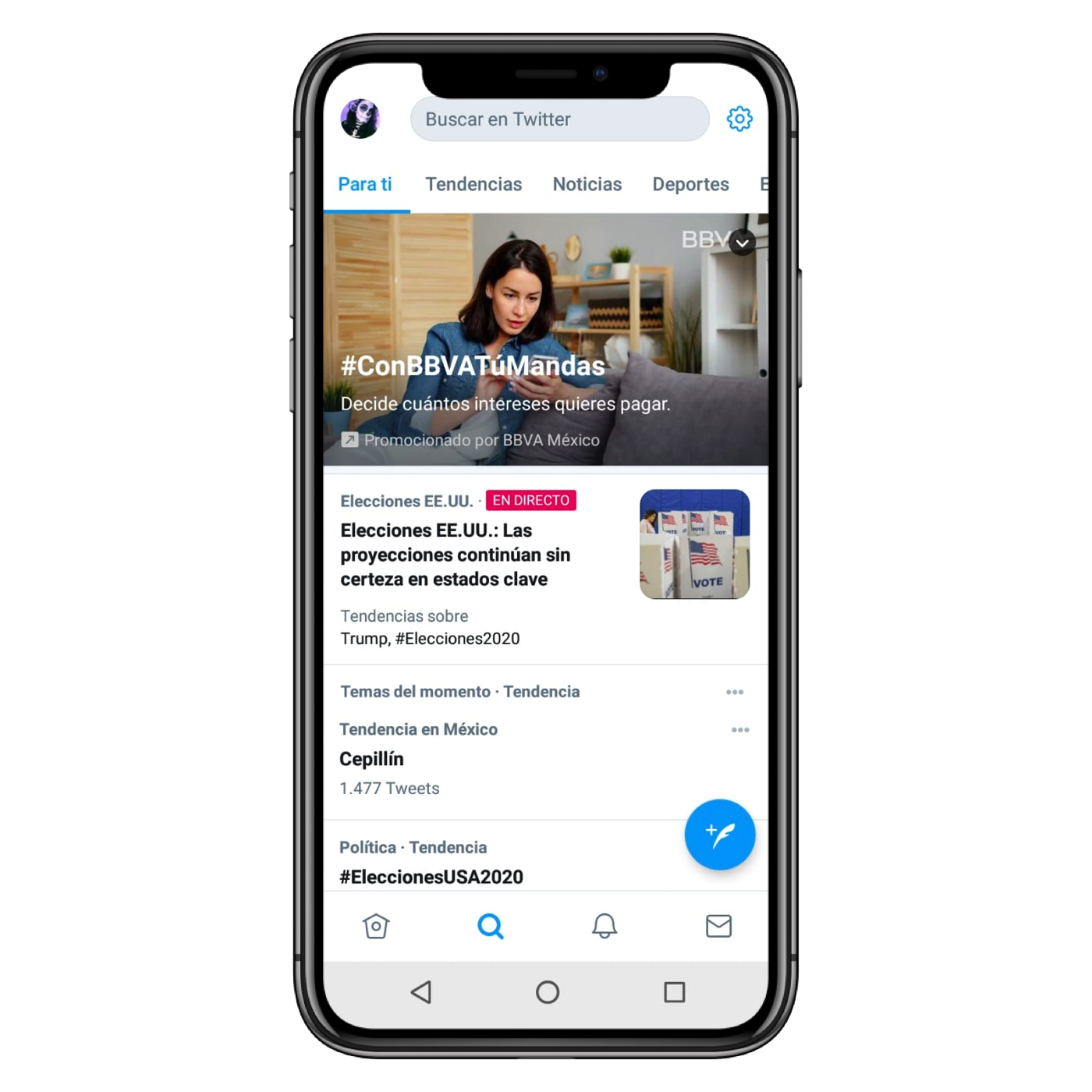 Mediante este takeover el lanzamiento de la nueva característica de la aplicación móvil de BBVA generó un gran awareness.
Video Promovido y Amplify Pre-Roll
Con el poder del video se logró impactar a una audiencia entre los 25 y 45 años.
Ayudando al mantenimiento de la campaña, este Tweet Promovido comunicaba los puntos clave de la nueva característica, sumando a la asociación de mensaje.
Apoyados en los resultados de los estudios de Brand Effect y DAR (Digital Ad Ratings) con los cuales se midió la campaña, demostramos la efectividad de Twitter para entregar impresiones en la audiencia objetivo; ya que el 90.5% del total de las 29.5M de impresiones se entregaron a este segmento, representando un 1.64X (64%) más que la otra plataforma programática medida durante esta campaña.
El posicionamiento de BBVA se vio afianzado a través de esta campaña ya que la asociación con el mensaje principal "Tú mandas y decides cuántos intereses quieres pagar" mostró un incremento significativo en Twitter dentro de una audiencia específica (25-49 años): de 25% a 32% en Video Viewers y de 28% a 38% en los que interactuaron con el anuncio; mientras que en la otra plataforma que medimos, el lift fue de 19.7% a 24% en Brand Awareness.
Por medio de esta campaña constatamos que BBVA es el líder en México en banca móvil ya que, en promedio, 40% de los usuarios de Twitter tienen esta app bancaria en top of mind; mientras que el competidor más cercano se encuentra 3 posiciones abajo (con en promedio únicamente el 16.8% de los usuarios que lo tienen top of mind).
De igual manera, este reach on target obtenido por BBVA a través de Twitter fue superior a:
1. La norma de 62% de este estudio - Digital Ad Ratings para campañas similares.
2. La norma de 84% que Nielsen tiene para Digital Ad Ratings para campañas similares en Twitter.
3. La norma de 75% que Nielsen tiene para Digital Ad Ratings entre 25-44 años para campañas similares en México.
4. La norma de 73% de Digital Ad Ratings para campañas de Servicios Financieros en LATAM.
5. La norma de 58% de Digital Ad Ratings para campañas de Servicios Financieros en México.
El objetivo principal de esta campaña fue comunicar la más reciente innovación de la app BBVA y el beneficio que otorga a nuestros clientes: la posibilidad de tomar mejores decisiones sobre su dinero. Este enfoque fue crucial para mostrarle a los mexicanos que nuestra app evolucionó, y se convirtió en una especie de asesor financiero que puede ayudarlos a mejorar la salud de sus finanzas. Sin embargo, nos enfrentamos al reto de transmitir este mensaje de manera eficiente para modificar las percepciones de nuestra audiencia objetivo. Y es aquí donde Twitter resultó ser un gran aliado, pues juntos presentamos un reach on target de más del 90%, logrando que nuestros esfuerzos de comunicación fueran realmente efectivos y reafirmando nuestro posicionamiento como líderes de la banca móvil en México.
Segmentación de audiencias
Quieres que tu mensaje llegue a las personas correctas. Las capacidades de segmentación de Twitter te ayudarán a lograrlo.
Crecimiento de aplicaciones móviles
Acércate a una audiencia receptiva que siempre busca descubrir cosas nuevas para hacer crecer tu aplicación móvil.