Insights
Twitter es el lugar para conectar con las audiencias que aman ver contenido en streaming

La conversación sobre el contenido de streaming está en Twitter
Podríamos apostar que últimamente le has dado "Me gusta" a algún Tweet sobre una de tus series favoritas y la verdad es que es una apuesta fácil, ya que en Twitter la comunidad sobre el contenido de streaming es enorme (sólo 9% de las personas en Twitter no tienen un servicio de streaming). 1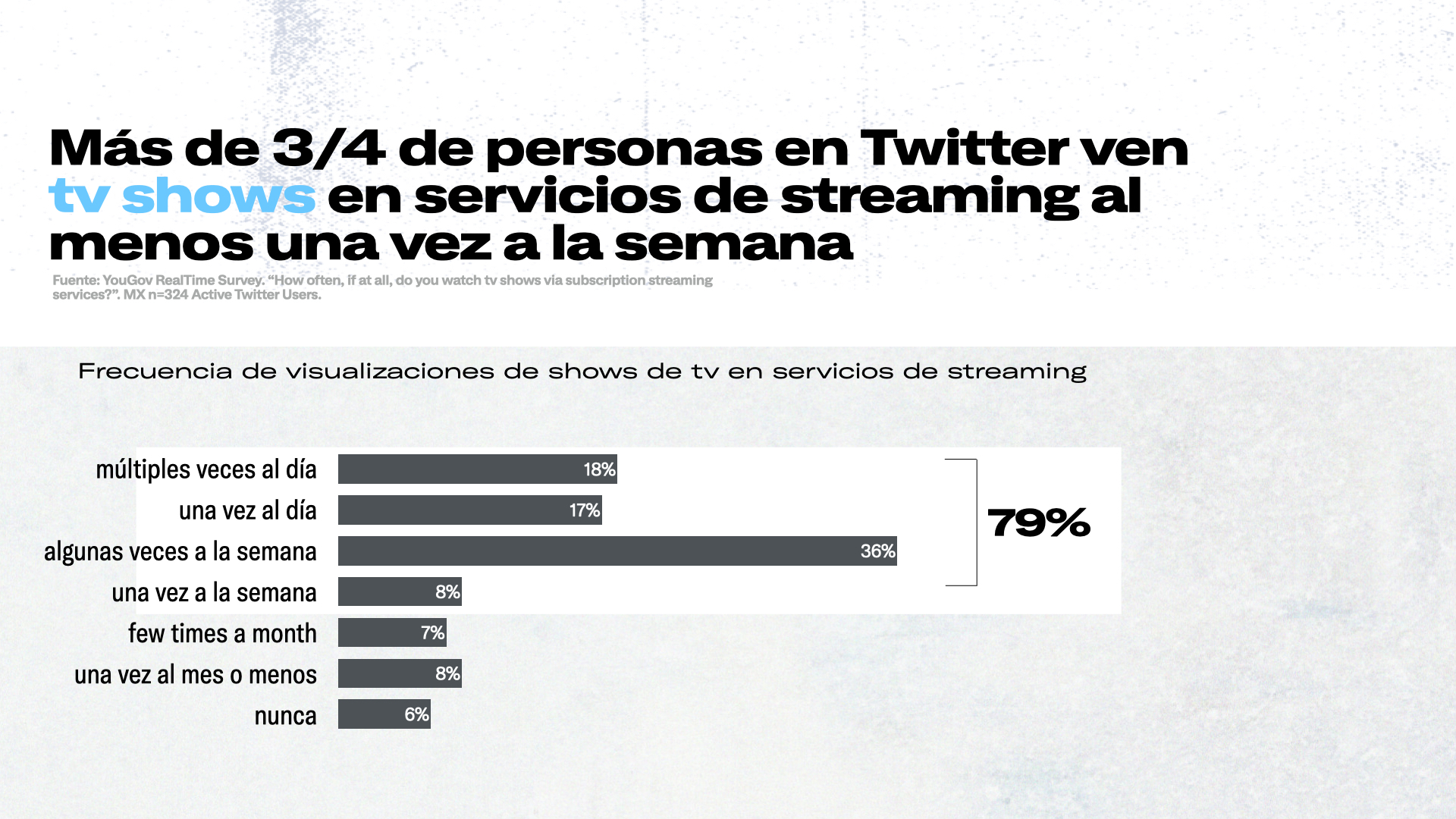 Lo más impactante, y es algo que también sabemos de hace un tiempo, es que más de la mitad de personas en Twitter están en la doble pantalla en social media mientras están viendo contenido en streaming, nada nuevo ya que en Twitter las conversaciones sobre lo que está pasando y es tendencia ocurren constantemente, esto lo vemos en estrenos, con reacciones cuando suceden plot twists y al final de los capítulos ya que las personas comparten su reacción y comentarios.

Para darnos una idea de la inmensa conversación, desde agosto del 2021 ocurrieron 5M de Tweets acerca de contenido en streaming.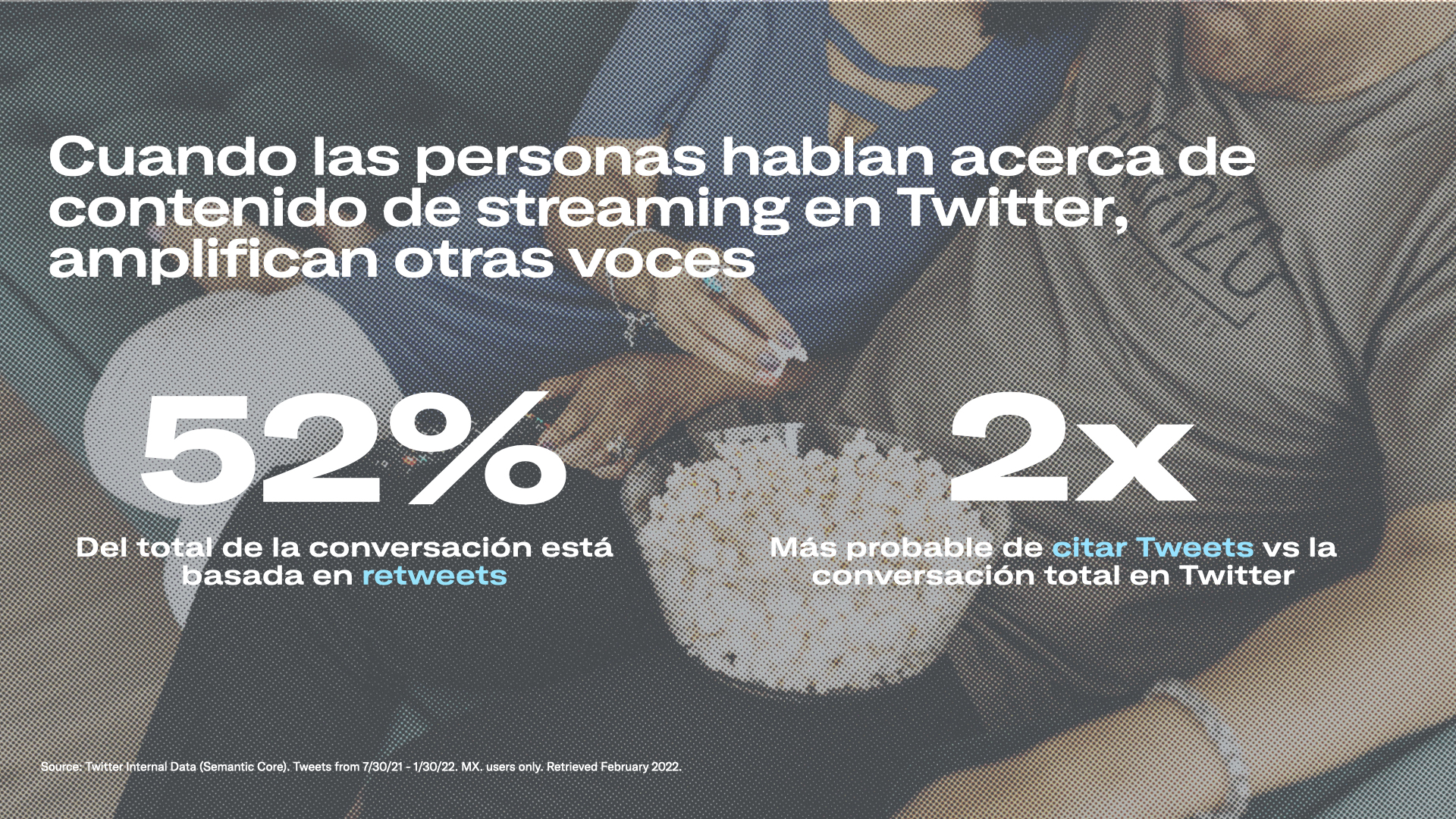 También descubrimos que las personas que están en Twitter mientras están viendo contenido en streaming están aquí por varias razones; el 37% está en Twitter para descubrir nuevo contenido, el 35% para encontrar comentarios en vivo sobre sus series y contenido, otro 35% para compartir opiniones, 25% para ver reviews y el 20% para seguir al reparto de actores. 2
 ¿Quiénes y cómo son las personas en Twitter que les gusta ver contenido en Streaming?
Vayamos de lo general a lo particular, pero empecemos mencionando que 83% de las personas en Twitter están viendo contenido de más de un servicio de streaming, esto nos habla de la preferencia y por qué las personas en Twitter valoran las plataformas de streaming, ya sea por la conveniencia de consumir contenido a su propio ritmo, por la exclusividad de este o porque pueden verlo desde cualquier dispositivo.
Hablando de edades, comportamientos y preferencias, la conversación sobre streaming está dirigida por una audiencia diversa y joven, más de la mitad de las personas en Twitter hablando sobre streaming tienen menos de 35 años, están interesadas en música, eventos, deportes y gaming.
Si hablamos sobre qué tipo de contenido prefieren las personas en Twitter, encontraremos que el 45% prefiere nuevo contenido, incluyendo contenido original de las plataformas (+13% más probable vs usuarios de otras plataformas sociales), 24% contenido nostálgico o series de televisión y películas anteriores, 10% deportes en vivo y 9% reboots o remakes de clásicos.
Para recapitular, la dupla de Twitter y contenido de streaming nos ha enseñado que:
Muchas personas en Twitter ven contenido de más de un servicio de Streaming.

Las personas en Twitter valoran la conveniencia y facilidad que los servicios de Streaming ofrecen.

Twitter es el lugar para conectar con el contenido en streaming.

Las conversaciones se amplifican con facilidad.

La conversación es dirigida por una audiencia joven y diversa.
Footnotes:
1.  Source: YouGov Realtime data. MX only. Question: Which, if any, of the following streaming services have you ever watched content from? This includes services you're subscribed to and services you've watched content from". n=211

2. Source: YouGov RealTime Survey. "Which, if any, of the following describe why you use Twitter while watching streaming services?". MX n=154 Active Twitter Users. 
3.  Source: YouGov RealTime Survey. "Which, if any, of the following reasons best describe why you watch content on streaming services?". MX n=324