Perspectiva
Crear relevancia cultural para sobresalir: el reto de las marcas hoy en día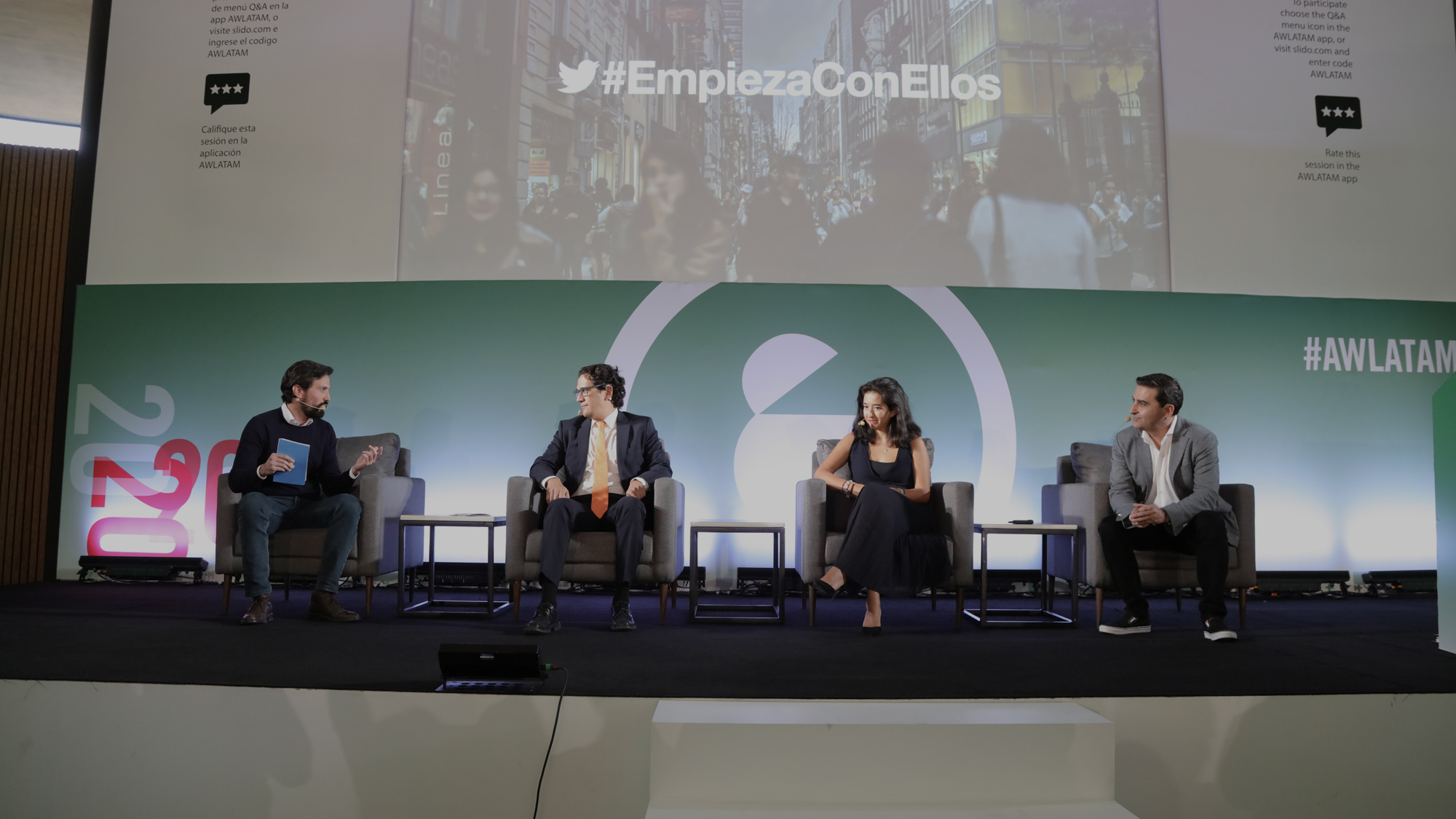 Descubre cómo tu marca puede conectar con las personas al centro de lo que está pasando
Twitter es lo que está sucediendo en el mundo y de lo que las personas están hablando.
En la actualidad, las marcas necesitan hacer más para abrirse paso, desarrollar relevancia y permanecer en la mente de sus consumidores. Todo comienza con las personas con las que tu marca conecta, y si está pasando en el mundo sucede primero en Twitter.
Las audiencias en Twitter tienen una mentalidad única, marcan un camino en torno a la conversación, moldean la cultura y se apoyan unos a otros. Es así como las marcas pueden conectar con lo que está pasando, justo en el momento que sucede.
Las personas van a Twitter porque no se quieren perder ningún detalle de lo que está pasando, desde eventos deportivos, las noticias más importantes del día hasta la nueva temporada de su serie favorita. Y lo decimos en serio cuando decimos que no se pierden nada, respecto a los deportes el 81% de las personas en Twitter dijo que les gusta ver anuncios que se unen a la conversación de los juegos deportivos que ocurren en el momento, a comparación del 69% de las personas que no están en Twitter. 
Hablando de entretenimiento, el 63%1 de las personas en Twitter que ven televisión dicen que son más apasionadas y conocedoras de las marcas que una persona promedio, a diferencia del 32%1 de las personas que no están en Twitter.
Y si hay una noticia importante lo supiste primero por Twitter, ya que tenemos 262%2 más menciones de contenido sobre momentos culturales y noticias que en otras plataformas.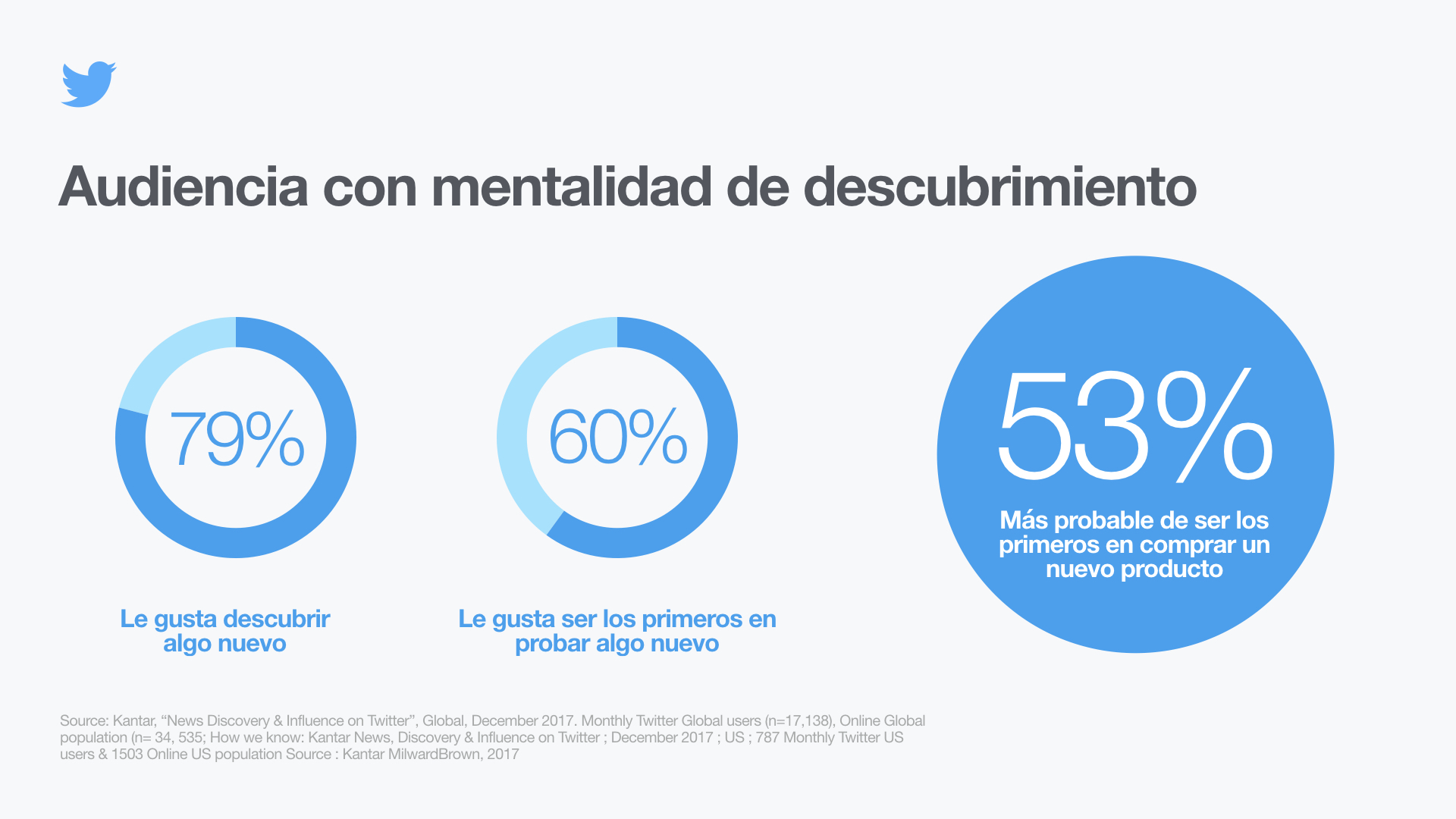 Hacemos a Twitter más conversacional para que las personas puedan ver y platicar sobre lo que está pasando
Para Twitter es importante que las personas vean y hablen de lo que está pasando y con el objetivo de contribuir a la salud de la conversación pública, buscamos hacer de Twitter un lugar más seguro con la búsqueda de mejoras y actualizaciones. En los últimos meses del 2019 anunciamos "Temas", con el fin de que sea tan fácil seguir los temas que te interesan como seguir una cuenta, y así estar informado sobre tus temas favoritos y lo que sucede alrededor de ellos. Por el momento se tiene 1,000 temas de inglés en producción y 374 en español y contando para que en Twitter veas lo que más te interesa.
Junto a la selección de temas, también invertimos en "Listas", esta función permite seguir un grupo de cuentas específicas según los intereses generados por los clientes. Puedes crear tu propia lista o suscribirte a listas creadas por otros usuarios. Como resultado, más gente se une a Twitter día con día, obteniendo un incremento del 21%3 de usuarios únicos monetizables, el mayor crecimiento durante los últimos dos años.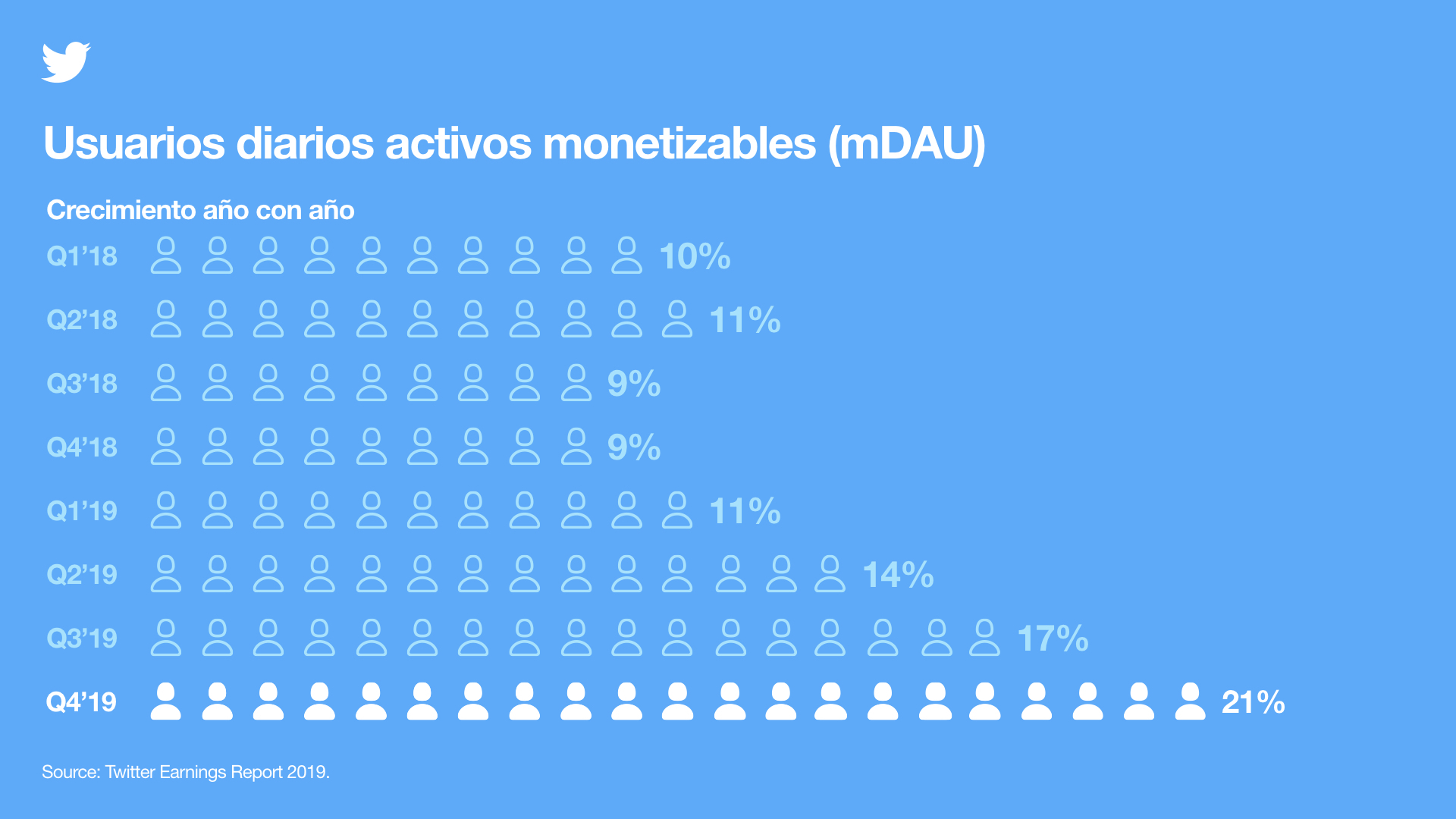 Ya sea que lances algo nuevo o te unas a la conversación, conecta con las personas al centro de lo que está pasando.
Twitter es el lugar donde está la gente que quiere ver y hablar de lo que está pasando, se convierte de importancia para las marcas, porque si lanzaste algo y nadie está hablando al respecto, ¿realmente lo lanzaste? 
Como marca siempre debes pensar en tu mercado y en qué debes hacer para mantenerte dentro de las opciones de tu cliente, ya que según encuestas el 77%4 de las marcas podrían desaparecer mañana y nadie lo notaría, ¿crees que tu marca seguiría en la mente del consumidor?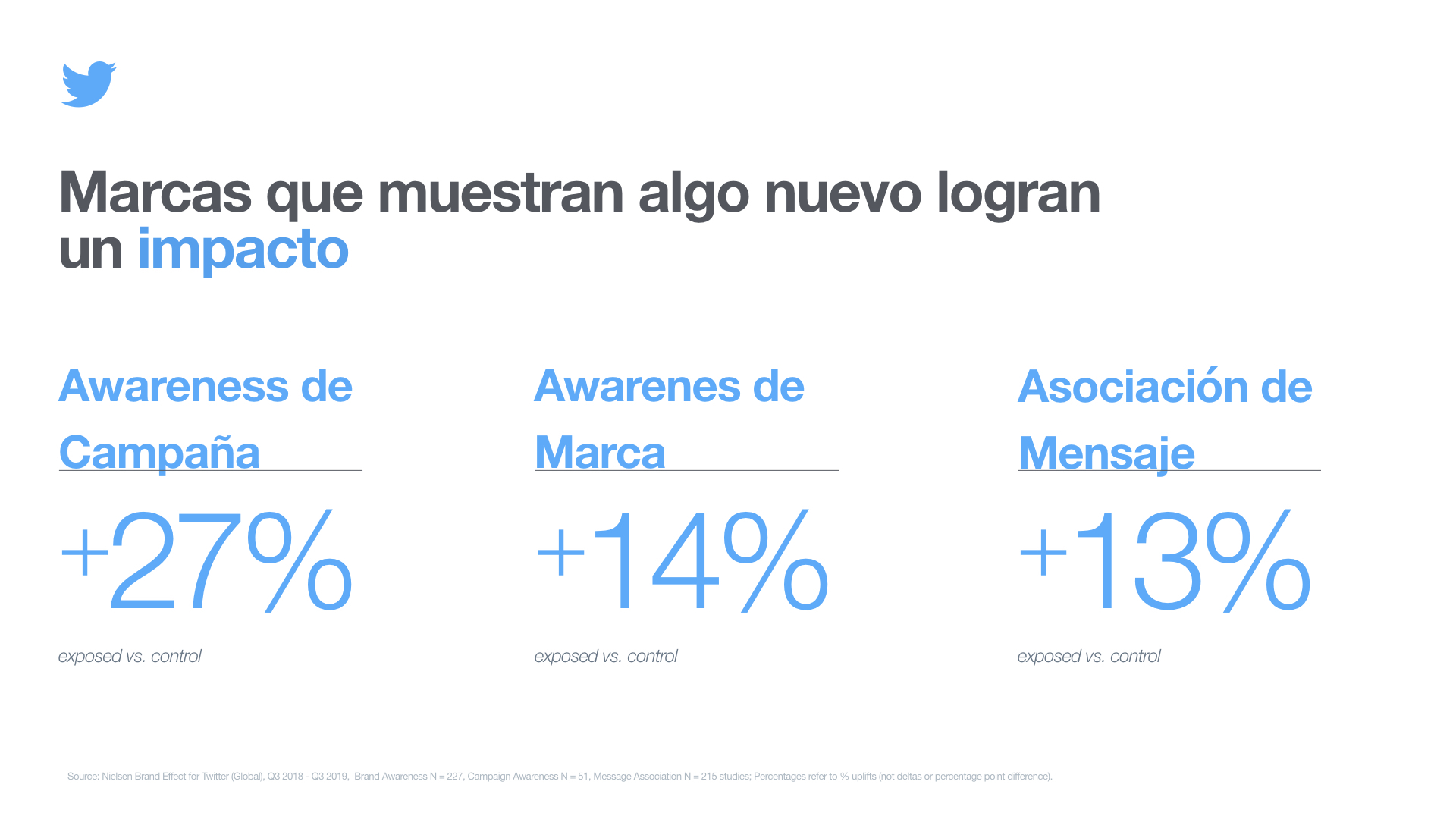 Es por eso que Twitter se ha convertido en el lugar ideal cuando se habla de algo nuevo qué lanzar. Líderes de lanzamiento son 2.35 veces más propensos realizar lanzamientos en Twitter para lograr satisfacer a ese 79%6 de la población que declaró que entran a Twitter porque les gusta descubrir algo nuevo.
Y es que la audiencia que está en Twitter acelera el avance de tu lanzamiento y amplifica la relevancia cultural de lo que tu marca está haciendo, siendo Twitter el lugar al que van para hablar sobre las novedades y lo que sucede en el mundo.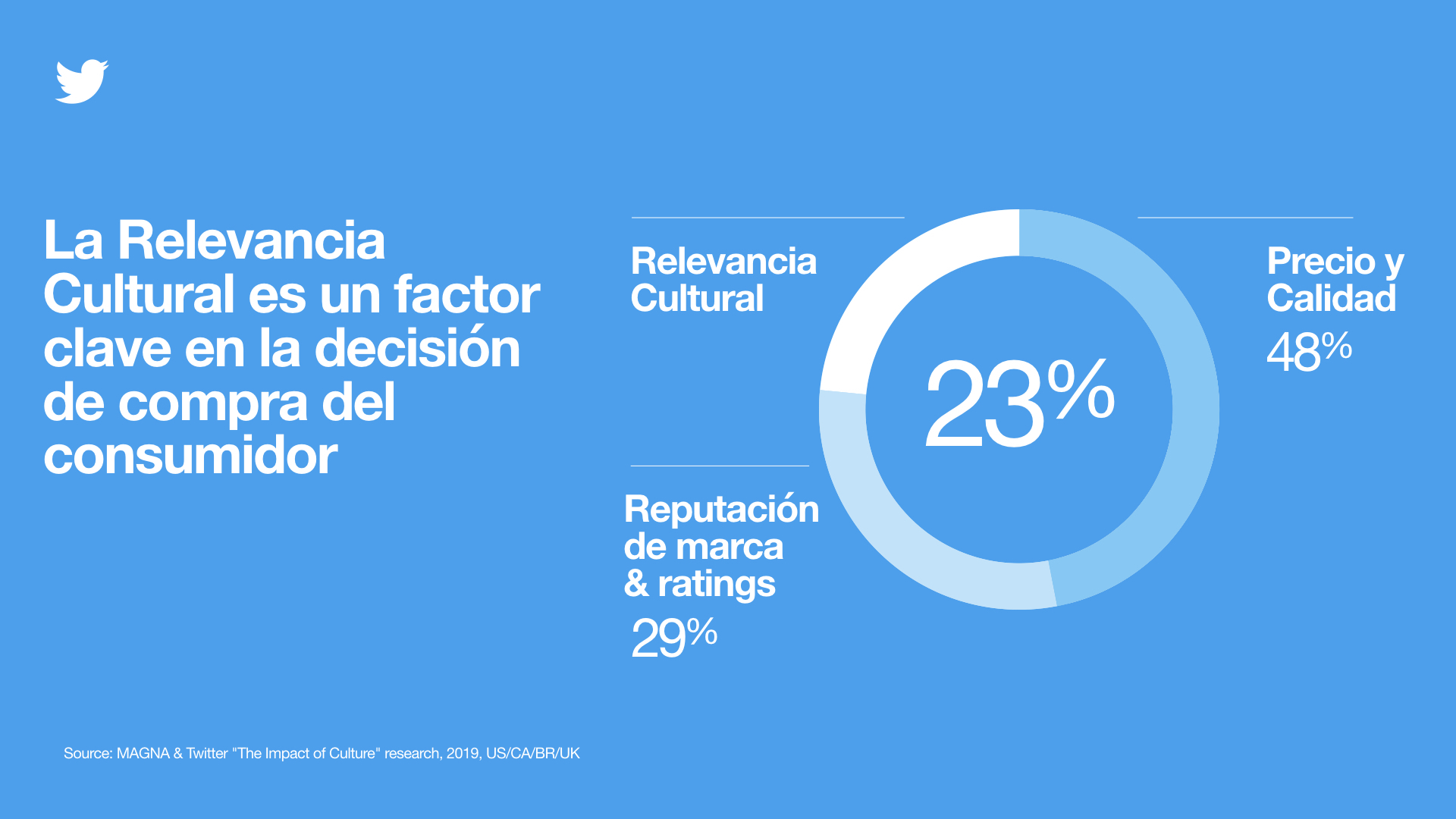 Las marcas que muestran algo nuevo se abren paso entre las audiencias, pero eso no es suficiente. Necesitan construir relevancia y mantenerse en el top of mind de las personas. Observamos que las marcas tienen éxito no sólo abriéndose camino cuando lanzan algo nuevo, además conectan con lo que está pasando y esto pasa porque las marcas no solo hablan 'A' ellos, sino que hablan CON ellos y es ahí cuando las marcas que se conectan con lo que está pasando en Twitter se unen a la conversación y generan relevancia cultural motivando a la decisión de compra.
¡Sigue a @TwitterMktLatam para conocer más de #EmpiezaConEllos!
1 Kantar, Twitter Research Study, December 2017, Mexico
2 MAGNA & Twitter "The Impact of Culture" research, 2019
3  Twitter Earnings Report. Q4 2019
4 Encuesta sobre marcas importantes, Havas
5 Fuente: Bain & Company, encuesta a profesionales de marketing sobre lanzamientos 2019, EE. UU., n=650
6 Fuente: Kantar, "News Discovery & Influence on Twitter", todo el mundo, diciembre de 2017. Usuarios mensuales de Twitter en el mundo (n=17 138), población mundial en línea (n= 34 535).