Case Study
Cadbury sparks chocolate 'stock market' fever with dynamic Twitter campaign

97
consumer press articles
2.3X
expected engagements
Having already run the first-ever presale for a new chocolate bar in 2020, @CadburyUK was keen to scale up this concept with an exciting campaign for another new product. 
Aware that cryptocurrency and investing are hugely popular conversation topics on Twitter, it saw the opportunity for a tongue-in-cheek interactive campaign to excite chocolate lovers about the launch of its new limited edition Wispa Gold Hazelnut bar.
Taking inspiration from young people's invasion of the once stuffy, stale and (occasionally) boring world of finance and trading, @CadburyUK decided to not only launch a chocolate bar, but let the nation invest in it.
With chatter on social media throughout the year focused on the un-foldings of the latest meme stock and whatever Crypto coin was trending, @CadburyUK saw an opportunity to align their golden product with this exciting cultural shift.
They positioned #WispaGoldHF as 'A New Type Of Gold' as if it was a sought-after commodity. The perfect position for this new Limited Edition bar. 
Exclusively breaking on Wispa News, a live stream on Twitter, chocolate fans desperate to get their hand on the golden payout, could buy a #WispaGoldHF 'share' in Cadbury's 'New Type Of Gold.'
Over two weeks, chocolate traders were able to watch the value fluctuate and receive daily updates on their shares live and direct from the @CadburyUK Twitter account.
At the campaign end, delighted shareholders received six bars and a certificate in a branded gift box.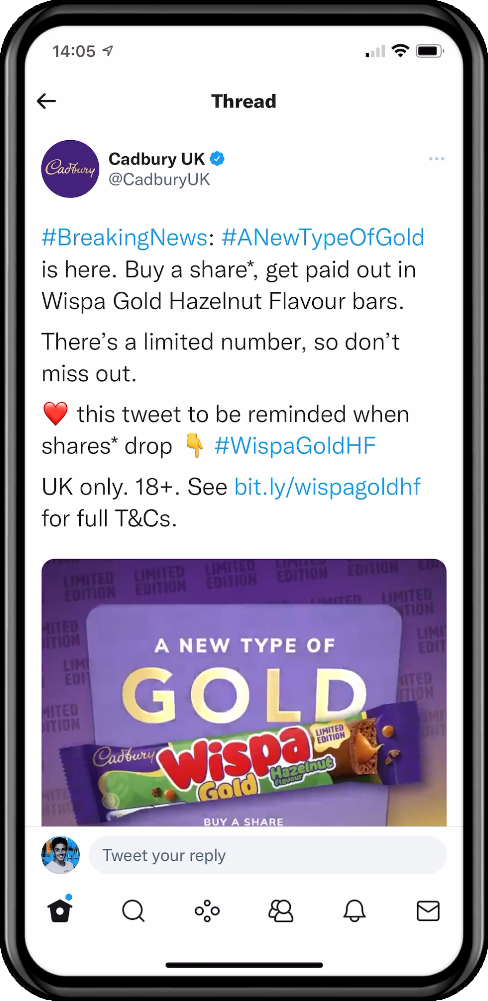 Create a two-way connection with Branded Notifications
To hook consumers into the campaign and encourage campaign interactions, @CadburyUK invited them to like the launch Tweet, which activated a personal notification when the "shares" were on sale.
 
Go live to grab attention in the moment
The chocolate brand harnessed the dynamic Twitter Live format to capture attention and encourage would-be chocolate shareholders to click through to the @CadburyUK site to buy their "share".


Generate buzz with smart activation


Not only did @CadburyUK pepper its campaign with typical stock market language, but it also ensured "shareholders" posted again on Twitter, by sending their bars in an eye-catching branded hamper.


This lively campaign garnered more than twice the expected level of engagement. It trended organically when it launched as people on Twitter in the UK entered into the spirit of becoming "shareholders" and discussed the "share price" ups and downs. 
With 37,000 Tweets in 15 days, #WispaGoldHF triggered almost as much conversation on Twitter as some leading cryptocurrencies. Press and trade media also took note of the campaign, which generated 97 consumer press articles.
Twitter was the ideal vehicle to introduce 'A New Type of Gold' to chocolate fans. By using a range of Twitter formats, including our first ever Twitter Live, we were able to use best-in-class creative as leverage to land key media opportunities. That helped us to maximise consumer excitement.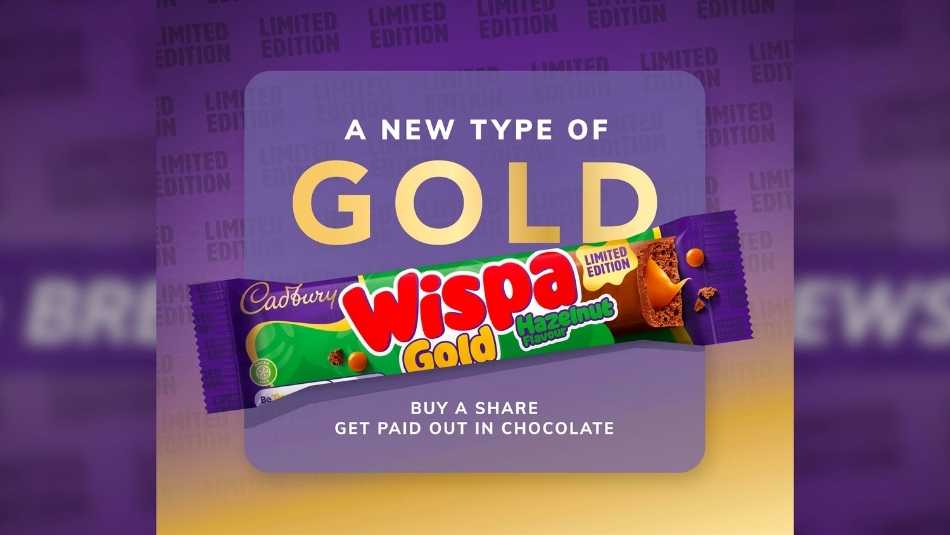 You want your message to be heard by the right person. Let Twitter's targeting capabilities help.
Reach your most valuable audience at scale when it matters most.