Perspective
The Conversation Report: Football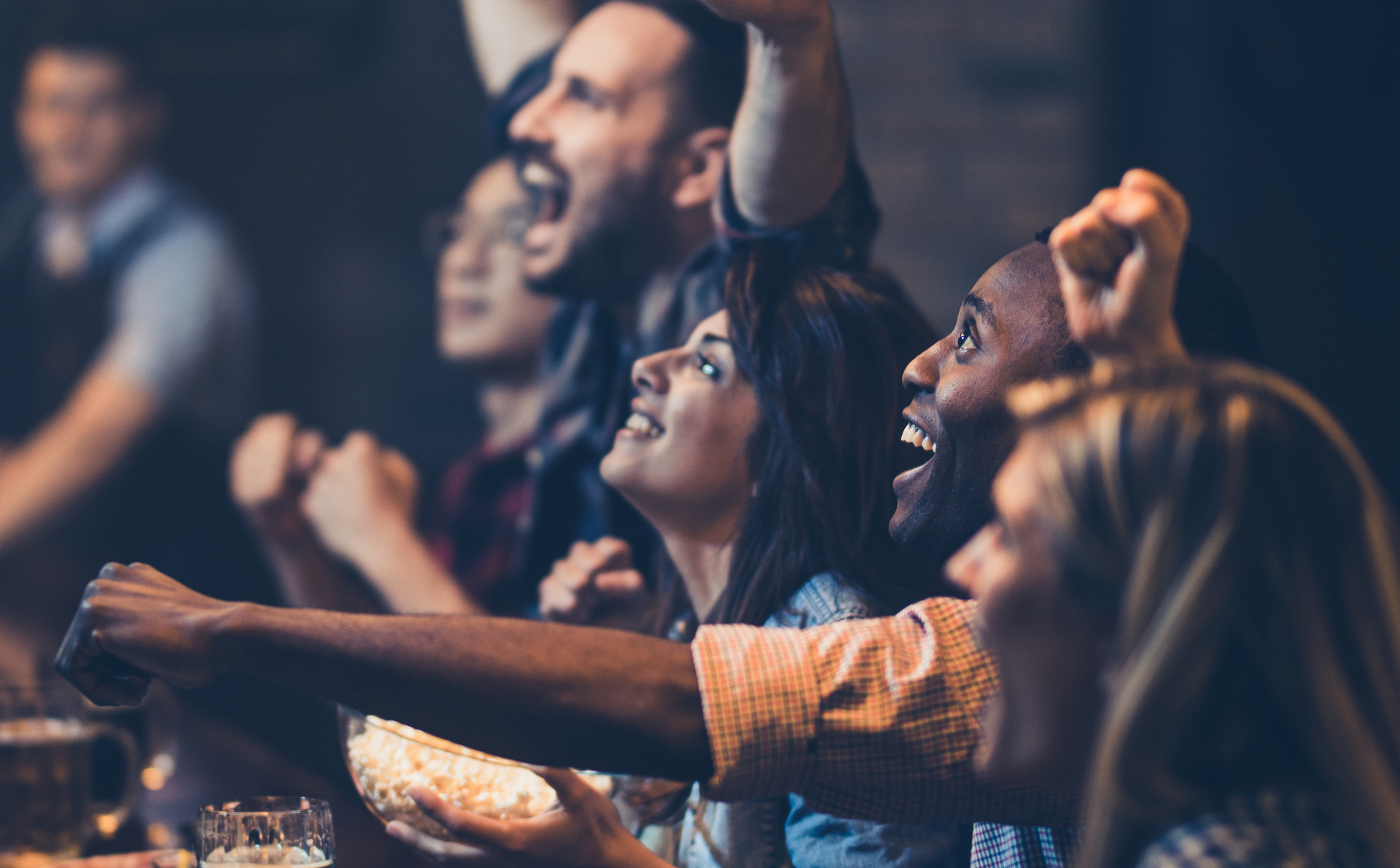 Football turns up the volume

Perhaps more than ever, football has taken centre stage in the COVID-19 era. The beautiful game is providing a beautiful distraction, that's for sure. The @premierleague has gone goal crazy and whilst fans can't go to the matches at the moment, they are making themselves heard louder than ever on Twitter. 
In the week leading up to the Premier League's return, activity was up 43% versus the 2019 figure. In Match Week 4 the conversation was up by a staggering 108%.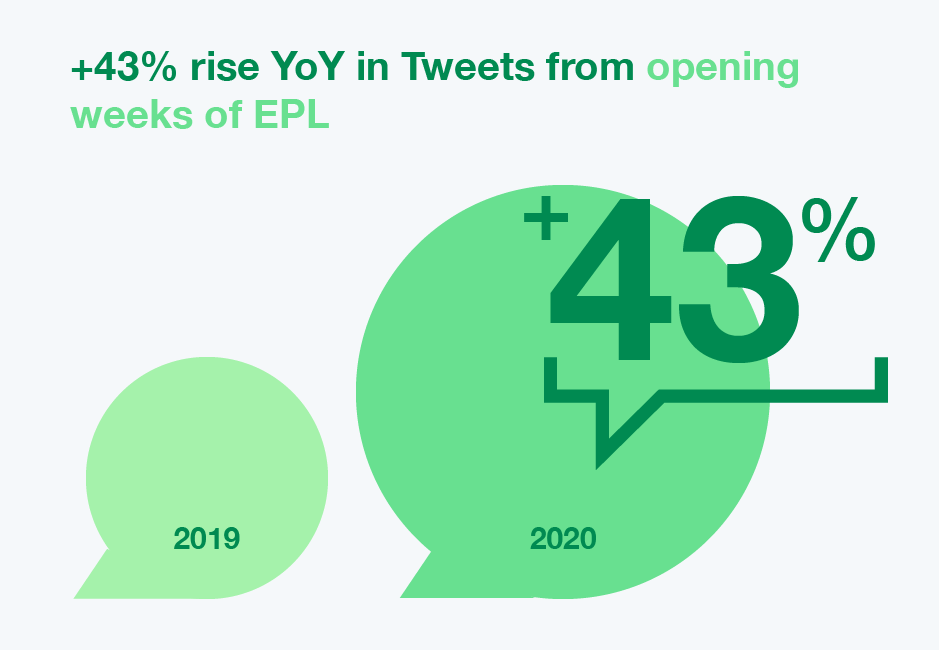 Of course, part of this is the pure joy of football's return — it's our national game, our national passion. #TransferDeadlineDay caused a bigger stir than ever, with Tweets up by 65% year on year. But this time there's more.
Football has found itself at the heart of the conversation not just on the pitch, but off it too. The sport has made huge efforts to support the #BlackLivesMatter movement and that, combined with Marcus Rashford's heroic crusade around free school meals, has helped turbocharge the conversation. 
Lace up your boots as we talk you through the full analysis of the season so far.

We'll support you evermore
As football fans took to Twitter to make some noise a week ahead of the Premier League kickoff, the excitement was palpable with over 176K positive Tweets. Positive sentiment was up by almost 50% compared to the previous year.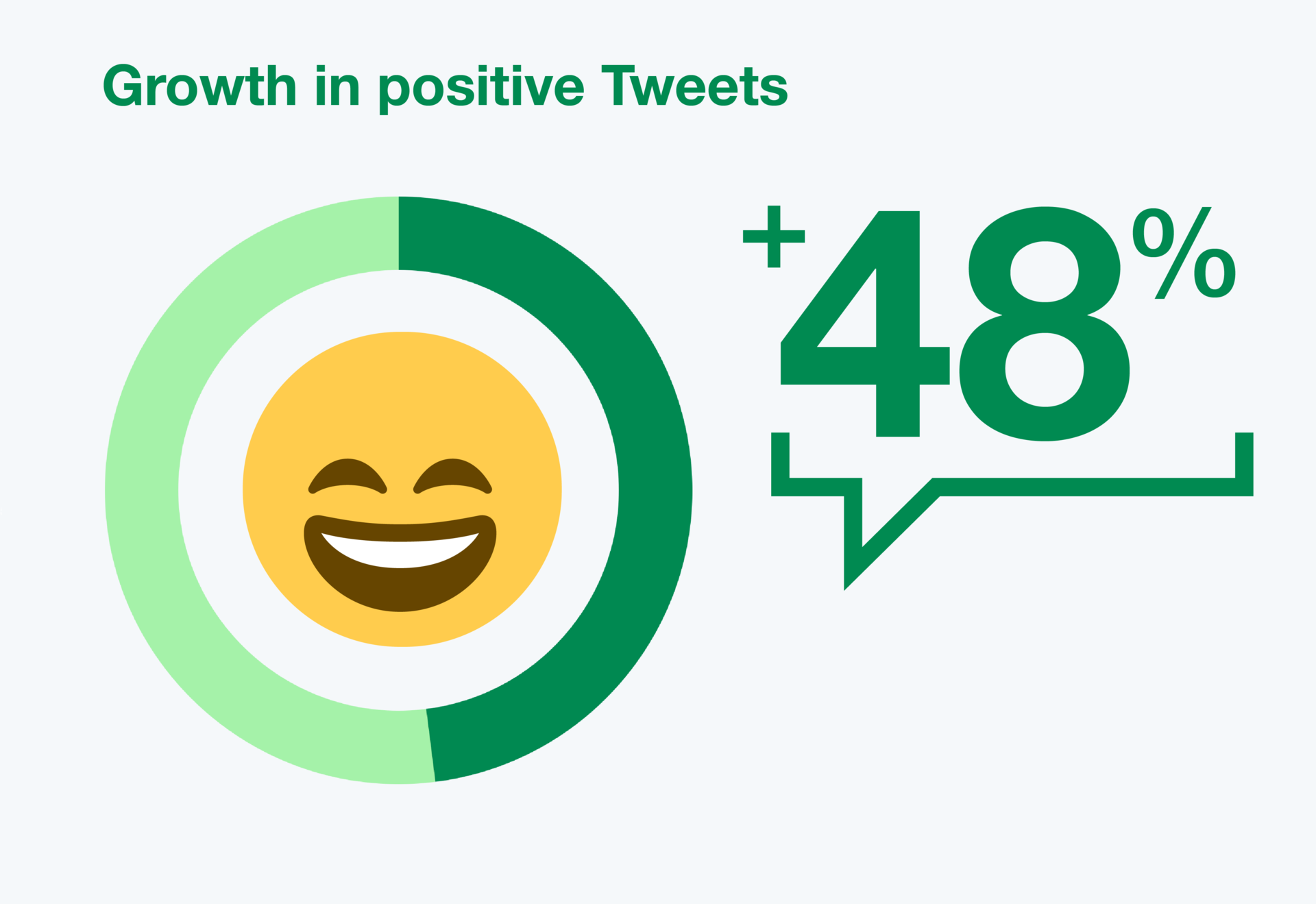 When you're smiling 
But with more ups than downs it's not surprising that the
emoji proved to be the most popular. Almost 267.5K Tweets expressed tears of joy at the prospect of the Premier League gracing our screens once again. Meanwhile, with over 107K Tweets featuring
emojis and over 100.5K
emojis, fans turned to Twitter to express their passion for the game.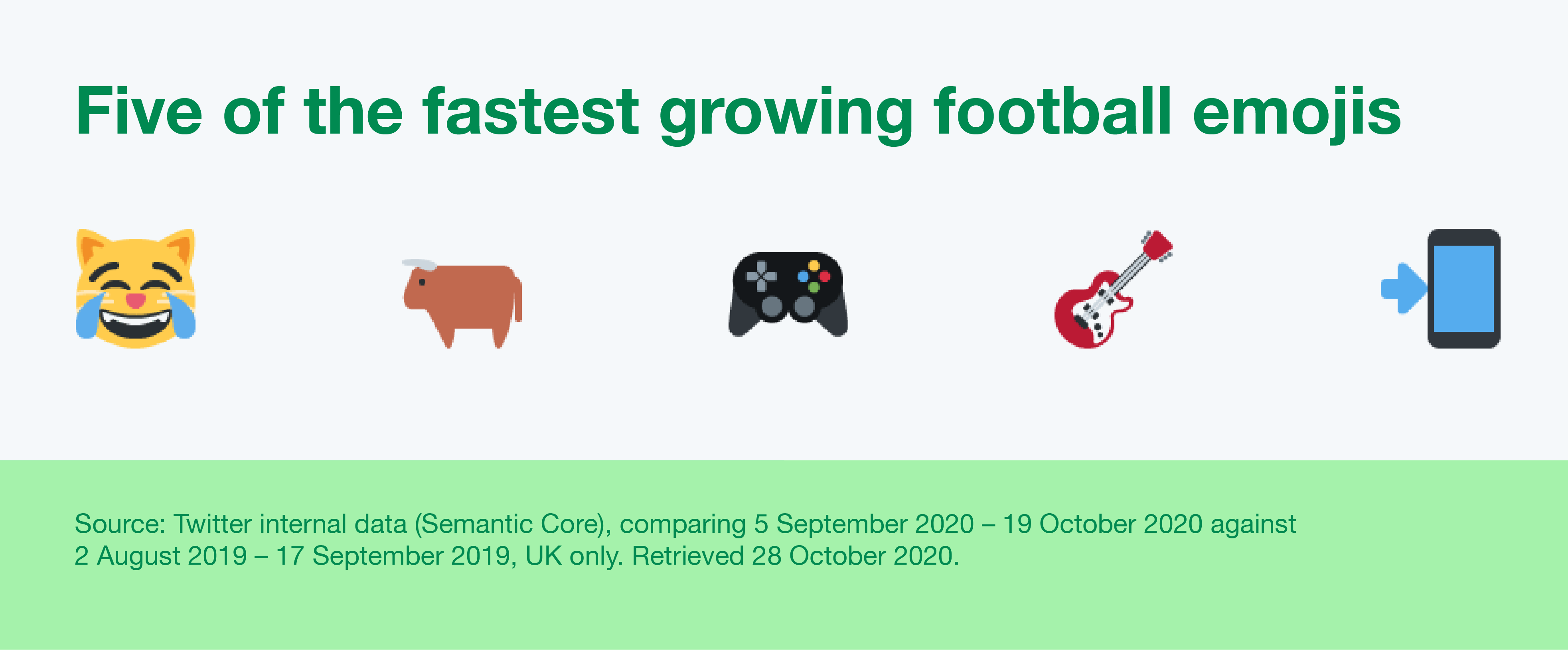 With the Premier League club transfer deadline coming into play on the 5th of October, fans and clubs used Twitter to share updates, celebrations, and commiserations — and 🟢 earned its place as the number one emoji for growth compared to the previous year with a 2,419% increase in use.
@ManUtd's signing of veteran striker @ECavaniOfficial on a free transfer on deadline day led to a 1,600% increase in the use of the
. Meanwhile, @Arsenal welcomed @Thomaspartey22 with 🥶, which saw over 1,269% growth in use from the previous year. Taking football chat from the pub onto Twitter saw a 1,251% growth in the use of
.
Please add some text to this component.
Hashtag heroes 
Manchester United were top of the hashtags, with #MUFC featuring in almost 550K Tweets by almost 92.5K unique users. That was followed closely by Tottenham with #COYS Tweeted by over 53K unique users and Liverpool FC with #LFC Tweeted by over 51K unique users. 
It was the Chelsea v Liverpool match that really caused a stir in September, with fans taking to Twitter to commentate. #CHELIV featured in nearly 22.5K Tweets highlighting goals, performance, and all the best bits — a growth of 9,370% compared to last year.
But it wasn't all about the Premier League — #NationsLeague was the biggest growing hashtag year on year by 7,932%. With @England winning 1-0 against @footballiceland in September and then beating @BelRedDevils 2-1 in October in the @NationUefa League, Twitter lit up with fan celebrations.
We are top of the league
Watching @SpursOfficial beat @ManUtd 6-1 caused the biggest buzz, with nearly 690K Tweets from 208.5K people on Twitter marking the incredible win. It was a similar story for @LFC, who also lost in spectacular style 7-2 to @AVFCOfficial, sending the crowds crazy on Twitter. This was the second most talked-about match, driving over 385.6K Tweets from 158.5K people on Twitter. The third was another Manchester United game, this time losing less dramatically to @CPFC by 3-1 and garnering over 281K Tweets.
MBE Marcus scores again
@MarcusRashford is the man of the hour, featuring in a massive 896.2K Tweets as he continues to work hard on and off the pitch. His ongoing efforts to ensure school children have access to free lunches in the UK has made him one of the most talked-about players, captivating Twitter's audience.

Field of dreams
So how does football compare to other sports when it comes to making some noise on Twitter? Football fans are by far the loudest supporters, generating over 26.5M Tweets. Basketball fans are also very vocal on Twitter, contributing over 1.5M Tweets in the same period, and Formula 1 makes third place with 971.5K Tweets.
Over the last year, the volume has dialled-up for many sports — Formula 1 has seen a 103% increase in conversation. But the sport growing the most year on year is track and field, which with almost 25.5K Tweets this year has seen a 140% growth. Triathalon fans have also been picking up the pace, with 128% growth in conversation.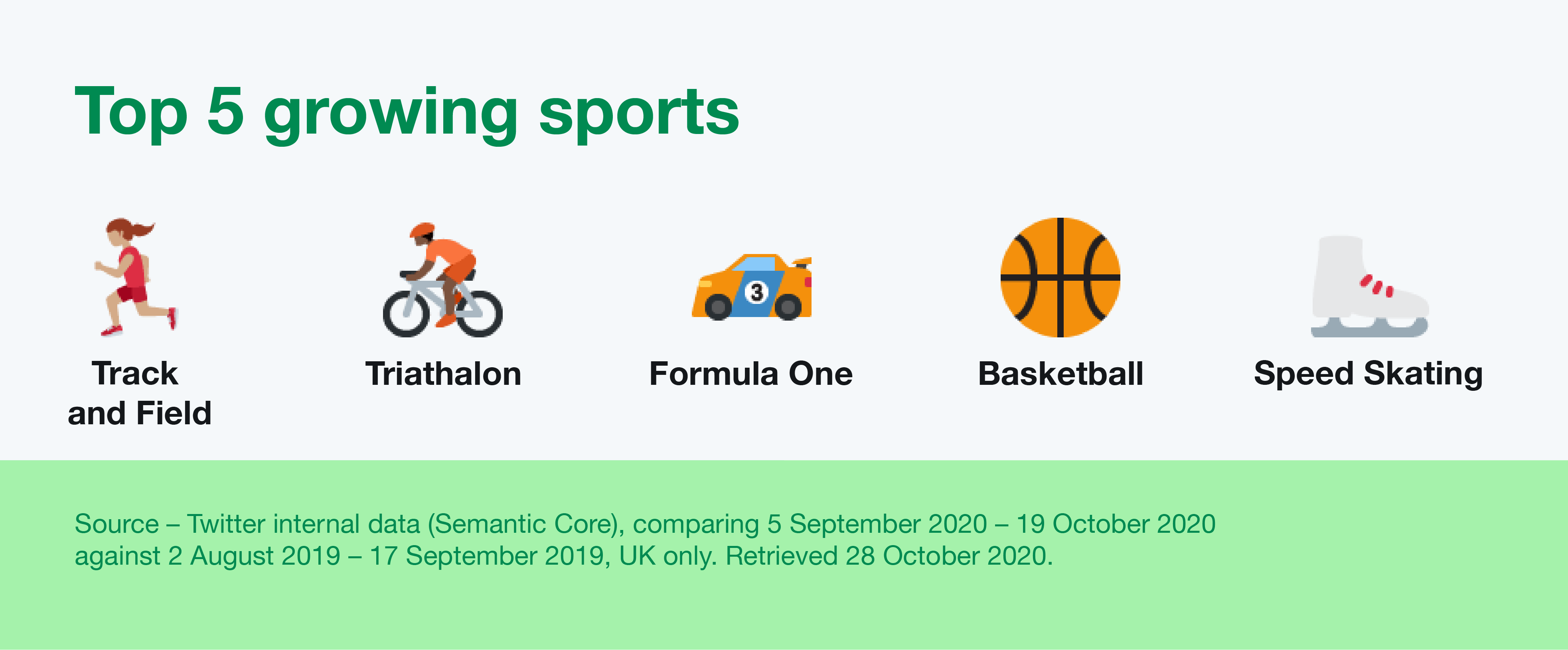 Competition winners
And finally, while when it comes to football the Premier League might be the most talked-about football competition on Twitter, but the @BarclaysFAWSL is the number one growing sport in the Twittersphere. It garnered 45.7K Tweets between 5 September and 19 October 2020, an increase of 28,820% compared to last year. In November, @ManCityWomen were victorious, winning the Women's FA Cup — and #FAWSL lit up the celebration. 
International football competitions have also been generating a lot of noise — 360.5K Tweets to be precise. This represents a major growth of 14,900% compared to the previous year.

The diversification of sport is clear when assessing conversations on Twitter, and  growth in American soccer is one to watch. The USA accounted for over 29.2K Tweets in the current period, highlighting a 403% increase on the previous year.
Source:

Twitter internal data (Semantic Core), comparing 5 September 2020 – 19 October 2020 against 2 August 2019 – 17 September 2019, UK only. Retrieved 28 October 2020.