Perspective
It's time for your next launch on Twitter
Launching on Twitter can spark interest and drive results for your brand
How you launch is make or break for brands. 
After the planning and testing phases are complete, is your brand ready to hit the ground running with your new campaign? When it comes to nailing a successful campaign launch, timing is everything. 
It's a great time for brands to launch on Twitter. These days, people are shifting their priorities and adjusting their daily routines, meaning they're more open to new things than ever before. If you're ready to share something new, launching on Twitter can help spark people's interest and drive results. Here's why.
Brand announcements are the perfect opportunity to get people talking about you on Twitter, especially since everyone could use something to look forward to right now.
Believe it or not, launching during a time of slow growth can have a lot of upsides. Not only can the timing give campaigns a boost in visibility,1 but according to a 2009 Nielsen study, brands that launched (or relaunched) in the downturn experienced 15-25% greater excess share of voice growth than the general average growth.2
We're ready for something new
These days, people are doing things differently. From older consumers shopping online for the first time to millennials trying frozen food, purchase behaviors are being disrupted — and a strong experience with a brand can help cement these new habits.
Changing realities mean that people are perhaps even more open to discovering something new, which is especially true for people on Twitter. Whether it be a new initiative or an entirely fresh look, people are hoping to see exciting things from brands. In fact, 81% of people surveyed on Twitter want to see new launches from brands.3
People are taking notice (and action)
People on Twitter aren't just talking the talk — they're also walking the walk. Not only are they excited about new products from brands, but they're also excited to try them. In fact, according to our study, people on Twitter spend twice as long viewing launch ads and are 3.3X more likely to turn that viewing into action than on any other platform.4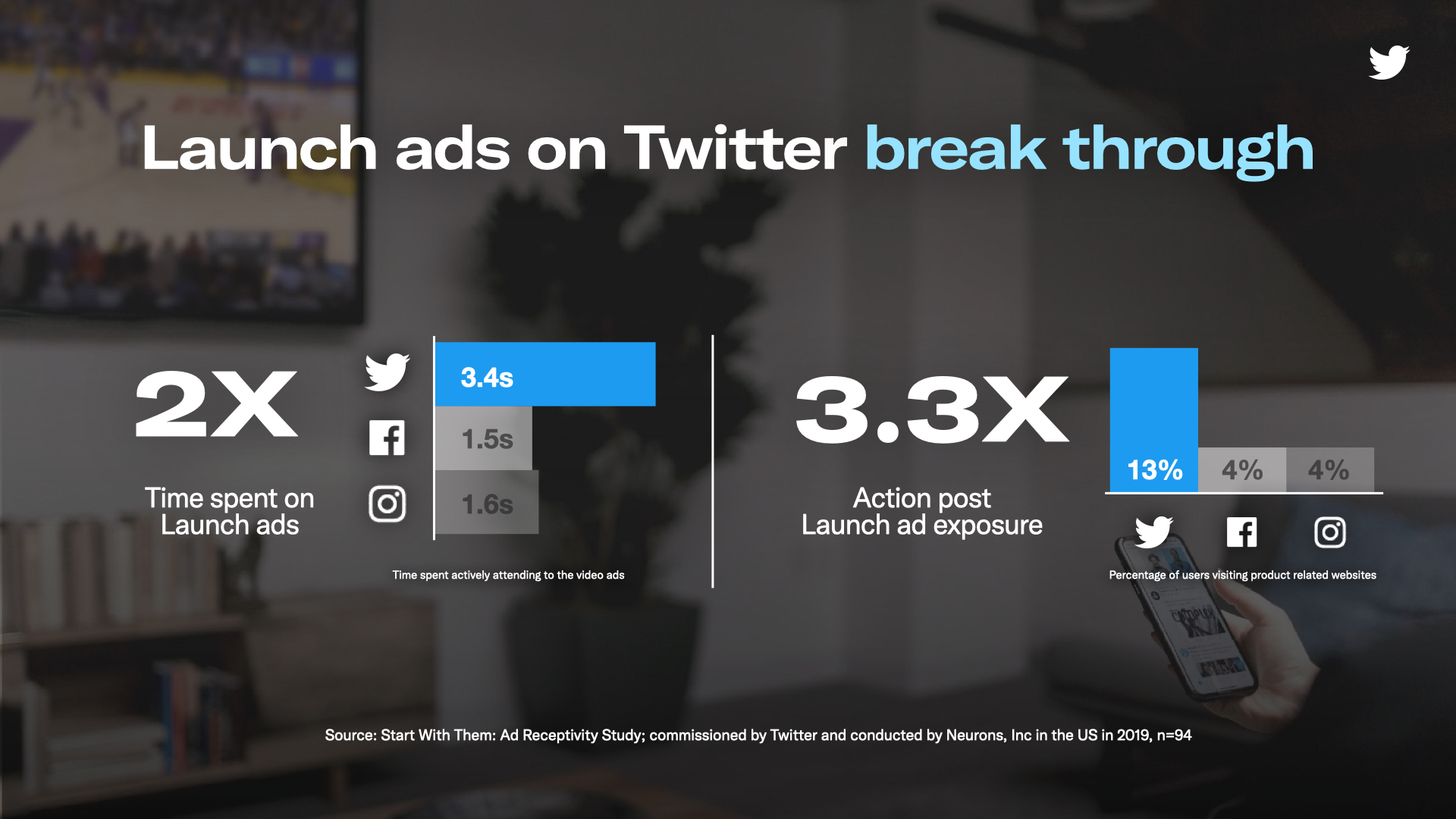 Not only is launching on Twitter good for your audience, but it's also good for your media mix. According to our research, Twitter enhances the performance of the other channels it was combined with, boosting overall marketing performance.5 Talk about getting the word out.
People are ready for more, so if you're not sharing what's next, somebody else might capture their attention. When you're ready to launch, it's go time on Twitter.
Sources:
1. Harvard Business Review
2. Nielsen. Global. Budgeting for the upturn — Does share of voice matter.
3. Toluna, commissioned by Twitter, Global Vertical Deep Dive Research, August 2020, n= 43,200) 
4. Post Exposure Study, commissioned by Twitter and conducted by Neurons, Inc. in the US in 2019
5. Twitter Marketing Insights & Analytics, 2020. Data2Decisions, commissioned by Twitter, Twitter as a Catalyst Study, 2020.