Research
How potential car buyers and fans Tweet about the automotive sector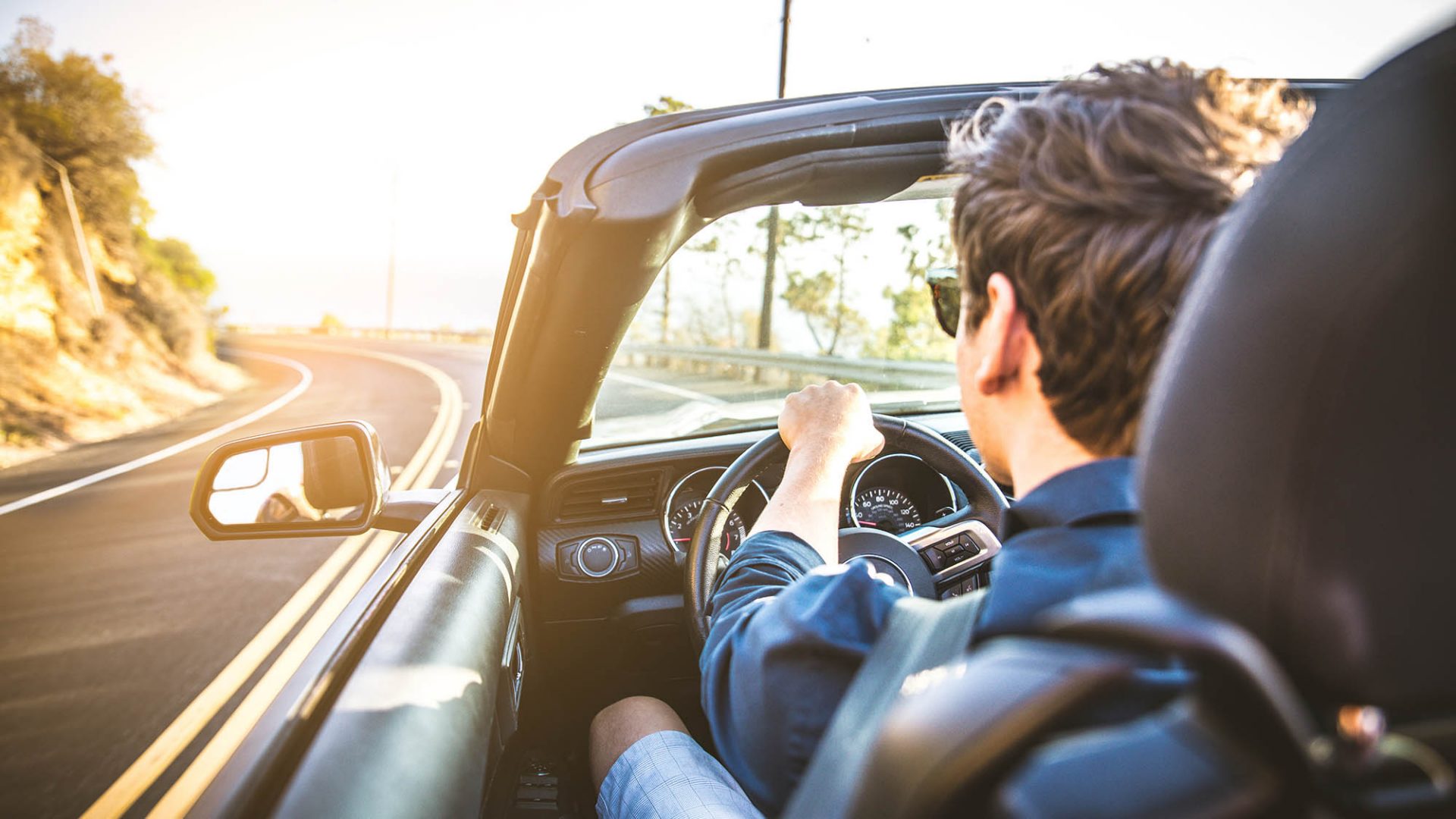 Studies show how influential Twitter is when it comes to prospective car buyers. But who are these people and what car brands are they Tweeting about?
Car salesmen will always be needed to close the deal, but showrooms now extend beyond the shiny glass-panelled frontage.
Research and conversation are a crucial element of the car-buying journey, and a large proportion of this takes place on Twitter.
To illustrate this, there were over 5.6 million UK automotive-related Tweets in 20181. While in a separate survey of people who were in the market for a new car, 83% said Twitter influenced their decision-making process. Additionally, half of these prospective buyers followed a car brand.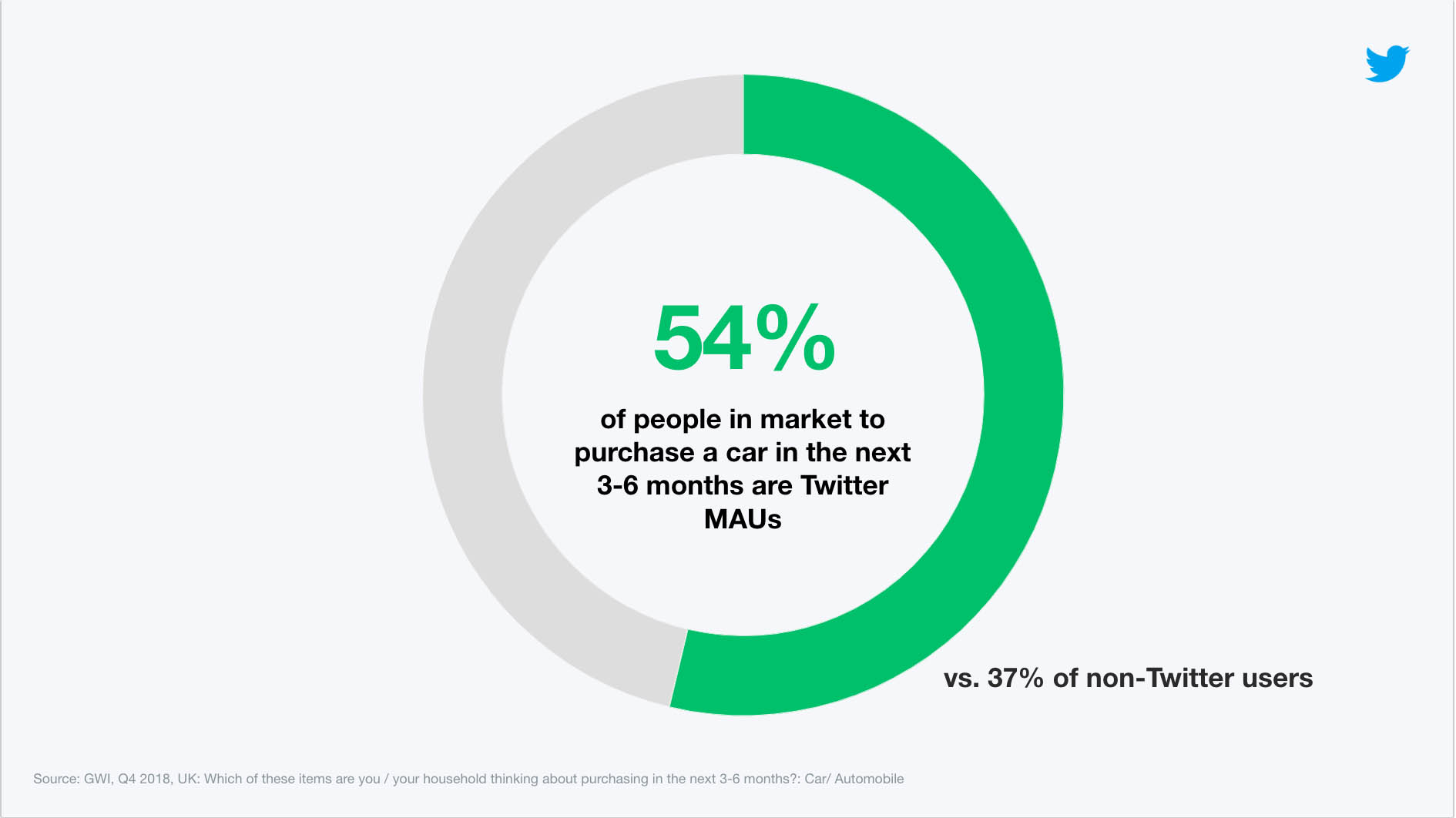 During the first quarter of 2019, there were more than 500,000 Tweets about the luxury car segment (premium and upmarket models including BMW, Audi, and Lexus) in the UK2. But who are these Tweet authors, what are they talking about, and what car brands are driving the conversation?
Twitter car fans — who are they?
Twitter people are more likely to be looking for a new car. According to a GWI study2 54% of people searching for a new car in Q1 were likely to be Twitter monthly users. This compares to 37% of non-Twitter users for the same criteria.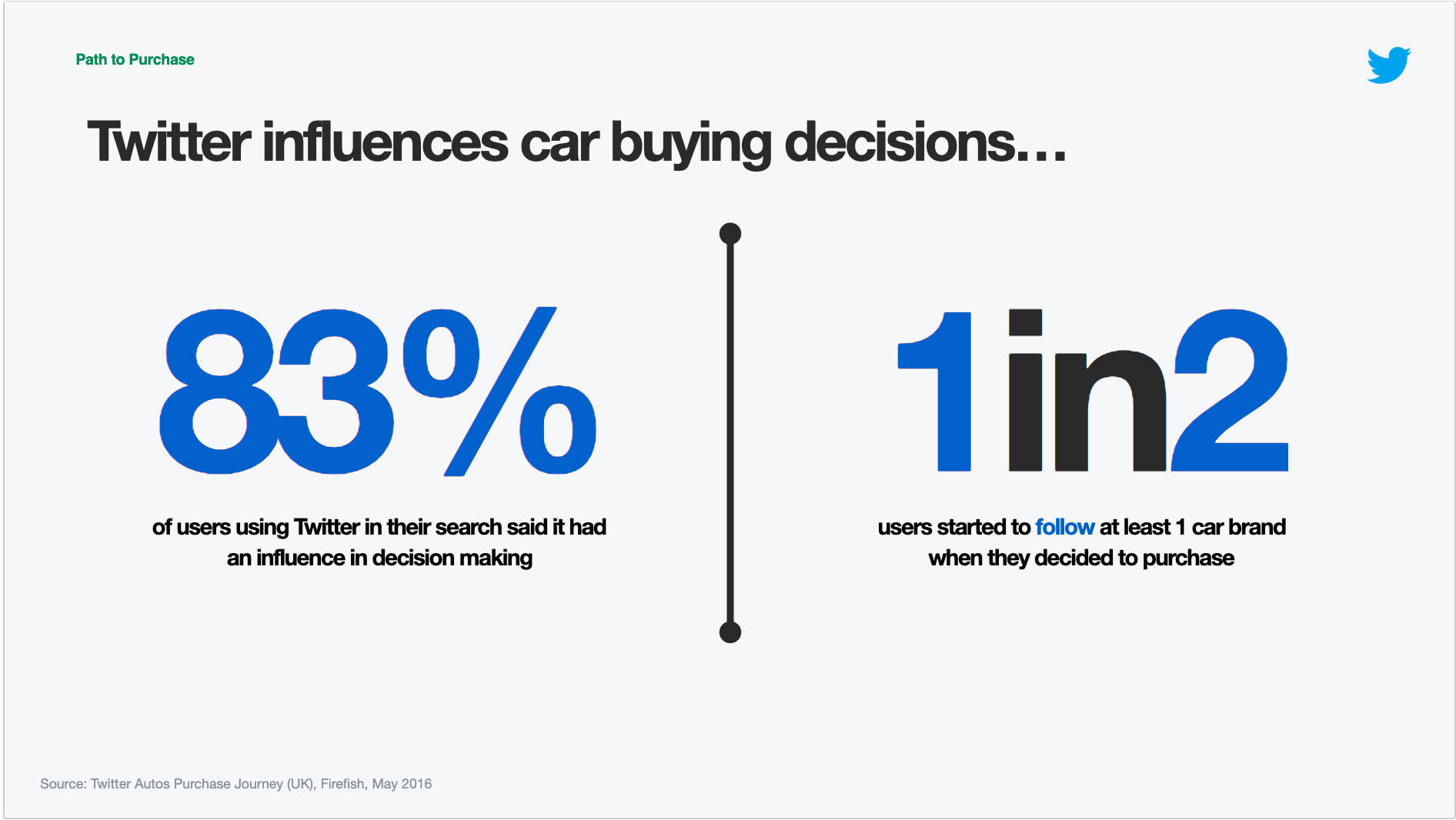 Moreover, the GWI research found Twitter users interested in automotive conversations are likely to be younger, more affluent, and more mobile-first than their non-user counterparts. They also Tweet more often about cars.
What are people Tweeting about?
Overall, the sample of Twitter users in the GWI study owns a wide range of cars, with the top five comprising Ford, Vauxhall, BMW, Audi, and Toyota.
Top car brands owned - Ford comes out on top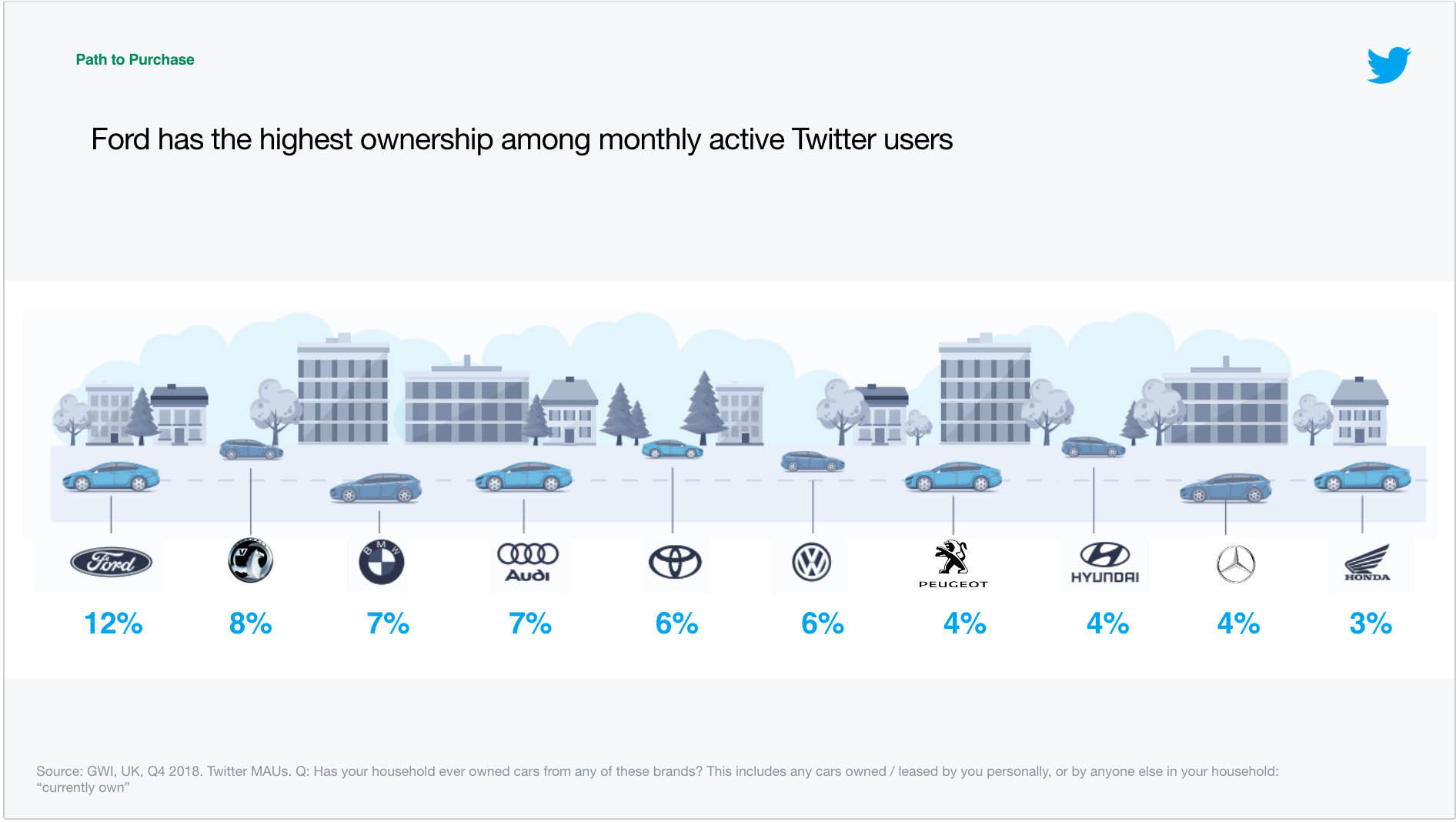 However, examining Twitter's internal data for Q1 it's clear Twitter users are interested in other cars besides their own. Treated as hashtags, the most popular car brands are Volkswagen, BMW, Honda, Hyundai, and Mercedes.
Most Tweeted car brands as Hashtags in the UK in Q1 2019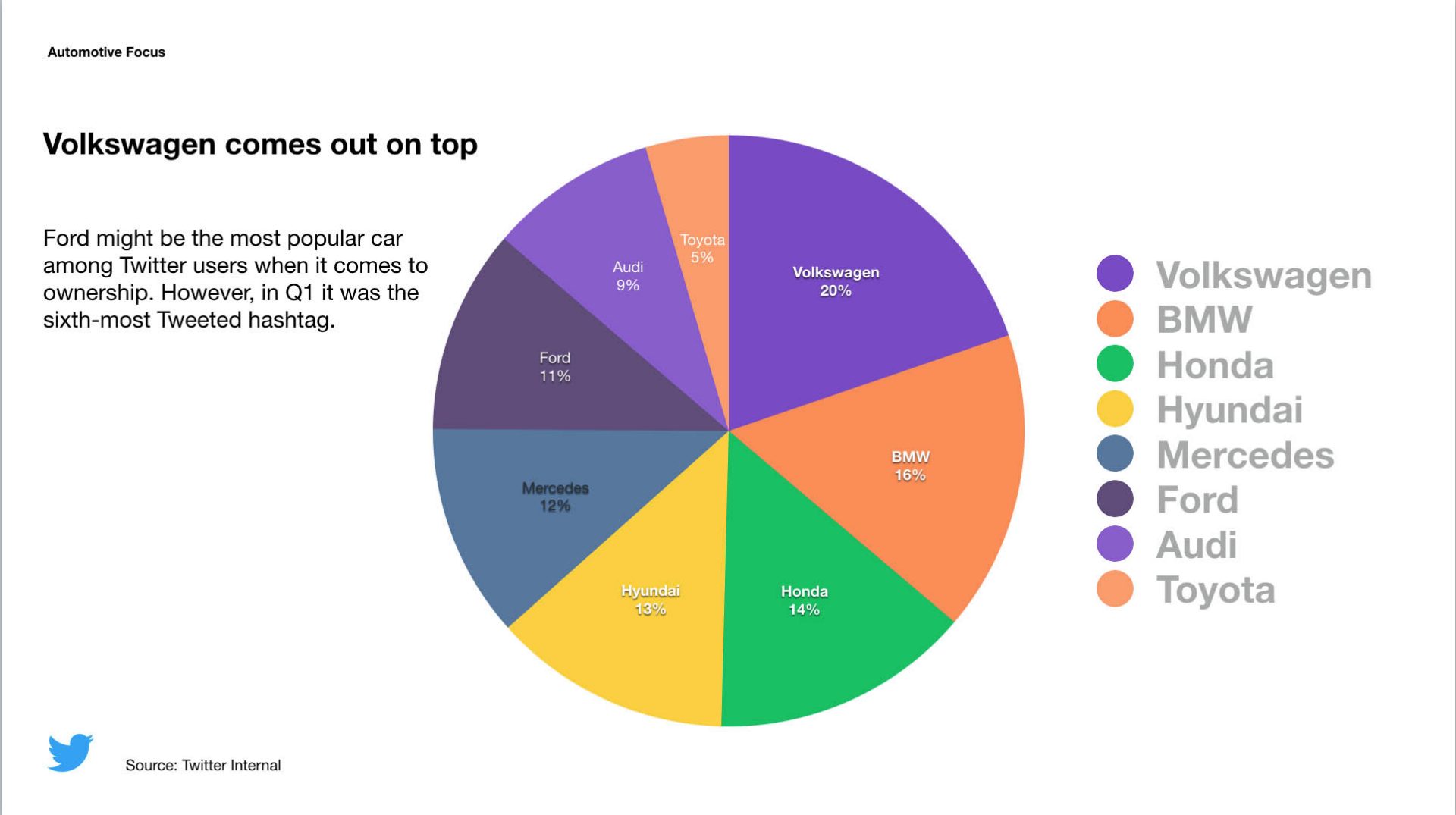 Looking at the same brand names as keywords, Honda, BMW, Mercedes, Audi, and Hyundai come out as the most Tweeted. While there is overlap with these brands, it's clear that Twitter users are interested in a wide range of cars and a wide-ranging conversation is taking place.
Most Tweeted car brands as Keywords in the UK in Q1 2019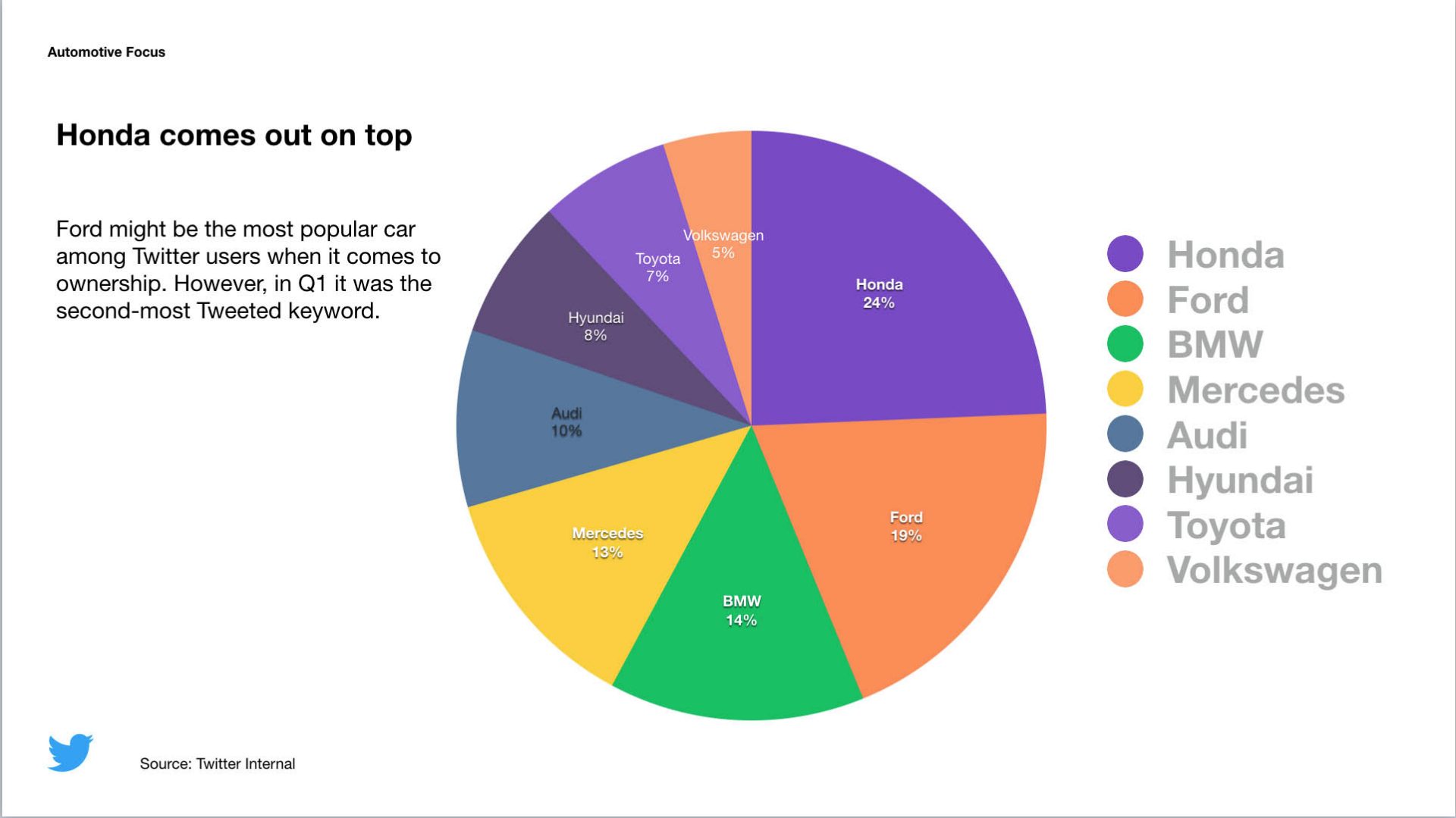 Driving the auto conversation — advertising examples
Car brands have been quick to capitalise on the automotive conversation on Twitter. As seen below, Volkswagen used a Video Website Card to launch its e-Golf. The eight-second video used clear branding and simple messaging to send users to a product landing page.
Renault used a similar strategy and mechanic with its own Video Website Card for the new Kadjar. However, this ad ran with the sound off and was timed to tie in with a Sky Sports ident.
Buying a car can be a significant step for a purchaser where decisions are influenced by a range of considerations like practicality, finances, emotion, and enjoyment. In some ways, the search for a new car begins on Twitter just as much as it does on the forecourt.
Sources:
1. Twitter Internal
2. GlobalWebIndex, Q4 2018