Research
History in the Tweeting: Looking back to look ahead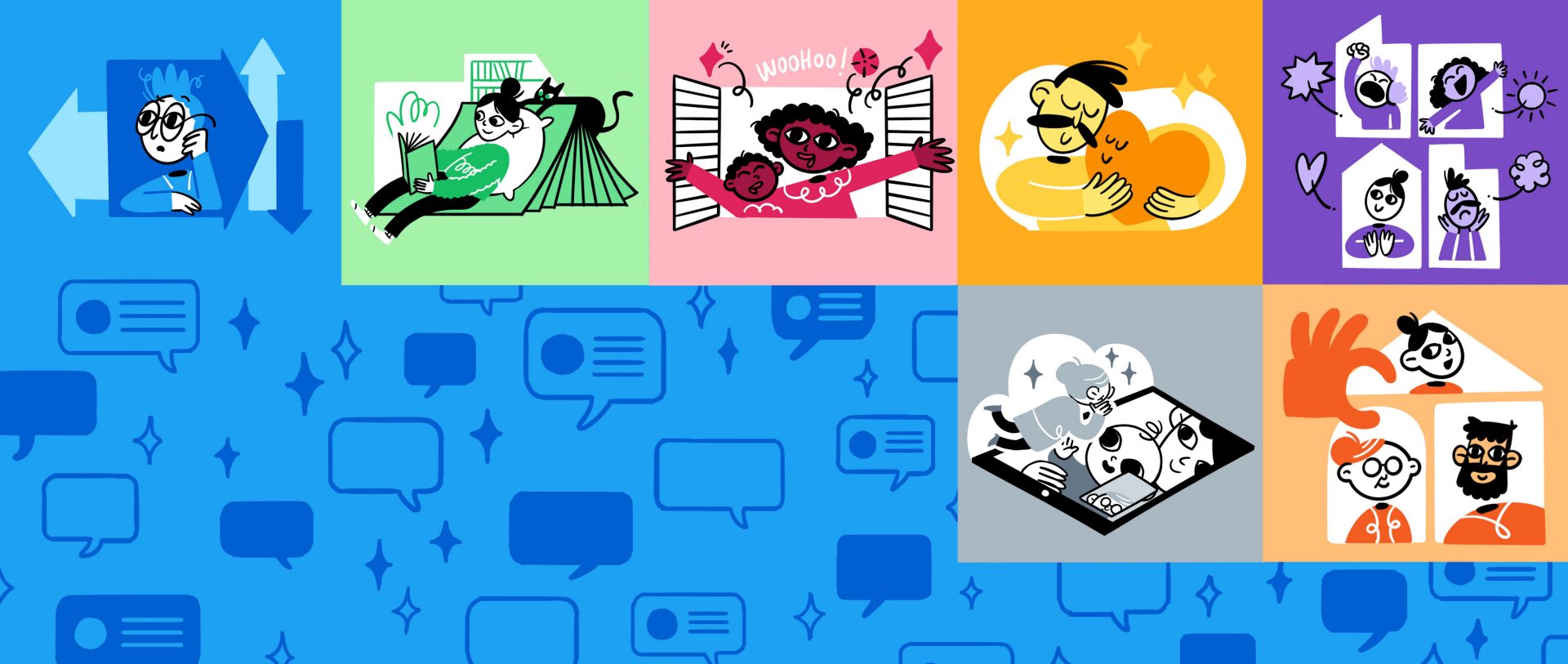 Within the space of a few months, our world has dramatically shifted in what has been a defining moment in our lives.
Everything has been affected, from how we work and shop to how we socialise with family and friends, as COVID-19 brought the world to a standstill.
No one saw it coming, and no one knows what will happen next. The question of how it will shape or change our lives is one of many that is being asked.

While we don't have the answer, what we do have is a lot of Twitter data. We've used our data to conduct a significant research project to help us understand what's been happening, and how that might affect how we move forward. We combined conversation data with surveys and expert interviews with Rory Sutherland (vice chairman at Ogilvy and behavioural scientist), Cait Lamberton (professor of marketing at Wharton), Elizabeth Bananuka (communications expert), Mark Pollard (strategist and entrepreneur), and Professor Dame Til Wykes (clinical psychologist and vice dean at the Institute of Psychiatry, Psychology and Neuroscience at Kings College London) to produce this work. The history that we refer to in the title is still being Tweeted as we write. 
Our key findings from this research are seven behaviours and states which have emerged or accelerated during lockdown. They paint a picture of what people have been experiencing in lockdown and may continue to do as we move forward.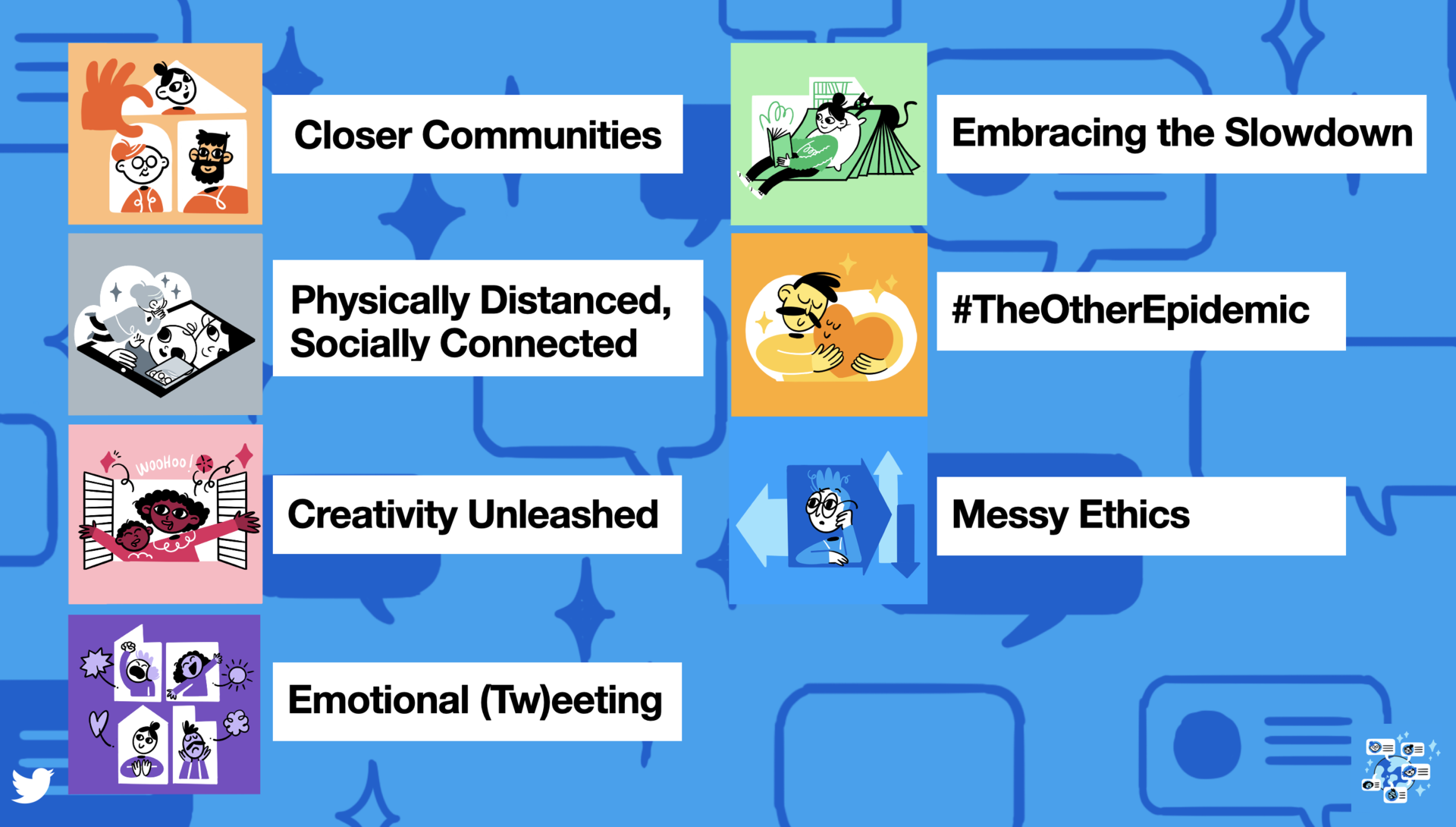 As we cautiously emerge from complete lockdown, and the wheels of national life start to turn again with pubs and shops opening, we have a rare moment to revisit how we do things. It's an opportunity to challenge the status quo and to enact change. Brands — as businesses, employers, and communicators — have the ability to shape, break, and design systems and structures, which are fundamental to creating change. Brands can play a significant role in shaping the future that comes next.
Before we dive into the seven behaviours and states, we'd like to share some home truths that we uncovered. These have helped us frame this research and ground it in realities about this shared experience. 
Our home truths are simple. Firstly, we don't know what the future holds, and accept that nobody else does either. We understand that for every argument there is a counterargument, and we have been mindful of that in this work.
Secondly, behaviour change is slow, complex, and structural, and as Rory Sutherland said during our interview panel: "Expecting everything to change afterwards is delusional."

Thirdly, COVID-19 did not happen in a vacuum — it happened to a world already in motion and in many ways acted as a pressure cooker.

Fourthly, there isn't one COVID-19 story, there are 7.8 billion — for some this was life-altering, for others a mild inconvenience.

And lastly, the situation is still evolving by the day, and as others have said, this is a good time to ask questions.
Seven states and behaviours
1. Emotional Tweeting 
Lockdown has taken its toll on many of us, impacting us physically and emotionally. We're experiencing intense and variable emotions in our daily lives. We expect emotions to remain on high, until the situation is fully under control.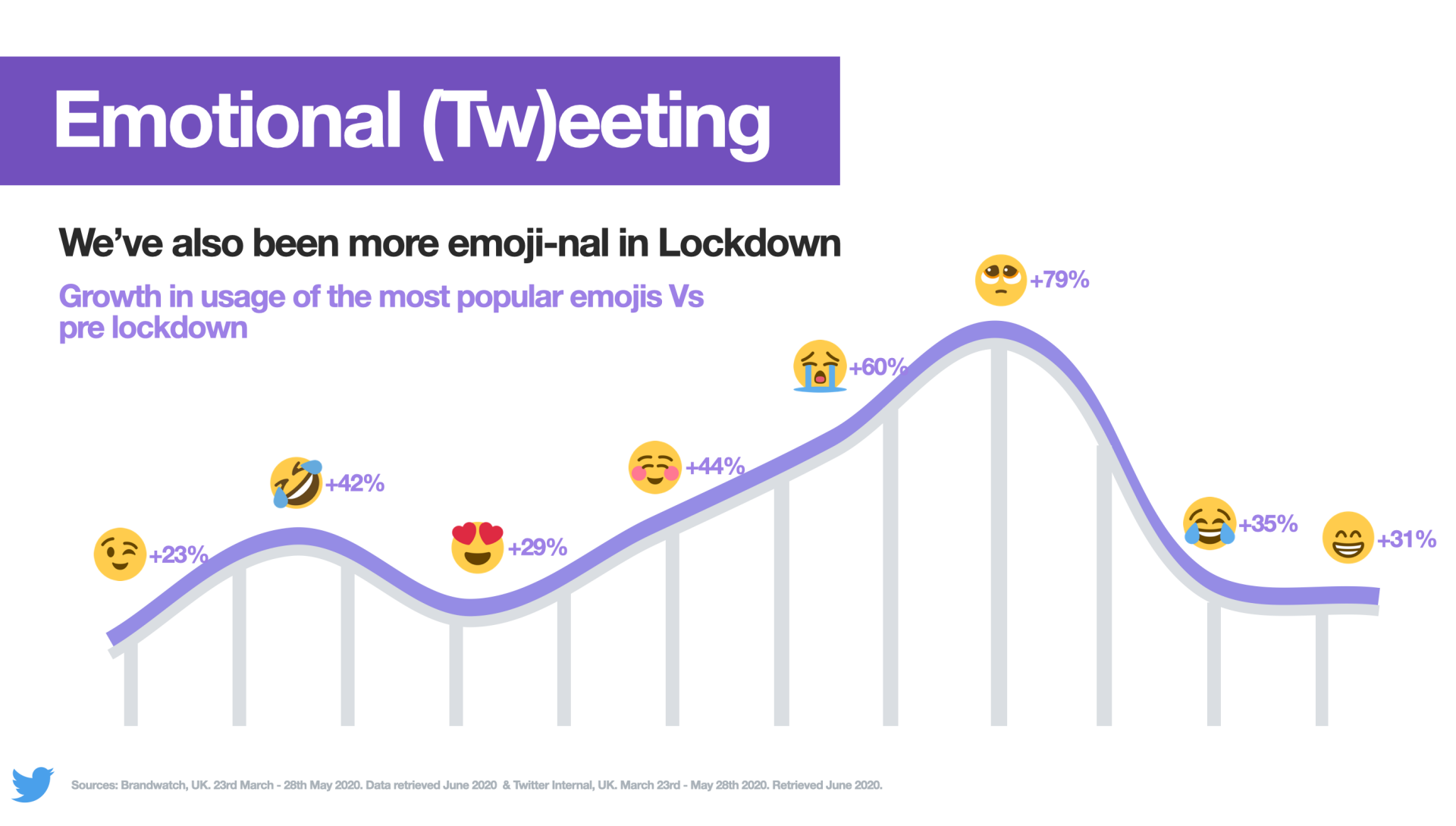 Implication for brands
DO:
Be human. Keep evolving your tone of voice. Three things people expect:
48% think brands should be informative
41% think brands should take a supportive tone
35% think brands should be positive 
Listen and adapt. Read the room and adapt accordingly. 
DON'T:
Be half-hearted. Avoid displaying empathy when times are especially tough then forget in the future.
2. #TheOtherEpidemic
Mental health has been described as #TheOtherEpidemic, the effects of which will outlast the COVID-19 pandemic itself. However, while the pandemic and its fallout have had negative consequences on the vulnerable and frontline workers, there have been positive outcomes, especially within the mental health conversation:
Light relief: Without structures and routines, some people have felt less anxious
Self-care: Kindness to oneself and others has become very important
Smashing stigmas: People have been open about talking about how they're feeling
33% of people Tweeting about mental health hadn't Tweeted about it before.
Source: Twitter internal, June 2020 (2)

Implications for brands

DO:
Take care of your employees, networks, communities, and customers. Move beyond words to tangible and meaningful acts with policies and business practices.
Promote and mirror a less stressful way of life.
DON'T:
Jump on the mental health bandwagon, unless you're prepared to back it up.
 
3. Embracing the slowdown
Free market capitalism gives you an enormous amount of choice … but it gives you no choice whatsoever about the pace at which you lead your life.
With schedules rewritten as we were asked to stay home, our hectic lives were upended in lockdown as life 'slowed down' for millions. While enforced and unplanned, many took the positives from adapting to a slower pace of life, and Tweeted an intention to stay in the 'slow lane' in the future.
Take joy in the mundane: We've seen a rise in Tweets declaring appreciation for the ordinary like sunsets and sunrises, landscape, wildlife, and life that is in walking distance from our homes.
Turn to analogue: With screens still dictating how we live and work, there's been a spike in people turning to analogue activities like gardening, baking, cooking, reading, and puzzles.
Find the hidden introvert in all of us: Lockdown gave us a chance to reflect on our overscheduled lives, and many are rethinking how they want to socialise in future.
74% said they take more pleasure in the small things that make them happy at the moment.
Source: Brandwatch UK (3)
Implication for brands
DO:
Seize the slowdown. Ask how you can embrace the slowdown to create a more empathetic work environment.
Reflect on your contribution. Consider the effect of your communications style. Are you contributing to the unsustainable hectic pace?
DON'T:
Overlook introverts. Our business tends to showcase extrovert pursuits and personalities, but as FOMO is replaced by JOMO (joy of missing out), how can you speak to the introverts in all of us?
4. Closer communities

Physically isolated in lockdown, we found some lovely ways to come together. We reconnected with local and digitally distributed communities. We also showed appreciation and gratitude through support for others with #ClapForCarers.

There were many moments on Twitter showing people befriending vulnerable neighbours and communities uniting through dance and music moments. We also saw marginalised groups like #LGBTQ and #BlackLivesMatter coming together. 
+428% 
average daily mentions about helping our neighbours.
Source: Brandwatch UK (4)
Implication for brands

DO:
Encourage kindness. Build on this beautiful moment and embrace people's feelings and appreciation for kindness and community. 
Localise CSR. Channel purpose and social initiatives at a more local level, where they are seen to drive impact and connection.

DON'T:
Jump into a community or conversation. Do your research and demonstrate how you're helping make a positive change.
5. Physically distanced, socially connected
While we remained physically distanced from our friends and loved ones, the truth is there was no social distancing whatsoever — thanks to technology we were more socially connected than ever. From Zoom calls to watch and listening parties and quizzes, our socialising went fully digital, and some of these new habits will likely outlive the pandemic.
+403% in 'watch party' and the birth of new terms like Netflix party. (5)

Implication for brands
DO:
Design for participation. The new landscape has normalised online interaction. Create online experiences that both entertain and bring us together.
Embrace imperfection. We've all seen inside each other's homes and become used to celebs broadcasting from their living rooms.
DON'T:
Count on physical attendance. Even after restrictions are lifted people are likely to remain anxious. Even physical events will need a digital component.
6. Creativity unleashed.
We've seen an incredible amount of imagination and creativity during these past few months. For some it's been born from necessity, while for others a desire to entertain. Whatever the reason, we've witnessed an explosion of creativity in lockdown.
+54% 18-24s found a new way to make money in lockdown. (6)
Implication for brands

DO:
Partner with authentic voices. Create lasting partnerships with creators that can help you tell your story — and theirs — in a credible way. 
Respect cultural creators. Work with creators from communities that you want to connect with long term. 
Create a platform. Ask if your brand can help unleash further creativity. Provide a platform and outlet.   
DON'T:
Use others' content without permission. Credit and/or pay creators accordingly. Don't expect anything to be for 'free', including UGC.
7. Messy ethics
People's ethical behaviour has always been complex and contradictory. Covid has exacerbated this as we collectively faced these new problems that demanded our immediate and undivided attention. We're more pragmatic and our priorities have shifted but we also expect even more from ourselves, public figures, and brands.
Pragmatism
Supporting local businesses is the 'right thing to do', but we're also buying from Amazon and major retailers in record numbers. 
Accountability
Accountability is more important than ever as the actions of people and brands are looked at more closely.
Conflicting priorities
Conversations around climate change have decreased. The threat of the virus has meant many are happy to accept single-use plastic gloves or use a plastic cup.
+116% growth in 'cleaner living' conversations 
on the one hand (7)
12-month low 'climate change' conversations
Source: Culture and Conversation: Covid context, UK. May 2020
Implication for brands
DO:
Hold yourself accountable. Walk the walk and embrace the mess. Accept imperfection is OK if paired with honesty.
Make purpose personal and closer to home. Avoid broad assumptions about how large groups of people are relating to certain issues.
Be mindful of pragmatism. Product, price, and convenience increase in importance when our worlds become more limited; purpose won't shift the dial alone.
DON'T:
Dip in and out. Avoid starting something you don't intend to see through.
Sidestep difficult conversations because of an imperfect past.
Conclusion

The future is uncertain, but the opportunity is clear.

This is a rare moment in time for people and brands alike to redefine and reinvent, and to decide who and what we want to be moving forward.  
Together we have all been through a shared experience that has had many dark moments. However, it has also been filled with levity, moments of hope, and the possibility of a brighter, more caring future. 
Now is the time for individuals and brands alike to seize that opportunity and find new and better ways not only of connecting but of impacting the world around us.
Sources:

1. hedometer.org. All English Tweets, May 2020 & Brandwatch, UK only. 23rd March - 28th May 2020. Data retrieved June 2020
2. Sources: Twitter internal, Global. 23rd March - 28th May 2020. Data retrieved June 2020
3. Brandwatch, UK. 23rd March - 28th May 2020. Data retrieved June 2020 & Twitter Internal, UK. March 23rd - May 28th 2020. Retrieved June 2020.
4. Brandwatch, UK. 23rd March - 28th May 2020. Data retrieved June 2020 & Twitter Insiders, UK. April 9th 2020. n=388
5. Brandwatch, UK. 01 Feb - 28th May 2020. Data retrieved May 2020 
6. Culture and Conversation: Covid context, UK. May 2020 & Culture and Conversation: Covid context, UK. May 2020
7. Culture and Conversation: Covid context, UK. May 2020