Perspective
A Twitter Guide to Summer 2021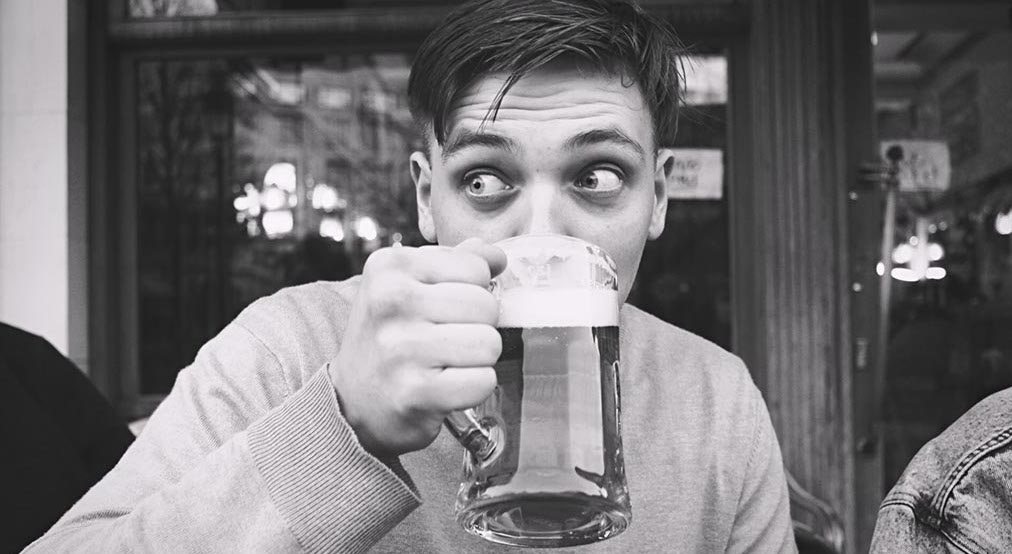 It's been over a year of on-off lockdowns, and finally, we're coming out the other side.
People have questions, like what's next and what does it mean for the summer?
We don't know for sure, but we did some research, and while this underlined how hard lockdown has been for many of us, it also found a sense of optimism about the warm days ahead. 
That optimism is reflected in the conversation we see on Twitter and how people are looking forward to post-lockdown life.
There is a genuine sense of hope and cheerfulness that is being spurred by the UK's vaccination programme's success. We've seen the public get behind the campaign and share their experiences on Twitter. 
And, of course, Stephen Fry, a national treasure, got his in a place of national significance under the gaze of poets and writers.
For your daily dose of optimism, this Twitter account was created to give the UK a daily update on how the rollout is going.
As news of the easing of lockdown emerged, there's been a 61% increase in positive conversation about a massively anticipated summer. We're looking forward to finally letting our hair down — or, more precisely, getting it cut.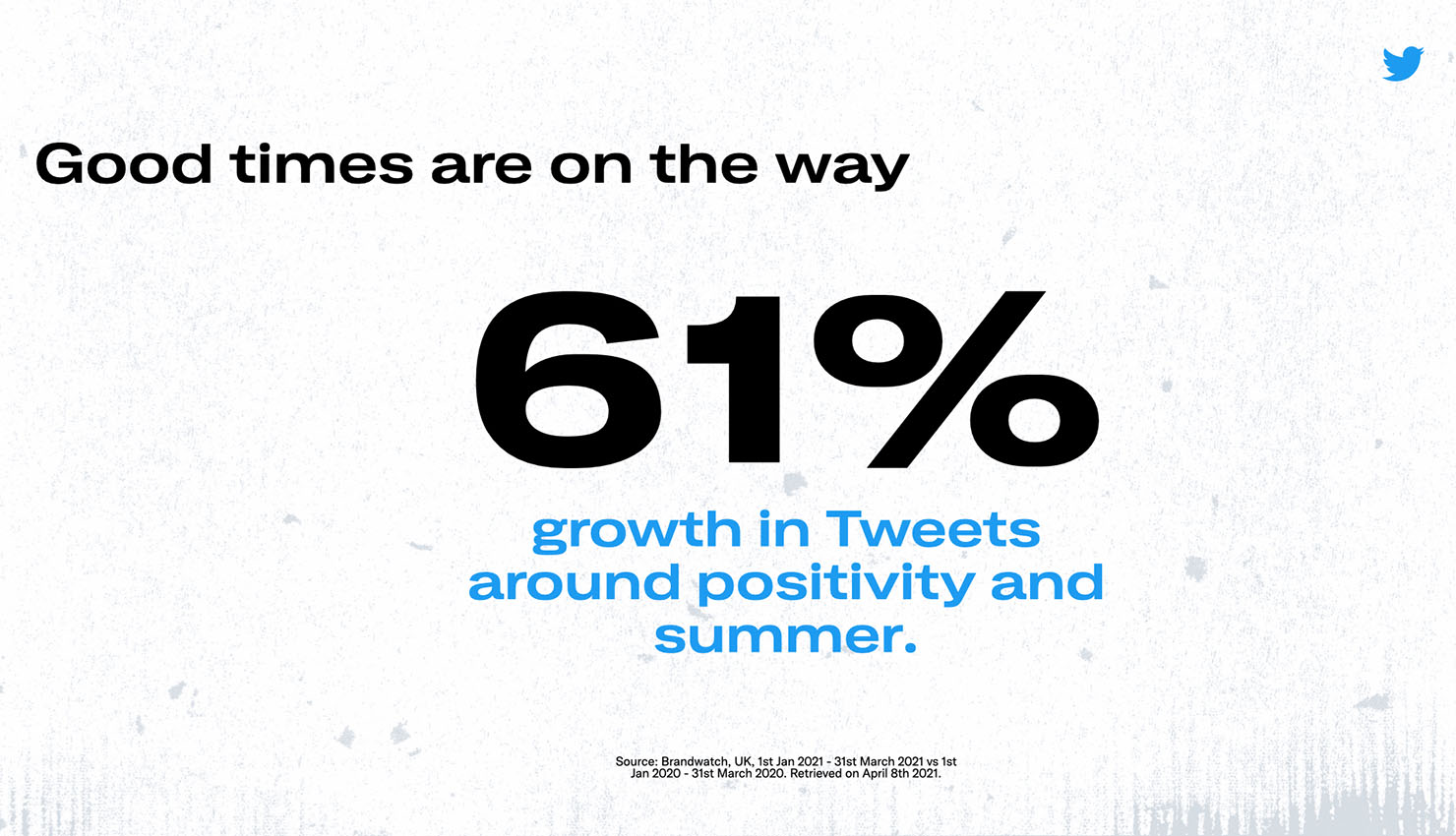 The feel-good factor generated by the UK's vaccination rollout has been buoyed by positive economic news. We're more optimistic than we have been for more than five years.  
March's Economic Optimism Index score is the most optimistic the British public have been about the economy since 2015.
We're looking forward to shops opening their doors and pubs starting to pull pints and pour drinks.
For brands, this summer presents a new challenge. More than ever, brands must be empathetic to how the nation is feeling and sensitive to the prevailing mood. 
The past year has given people time to reflect and reassess how they live their lives. 
People expect behaviour changes to range from how we work to how we eat.
So how do people on Twitter feel about the summer?
The truth is we're excited, but that excitement is tinged with apprehension about things opening up and being around lots of people for the first time in 12 months. That change is going to take some getting used to.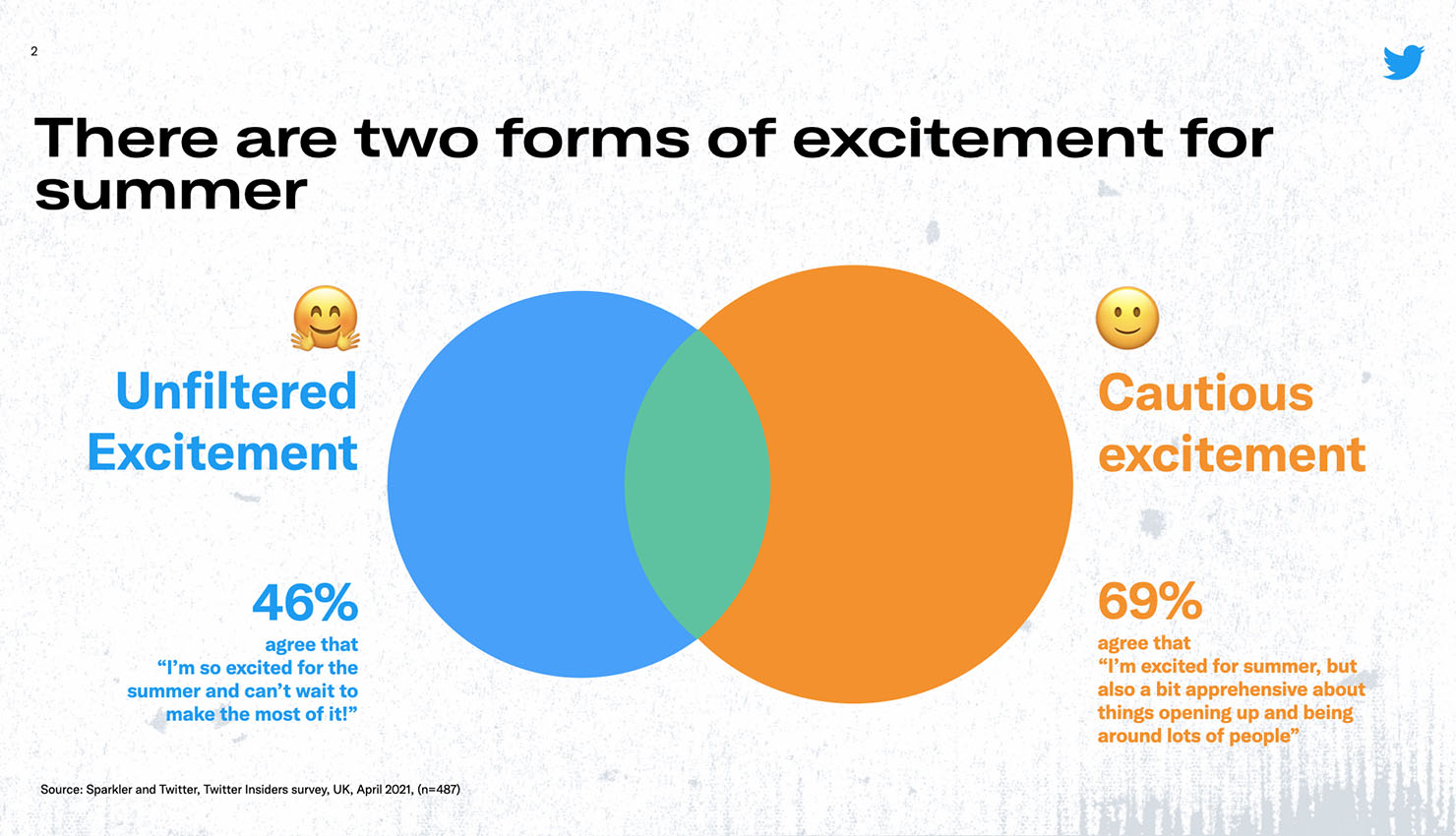 People on Twitter are looking forward to some things more than others. We have a few emojis for that. You'll either be racing to the shops to get a new outfit (ready for the beer garden) or heading to the hairdresser.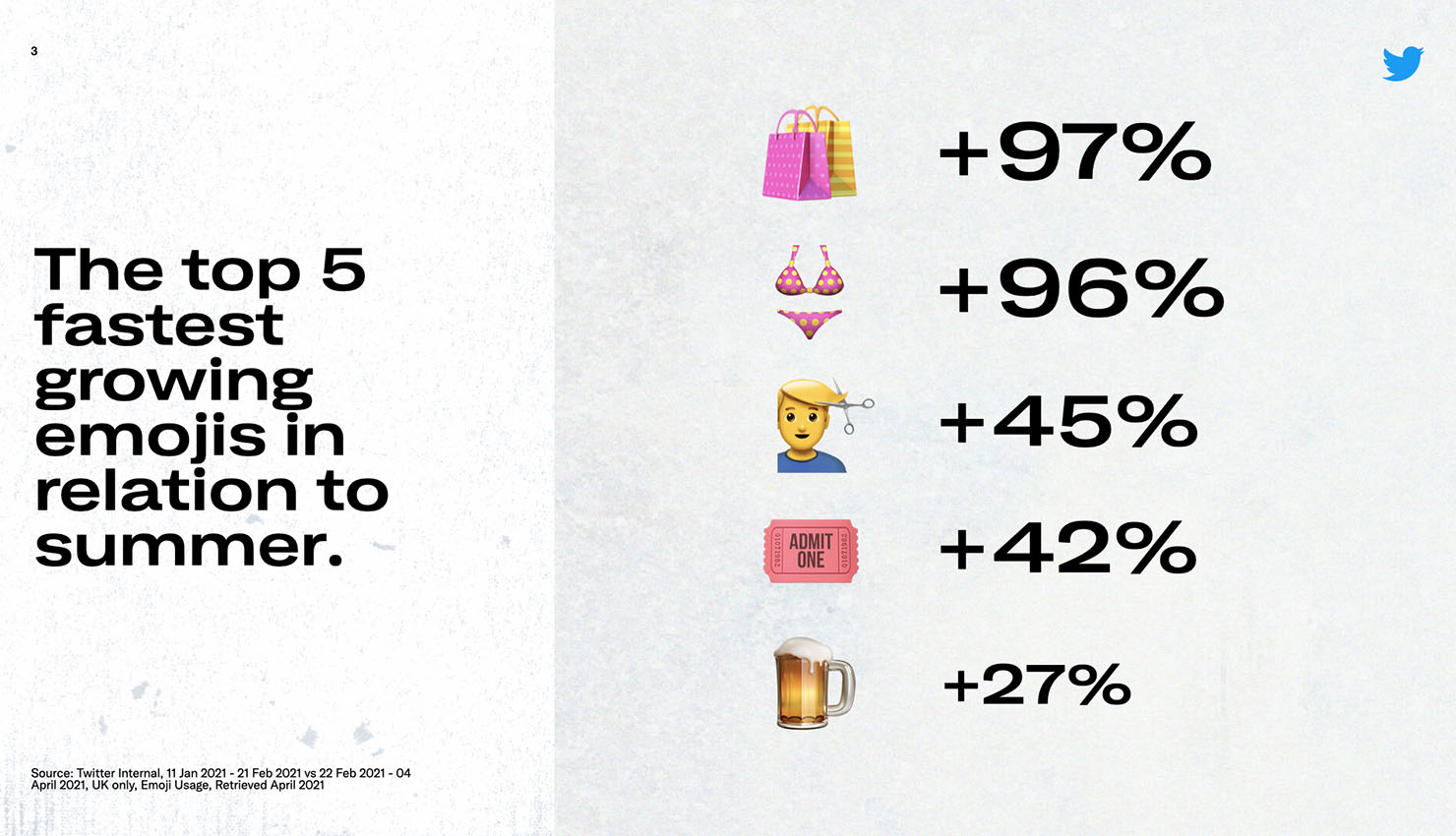 Those emojis only begin to tell the story of what it is we are looking forward to. A trip to the pub beer garden, for instance, is only complete when you're with your loved ones and mates. 
Many of us can't wait to socialise again, and, of course, we want to do that most in the most British of institutions. This desire is reflected in the soaring use of the beer emoji and the number of Tweets about pubs and when they will open.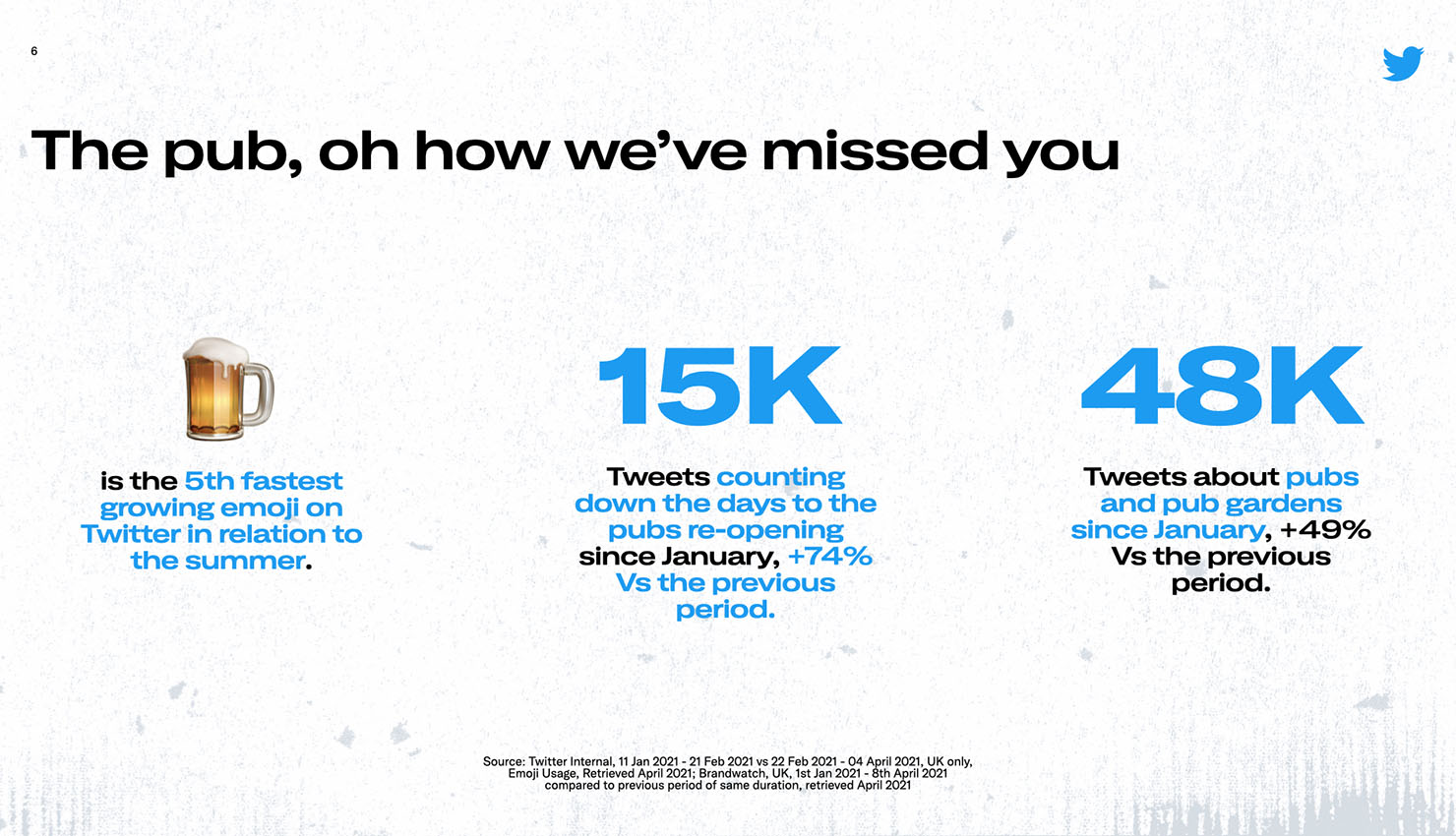 While lockdown has been challenging, there have been positives. Not going out has meant we've been spending less. There are other positives we are taking heart in from the experiences of what we have seen happen in Israel, which has led the world in its vaccine rollout and return to a life more ordinary.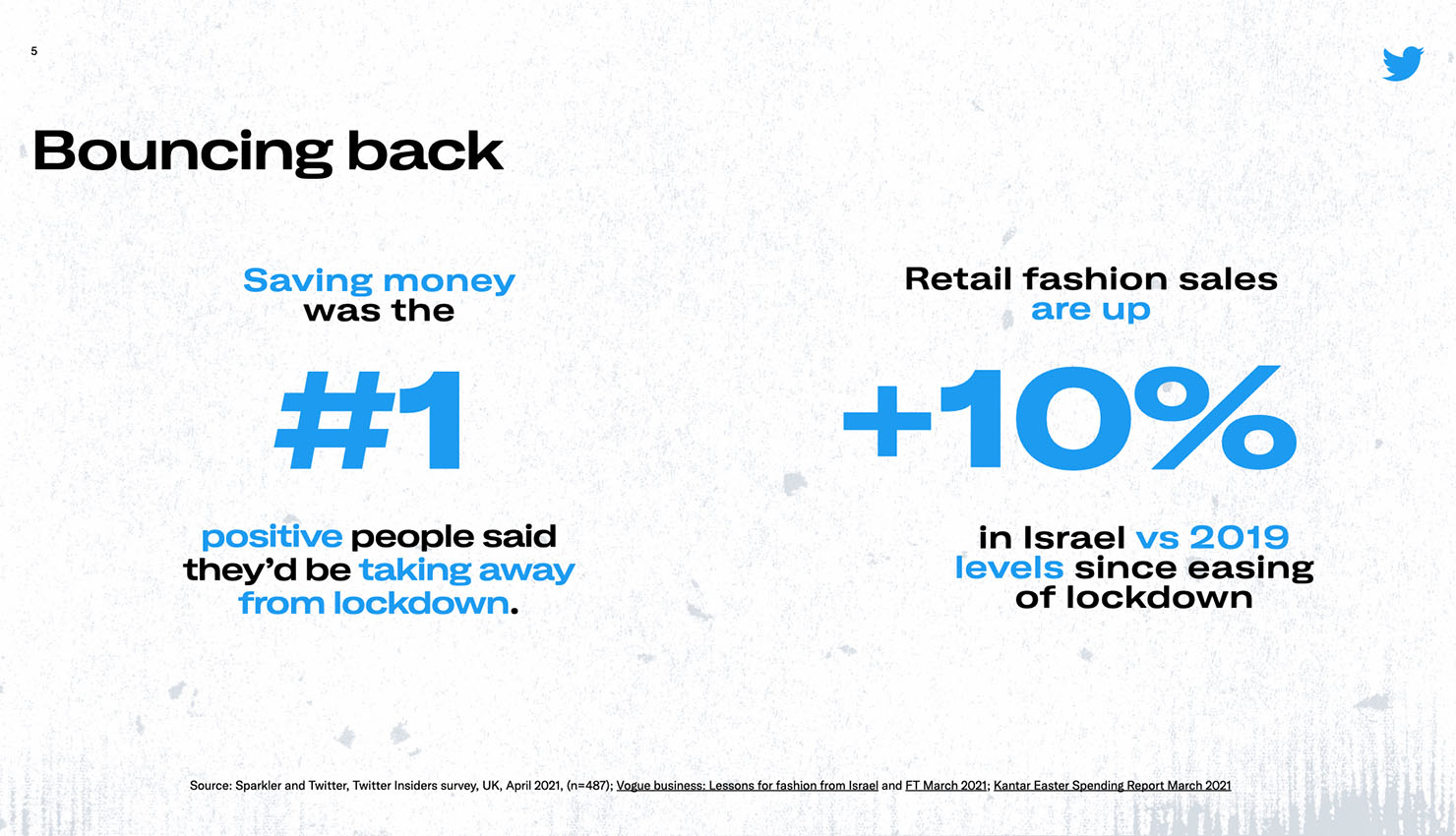 Holidays have been a big topic of conversation since the government announced plans to allow UK overnight stays followed by foreign travel (hopefully).
For now, our holidays may be restricted to home shores, but that has not dampened our enthusiasm for getting away.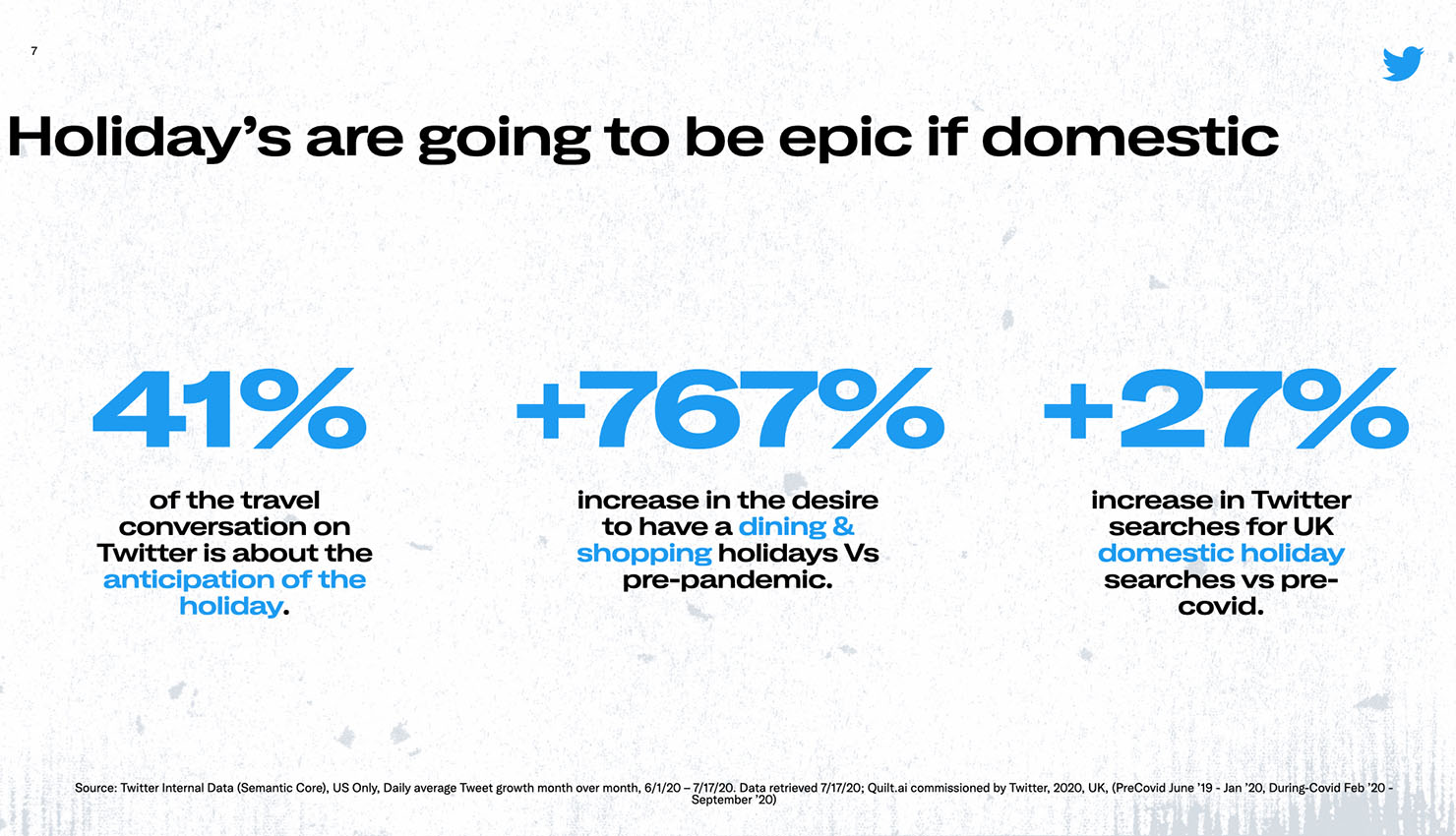 To top it all, on the horizon is a summer of sport. 
One of the main reasons we're looking forward to the summer is because of all the incredible sporting events coming our way—the Olympics, Wimbledon and of course the football, which is set to be huge on Twitter.
England fans are using the hashtag #ItsComingHome as they dream of European victory. With Scotland and Wales in the tournament as well, there is much for UK football fans to be joyous about.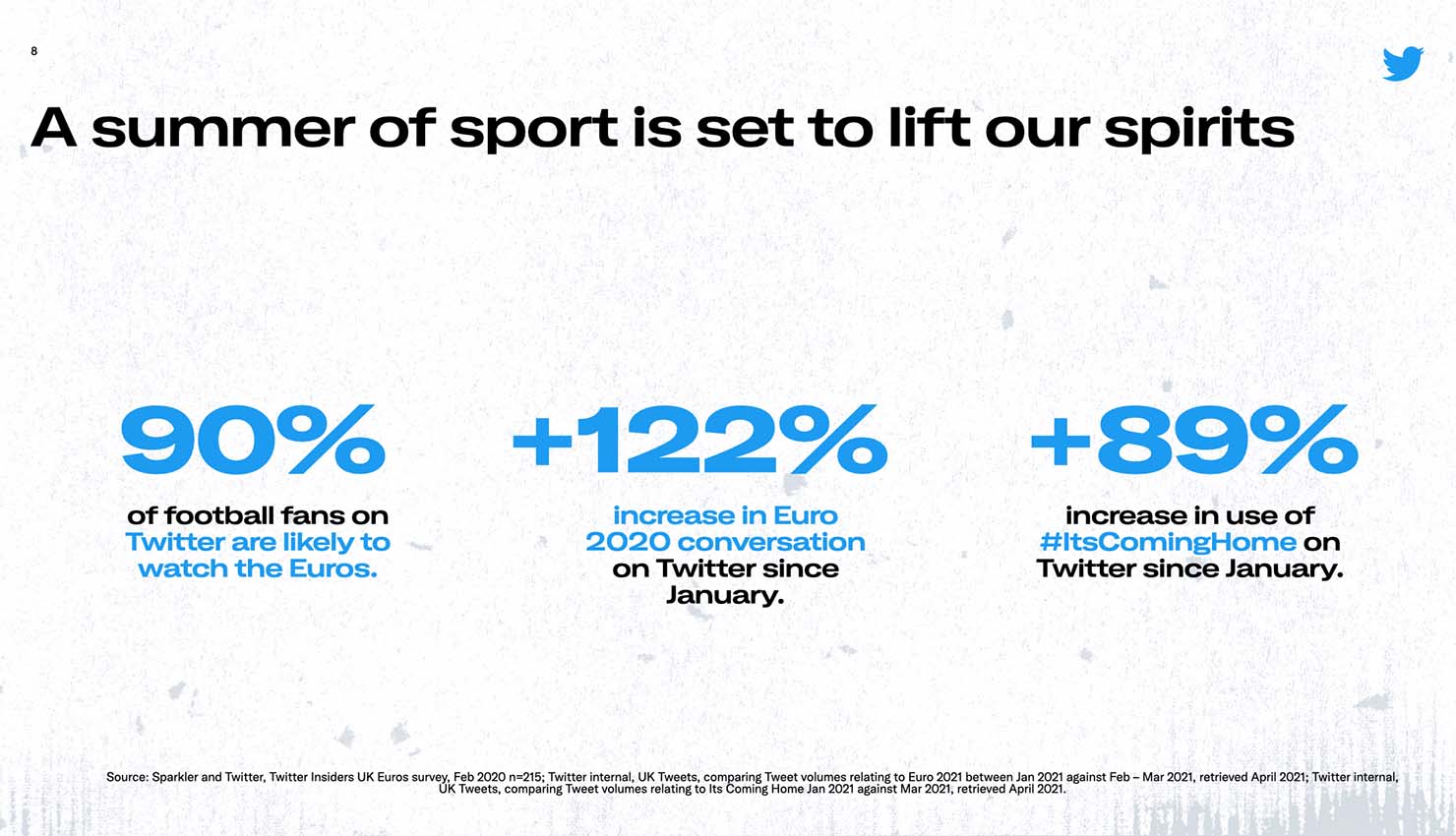 All of that money saved is about to be put to good use. We might like to shop online, but nothing can top an IRL experience of visiting the shops.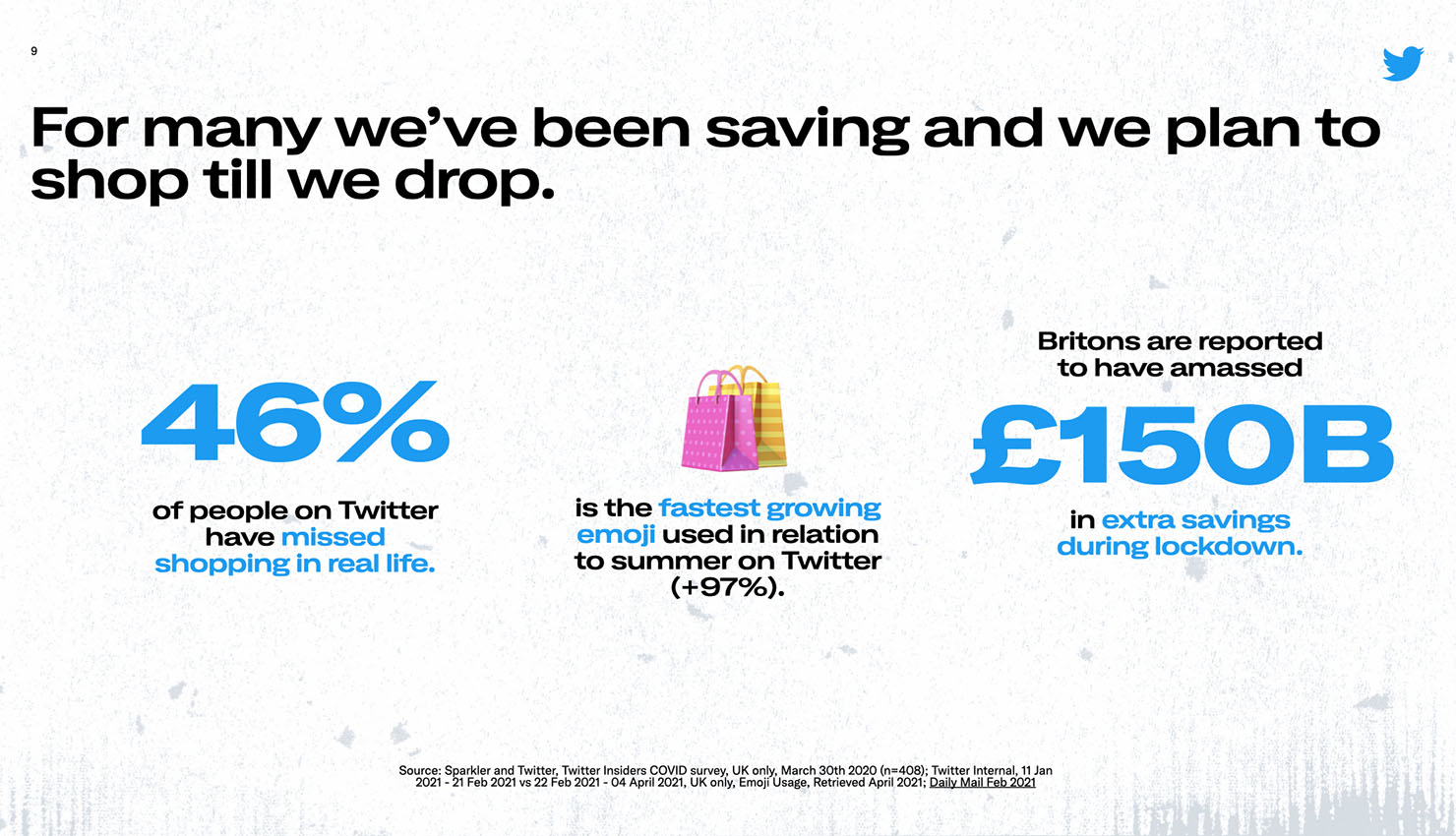 This emerged as one of the things we missed most during lockdown. Hence Monday's queues.
For brands, all this means they can start getting back to what they do best. And it's okay for brands to join in the celebratory nature of the nation's mood.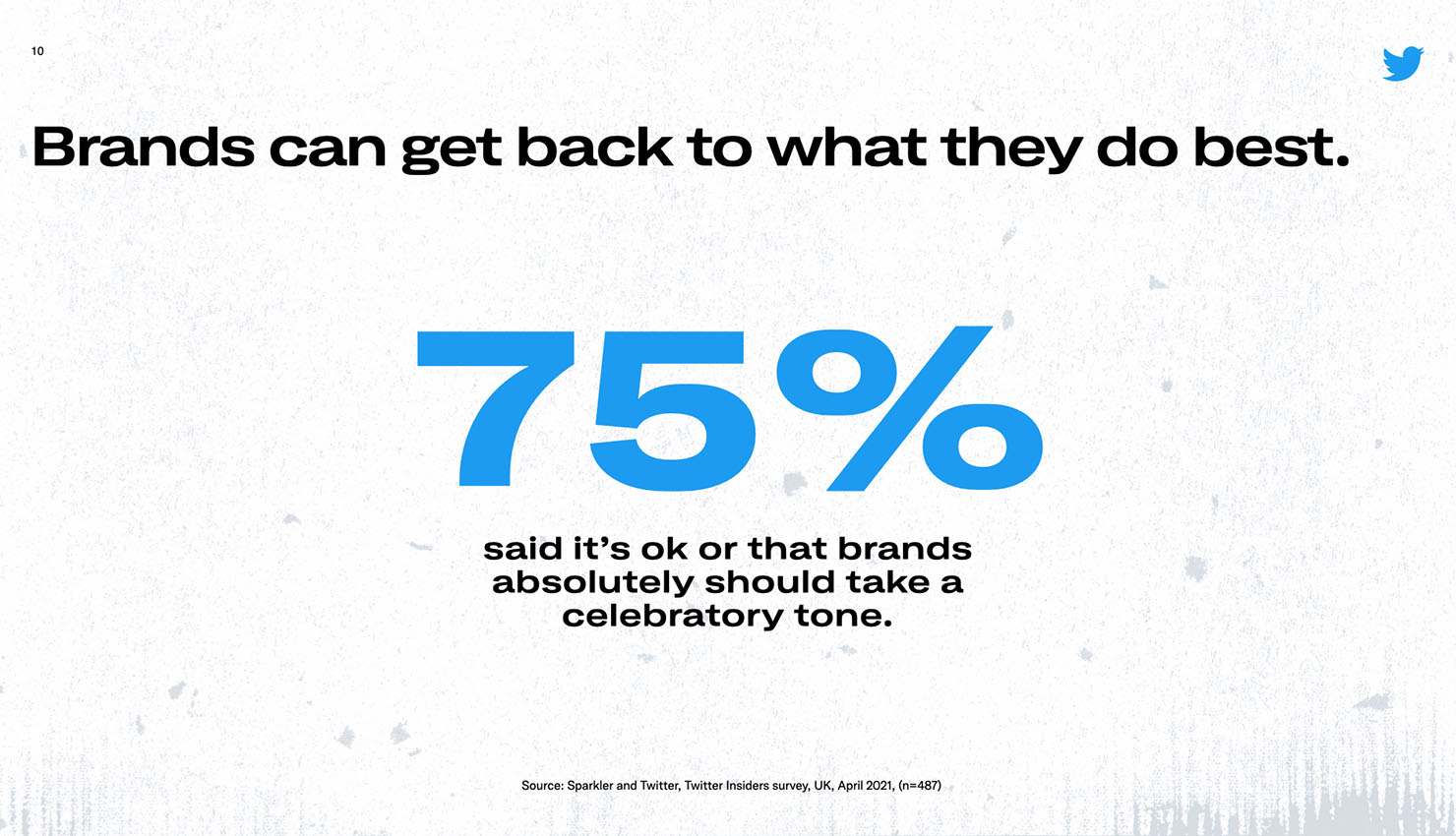 However, it will be critical for brands to make sure they are reading the room to avoid missteps. Part of that will be keeping customers informed and by being supportive and caring.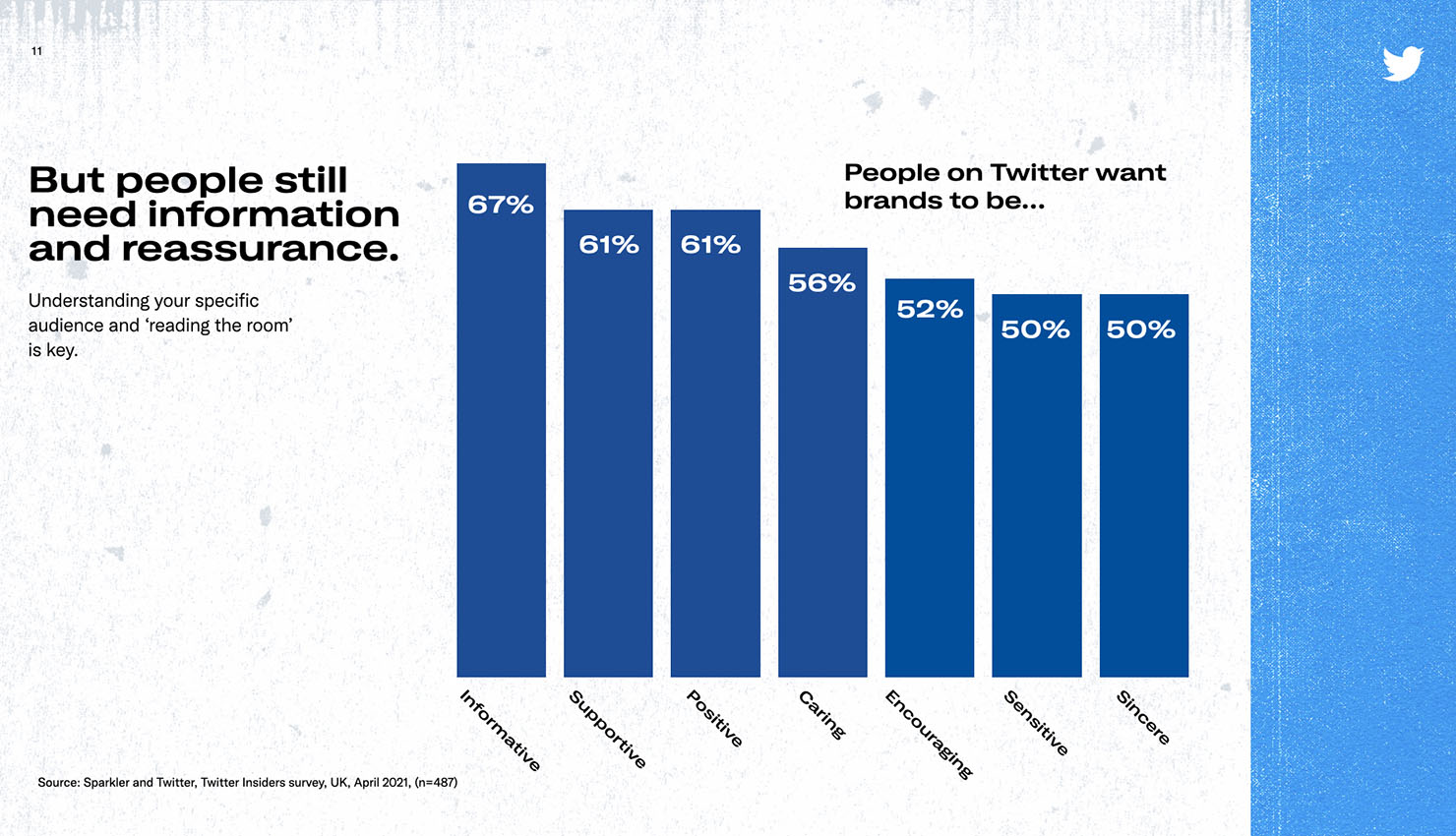 Beyond that, people on Twitter want brands to start offering deals around the key dates for easing lockdown and seeing brands invest in their in-store experience to entice us back. 
And finally, people on Twitter expect brands to play a leadership role in helping 'shape our lives' and 'build back stronger' as we emerge from lockdown.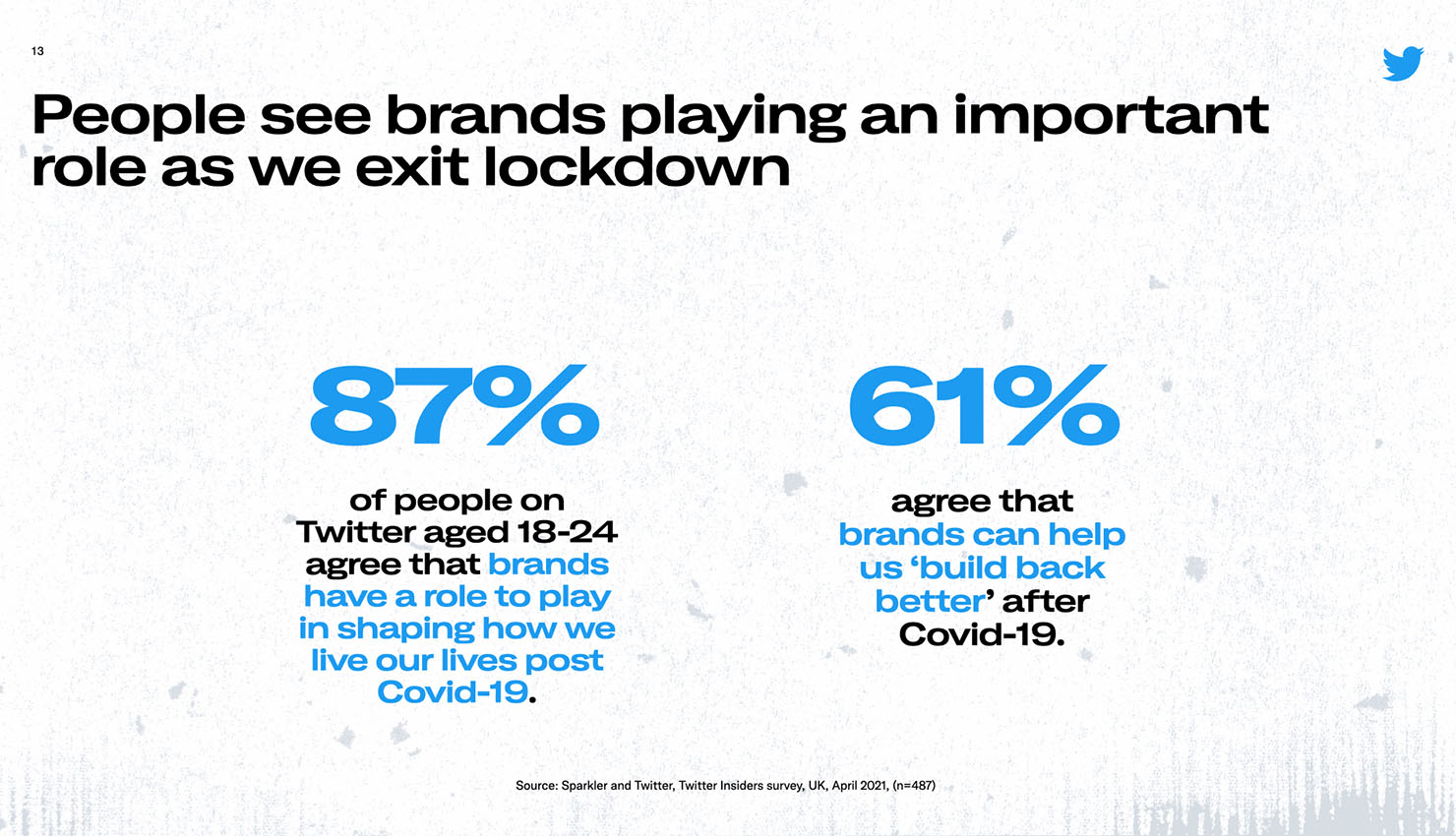 We don't know what the rest of 2021 will bring, but right now, the good news and optimism signals we are set for brighter days. 
Enjoy the sport and a spot of shopping, and hopefully take that little trip you've been dreaming of all winter. Thanks for reading.