Perspective
A Cannes Lions judge reveals what goes into an award-winning campaign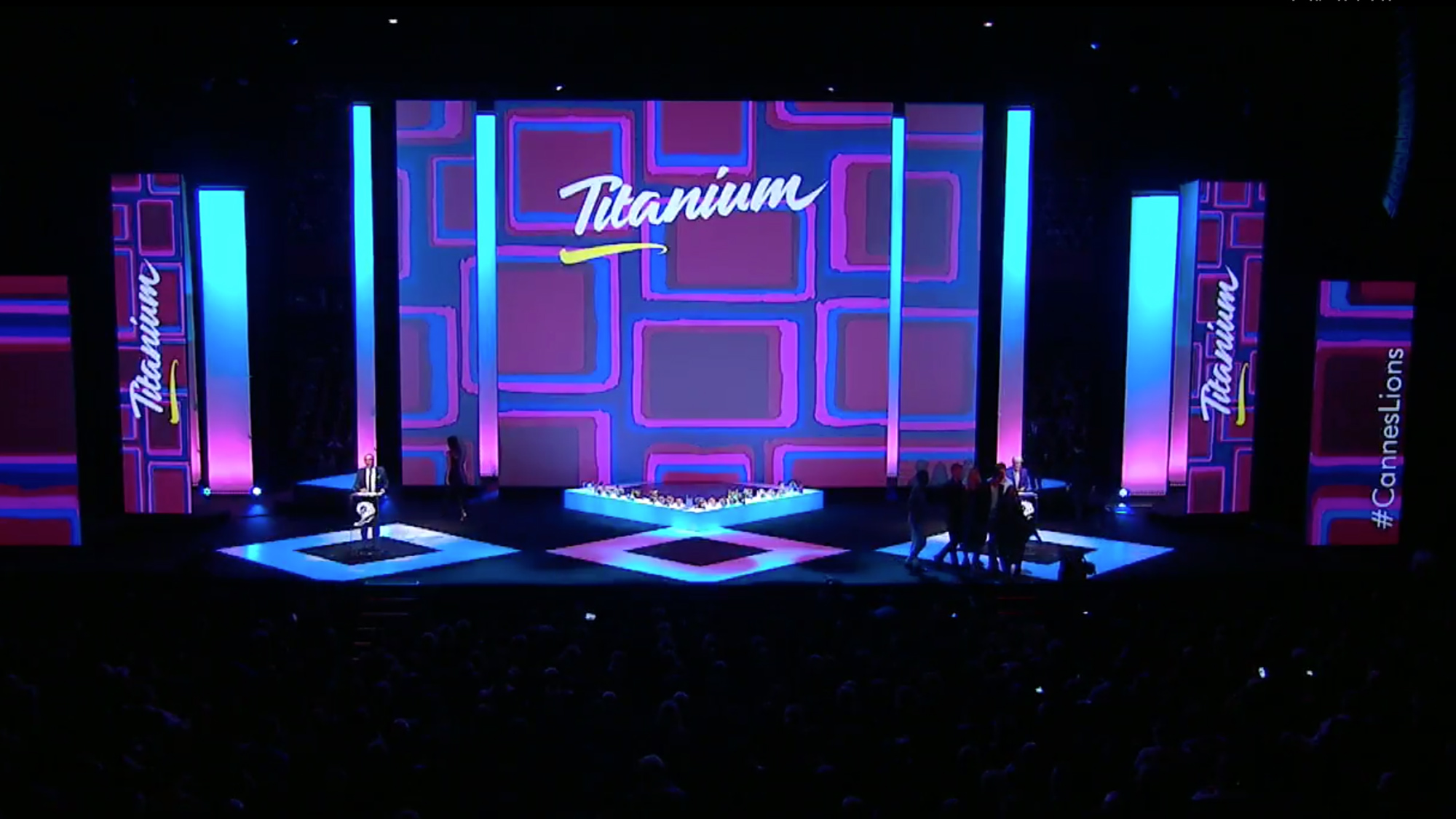 Learn what award-winning campaigns have in common and how to plan using these principles.
What makes a brand campaign powerful, evocative, and truly unforgettable?
Each year at Cannes Lions, hundreds of judges identify the campaigns that meet these criteria. And while there are many factors that go into how the juries at Cannes Lions select winners, a common theme is the brand's ability to leverage an insight found at the intersection of a human truth and brand value.
Meaning: Did the campaign express the brand's deeper purpose? Did the brand communicate in a way that the audience found meaningful and valuable?
Award-winning campaigns are created with heart: stories and experiences that make people feel something, told by a storyteller confident in the story they have to tell. The best work is so good, it's easy to imagine an ad for the ad.
At Twitter, our brand strategy team has the privilege of supporting brands and their agencies as they develop many of these award-winning campaigns. In fact, in the last few years, Twitter was integrated into more than 70% of Grand Prix winners' campaigns at the Cannes Lions Festival of Creativity.
How do we do it? No matter how big or small the opportunity, we apply the same process — and mindset — to what we do.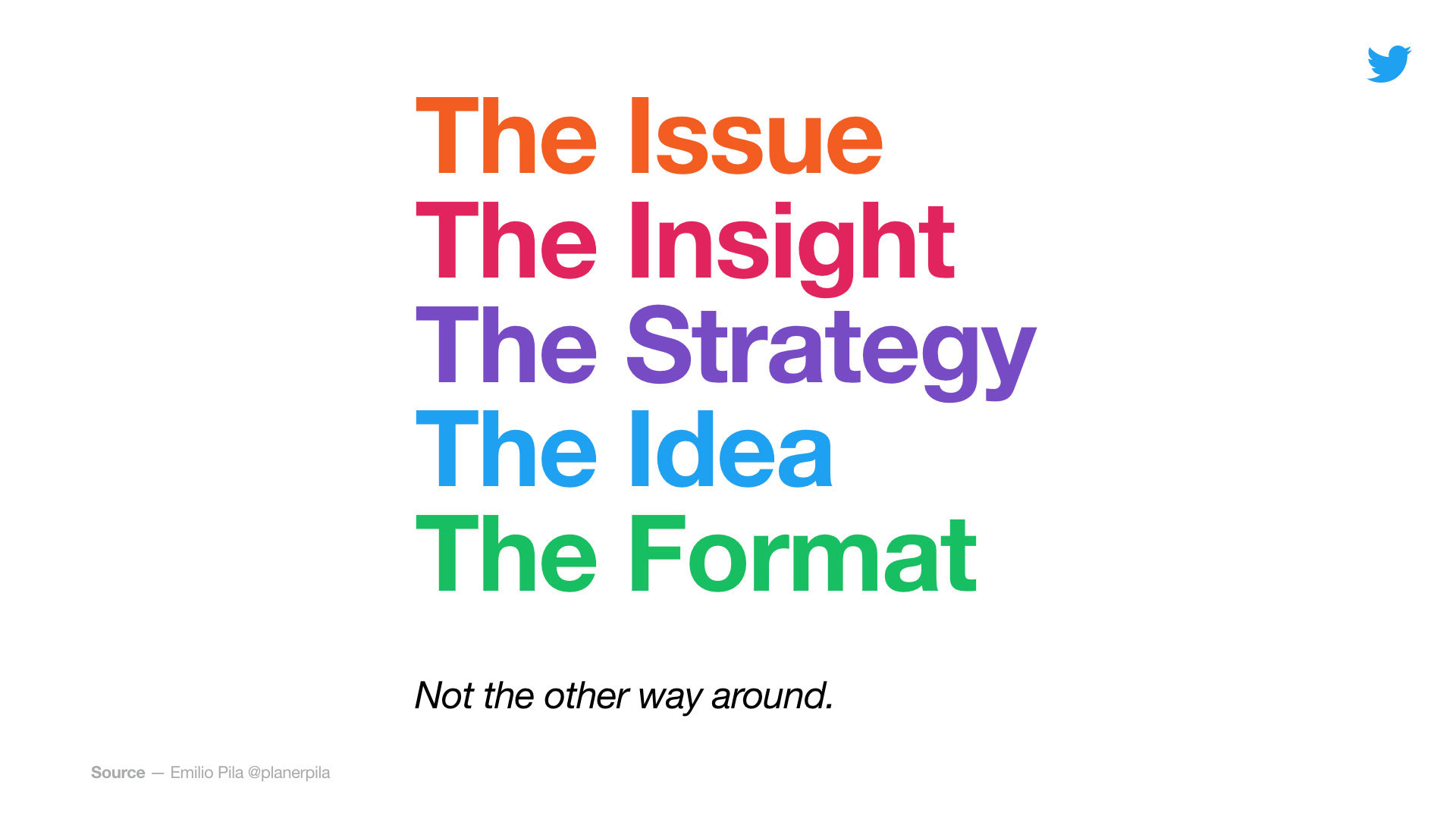 Making format the last step in our process is significant. It's tempting to flip the order: choosing formats is easy; defining issues and mining insights is hard. But this is a challenge our team is passionate about taking on. Twitter is the largest public repository of human thought ever collected. Mining Twitter's trove of data alongside creative and media agencies is where the magic happens and insights are found.
Brand example: REI — from insight to idea
REI's #OptOutside campaign, which won nine Lions in 2016 including the Titanium Grand Prix, was based on a fantastic insight: A lot of people would actually rather not shop on Black Friday. 
Based on this insight, REI's strategy focused on helping this audience avoid the Black Friday crowds and do something aligned with REI's purpose: spend the day outside. This insight and strategy were easily validated on Twitter, where many had shared their desire for a more meaningful Black Friday tradition.

To get the message out, REI made a bold move by encouraging people to not shop on Black Friday and creating the #OptOutside hashtag to help them publicly declare their support. REI also closed all of its stores and warehouses on Black Friday and paid its 12,000 employees to take the day off.
#OptOutside became a rallying cry which united and sparked a movement, challenging assumptions about what consumers want on Black Friday. REI's message was authentic because, as an outdoor apparel co-op, REI ultimately exists to help people experience the outdoors. REI found the intersection between its brand values and human truths: a passion for the outdoors. By leveraging this insight to bring a large audience together around its shared values, REI deepened its customers' connection to its brand.

Results: honing in on the value of a campaign
For those wondering what's the impact of closing stores on one of the biggest shopping days of the year: REI's sales went up year over year.
However, sales are a second-order effect. In a world of almost infinite options, there are two reasons why someone chooses to be your customer: you offer the cheapest way to meet a transactional need, or you strike a chord with them that they feel each time they experience your brand, products, and/or services. The former puts you in a race to the bottom, while the latter wins you customers for life. The only way to strike that chord with your brand marketing is to start with an insight found at the intersection of a human truth and a brand value.
The next time you're invited to a brainstorm, writing a brief, or responding to one, apply our five steps to identify the issue and insight first, then the strategy and idea, and finally the format. Not the other way around. Pay special attention to the last line, and remember: As the largest public repository of human thought, Twitter is the place to identify insights.
This year as I head to Cannes to join the distinguished jury in the entertainment category, I look forward to seeing campaigns that clearly follow the process laid out above. I look forward to seeing campaigns that bring people together, get them to see things differently, and are done with the conviction of a brand that knows who it is and why it exists. If you see work that moves you, share it with me on Twitter.