The Conversation
Football fans on Twitter get ready for Euro 2020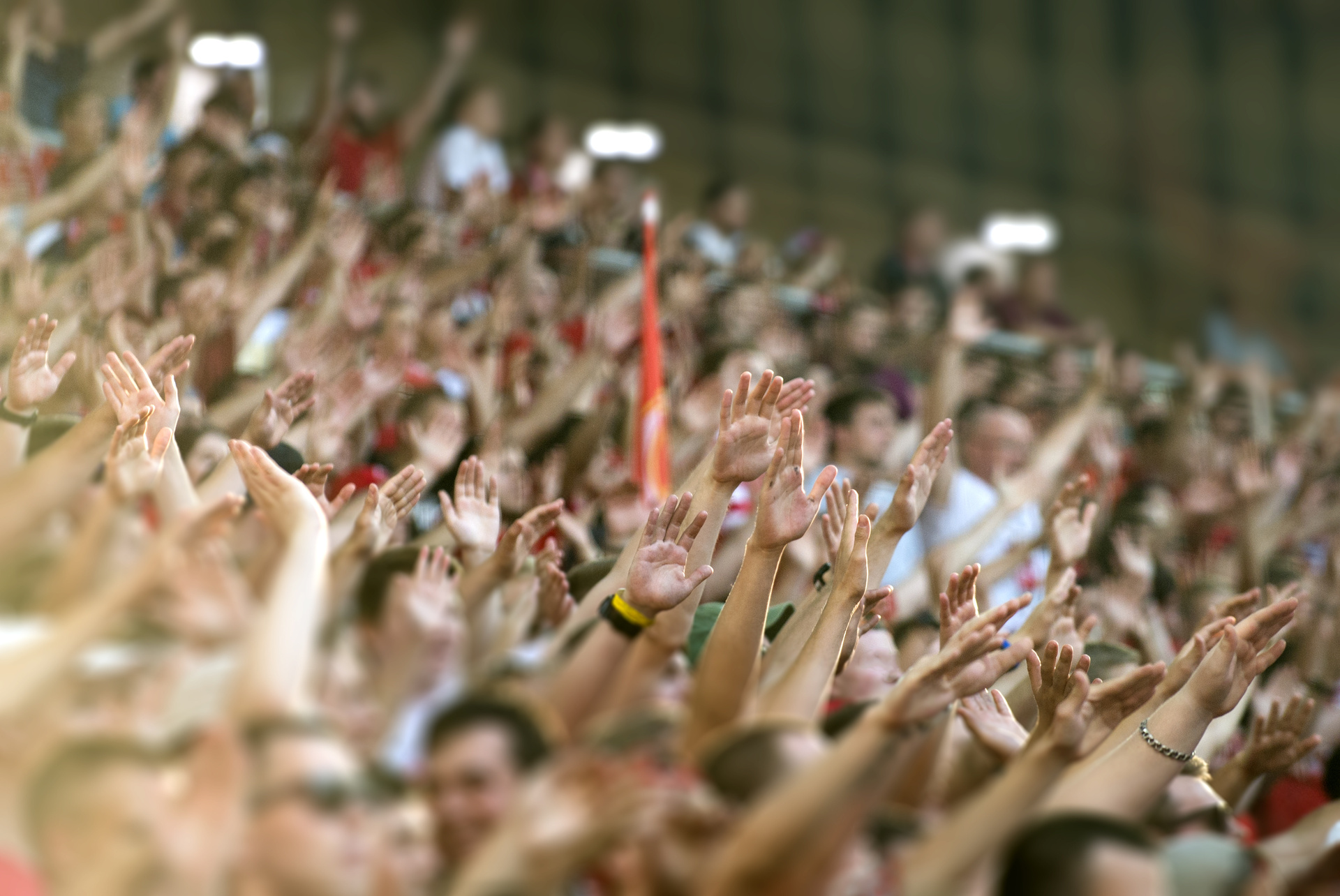 Win or lose, when it comes to football, the conversation is happening on Twitter
As the country begins to emerge from lockdown, we're ready to embrace a highly anticipated summer of sport. 
The recent announcement of a #EuropeanSuperLeague (and subsequent climbdown) set Twitter alight as fans reacted to the news with outrage, and no small amount of humour. In just a few days, there were over 1.8 million mentions of the Super League from over 500k authors. 
Now with Super League plans on hold, attention is turning to the continent's biggest sporting extravaganza, which kicks off on 11th June. Having had to wait an extra year has been tough for football followers. Although reliving the nostalgia of Euro '96 on @ITV last year helped, fans are now ready for live international football action. 
As the buzz builds, the debate is happening on Twitter: who will make the squad? Who will be the stars? And, of course, will @England (or @ScotlandNT or @Wales) bring it home? Fans have plenty to ponder and a lot to look forward to. To get you in the mood, here's a peek at some of the highlights from the year so far.
It's often described as an iconic summer of football and memories of Euro '96 certainly remain larger than life.  Although we were gutted by the delay of Euro 2020, @ITV came to the rescue, screening every game from the '96 tournament, and setting Twitter alight with sweet nostalgia.
With #itscominghome featuring in 42,396 unique Tweets1 and spectacular Gazza goals filling our timeline, Twitter became a welcome time warp. The much-needed positivity kept fans happy as they patiently waited for the next big tournament.
As we tick off the days until Euro 2020 kicks off, the fizzing excitement can be measured by the ever-expanding number of Tweets on the topic. There were already almost 289K Tweets with 50 days to go to the first match.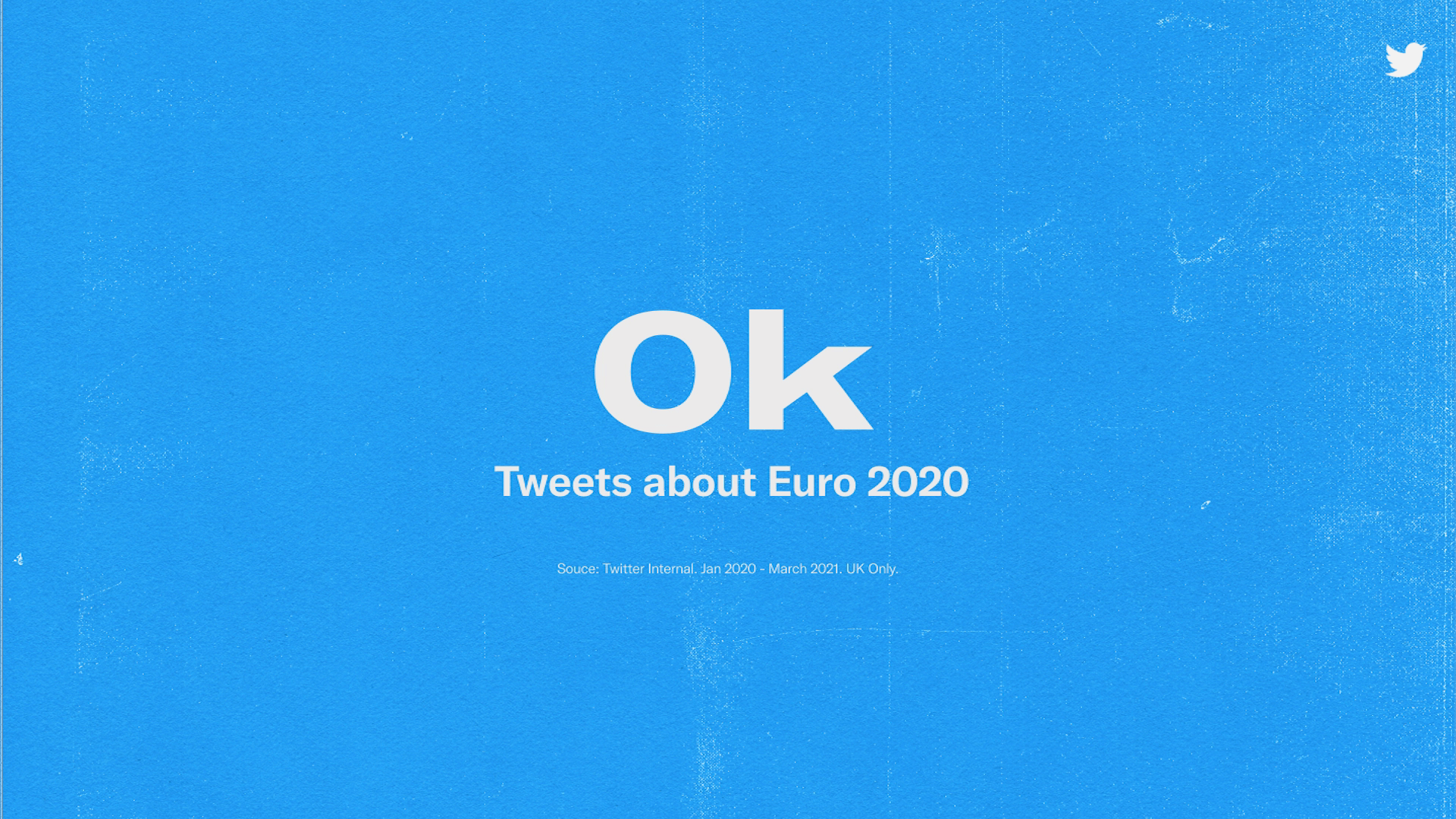 That number of Tweets is still climbing. Daily conversations on Euro 2020 grew by 114% in March 2021 compared with January 2021.3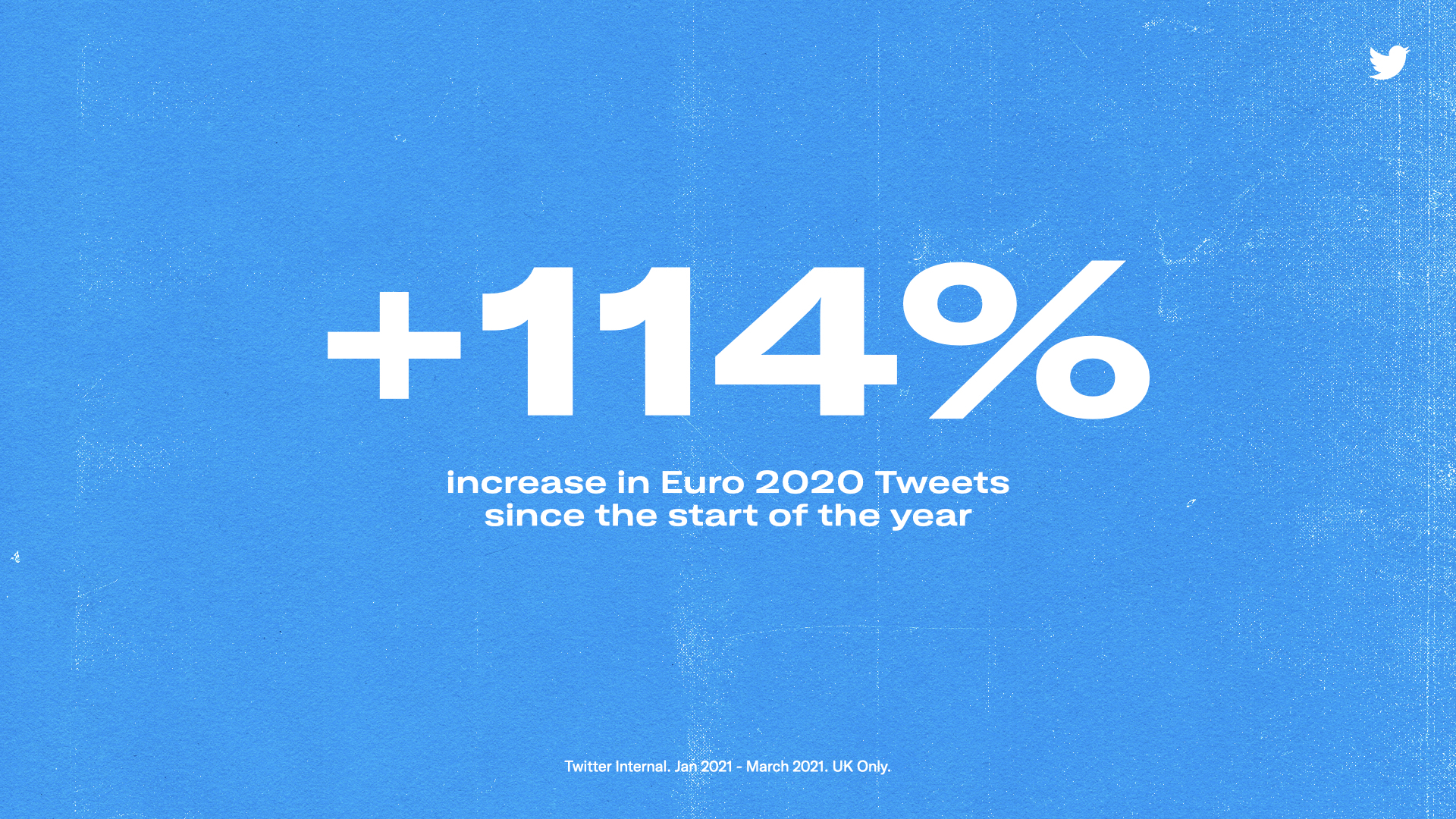 One of the best things about a European football championship is that it brings people together – football lovers or not, people tune in. And when it comes to Twitter, more than half (56%) of Twitter's audience are fans of the sport.4 With fans ready to exercise their freedom to express themselves, it probably won't surprise you that 90% of football fans on Twitter are likely to watch Euro 2020.5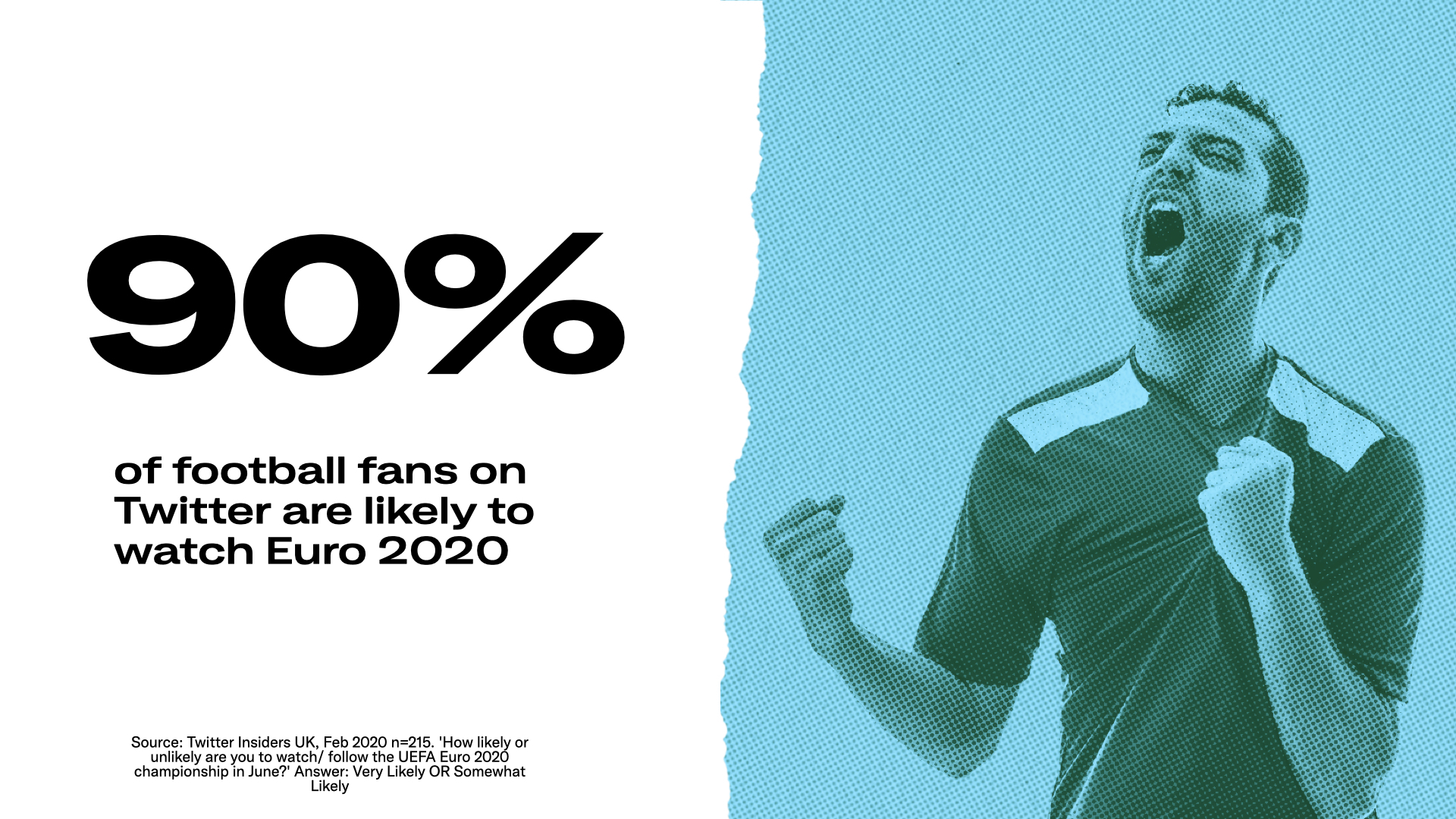 In the UK, there will be plenty of banter to keep them busy. With @England, @ScotlandNT and @Wales warming up for a bumper year – not to mention a direct face-off between The Three Lions and Scotland – there's sure to be some colourful camaraderie and competition.
The conversation is happening
It's easy to check the pulse of Euro 2020 fever – Twitter is full of Euros conversation. Twitter's football fans are keeping it real with top Tweets, from visualising success on the pitch to reframing the summer's full line-up and even providing some lols where we thought they weren't possible. 
Look no further than the top emojis to gauge sentiment. With the green tick coming out on top and featuring in 4816 posts, fans are staying positive and focused. The conversation has been light-hearted, with plenty of crying with laughter emojis. Fans are expressing their excitement too, with starry-eyed emojis and trophy emojis rounding out the most used.6
Much speculation and careful analysis is cast over the final team selection – on the pitch and on Twitter. With a so-called 'Golden Generation' of players on hand, there are difficult squad decisions to be made. Will they leave Jesse Lingard home? The suspense is palpable. What would happen if the conversation on Twitter led to the team selection? Funny you should ask. Here's your @England Euro 2020 dream team, based on Twitter mentions.7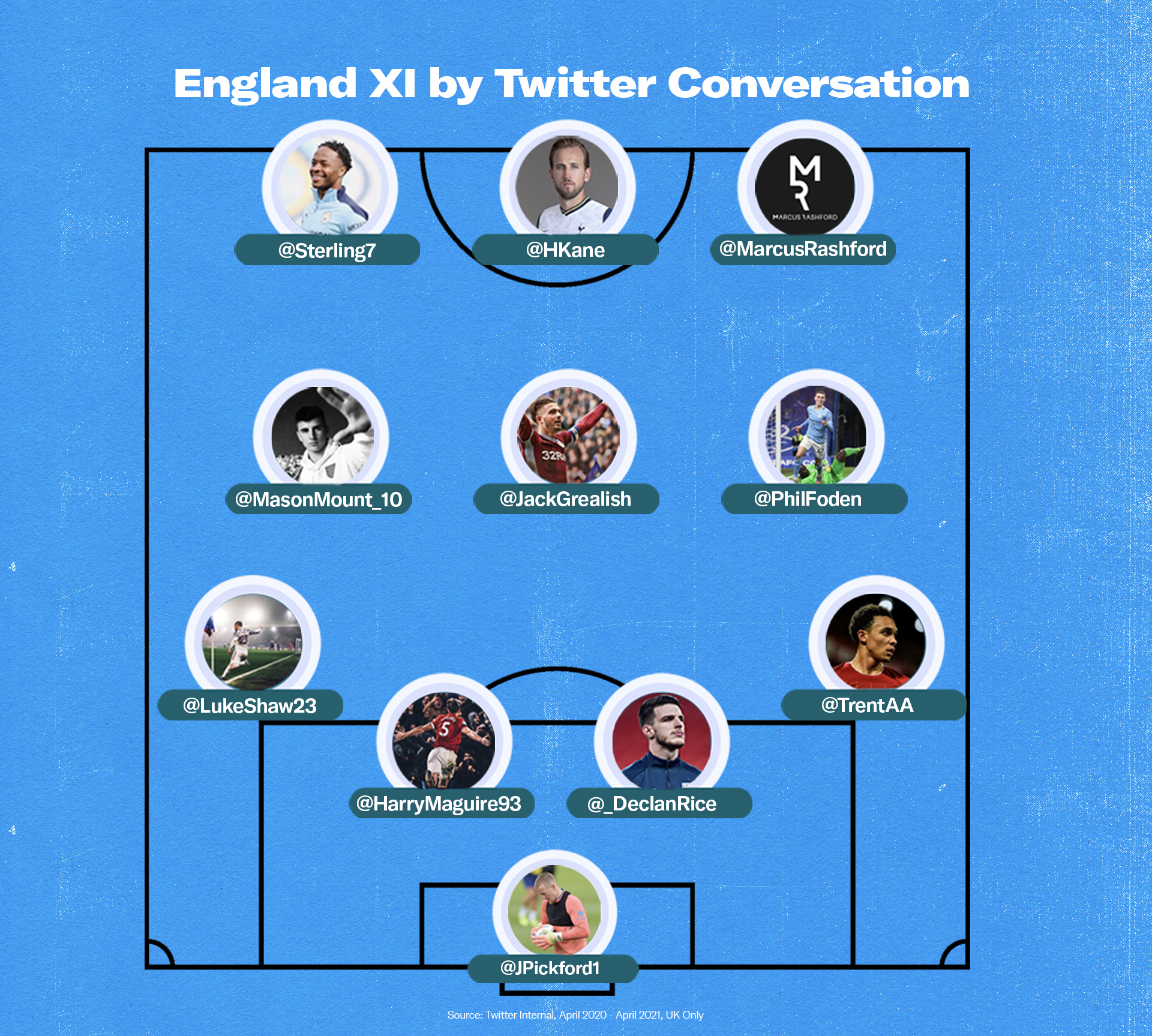 The other question fans of home nation teams are asking is who they will face on the pitch? What international football talent might they line up against? While we can't tell you who will be in every squad taking part in the tournament, we can say who might be in a super Europe XI, according to the Twitter conversation.7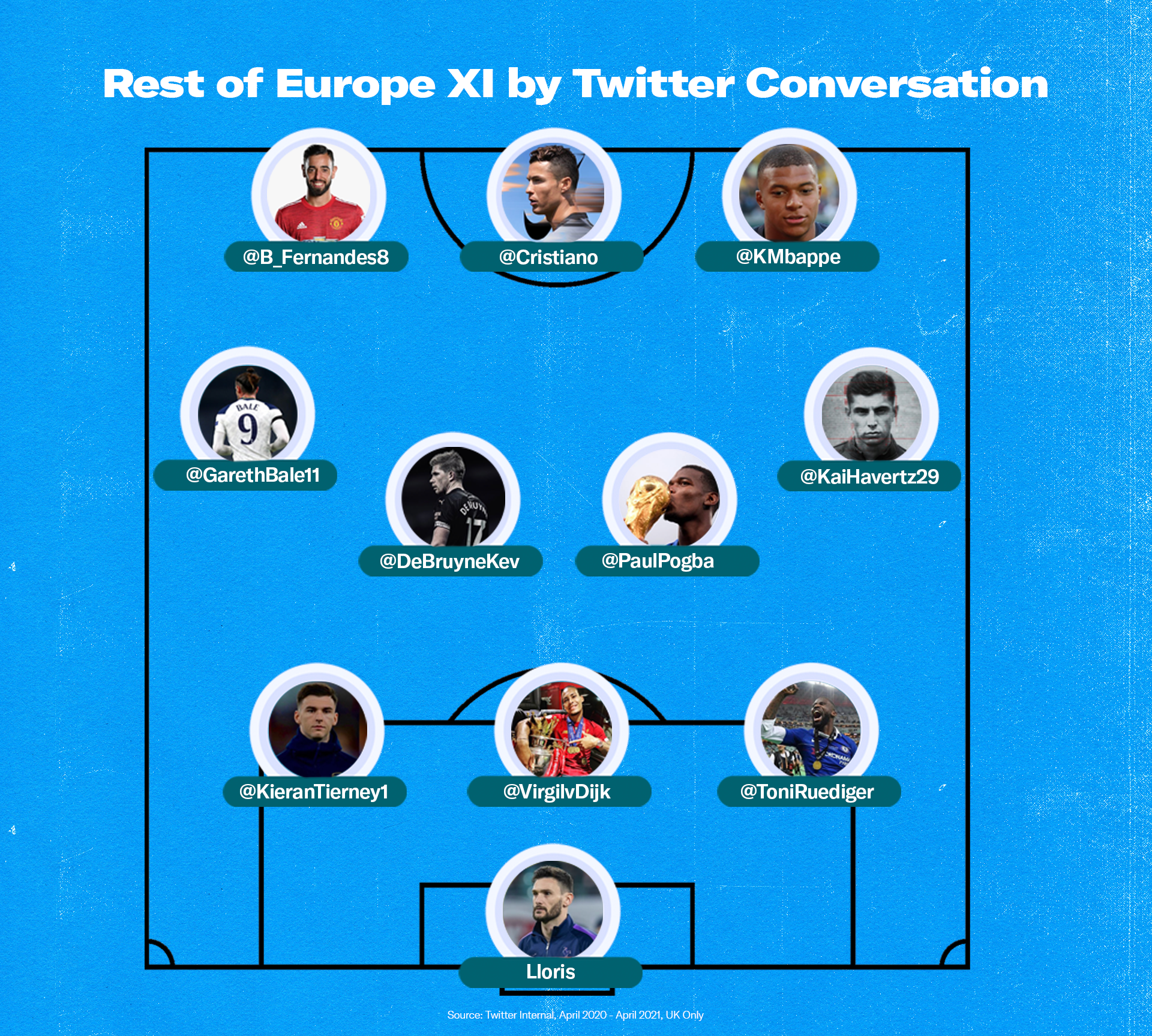 Ultimately, whether we bring it home or not – fans will keep watching for the love of the game. A massive 82% of football fans on Twitter will continue to keep up with the tournament, even if their team is knocked out.8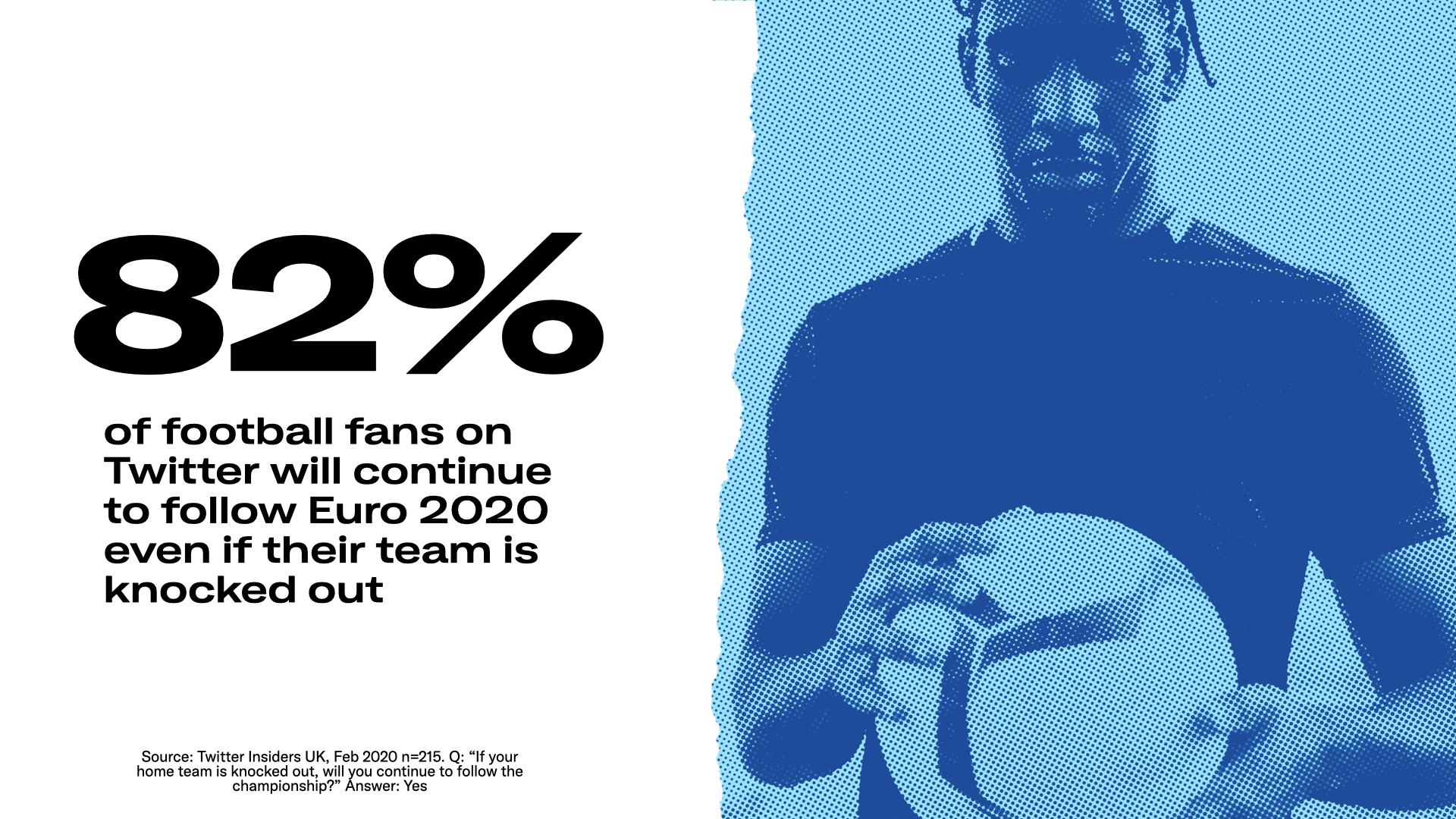 So, expect more banter, analysis and off-side chats, with 73% of football fans on Twitter using the platform to keep up with scores.9 One thing is sure, as the summer of sport comes to life, the mighty roar of fans will be heard on Twitter.
Sources:
1. Twitter Internal Data, 7 April 2020 – 6 April 2021, UK Only
2. Twitter Internal Data, 1 Jan 2020 – 31 Mar 2021, UK Only
3. Twitter Internal Data, Jan 2021 vs Mar 2021, UK Only
4. Sparkler, commissioned by Twitter, Twitter as a Stadium Survey, August 2020, UK.
5. Twitter Insiders UK, Feb 2020.
6. Twitter Internal Data, 1 Jan 2020 – 31 Mar 2021, UK Only
7. Twitter Internal Data, 1 April 2020 – 7 Apr 2021, UK only
8. Twitter Insiders UK, Feb 2020.
9. Twitter Insiders UK, Feb 2020.