Case Study
Tourism New Zealand challenges the world to share stories of positivity to mark World Kindness Day

97% Positive Sentiment
Engagement on content was overwhelmingly positive
1.97% Engagement Rate

Verses Twitter's benchmark of 1.5%
3.8K mentions of #PureKindness
Thousands around the world got involved to spread positivity on the day
Tourism New Zealand is the world-famous brand of the nation's Tourism Board. It's home for travellers looking to find everything they need to know about visiting Aotearoa. On Twitter, @PureNewZealand amasses more than 190K highly engaged followers globally, and dedicates content to celebrating all that makes the country special. 
But in a year like no other, with the COVID pandemic gripping the world, @PureNewZealand wanted to take time on World Kindness Day to remind the world that despite a challenging year, kindness and caring are still at the core of us all. And what better way to spread messages of kindness and to get people involved than on Twitter.
Never has kindness been more needed than in 2020 so to hero World Kindness Day on Friday 13 November, 100% Pure New Zealand dedicated its Twitter account, @PureNewZealand to sharing stories of kindness from all over the world.
Staging a social media takeover, @PureNewZealand was rebranded to @100%PureKindness for 24 hours and all New Zealand destination content was put on hold; instead it shared only good news stories with kindness at their heart from all over the world. It also challenged people globally to participate in the day and show the positive side of humanity by posting their own stories of random acts of kindness using #PureKindness. And everytime the hashtag was used, a custom emoji was triggered to encourage sharing. 
To connect with its Australian neighbours, @PureNewZealand took over Twitter's Promoted Trend Spotlight promoting the hashtag #PureKindness with Australians, which appeared at the top of the Explore tab, along with the First View to draw attention to its stories of kindness. 
Keeping the stories fresh throughout #WorldKindnessDay, @PureNewZealand also built on the conversation by threading a new kind Tweet every hour –– boosting key Tweets to the US, UK and Canada for a truly global campaign.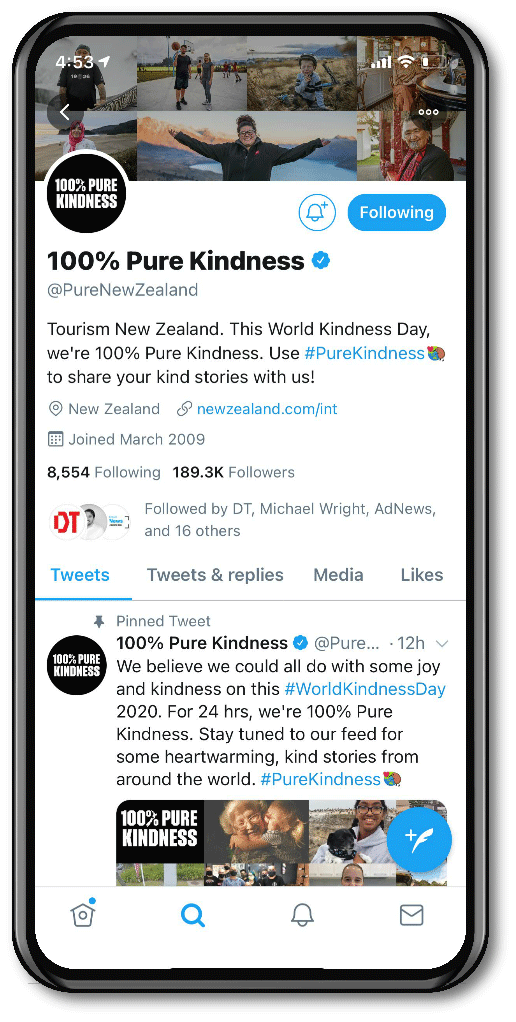 Tap into cultural moments
Leaning into World Kindness Day and global events, Tourism New Zealand was able to connect and engage with people around the world and be top of mind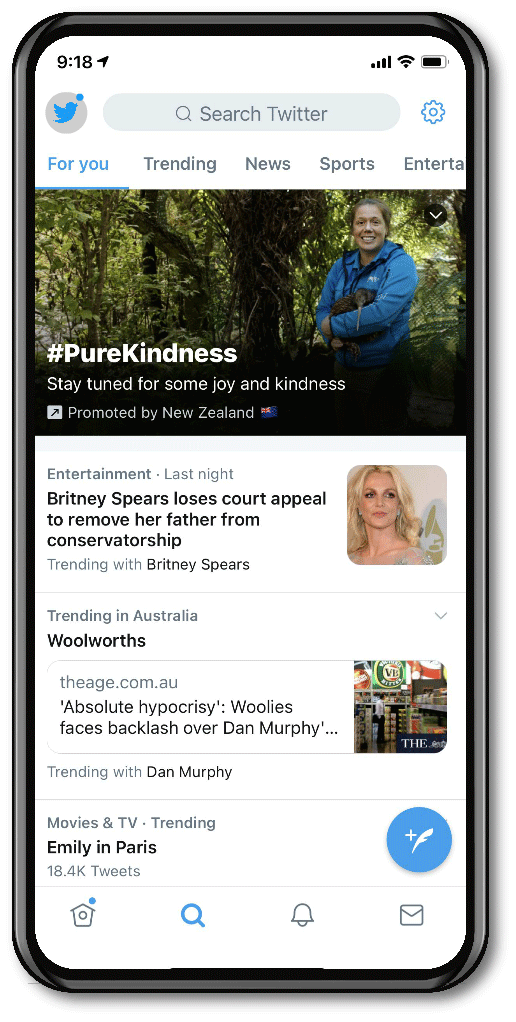 Tease audiences with what's coming
Ahead of World Kindness Day, Tourism New Zealand built hype around the campaign to spark early intrigue with promoted posts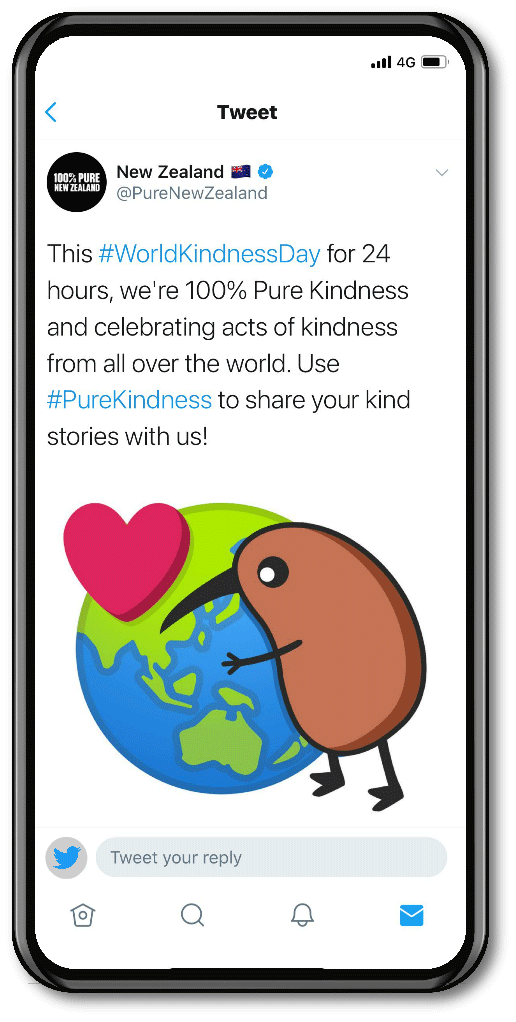 Encourage engagement with a custom emoji
The custom emoji featuring the nation's favourite kiwi helped foster participation and encouraged sharing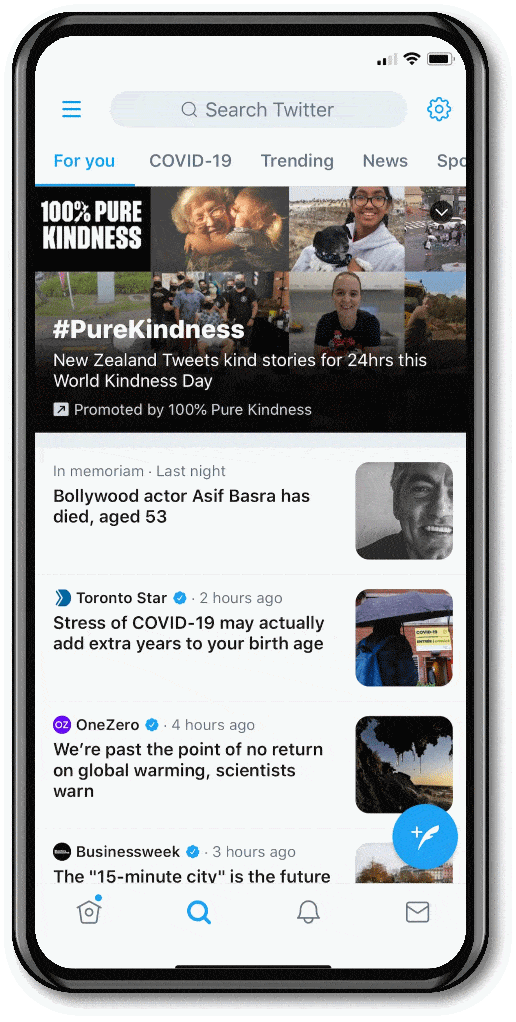 Launch with high impact awareness
Tapping into Twitter's Promoted Trend Spotlight and First View meant the campaign was front and centre for audiences to gain maximum exposure on World Kindness Day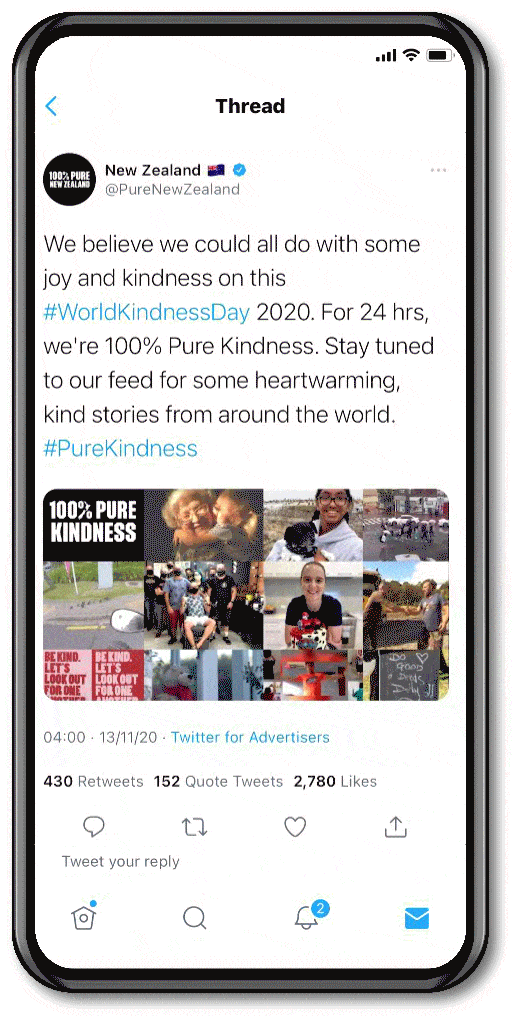 Tourism New Zealand built on a threaded Tweet with new stories of kindness every hour to keep audiences engaged throughout the day
Audiences were truly receptive and leaned into @PureNewZealand's stories of kindness with engagement rates well above Twitter benchmarks at 1.97%  — verses 1.5%. The campaign also saw over 3.8K mentions of #PureKindness, which was helped by its use of Twitter's Promoted Trend Spotlight and First View and points to the effectiveness of the content and eagerness from people around the world to get involved.

And people weren't just getting involved, they were engaging with it positivity with the overall sentiment of Tweets being extremely positive — 97% Positive (Source: Sprout Social)
Tourism New Zealand's 100% Pure Kindness campaign is a great example of the power of brands leaning into cultural moments and global events to connect and engage with audiences around the world in an authentic way.
As a time where it's more important than ever to establish brand presence and remain the top of minds of consumers, we believe that World Kindness Day shared the human side of our brand with the world in a genuine way while staying true to who we are. With Twitter's help and support, this channel specific concept and execution helped us in creating a deeper emotional impact at the time positiveness is highly desired
Source:
1. Sprout Social, 1 Nov - 1 Dec 2020, Australia

2. Twitter Internal (Ads Dashboard), 12-20 Nov 2020

3. Twitter Internal (Ads Dashboard), 12 Nov 2020
Reach your most valuable audience at scale when it matters most.
Successful marketing efforts start with knowing your audience. Twitter's tools help you dig deep.