Case study
How Qoo10 conducted live commerce with Twitter Live Shopping

From searching for information and reviews of products or services to making purchase decisions and writing reviews, people are actively using Twitter throughout the purchase process. In particular, as a result of surveying the consumption behavior of Twitter users in the United States in September, 76% of users say that "talking about products and services on Twitter leads to product purchases."
As recommendations and reviews on Twitter play an important role in product purchases, many brands and businesses are actively using Twitter as a marketing channel. Beginning beta testing of its first 'Live Shopping' feature in Q4 2021, Twitter is further solidifying its position as a marketing platform.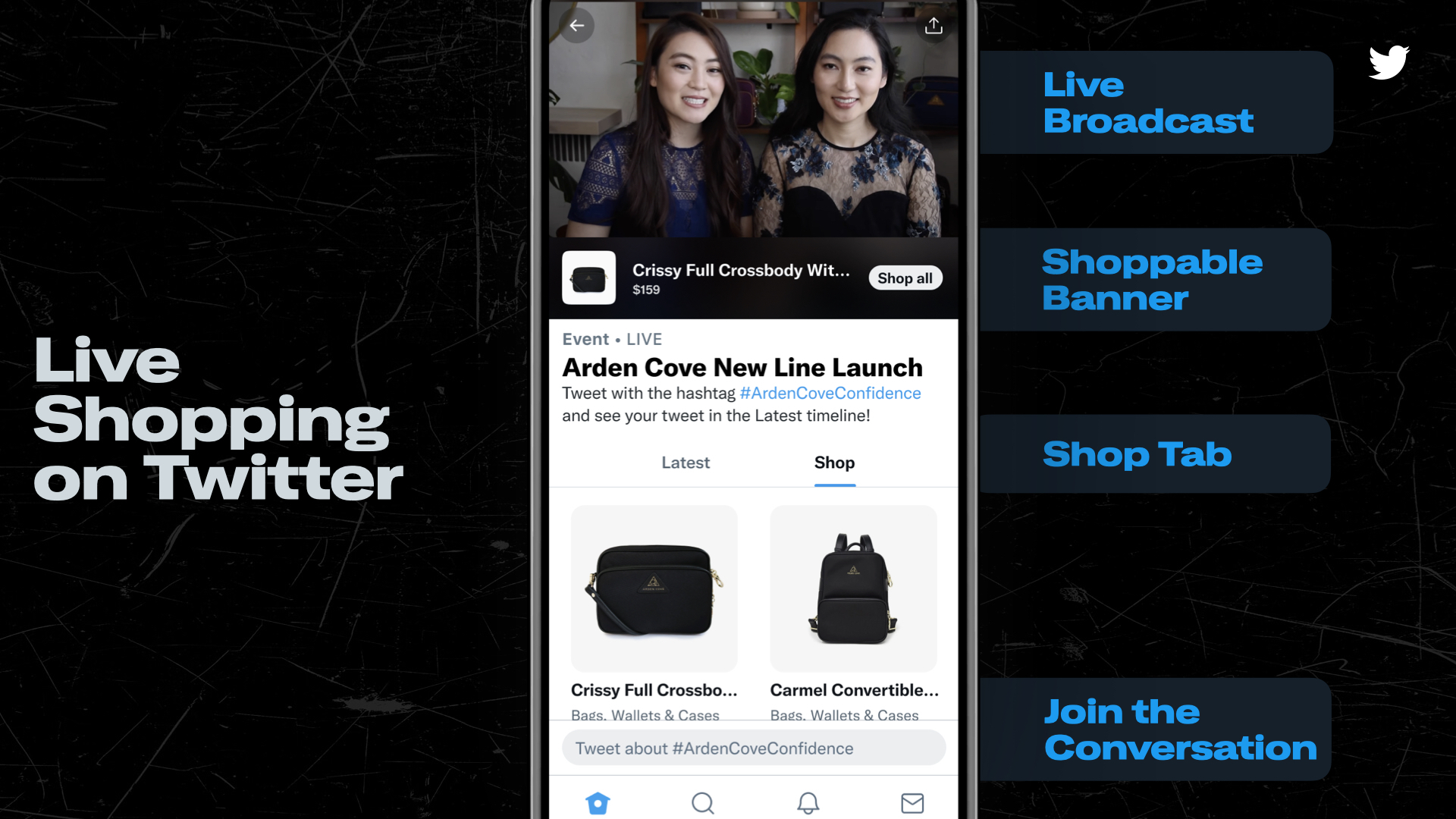 Twitter Live Shopping is Twitter's new online commerce product that allows users to shop while watching live broadcasts through Twitter's Live Event page. Twitter's Live Shopping includes detailed features such as Shoppable Banners, where brands or corporate sellers who have signed up for a 'Professional Profile' can personalize specific products highlighted in a live video feed, and a Shop Tab to showcase all products related to real-time live broadcasting in one place. This allows users to tap on a product of interest to view relevant information and to purchase immediately.

In September 2021, eBay Japan's e-commerce platform Qoo10 (Qoo10, @Qoo10_Shopping) hosted the first live commerce show, "Shocking Shopping Show", in Japan with Twitter. Qoo10 planned a live commerce broadcast for a beauty brand based on the insight that users who talk about Qoo10 on Twitter are interested in beauty and Kpop, and that conversations on Twitter are highly related to actual purchase connections. Qoo10 conducted a Twitter live commerce broadcast several times with various beauty brands, and Qoo10, which has achieved good results and confirmed the potential of Twitter live commerce function, regularly hosts live broadcasts of various product groups including beauty brands as well as food/fashion and electronic brands.
Qoo10 participated in the beta test of Twitter Live Shopping, targeting the Japanese market for the first time, in the Asia Pacific region last March. The Live Shopping Beta was carried out with K-beauty brand 'manyofactory' products, and held an RT event to present 'Pure Cleansing Oil,' the representative product of the manyofactory, for pre-promotion before live shopping, and garnered over 10,000 retweets and 1,500 likes. 
The live shopping event held on March 30th was broadcast on the Qoo10 Japan app and Qoo10's official Twitter account (@Qoo10_Shopping). Twitter live shopping with Qoo10 recorded a total of 330,000 views, and the keyword 'Qoo10' was mentioned over 4 times more than usual during the live broadcast. The related conversation continued even after the live commerce broadcast ended, and a total of more than 60,000 conversations occurred from the 29th to the 31st about the live commerce broadcast announcement. In addition, significant results were obtained in the participation rate by age. As a result of analyzing the conversation related to this live commerce broadcast, it appears that 33% were 18 to 24 years old, 44% were 25 to 34 years old, and was confirmed that about 77% of conversations occurred in the MZ generation.
Twitter live commerce led to an increase in sales, too. Qoo10 sold many of the best manyofactory products at a special 53% discount exclusive to the live commerce event. During the live commerce broadcast, viewers purchased manyofactory products through the Shoppable Banner and Shop Tab on the event page, and the manyofactory took 1st and 2nd place in the Q10 overall sales during the live commerce broadcast.