Case Study
How Netflix India stole hearts on Twitter with its special "ciao" to Money Heist

Nail-biting finales, shocking twists, and El Profesor's amazing plans — it's no surprise that Money Heist has inspired devotion from fans across the globe. Over several seasons, the Spanish crime drama television series takes one on a never-before journey as the masked robbers attempt to pull off one of the greatest heists of all time. From an amazing cast to a gripping plot, the series is truly one of its kind. But all good things do come to an end. Season five, the series' final season, launched two campaigns to build hype and anticipation around the show — #MoneyHeist, going live in September 2021 and #IndiaBoleCiao, going live in December 2021. 
To bid farewell to this iconic show, @NetflixIndia wanted to engage Money Heist's massive fanbase in India and give a fitting ode to the show's viewers. But how could it do so effectively? TV show fans are an indomitable force on Twitter, leading conversations before, during, and after shows have aired. To leverage this community and reach a bigger audience, @NetflixIndia found its perfect partner in crime in Twitter.

A good heist involves careful planning, and @NetflixIndia was inspired by the best. With a wide range of Twitter's ad products, the streaming platform sought to keep audience engagement at the core of its strategies for its two campaigns.
During the first campaign in September 2021, the brand kept ardent fans on their toes by launching a time-based quiz – Money Heist Escape Room. This quiz tested fans' knowledge of previous seasons. The anticipation and excitement for the season finale kept growing and in December 2021, the brand used to bring #IndiaBoleCiao as an ode to the fans of the show, and this marked the beginning of the second campaign. During this phase, the brand also highlighted nostalgic moments through an emoji engine activity as well. In this activity, @NetflixIndia replied to fans' emojis with related scenes or gifs from the show. Talk about
️-felt!

Thankfully, @NetflixIndia's steps to success don't need spoiler alerts. Here's what they did: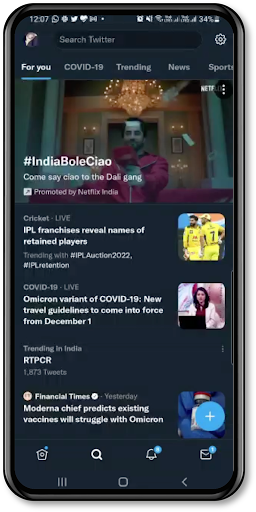 Maximizing impact with Takeover products
There's nothing like the anticipated finale of a beloved show. Tapping into this buzz, @NetflixIndia used a variety of Twitter's ad suite products to hype interest about #MoneyHeist's series finale. This included leveraging products like Trend Takeovers and Timeline Takeover to reinforce its season premiere during the launch weekend.
 
Quizzing the fans and revealing exclusive content
Nothing brings out the fan in you like some healthy competition. So, when @NetflixIndia launched its super hard Money Heist Escape Room — superfans who overcame all three levels were treated to exclusive content from the star cast of the show.
 
Engaging audiences with branded notifications and emoji engine
With a 29% increase in nostalgic Tweets about entertainment, there is no denying that users love to reminisce on the platform. So, as an ode to fans, the brand used automated responses to send personalized gifs and scenes from previous seasons to users who had participated in the emoji engine activity. This not only helped to capture attention but also tap into the viewer's nostalgia.
 
Exciting fans with merchandise
And what fun is the heist without the loot! Goody bags with Money Heist merchandise were also sent to winners of the #IndiaBoleCiao contest. This not only helped to create a more personal connection with the show's most-interested viewers but also drove positive brand sentiments.



@NetflixIndia's campaigns were a hit with Indian users on Twitter. With 50M impressions, 7M video views, 1.3M engagements, #MoneyHeist and #IndiaBoleCiao kept the show top-of-mind amongst its audience. There were close to 100K+
️ on the emoji engine activation, a number which is the highest for any Netflix campaign in 2021. The Money Heist Escape Room activity also generated a lot of interest and saw over 90K+ clicks. 
Now, that's one "bella ciao" to a show!

You want your message to be heard by the right person. Let Twitter's targeting capabilities help.
Reach your most valuable audience at scale when it matters most.