Case Study
MILO gets Australia buzzing with the #MILOHotVCold debate

2X
The volume of Account Follows month-on-month
3.2 Million
Spotlight impressions
+20%
Account Mentions month-on-month
MILO holds a special place in the hearts of Aussies. But the age-old debate that has divided the nation for almost a century is whether the Aussie favourite should be served hot (and creamy) or cold (and crunchy). 
Tapping into this cultural tension, this notion became the centre of MILO's #MILOHotvCold campaign. The integrated campaign aimed to generate buzz and conversations about MILO in households across the nation, and to do so, it looked to Twitter and its highly engaged audience. 

As part of the #MILOHotvCold campaign, MILO launched a virtual debate on Twitter, encouraging Aussies to pick their side: #MILOTeamHot or #MILOTeamCold. The campaign kicked off with the launch of a brand-spanking new Twitter account for @miloanz, and shortly after, the #MILOHotvCold virtual debate hit Aussies' feeds. 
MILO tapped into Twitter's key products to create mass awareness and facilitate conversations around the contested debate. This included leveraging Twitter's Promoted Trend Spotlight and First View takeover so the debate appeared at the top of the Twitter Explore Tab and high in Aussies' Twitter feed. 
To encourage engagement, MILO also harnessed a combination of polls and Conversation Cards, so with one click, Aussies could easily pick their side — #MILOTeamHot or #MILOTeamCold. And whenever a side was picked, and the hashtags were Tweeted, a branded emoji, replicating everyone's favourite chocolate drink, was triggered to spark further engagement.
But the team at MILO wanted to maintain the buzz well after the launch day so together with Twitter, uncovered the cultural events that people were talking about. These insights were then used to inform and create tailored content that was posted in the weeks after the campaign launched. From the return of Friday Night Footy to our screens, to the re-opening of gyms, or those lucky enough to hit the snow slopes, MILO tapped into these conversations to connect and foster engagement with Aussies around the country. 
To end the hotly contested debate taking place on Twitter, MILO held a final poll and declared Aussie's true favourite — #MILOTeamCold, which again sparked ongoing conversations on and off platform.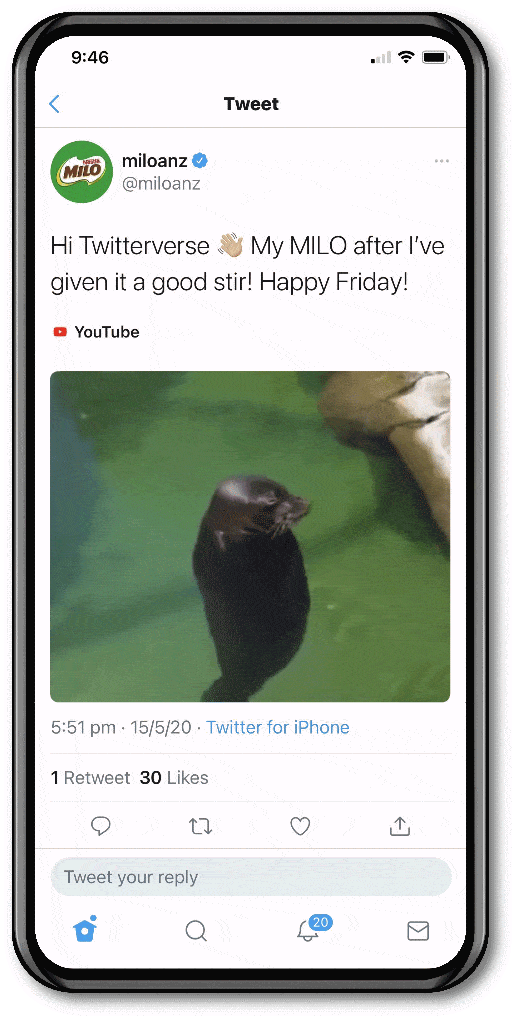 Before the launch, MILO launched a new Twitter account, posting light-hearted organic Tweets.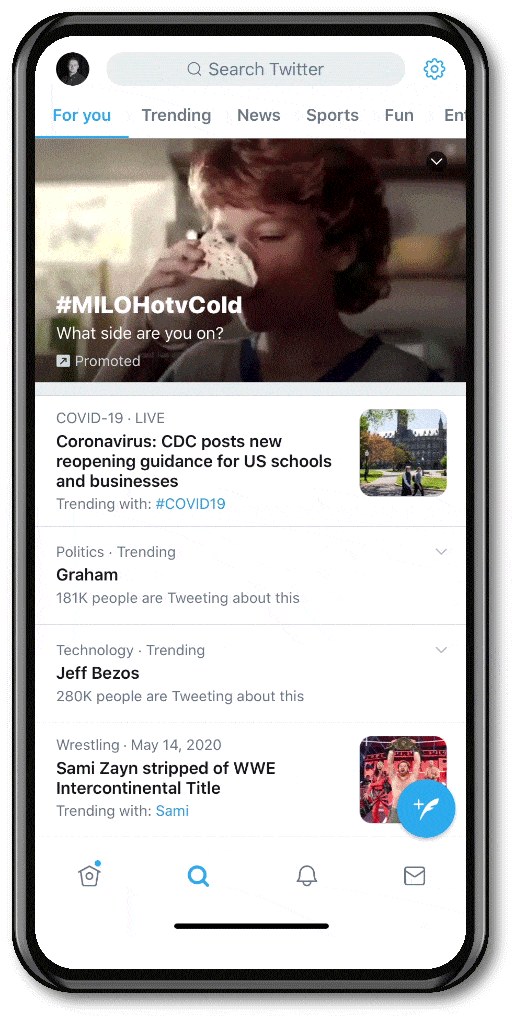 Capture attention at scale
MILO launched the #MILOHotVCold campaign with two of Twitter's premium properties: Promoted Trend Spotlight and First View drawing eyeballs of everyone across Australia.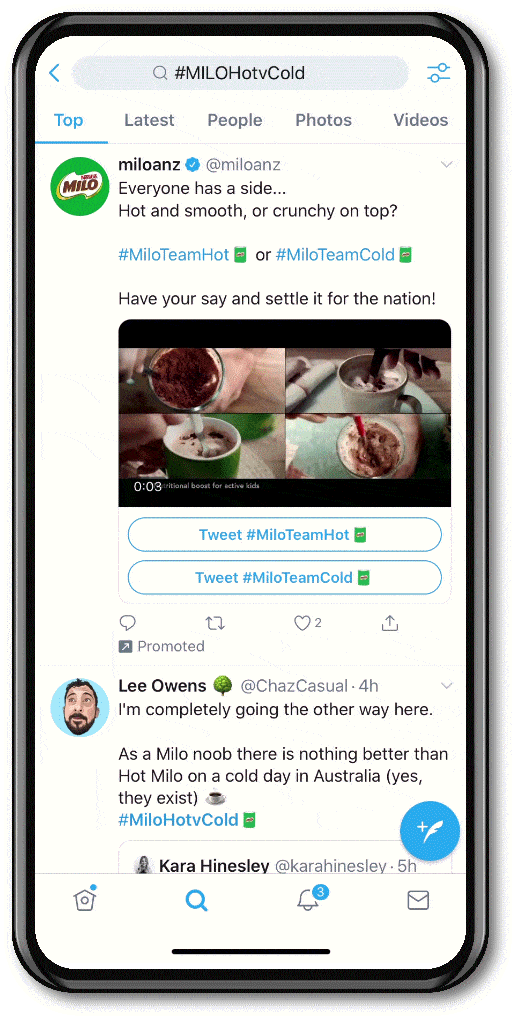 Customised Brand emojis for both #MILOTeamHot and #MILOTeamCold encouraged people to talk about the brand and take part in the conversation.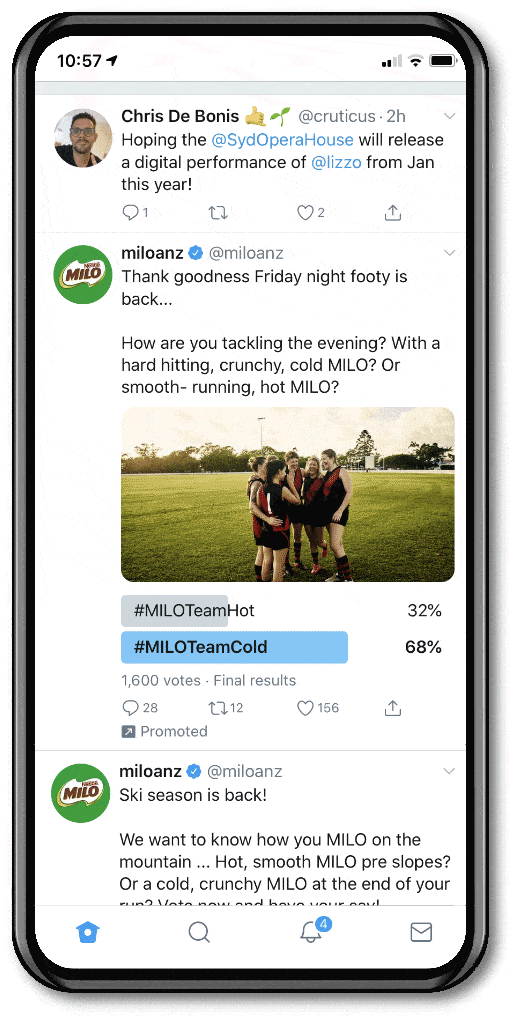 Lean in to cultural moments
MILO amused the audience with culturally relevant content and tapped into features like polls and conversation cards to make it easy to engage.
Launching on Twitter, MILO was able to tap into a highly receptive and engaged audience to spark conversation and garner the attention of millions across Australia. 
The campaign over-performed on Twitter benchmarks. On launch day, the #MILOHotvCold campaign generated 3.2 million Spotlight impressions, and had over half a million (692K) Tweet impressions, representing a 3.73 per cent impression rate — two times higher than the benchmark. 
During the two-month long campaign, Twitter's polls and conversation card saw over 4.3 million Tweet impressions with avid fans right across the globe picking their favourite side. 
And when it was the last chance to have a say, over 15K votes were casted, which added to a total of 36K votes cast over the duration of the campaign. 
By leaning into culturally relevant moments, MILO was able to bring Aussies together to start conversations and ultimately keep the brand top of mind.
Partnering with Twitter for the MILO Hot V Cold campaign exceeded all our expectations on creating engagement with our consumers. They were great to work with and really knew how to leverage their platform to get maximum involvement and return for our investment.
You want your message to be heard by the right person. Let Twitter's targeting capabilities help.
Reach your most valuable audience at scale when it matters most.