Case Study
Mastercard creates Rugby World Cup 'live' trophies by tapping into fans' conversations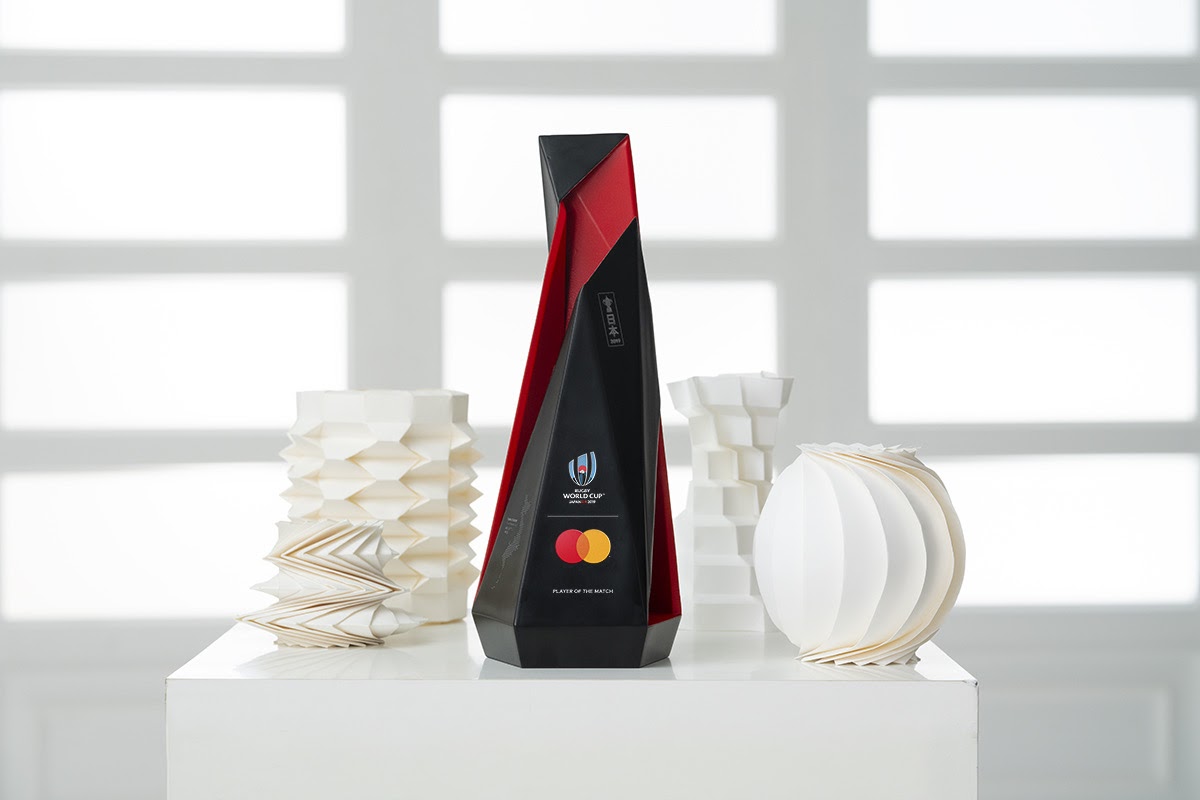 50%
 lower CPV than the benchmark
1M
engagements during the tournament 
Hosted once every four years, the Rugby World Cup (RWC) is rugby's centrepiece event, watched by millions around the world with strong followings from Europe, Argentina, Australia, and New Zealand. 
With the RWC 2019 taking place in Japan, away from the rugby strongholds, Mastercard (@Mastercard) — a RWC Worldwide Partner — needed a new and exciting way to bring the games to rugby fans around the world. Moving away from the well-trodden path of standard sports sponsorship, Mastercard partnered with Twitter to ultimately deliver on its brand promise — a priceless experience for rugby fans.
Being a real-life platform with the most passionate rugby fans, with 14M rugby conversations globally and an astounding growth of +74%,1 Twitter is the perfect partner to help @Mastercard bring to life the never-been-done before technology and create the world's first 'live' trophy at the RWC.   

@Mastercard created a totally new experience for fans by breathing new life into the longtime marquee asset of the sponsorship — the Mastercard Player of the Match (POTM) award. Tapping into the power of the Twitter conversation and Twitter's bespoke API listening tool, @Mastercard could identify fans' most exciting moments of each game to engrave onto each of the 45 POTM trophies in real time, creating a trophy as remarkable as the match itself.

@Mastercard ran a global campaign targeting rugby fans from around the world — from Australia, New Zealand, South Africa, and the United Kingdom to Japan, the host country.
The campaign was phased twofold to build up pre-game hype and connect with fans in real time: 

Phase 1: Building pre-game hype and anticipation

Before each game, @Mastercard tapped into the @rugbyworldcup account to rile up fans and encouraged everyone to Tweet 'live'. Whether an epic try, a thundering tackle, or a huge kick, all priceless moments were welcomed. By listening to these pre-game Tweets, @Mastercard gained insightful understanding of the fans' likes and favourites.  
A suite of Twitter solutions including Video Website Cards and Promoted Polls gave @Mastercard multiple excellent opportunities to connect with fans throughout different phases of the RWC, from Pre-tournament to Matches and Player of the Match. 
Phase 2: Connecting to real-time moments

Every match was made all the more exhilarating with a blow-by-blow analysis of the action by a team of rugby experts. During each game, @Mastercard tracked fans' 'priceless moments' by analysing the sentiment behind every Tweet. The moments where fans were most excited about were then turned into video highlights and promoted on Twitter for fans to relive those moments.  
To make the experience truly 'priceless', @Mastercard used a bespoke Twitter API to monitor fans' spikes in activities and identify match highlights which either sparked great excitement or caused a dramatic change in game play. These moments were then engraved onto each player's trophy in real time, enabling @Mastercard to create the world's first 'live' trophy at the Rugby World Cup. 

@Mastercard also leveraged other Twitter solutions like Twitter Polls and Conversation Cards to further engage fans and drive conversations during the matches. 

By tapping into allowlisting for @rugbyworldcup as well as various accounts of rugby legends, sports athletes, and Jun Mitani, designer of the POTM trophy, @Mastercard gave a boost to the campaign reach and amplified conversations around the world.

Create a 'live' trophy with fans' real-time conversations.
Through sentiment analysis via a bespoke Twitter API, @Mastercard was able to identify the most electrifying moments, which were then engraved onto each Player of the Match trophy in real time, creating the world's first 'live' trophy at the RWC.  
Ignite passion with the power of video.
From Promoted Videos to Video Website Cards, @Mastercard's masterful use of videos built hype among fans globally and drove excitement throughout the RWC..
Keep fans engaged with conversations.
@Mastercard used polls consistently to further drive fan conversations surrounding the RWC and all its actions.
 With Twitter as the go-to place for live sports' second screen, @Mastercard delivered on its promise of 'priceless' to fans and emerged victorious with outstanding campaign results. 
The campaign captured 45 million video views2 and outperformed its CPV target, with a 50% lower CPV than the benchmark across all targeted markets. @Mastercard also saw 1 million engagements during the tournament with a low CPE, overperforming the Twitter benchmark across the targeted markets.  
The brand lift study also showed that in the key markets of Australia, United Kingdom, and Japan, people on Twitter more readily associated @Mastercard with 'sport', 'culture', and 'excellence' (versus people not on Twitter). Additionally, @Mastercard also enjoyed an 8pp lift in sponsorship association in the United Kingdom and a 7pp lift in brand favourability in Japan. 

The Rugby World Cup is one of the key crown jewels of our sponsorship roster and during RWC 2019, Twitter played an integral role in making the event a massive success for Mastercard. The ability to leverage the platform to instantaneously connect to rugby fans around the world allowed Mastercard to be at the forefront at all aspects of the competition before, during, and after the games. Furthermore, Twitter's inherent value as a breaking news platform enabled us to show off our never-been-done before technology to make Mastercard hashtags the most Tweeted parts of the games. Twitter not only helped us dominate the conversation but also helped drive strong brand health and grow our business in the key rugby markets.
Sources:
1. Brandwatch, Conversation data from Brandwatch, Sep-Oct 2018 
2. 2s 50% in-view
Successful marketing efforts start with knowing your audience. Twitter's tools help you dig deep.
Did someone say … cookies?

X and its partners use cookies to provide you with a better, safer and faster service and to support our business. Some cookies are necessary to use our services, improve our services, and make sure they work properly. Show more about your choices.
Brands are connecting with people on Twitter in unique and creative ways. And so can you.
Did someone say … cookies?

X and its partners use cookies to provide you with a better, safer and faster service and to support our business. Some cookies are necessary to use our services, improve our services, and make sure they work properly. Show more about your choices.