Case Study
IM3 Ooredoo gives Collabonation concerts a pitch-perfect virtual stage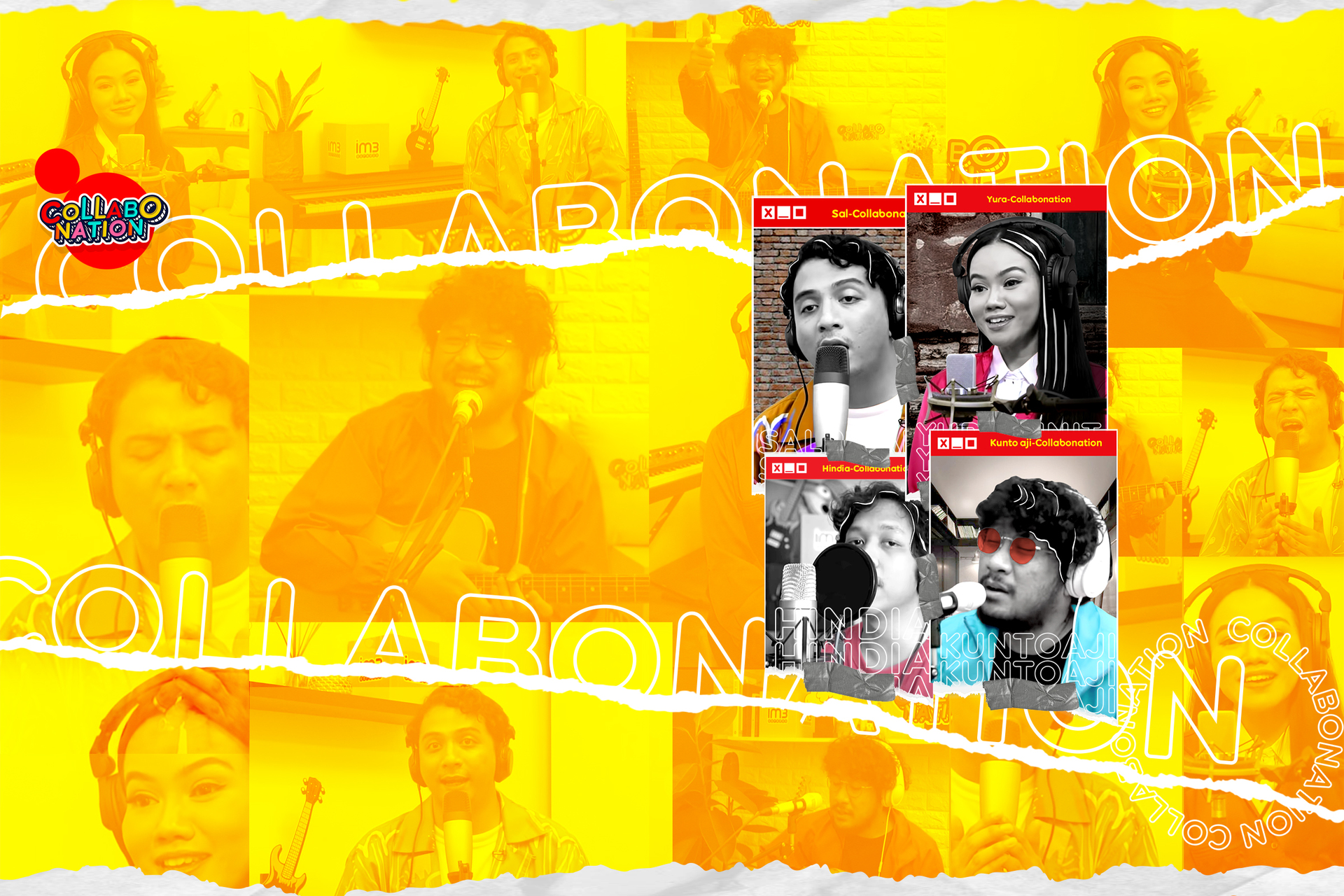 +33%
higher engagement rate
37.2%
share of voice on Twitter
Collabonation, a stage for Indonesia's rising talents to collaborate through music and the arts, was an opportunity for IM3 Ooredoo (@IM3Ooredoo) to enthrall millions of concert lovers across Indonesia with the unbeatable experience of live performance. After touring five cities in February and March 2020, Collabonation was supposed to continue through July, but the COVID-19 pandemic halted plans. Plus, with Ramadan happening in April and May, @IM3Ooredoo wanted to stay in the sweet spot of the nation's biggest festive season but needed to rise above the noise.  
@IM3Ooredoo partnered with Twitter to give Collabonation a new virtual stage. Collabonation's title song,"Ramai, Sepi, Bersama" (With Company, Alone, Together) — which flowed in harmony with the campaign's Ramadan message — was revealed to the audience via live streaming. The virtual concert gave the chance for fans to get to know Indonesia's rising music stars up close and personal, while also building brand awareness and strengthening brand preference without missing a beat.
Since the lockdown started, the demand for entertainment on Twitter has spiked in Indonesia, which saw a 35% increase1 in entertainment-related conversations. Video consumption in Indonesia saw a similarly upward trend with a 2.1X growth, the highest in APAC.2
Leveraging on these audience insights, @IM3Ooredoo partnered with Twitter to live-stream Collabonation on the platform and deliver the concert at a time when physical events were no longer feasible. 

@IM3Ooredoo created the hashtag #SilaturahmiSetiapHari (#StayingConnectedEveryday) as a warm reminder for its followers to remain connected to loved ones. The hashtag also spoke to the positive values related to Ramadan, which encouraged fans to preserve great relationships every day.

@IM3Ooredoo launched the Collabonation campaign on Twitter across three phases: Tease, Reveal, and Reinforce.

The first phase used a Video Website Card to generate hype surrounding the upcoming live concert with a behind-the-scenes video of a surprise song created by Collabonation artists for concert night. @IM3Ooredoo also ran a live streaming teaser while using Promoted Trend and First View, together with Influencer Allowlisting, to ensure mass awareness and participation. The campaign also used Like to Remind to drive interest to the Collabonation concert so no one would miss when the live concert started.

In the Reveal phase, Promoted Trend Spotlight and First View were used to put Collabonation at the centre of conversation on Twitter on concert day. @IM3Ooredoo heightened the excitement with complementing ad formats such as Image Poll and Influencer Allowlisting. As the buzz around Collabonation peaked on concert day, the collaboration song "Ramai, Sepi, Bersama" was finally revealed and the concert was live-streamed as the artists serenaded fans across the country with heartwarming songs, which flowed in harmony with the campaign message of #SilaturahmiSetiapHari.

The final phase, Reinforce, used a Live Card to sustain conversations and keep fans talking after the concert.
Drum up pre-event anticipation.
By using Like to Remind, @IM3Ooredoo made sure fans were up to date on the latest news and notified them to tune in promptly on concert day.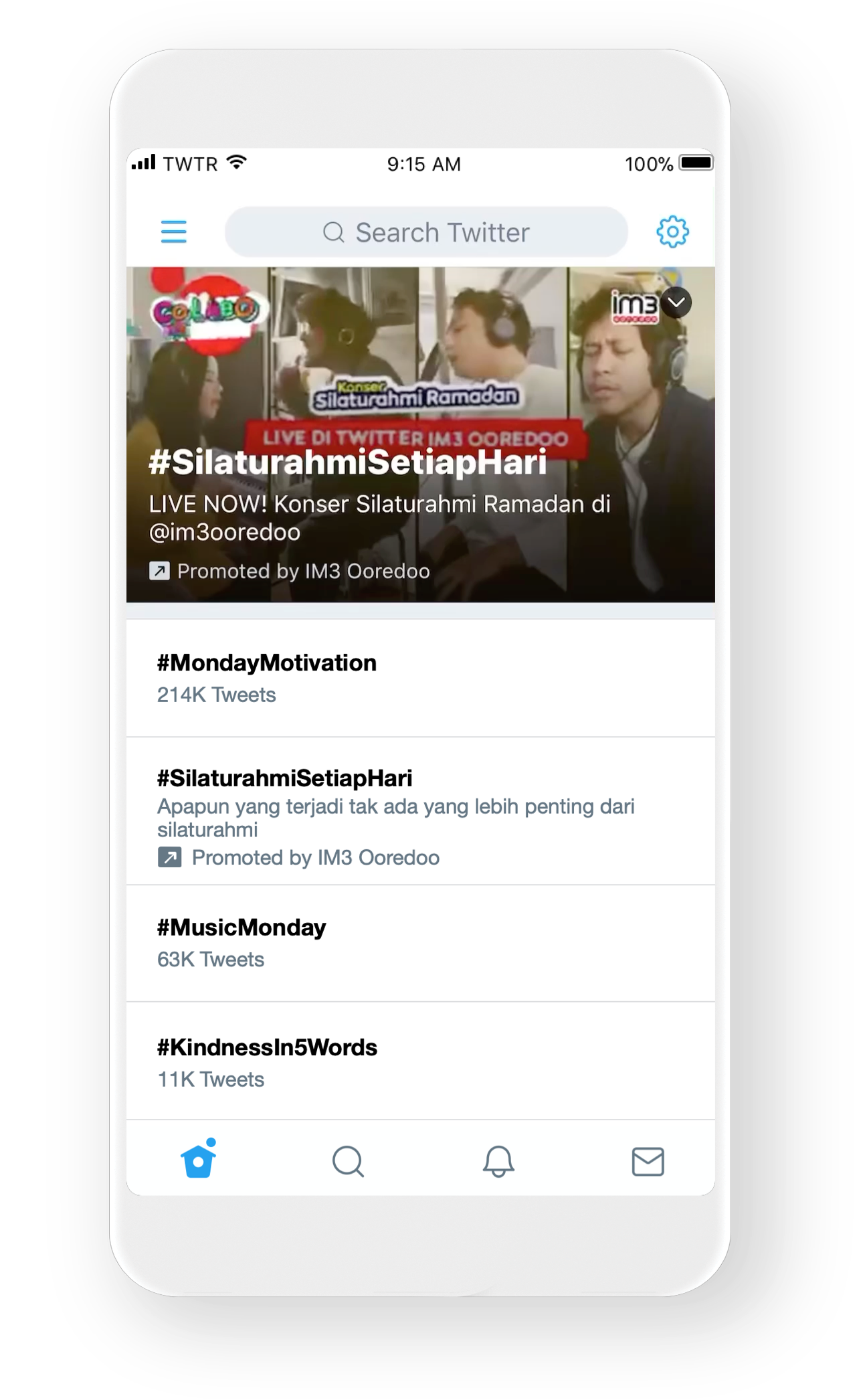 Take charge on event day with Takeover products.
Promoted Trend Spotlight put the brand at the centre of attention with the stopping power of video placed in the prime location of Twitter's Explore tab.
The results were a staggering 8M total video views, with a 33% higher engagement rate compared to the industry standard. The engagement rate on Influencer Allowlisting outperformed the industry benchmark by 3X. Conversations around #Collabonation and #SilaturahmiSetiapHari (#StayingConnectedEveryday) dominated Twitter around the Ramadan period, which saw @IM3Ooredoo achieve the highest share of voice amongst Indonesia's telco brands on Twitter3 at 37.2%, up from 30.6% in the previous quarter.
When things happen, they happen on Twitter. Twitter helped IM3 Ooredoo spread the message of Silaturahmi Setiap Hari, a campaign to lift people's spirit to still reconnect through the hard times of pandemic lockdown. We are thrilled to be the first telco company in Indonesia to tap into the power of many Twitter's innovative products, which made the Collabonation concert a huge success. It's great to see IM3 Ooredoo at the centre of the conversation and achieve share of voice leadership during the most important period of the year.
Sources:
1. Twitter Insiders, April 2020  
2. Twitter Internal Data, Indonesia, video user active minutes, Jan-May 2020 vs. Jan-May 2019
3. Share of voice based on the conversation on Twitter, among all telco brands in Quarter 2, 2020
Successful marketing efforts start with knowing your audience. Twitter's tools help you dig deep.
Did someone say … cookies?

X and its partners use cookies to provide you with a better, safer and faster service and to support our business. Some cookies are necessary to use our services, improve our services, and make sure they work properly. Show more about your choices.
Brands are connecting with people on Twitter in unique and creative ways. And so can you.
Did someone say … cookies?

X and its partners use cookies to provide you with a better, safer and faster service and to support our business. Some cookies are necessary to use our services, improve our services, and make sure they work properly. Show more about your choices.