Case Study
How SBI leveraged Twitter's vibrant audience to spread festive cheer on Holi

Holi is more than just a festival in India — it brings in happiness, cheer, water balloons, and a lot of colours that inspire joyous conversations on Twitter. The more colours, the merrier the celebration.
With Holi happening on Twitter, @TheOfficialSBI saw the opportunity to embrace consumers' excitement with its #HoliWithSBI campaign, build visibility, and celebrate the festival with people on Twitter. Being the most followed BFSI brand on Twitter, the bank decided to connect with its followers in a way that was innovative, engaging, and of course, full of colours!
Twitter's unique position as the real-time, conversational layer of the internet means there isn't a more relevant environment to connect with your audience. The #HoliWithSBI campaign was designed to help @TheOfficialSBI spread the much-needed colours and love on everyone's Twitter timelines. For this, the brand worked with Twitter NEXT and ArtHouse teams to create a unique campaign that effectively communicated the campaign message and helped boost overall engagement.
Here's how @TheOfficialSBI successfully made a splash on Twitter this Holi:
Grabbing attention with ️'s through a Promoted thread
By drawing on Twitter's diverse and vibrant audience, the brand appealed to consumers by engaging them in an innovative Promoted Tweet Thread that celebrated the colourful wonders of India. A week prior to Holi, users were asked to
️/like a colour of their preference, after which @TheOfficialSBI sent Branded Notifications with a postcard from a scenic wonder of India curated to the colour of their choice to those who interacted in the activity, thus driving massive excitement.
Making a mark with Twitter Takeover products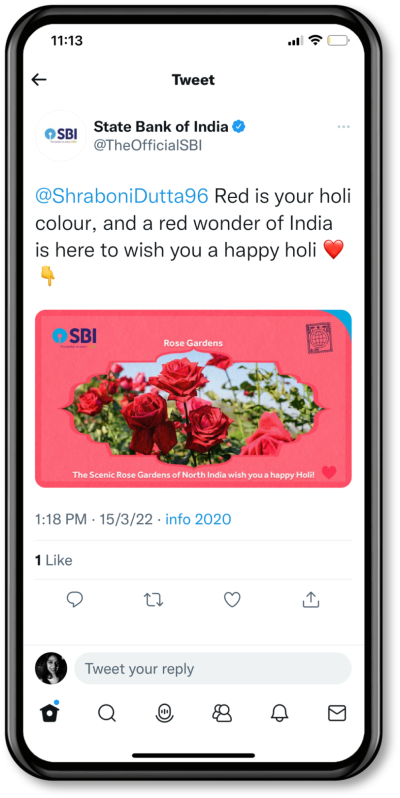 Creating connections with colourful creatives
To ensure that the campaign sparked the right kind of interest in the audience, the brand used colourful and compelling creative assets, such as postcards, to reinforce the campaign messaging of celebrating the festival of colours with @TheOfficialSBI.
Positive postcards, colourful messaging, and good vibes — sounds like a perfect Holi recipe on Twitter for @TheOfficialSBI. With 16.8M impressions, 3.9M video views, and 144K engagements, the campaign was able to tap into an engaged and receptive audience to garner attention around Holi.

The highly interactive campaign received an overwhelmingly positive/neutral sentiment of over 91% during the launch, and there was maximum SOV and association for the campaign.
The campaign successfully managed to tick all the relevant boxes within the Twitter Connect Playbook by activating Twitter's Ad Suite products, further deepening the connection with users on this key moment.
Brands are connecting with people on Twitter in unique and creative ways. And so can you.
Reach your most valuable audience at scale when it matters most.