Case Study
How Samsung stole the summer with Twitter takeovers

+72%
increase in @SamsungAU brand mentions YoY
2M
pre-roll views connecting to #AusOpen
1.5X
more hashtag mentions of #GalaxyS21
@SamsungAU set out to make 2020 the 'Unmissable Summer of Samsung' with the launch of its new Samsung Galaxy S21 – turning to Twitter as the prime platform to create a buzz.  The mobile giant seized the opportunity to drum up conversation and cement @SamsungAU as the star of Australian culture, using Twitter's portfolio of tools to amplify engagement.
@SamsungAU's end goal was to make the Samsung Galaxy S21 the most talked about device of the summer, upping the ante on the 'cool factor' and ramping up excitement for the launch. It's campaign strategy was a triple threat: teasing audiences before building hype and sustaining the conversation.
@SamsungAU kicked-off the campaign by gradually distilling rumours of the launch with the hashtag #GalaxyUnpacked. Once anticipation was palpable, the next step was to earn mass reach by using Twitter Trend Takeover+ – which gives brands exclusive ownership of Twitter's most valuable real estate, the top ad slot, for 24 hours – on launch day and again when the phone went on sale.

For the final step, @SamsungAU leveraged Amplify Sponsorships to extend campaign reach and to connect with the much anticipated Australian Open. @SamsungAU ran pre-roll assets from Channel 9's Australian Open highlights on Twitter, connecting  with Aussie tennis fans. This extended its reach to a broader, highly engaged Twitter audience, placing it front and center in the hearts and minds of tennis fans and Australian culture.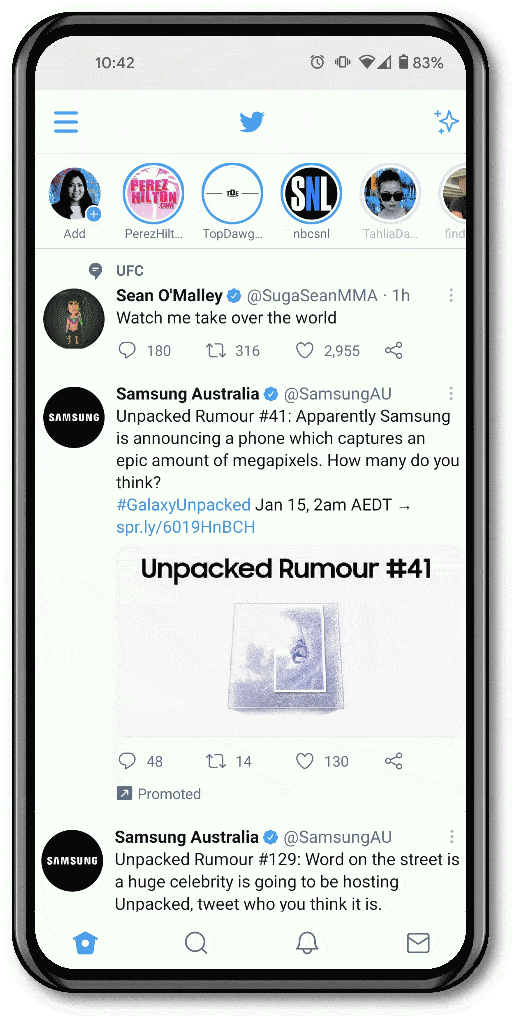 @SamsungAU took to Twitter to create rumours around the colour palette and launch details, driving anticipation of the big Samsung Galaxy S21 reveal while growing engagement.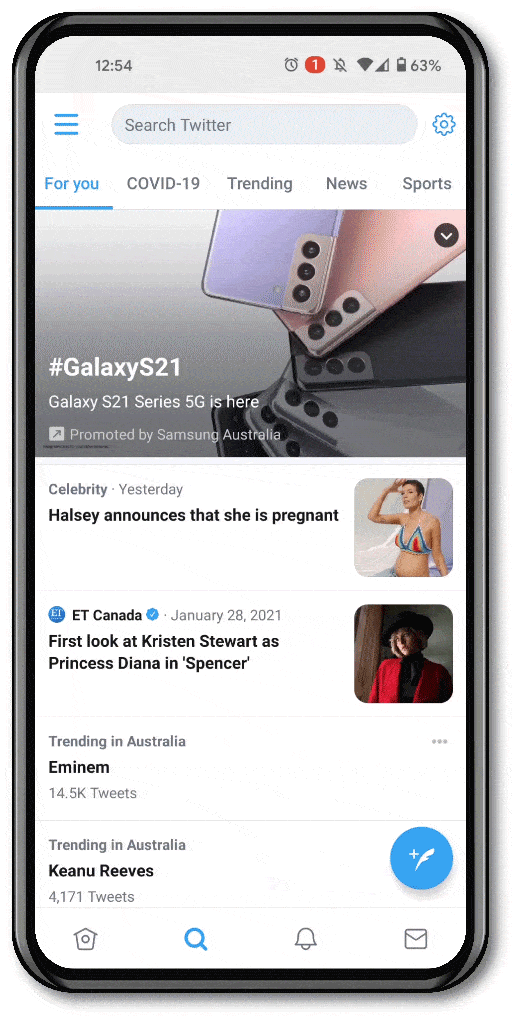 @SamsungAU built hype around the launch, driving mass reach on the day with Twitter Trend Takeover+ during 3 key moments using #Unpacked.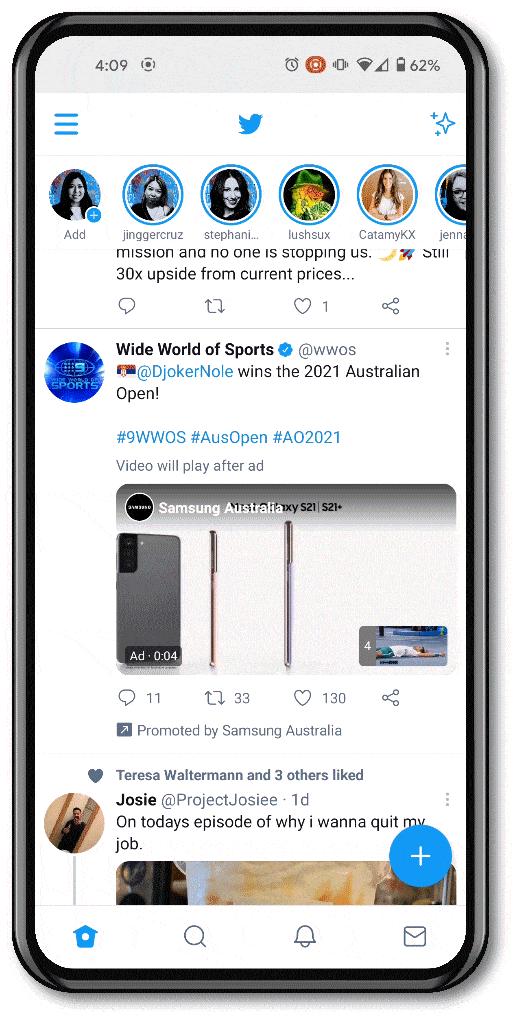 @SamsungAU turbocharged reach by amplifying sponsors and key tennis moments using Twitter's pre-roll assets – turning audiences into product advocates.
It was game, set and match for the #GalaxyS21 campaign, which became one of the most talked about brand launches for @SamsungAU. The consecutive Spotlight Takeovers during key moments drove a +72% increase in brand mentions for the campaign. Additionally, the pre-launch rumour mill Tweets resulted in high engagement driving conversation around the #GalaxyS21 device delivering 1.5 times more mentions of #GalaxyS21. By leveraging Amplify Sponsorships Samsung,  the brand was injected into one of Australia most talked about sports events #AusOpen, which resulted in over 2M pre-roll views across the two week tournament. A buzzing campaign, for a buzzing Australian summer.
When launching an innovative product to market, you first have to win over innovators and opinion leaders. This audience lives on Twitter. By dominating the Twitter news sphere, we're able to influence critical early tech adopters, who later go on to influence the majority.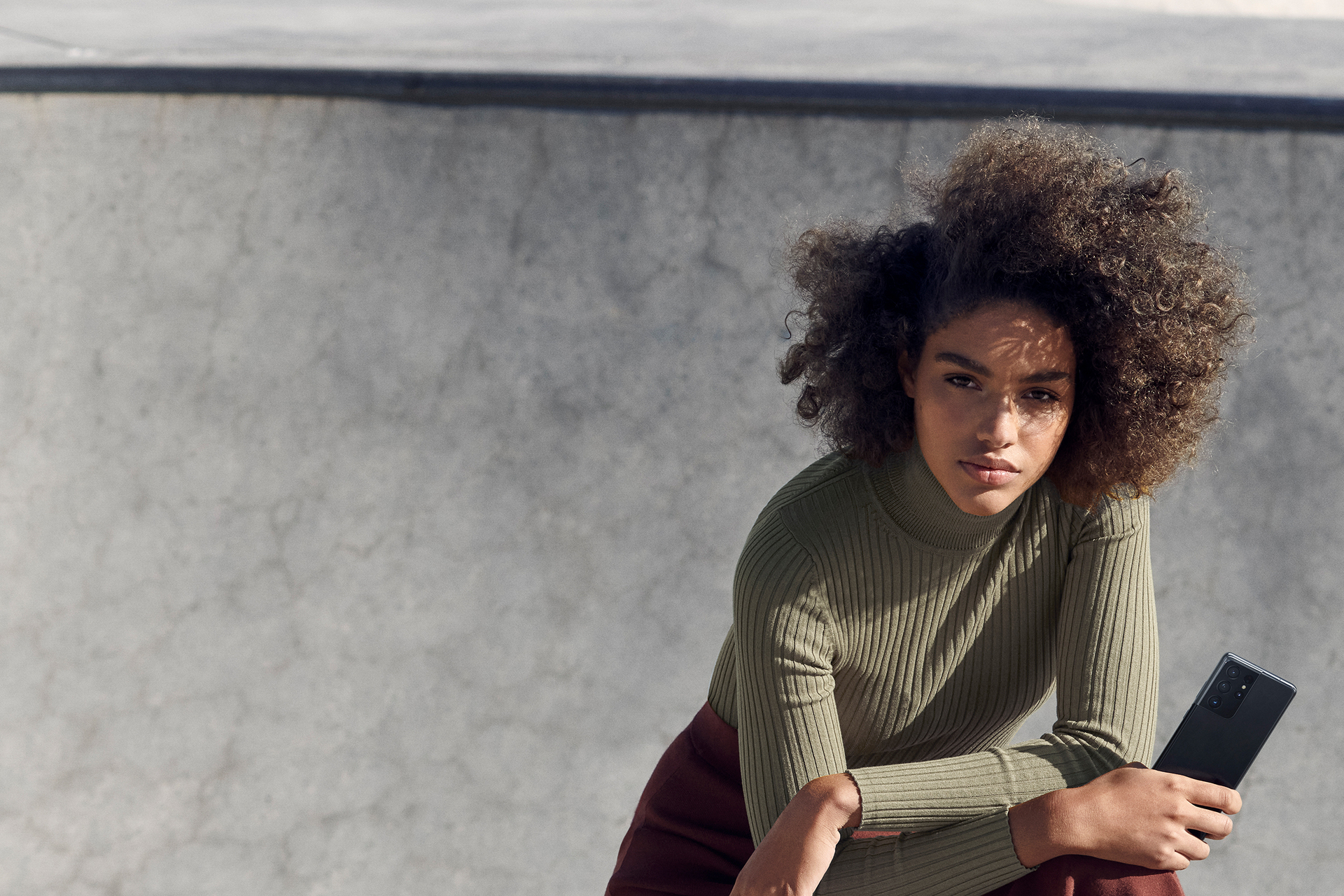 (BrandWatch: Global - Mentions of @SamsungAU | Jan - Mar'20 (#GalaxyS20 launch) vs Jan - Mar'21 (#GalaxyS21 launch))
(BrandWatch: Australia - Mentions of #GalaxyS21 (Jan - Mar'21) vs #GalaxyS20 (Jan - Mar'20)
Reach your most valuable audience at scale when it matters most.
You want your message to be heard by the right person. Let Twitter's targeting capabilities help.