Case Study
How Motorola India took over Indian Premier League conversations on Twitter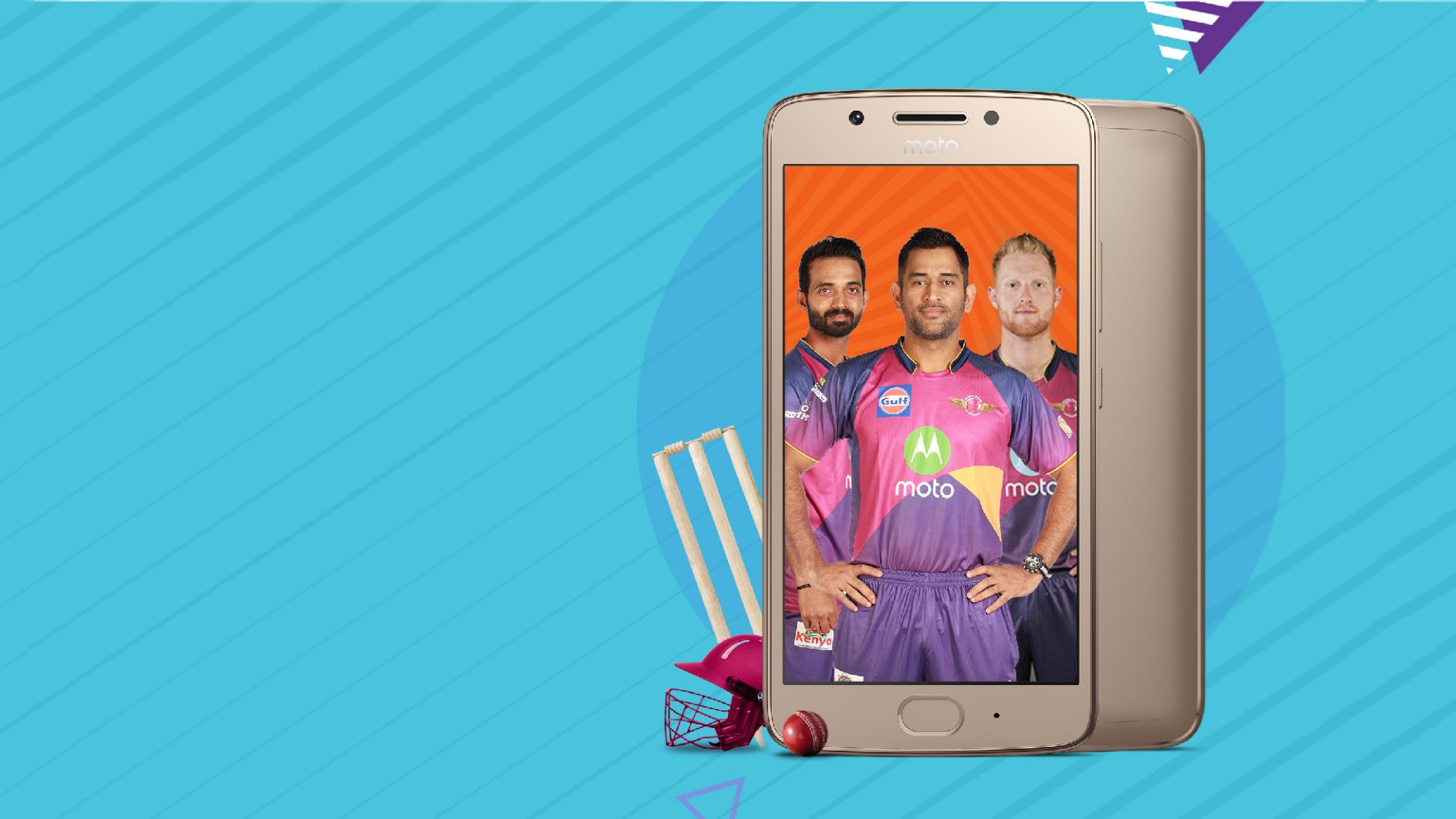 Having primarily sold its mobile phones via online channels, Motorola India (@motorolaindia) wanted to create mass appeal and drive engagement for its newly launched Moto G5 series. At the same time, the brand wanted to reach out to people it might not have been able to reach from its current distribution channels. With sports identified as a key passion of its target audience, the brand has been actively taking part in conversations around India's most popular sport — cricket — to connect with its audience.
With the Indian Premier League (IPL) drawing near, Motorola saw an opportunity to strengthen its association with the popular sport by becoming a principal sponsor of IPL team Rising Pune Supergiant (RPS). As the brand's competitors were actively engaging consumers via traditional media, @motorolaindia, a digital-first brand, took to live conversations on Twitter to amplify its association and be part of the IPL cricket conversation.

To maximise reach throughout the season, @motorolaindia used Twitter's First View and Promoted Trend to deliver premium content during 13 match days. For 24 hours each day, different hashtags (#DifferentShootsBetter, #DifferentCapturesBetter, #DifferentPerformsBetter, and #DifferentAssistsBetter) highlighting unique Moto G5 features appeared at the top of India's trending topic list. The first ad people saw in their timelines was a #MotoRPS video from a series of four quirky and fun-filled video creatives, which showcased a different and lighter side of Moto RPS players that fans had never seen before.
To give the #MotoRPS campaign even greater engagement, fans could get Pune match reminders by Retweeting @motorolaindia's Tweets containing the match schedules to receive alerts an hour before every RPS match. Additionally, a personality quiz for IPL fans was also made available via a Twitter Direct Message bot, which took public engagement to the individual level. Fans could Tweet a message to @motorolaindia to find out which Rising Pune Supergiant player they were like.
@motorolaindia also ran the first Twitter campaign powered by likes in Asia Pacific. The brand worked with Twitter to send personalised content to every supporter who 'liked' its Tweets, while a video featuring top RPS players encouraged people to express their support by tapping the like icon represented by a heart. @motorolaindia further reinforced its support for Team RPS with a special Twitter emoji.

Take your video to the top with First View.
Twitter's First View gave @motorolaindia prime Twitter real estate and ensured that its video was highly visible on its target audience's timeline on each match day.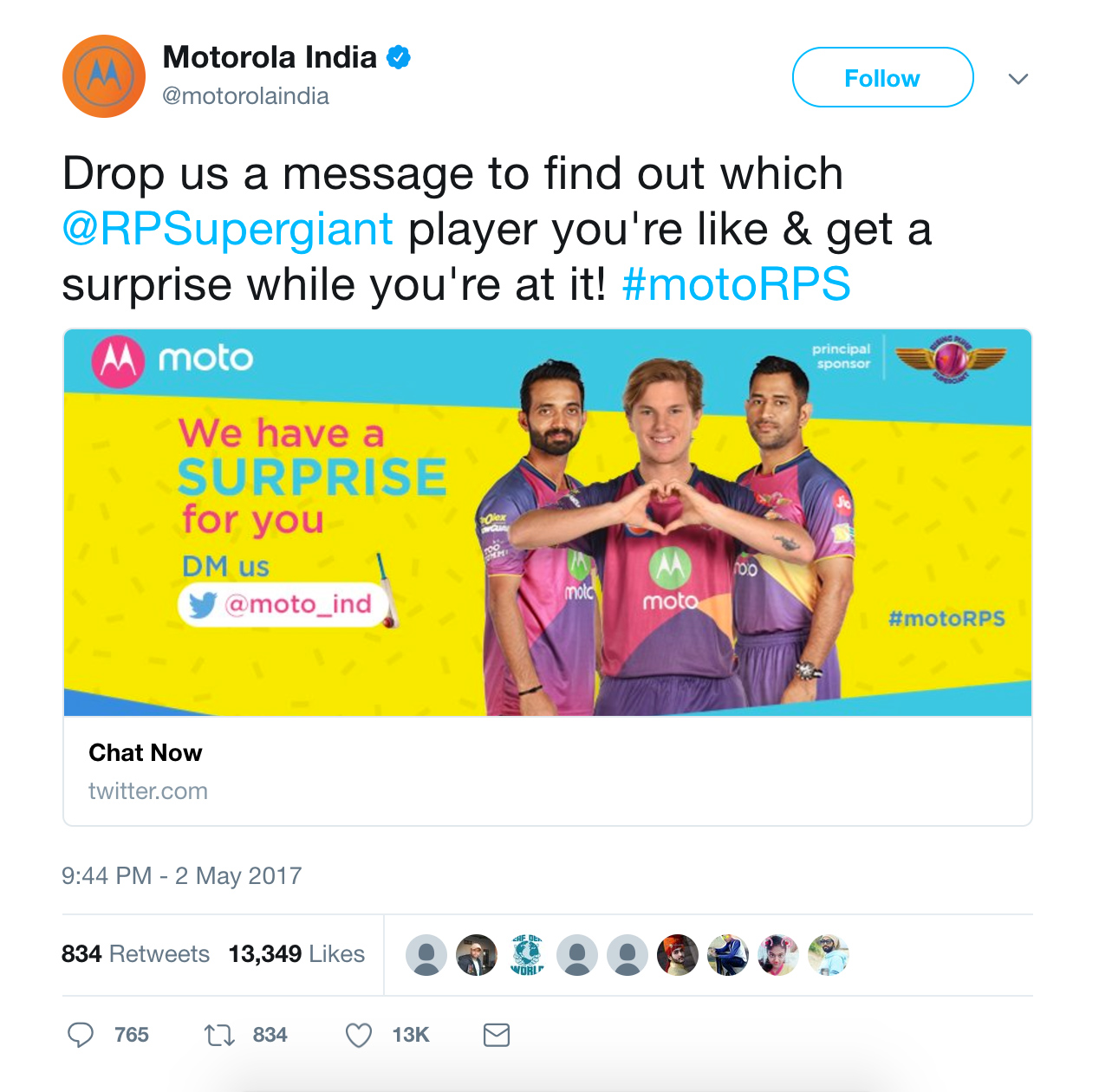 Establish a direct conversation with users.
By launching a personality quiz for IPL fans, @motorolaindia reached cricket fans and took public engagement to an individual level by responding to fans in a personalised manner. Not only could fans find out which player they were like, they also received a personalised message from the respective players, which they could share on Twitter.


Leverage fan engagement to unlock unique content.
As Asia Pacific's first Twitter campaign powered by likes, @motorolaindia worked with Twitter to send personalised team GIFs, videos, and images to every supporter who 'liked' its Tweets throughout the IPL season.


The campaign resulted in over 115,000 conversations during IPL for #MotoRPS, with 76 million impressions from the First View videos and Promoted Trends and 5.8 million video views. Throughout the campaign, @motorolaindia saw an 11% growth in followers and was one of the most engaged brands on Twitter during the IPL season, as quoted by the Twitter Advertiser Index on Brand Equity.

Motorola has always sought different ways to engage our audiences and this campaign is a great example of our innovative digital media strategy. We leveraged the game of cricket — one of the biggest passion points of our customers — in an unconventional manner, and focused on owning the platform where consumers spent most of their time. With this, we were able to break away from the clutter to become one of the most engaging brands on Twitter during that period.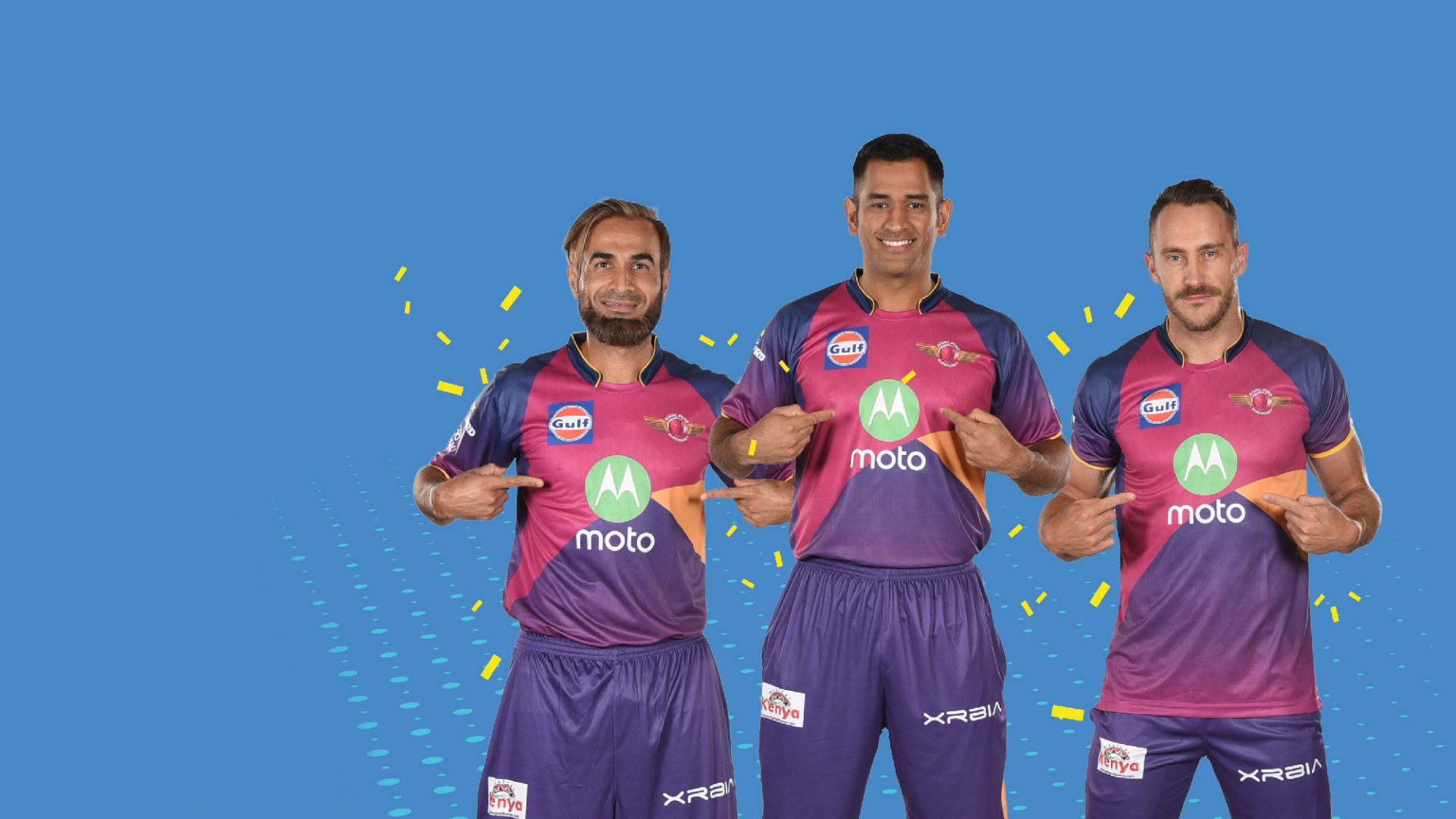 Brands are connecting with people on Twitter in unique and creative ways. And so can you.
Reach your most valuable audience at scale when it matters most.