Case Study
How Lenovo India received a fan-tastic response for its Legion-dary launch on Twitter

Twitter is the place for early adopters and influencers. From discussing the latest games to reviewing eSports equipment, Twitter's tech and gaming communities are home to dynamic conversations and active fandoms. They love to Tweet. They love tech. And they love to Tweet about tech. As our lives become increasingly device-driven, technology brands have a unique opportunity to connect to what's happening in our world. 
So, when tech giant, Lenovo India (@Lenovo_In) wanted to launch its powerful Legion products after two years, it turned to Twitter's tech-savvy fans to make a splash for #LenovoLegion2022.
@Lenovo_In flipped through the launch playbook and resurrected the popular hashtag #BeLegiondary to excite the fans about its latest line-up of Legion offerings using a wide variety of Twitter's ad solutions.
For the #BeLegiondary campaign, @Lenovo_In wanted to do something special for its legion of fans keeping them at the heart and center of all the activations. The brand thus sought powerful launch tools including auto-response activation, Takeover+ products, and more to resonate with the tech-inclined audience.
To kick things off, @Lenovo_In teased the fans with exciting updates about #LenovoLegion2022 through an auto-response campaign. People were invited to like a Tweet prior to the launch and those who did like it received personal notifications about Legion and related products throughout the campaign cycle. For instance, the first notification encouraged people to join the #BeLegiondary squad. On the day of the launch, people received a notification about experiencing the product line-up first-hand. And after the launch event ended, the brand kept its fans engaged by sharing curated content, personalized contests, and a lot more to foster sustained participation.
To further distinguish its content and secure visibility for the #BeLegiondary campaign, the brand customized a branded emoji. The use of ad products like Trend Takeover & Trend Takeover+ helped @Lenovo_In reinforce the campaign messaging on the launch day.
Boosting engagement with a ️ to Remind activation 
To build hype and spread the word, @Lenovo_In began the campaign with a Heart to Remind auto-response Tweet. People who
️ the Tweet received personalized notifications throughout the campaign increasing excitement and engagement around it.
Get personal with Branded Emoji
@Lenovo_In used a branded emoji for the hashtag #BeLegiondary to stand out and remain top-of-mind. And it came with a fun twist! The emoji was customized to change colors based on the user's phone mode (day or night), capturing fans' imagination.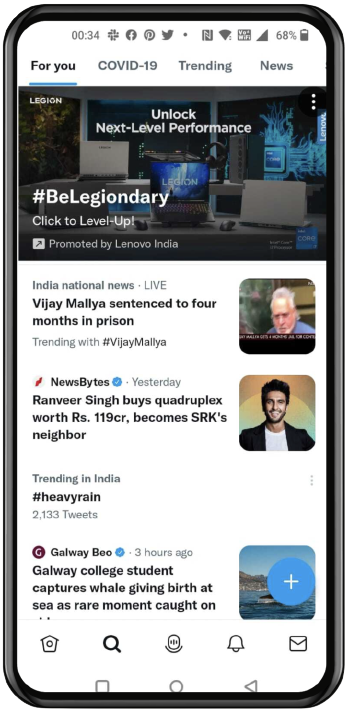 Deliver unique conversations with Takeover+ products
Through Trend Takeover & Trend Takeover+ features, the brand's messaging about #BeLegiondary was promoted prominently alongside trending topics in the Explore tab. This created further awareness and enhanced brand visibility.
The #LenovoLegion2022 campaign was a resounding success as tech enthusiasts to eSports fans were engaged as they learned more about @Lenovo_In's exciting new product line-up. 
The Heart to Remind activation garnered almost 23K opt-ins before the Legion Launch. @Lenovo_In's spotlight creative won big on launch day too, generating 15.2M impressions, 100K engagements, and 3.8M video views.
People on Twitter also agreed that gaming experiences should #BeLegiondary, as @Lenovo_In's campaign received a 99% positive and neutral sentiment during the launch, achieving the maximum share of voice and significantly enhancing brand recognition. A 'legiondary' feat indeed!
Lenovo has done some strong co-marketing collaborations with Twitter India and Twitter NEXT team to drive brand milestones and conversation around Lenovo and tech on the platform. We are glad that we continue to receive such strong results in our attempts to lead conversation around gaming PC's in India. We are proud to partner with team Twitter to grow Lenovo and Legion as a brand.
You want your message to be heard by the right person. Let Twitter's targeting capabilities help.
Reach your most valuable audience at scale when it matters most.