Case Study
It's showtime: Disney+ Hotstar gets Twitter fans excited to stream #RudraOnHotstar

Cat and mouse chases, mind-bending plot twists, and a phenomenal cast — @DisneyPlusHS new Hotstar Special Series, Rudra: The Edge of Darkness, had the perfect storyline to keep viewers hooked. An adaptation of the British crime thriller, Luther, the show tells the story of Rudra, a brilliant Mumbai cop, and to build hype and interest around this action-thriller, the brand turned to Twitter.
People love to connect and talk about what's happening on Twitter including *spoiler alert* talking about their favourite shows and actors. And when Bollywood icon Ajay Devgn (@ajaydevgn) leads the cast, his passionate fans are sure to join in! @DisneyPlusHS sought to leverage this leaned-in audience and provide fans on Twitter with a chance to participate in the launch of #RudraOnHotstar. 
Tease-Reveal-Reinforce: Over the course of its campaign, @DisneyPlusHS followed a tried-and-tested approach to effectively launch and promote Rudra on Twitter.
Imagine how exciting it would be to receive a Tweet from your favourite actor? To rally excitement and traction for #RudraOnHotstar, the brand first tapped into @ajaydevgn's star power and Indians' love for Bollywood. People were asked to
️ a Tweet posted by @ajaydevgn that invited users to watch the series. On the day of its premiere, everyone who liked the Tweet received a special notification from the actor in the form of a personalised auto-response.
Through combined creative strategies and with the help of Twitter's extensive ad product suite, @DisneyPlusHS continued to reveal and highlight the show's themes and storyline to Twitter's community of OTT enthusiasts. For instance, on the day of the show's release on @DisneyPlusHS, the brand used Takeover products to reinforce and spread awareness about the show — ensuring that #RudraOnHotstar stayed front and centre for 24 hours on the platform. 
Grab some popcorn because here is how @DisneyPlusHS thrilled people on Twitter: 
Tease with a trailer via Video Ads
Intriguing short teasers can make a big impact on Twitter. To generate buzz about the series and give fans a taste of its action-packed plot, @DisneyPlusHS's used Video Ads to launch Rudra's thrilling trailer.
Branded Notifications to boost engagement
No one likes to miss important moments, and least of all, the enthusiastic fans on Twitter. To create FOMO around the series, @DisneyPlusHS used Branded Notifications to maximise awareness and catalyse audience engagement. During the campaign, people who liked @ajaydevgn's Tweet received a personalized auto-response from the super star's handle on #Rudra's launch day.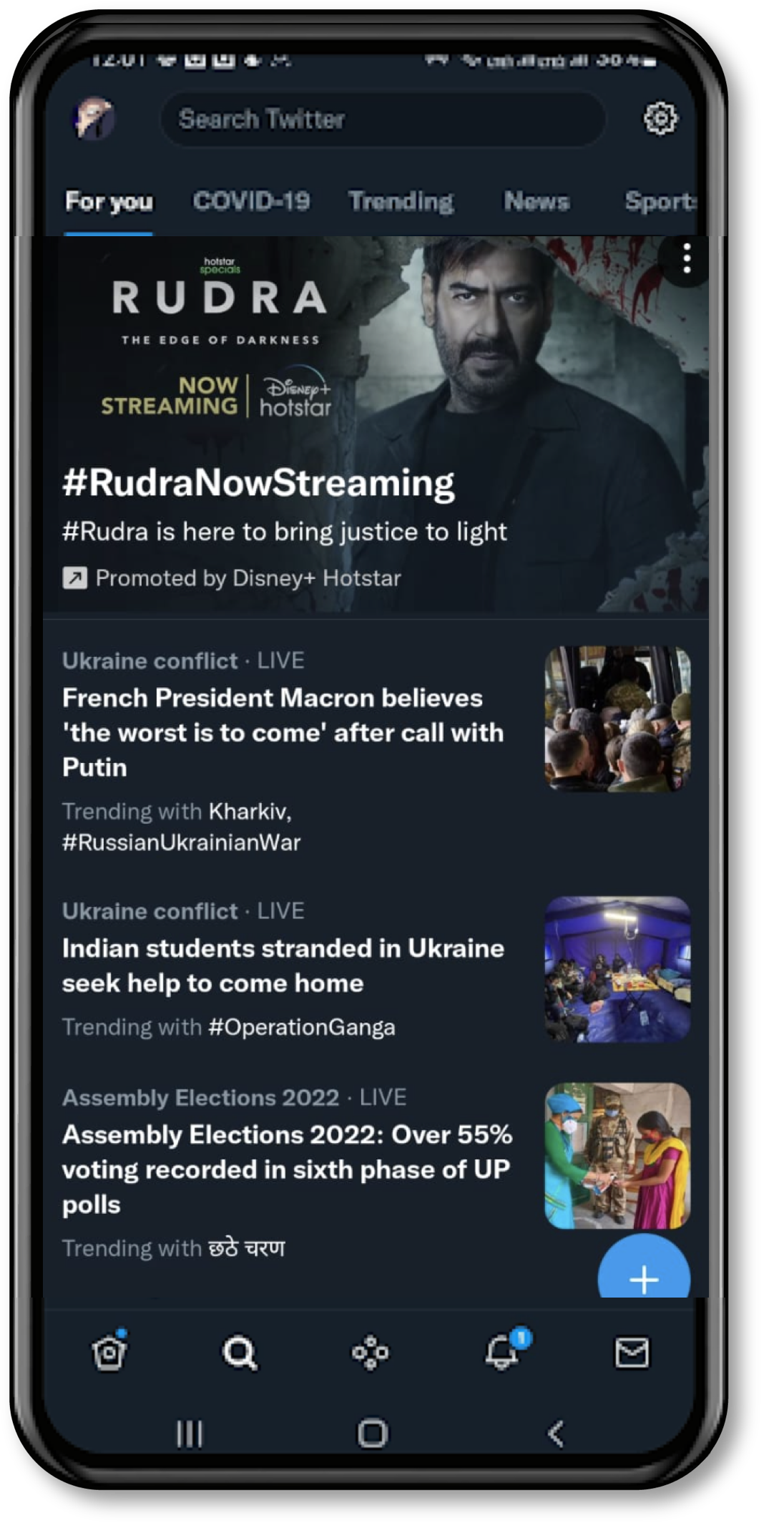 Amplify conversations with Takeover products
Sometimes, out of sight is out of mind. To avoid this, @DisneyPlusHS used Trend Takeover and Takeover+ to keep Rudra at the top of Twitter timelines for 24 hours. This not only helped the brand to reinforce Rudra's series premiere but also increased the show's visibility on the platform.
 
@DisneyPlusHS's use of creative assets and Twitter ad products were a hit with Twitter's audience! On the premier day of the show itself, the creatives generated 17.5M impressions, 208K engagements, and 3.6M video views. The use of Auto Response to send personalised Tweets from @ajaydevgn's Twitter handle also received raving reviews from fans, who felt closer to the superstar and more connected to the show.  
During the campaign, fans were eager to engage with Rudra related content and wanted to stay updated in real-time. Ultimately, more than 93K Twitter users leveraged the
️ to Remind campaign — making it one of the best-performing campaigns in the media and entertainment space.
The campaign also received an overwhelmingly high response on Twitter, with a 97% positive & neutral sentiment during the series launch and showcasing the massive potential of brands to launch effectively on the platform.
Brands are connecting with people on Twitter in unique and creative ways. And so can you.
Reach your most valuable audience at scale when it matters most.