Case Study
How ASUS generated 3.5X conversation volume around its 30th anniversary

142%
video views against target
3.5X
conversation volume increase
32X
more total video viewers than other platforms
For its 30th anniversary campaign "Wiser Together", ASUS (@ASUS) saw an opportunity to engage and excite tech fans by using Twitter as a platform to drive massive anticipation, awareness, and talkability, and to set itself apart from its competitors who were also launching their latest products at the International Radio Exhibition in Berlin.

The campaign was carried out across three phases, aimed at driving awareness, engagement, and product consideration. 
Phase one kicked off with Promoted Video views to drive mass awareness of ASUS's 30th anniversary campaign and #ASUS branded emoji hashtag across Twitter. 
For phase two, ASUS live-streamed the launch event in Berlin in order to connect with consumers who were unable to attend the event in person. The total video viewers was 32 times more than other streaming platforms and achieved 142% video views against target. 
ASUS initiated phase three by serving short-form videos of its latest product to maximise the awareness, sustain the momentum, and drive purchase consideration.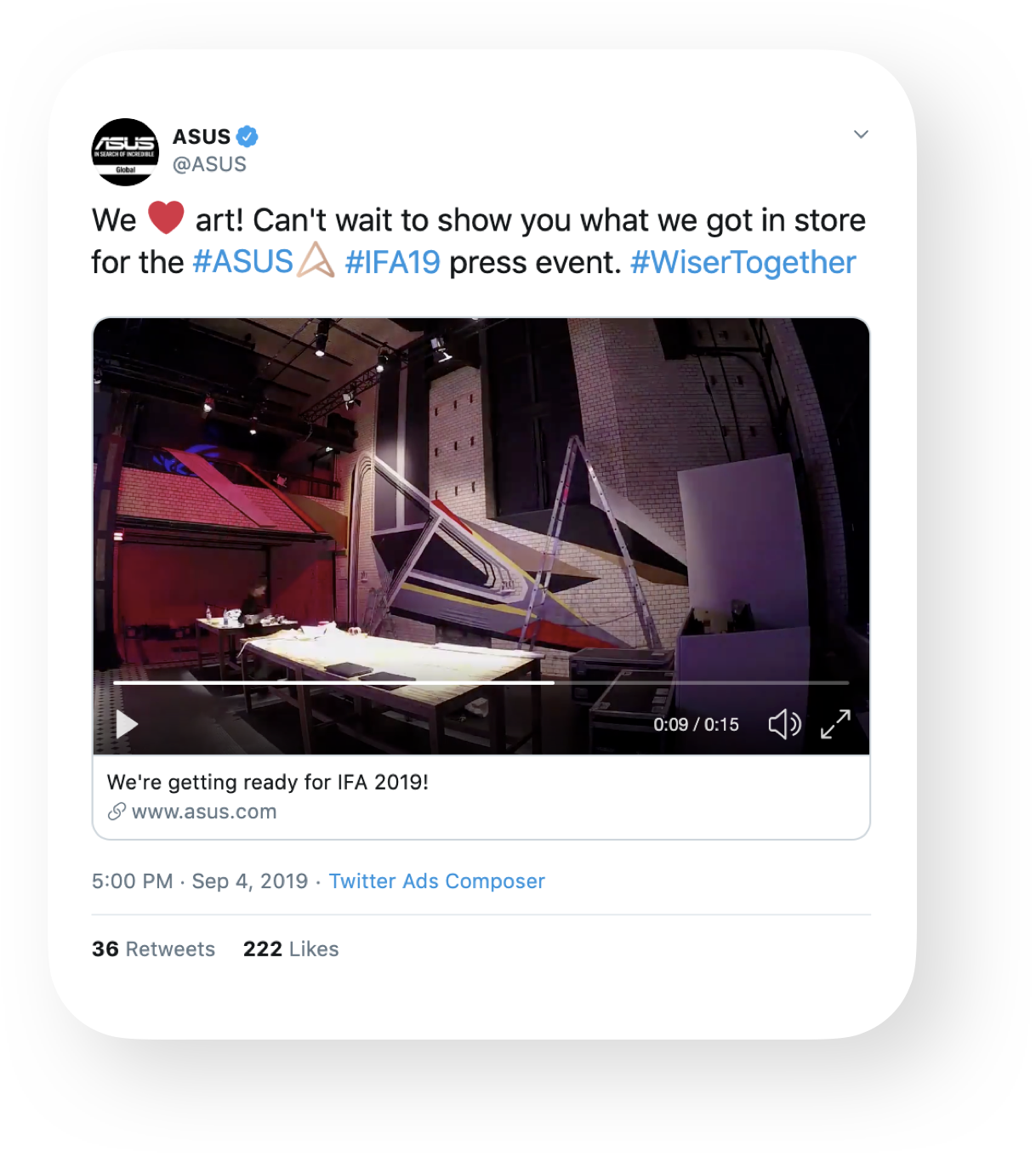 Use Promoted Video to drive awareness.
Promoted Video helped to drive awareness of the 30th anniversary campaign.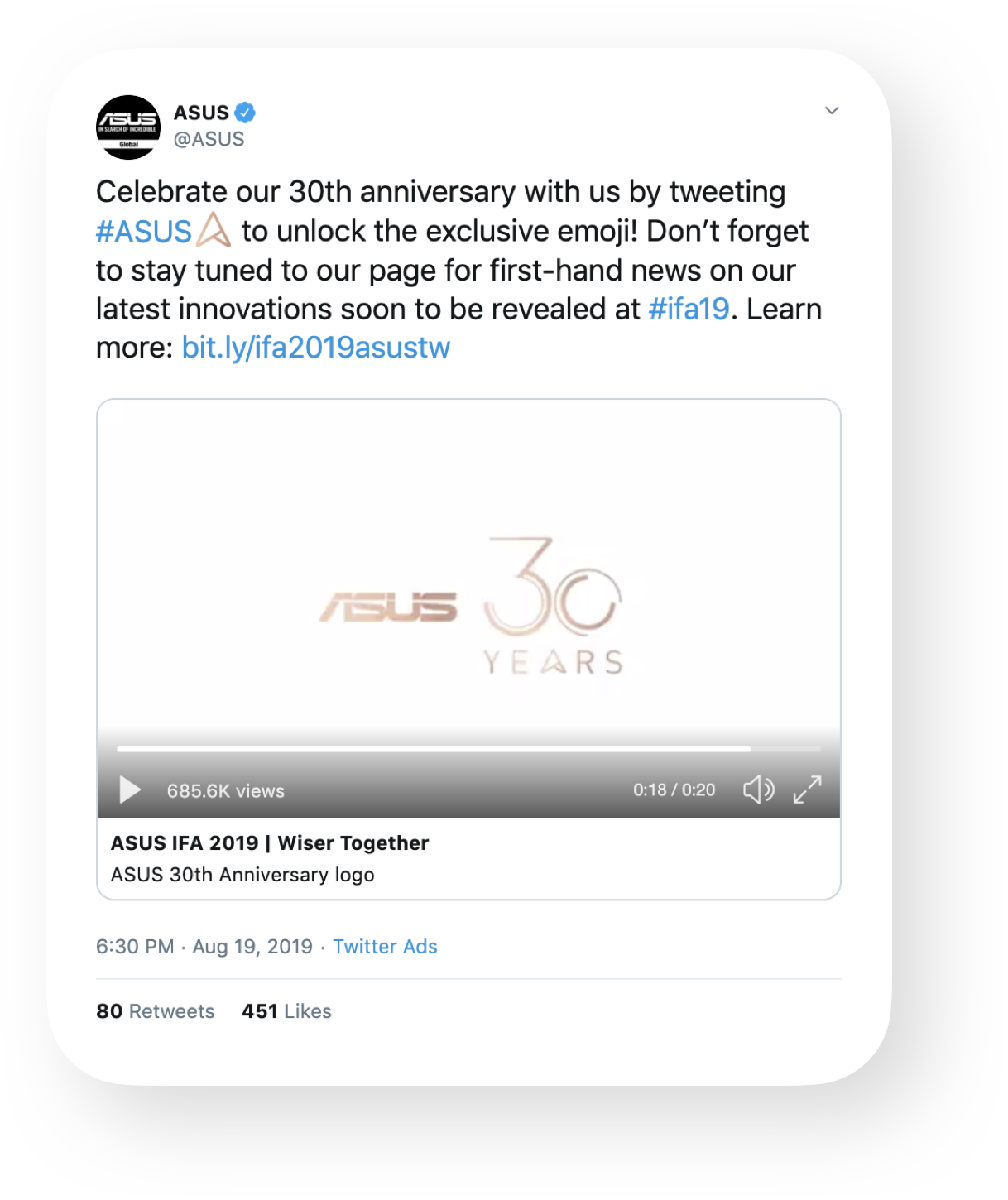 Increase conversations with branded emoji hashtag.
ASUS used branded emoji hashtag to engage and drive conversations.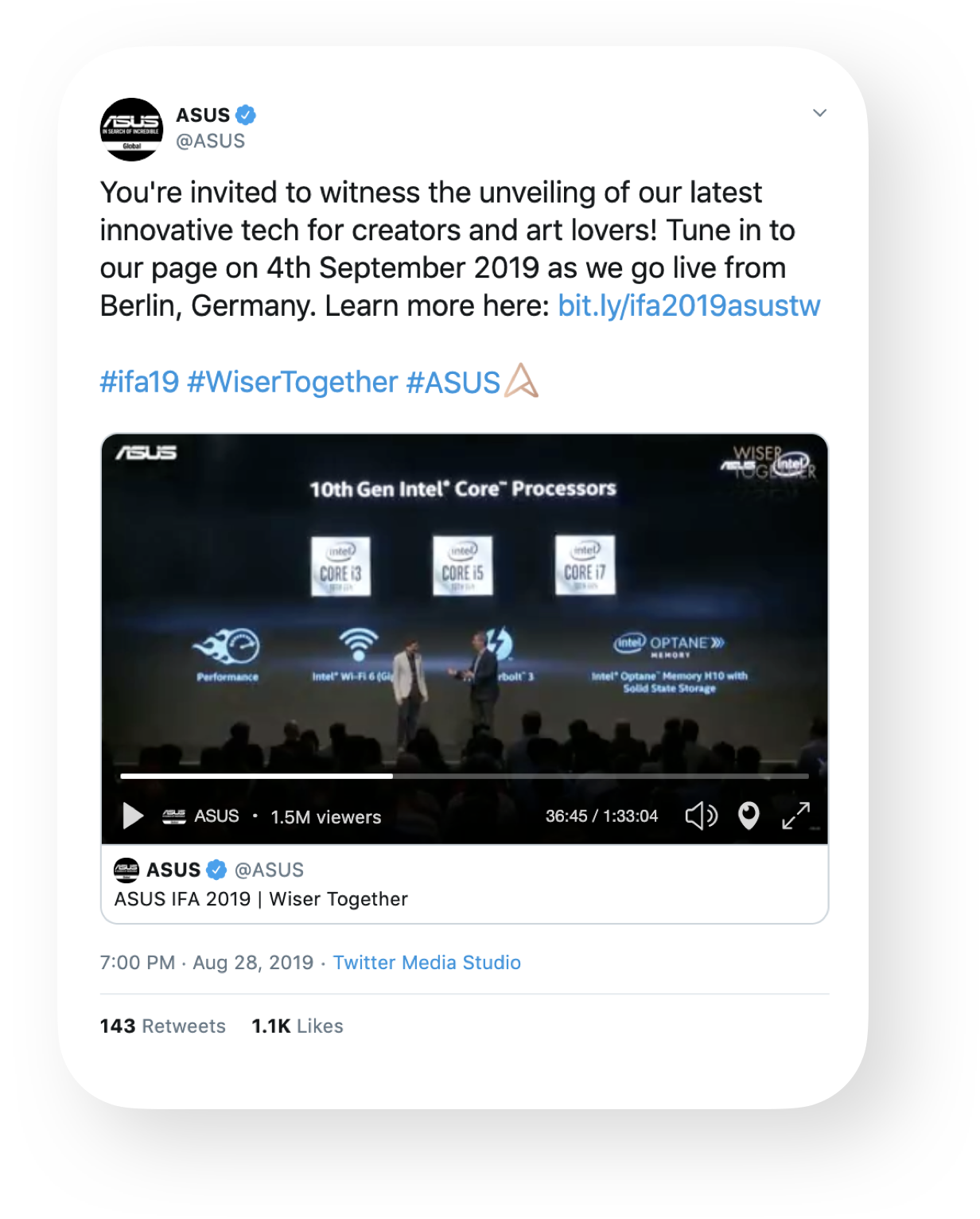 Live-stream to reach a global audience.
Streaming the product launch event live on Twitter allows ASUS to connect with consumers who were unable to attend the event in person.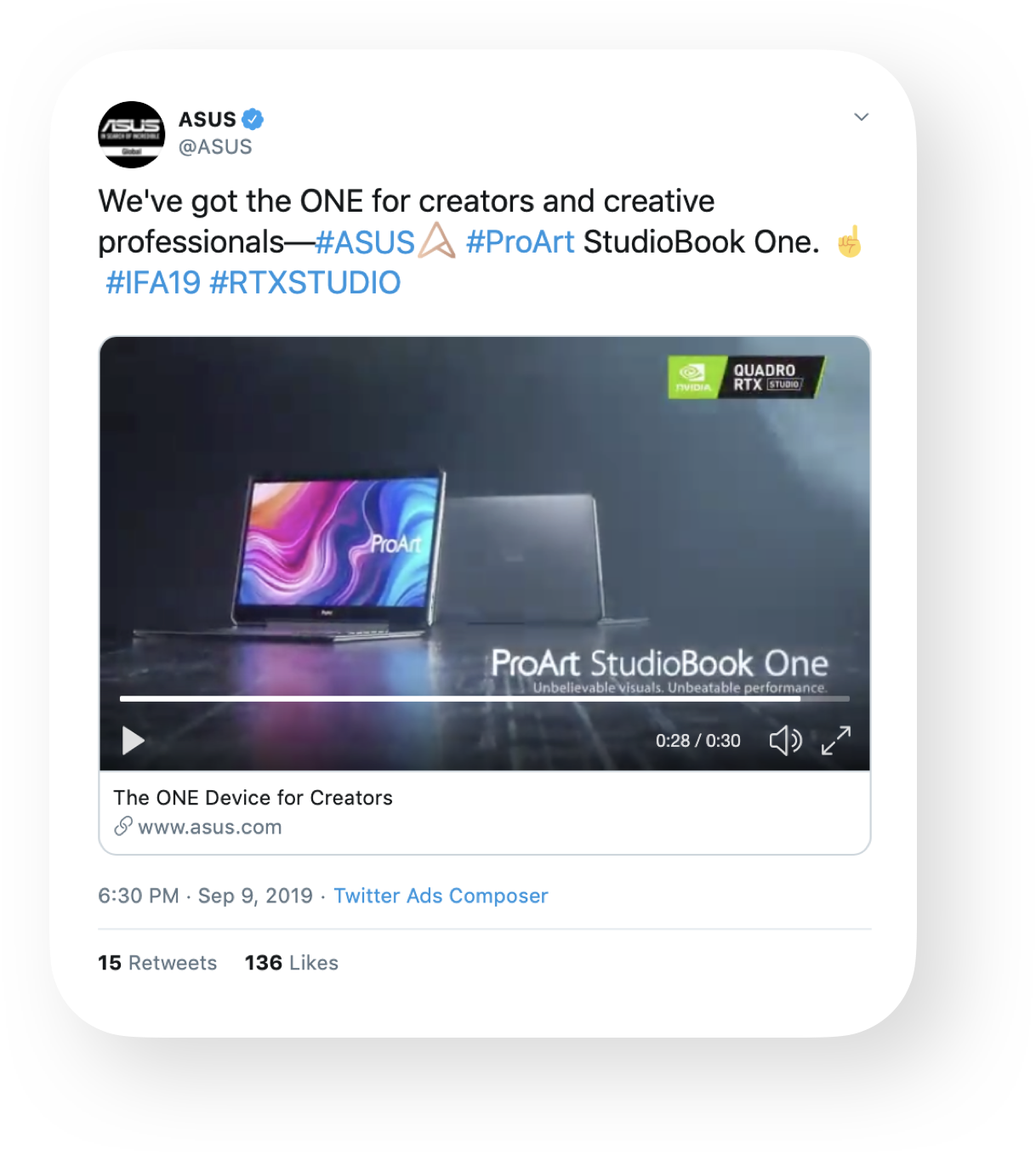 Boost intent with targeted content.
Short-form videos featuring its latest products helped ASUS further drive product awareness and purchase consideration.
With the help of Twitter, ASUS implemented a successful 30th anniversary campaign launch as well as their latest product launch. The Livestream + Highlights achieved 142% video views against target and the total video viewers was 32X more than other streaming  platforms. With the use of branded emoji hashtag, the conversation volume increased 3.5X on launch day.
Twitter is the go-to platform for brands that want to launch something new or connect with what's happening. Through this partnership, we have successfully met our marketing campaign targets with two of Twitter's advertising solutions, live stream and branded emoji.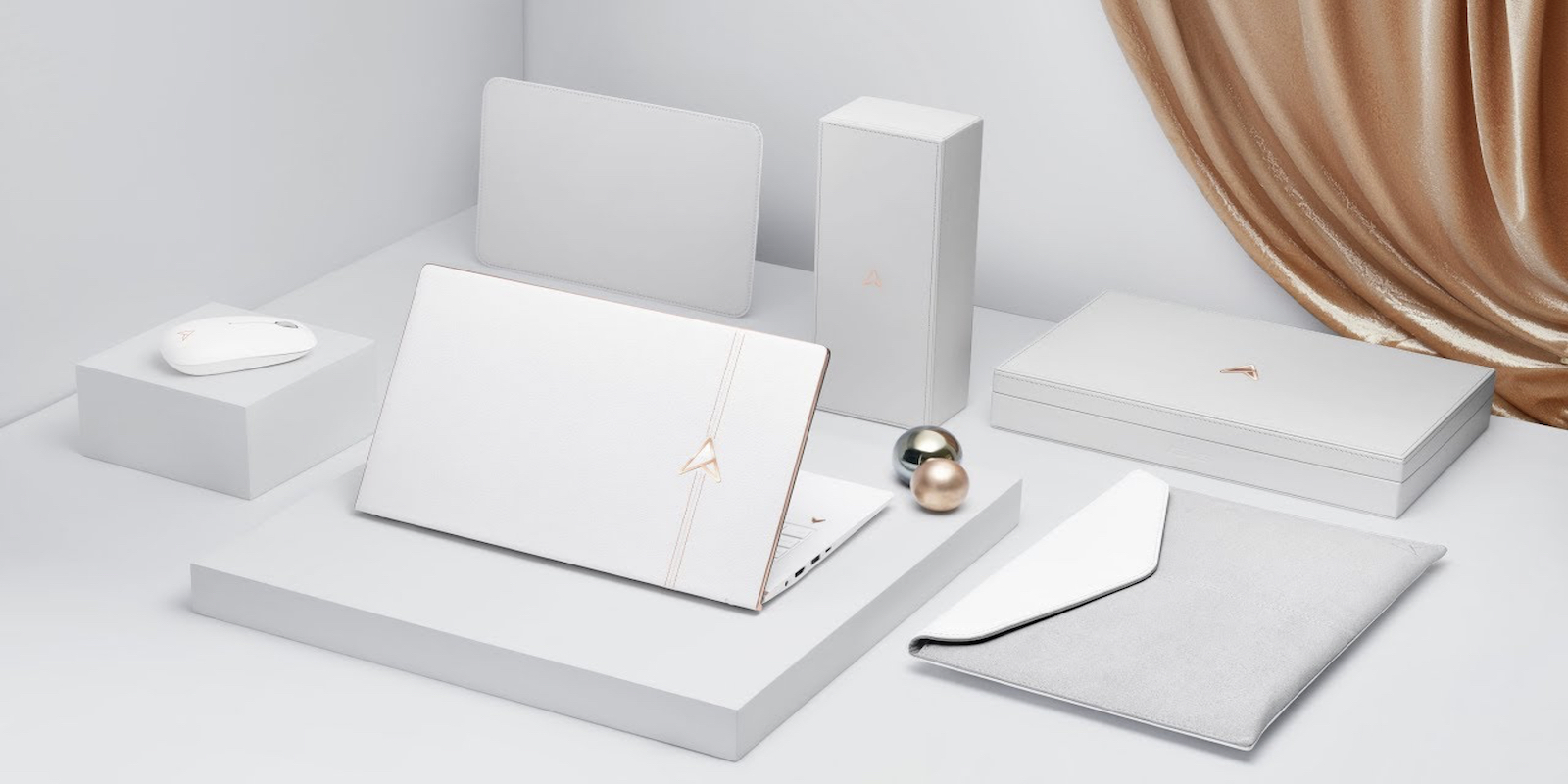 Launch something new with video
Break through and raise awareness – fast. Reach your audience at the right moment: when they're most receptive to ads.
Reach your most valuable audience at scale when it matters most.