Case Study
Playing where the players play: How Alienware connected with AFL fans on Twitter

Sport is a big topic of conversation on Twitter and so far this year, there have been over half a million Tweets about the AFL - making it one of the most talked about topics on Twitter. Wanting to align and connect with this valuable audience, @7AFL launched #ArmchairExperts at the start of the 2018 AFL Premiership Season. The Australian Twitter-first AFL ancillary panel show is live every week of the AFL season on Twitter via @7AFL, after the Friday night match coverage.

In its fourth season, and in partnership with Twitter, a bespoke custom content series of Armchair Experts was produced for Alienware. Examining audience data from Twitter, there is a clear overlap between gamers and sports fans, over indexing by 39 percent - making Twitter the right place for Dell to connect and engage with the right communities at the right time.

Tasked with the goal to reach incremental new online communities, the campaign for @AlienwareOz utilised a suite of Twitter's engagement and custom video solutions to align and connect to AFL fans, expanding beyond Alienware's existing hard core gamer audience.
The Alienware Armchair Experts Invitational ran for eight weeks with AFL superstars revealed as PC gamers by host Adam Cooney. The program pivots around Adam Cooney going head-to-head in a game of Rocket League, using the all-new Alienware M15 laptops.
The 1–3 minute, eight-part video series featured Chad Wingard, James Sicily, Jason Johannisen, Jack Higgins, Zac Williams, Harry Jones, Jack Viney and Jack Crisp.
Whilst the AFL superstars competed in a game of Rocket League, Adam interviewed the players, often resulting in comical banter which added an exciting layer of competition to the tried-and-true interview format, enabling fans to see a different side to each player.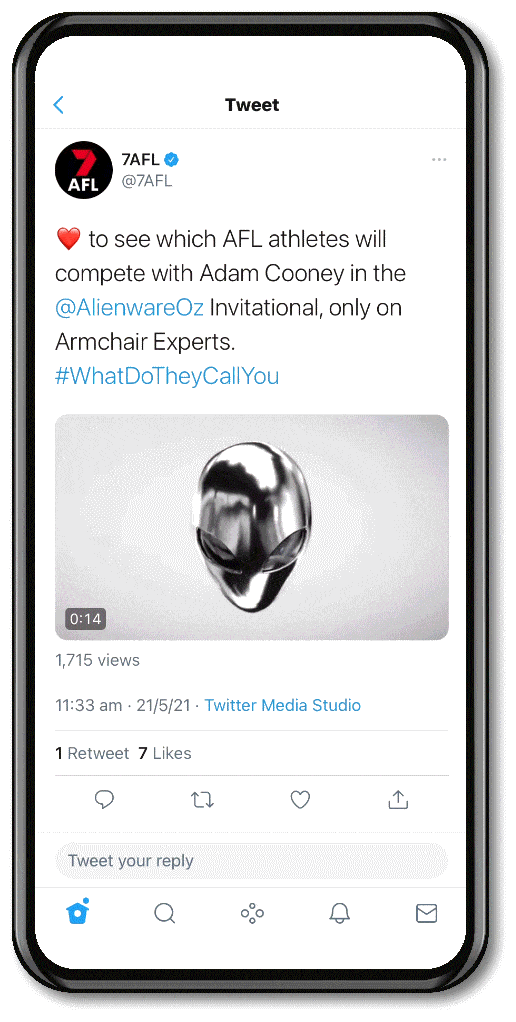 Twitter Like to Subscribe:
A Tweet from @7AFL encouraged fans to opt-in to receive notifications when each episode went live - this targeted AFL fans and gamers to tune into the show. Bespoke videos created with Adam Cooney teased which gamer was going to be revealed next week. Users who had interacted with the teaser video would then get a notification when the Alienware Armchair Experts episode was live on Twitter.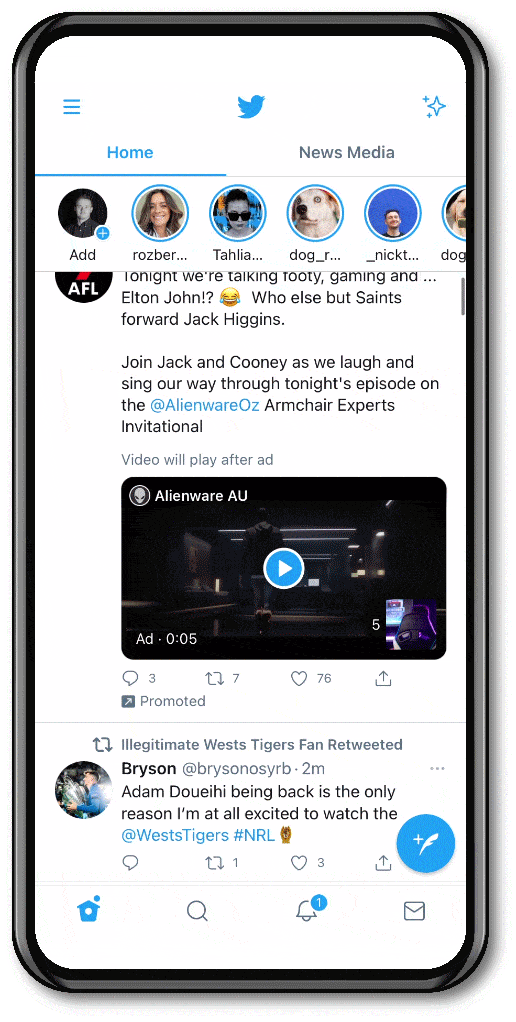 Twitter Amplify Sponsorship:
The Alienware pre-roll ran before each episode of the Alienware Armchair Experts Invitational segment, airing on Twitter @7AFL. Each episode ran for the full week until the next gamer was revealed the following Friday night.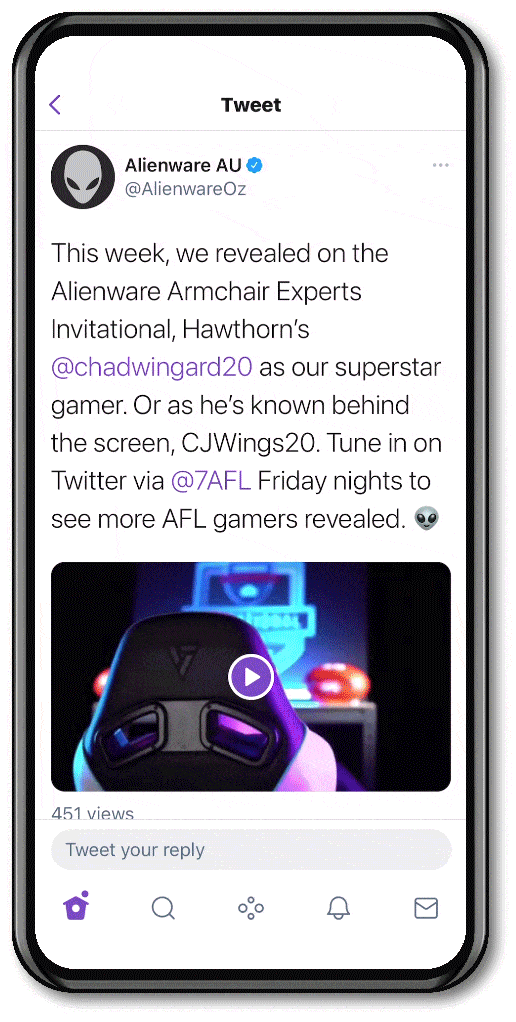 Twitter ArtHouse created snackable versions of each episode fit for social feeds, and promoted from the @AlienwareOz Twitter handle to drive awareness within existing followers.
 
Proving the power of the Twitter audience, this Australian Twitter-first content series was the basis for Alienware follower growth increasing by 7.4 percent since May 2021, when the campaign started, compared to only 4.4 percent for the same time last year. Overall, the campaign garnered more than 33 million Twitter impressions with an additional 8.6 million video views.

The Alienware Armchair Experts campaign allowed us to tap into a net new audience with a premium Alienware message, delivered in an authentic and fun way. The campaign was a great success for us.
Lorin McDowell, Senior Advisor, Marketing Comms  Dell Australia
We really enjoyed bringing this campaign to life with the Armchair Experts and Twitter. The content that was produced was best in class and leveraging Twitter's targeting capability we were able to reach a new growth audience. The campaign was well received globally and was overall a great success
Ollie Woodrow, Associate Manager, TED, Mediacom Australia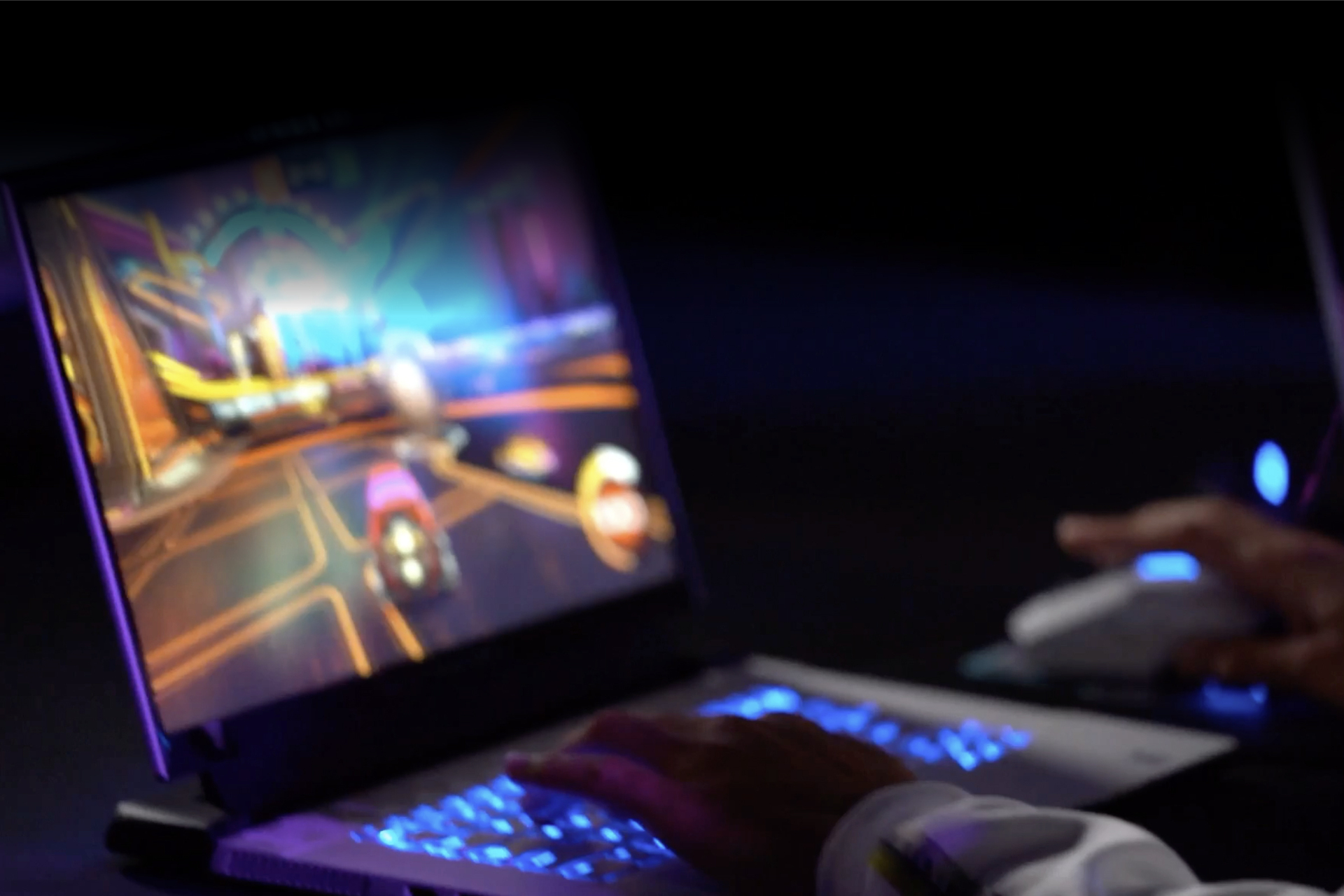 Brands are connecting with people on Twitter in unique and creative ways. And so can you.
Reach your most valuable audience at scale when it matters most.