Research
Year-end #ShoppingDays are fast approaching - here's what brands need to know

As the biggest shopping season of the year inches closer, we dive into Twitter data to understand what people across Southeast Asia are unveiling about their shopping needs and habits. Read on to find out what audiences are up to - and why.
After a couple of years living amid fluctuating restrictions and social distancing measures, the majority of Southeast Asians have adopted massive - and mostly permanent - shifts to the online.
Nowhere is this more apparent than in retail. As we enter the final months of the year, let's explore the trends that will likely shape the fast-approaching #ShoppingDays and see how brands can best reach their audiences.
Shopping as a shared experience
Amid intense digitisation and flurries of retail activity, it's become harder than ever for brands to stand out against all the noise and choice. Fortunately, people in Southeast Asia are increasingly turning to Twitter to be a part of the larger community and relevant conversations, thus providing a window into shoppers' latest habits. Here are some of our key learnings.
 
1.  People are shopping - a lot
New research from Twitter reveals that 84% of people on Twitter in APAC1 have made a purchase in the past 6 months, and 23% of APAC online shoppers feel they've developed an online shopping habit2 since the pandemic began. When we zoom into Southeast Asia, 66% of people on Twitter have shopped online in the last week alone3. Even online grocery shopping, traditionally an offline activity, has seen a sizable growth spurt, with 35% of people on Twitter in Southeast Asia having bought groceries online in the past week4.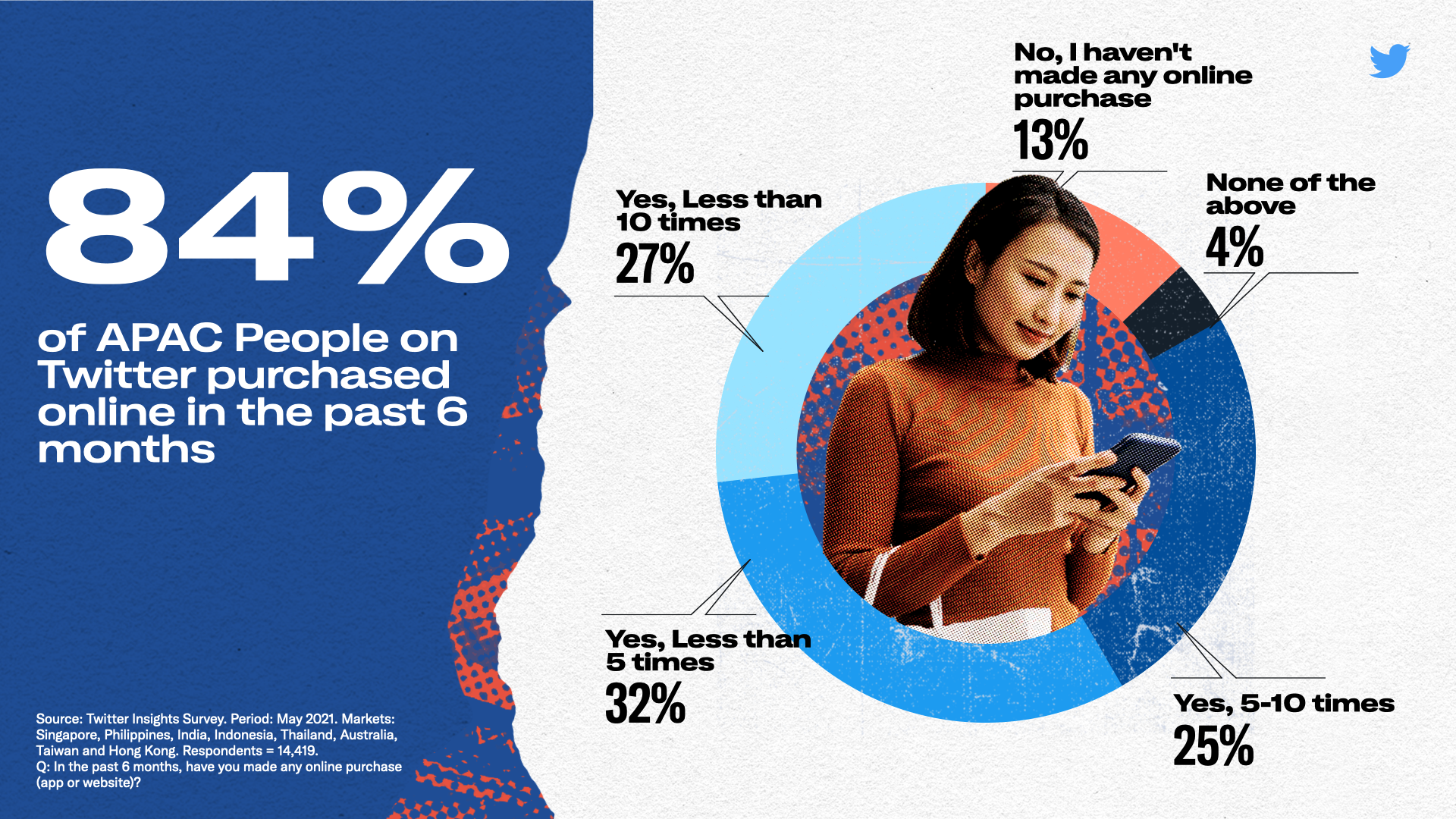 2.  People are shopping online for things they used to buy offline

Purchasing priorities across the region have shifted significantly since the pandemic started5.
Strict lockdowns forced buyers across Indonesia, Thailand and the Philippines to start considering purchasing essentials and other basic needs required for a comfortable homebound life, online. These included Personal Care products, Apparel and Tech Items.
Since many big ticket household items were purchased in the earlier stages of the pandemic, top items purchased online are now mainly personal effects, such as clothing (35%), shoes (23%) and shampoo (16%)6.

3.  Not only are people shopping, they're also talking about shopping

Be it for a vote of confidence or more enjoyment of their purchases, people are increasingly turning to Twitter to talk about their decision-making process and about their purchases. An astounding 53 million shopping-related conversations took place on Twitter in Southeast Asia since the onset of the pandemic - that's a 36% increase compared to the previous period7.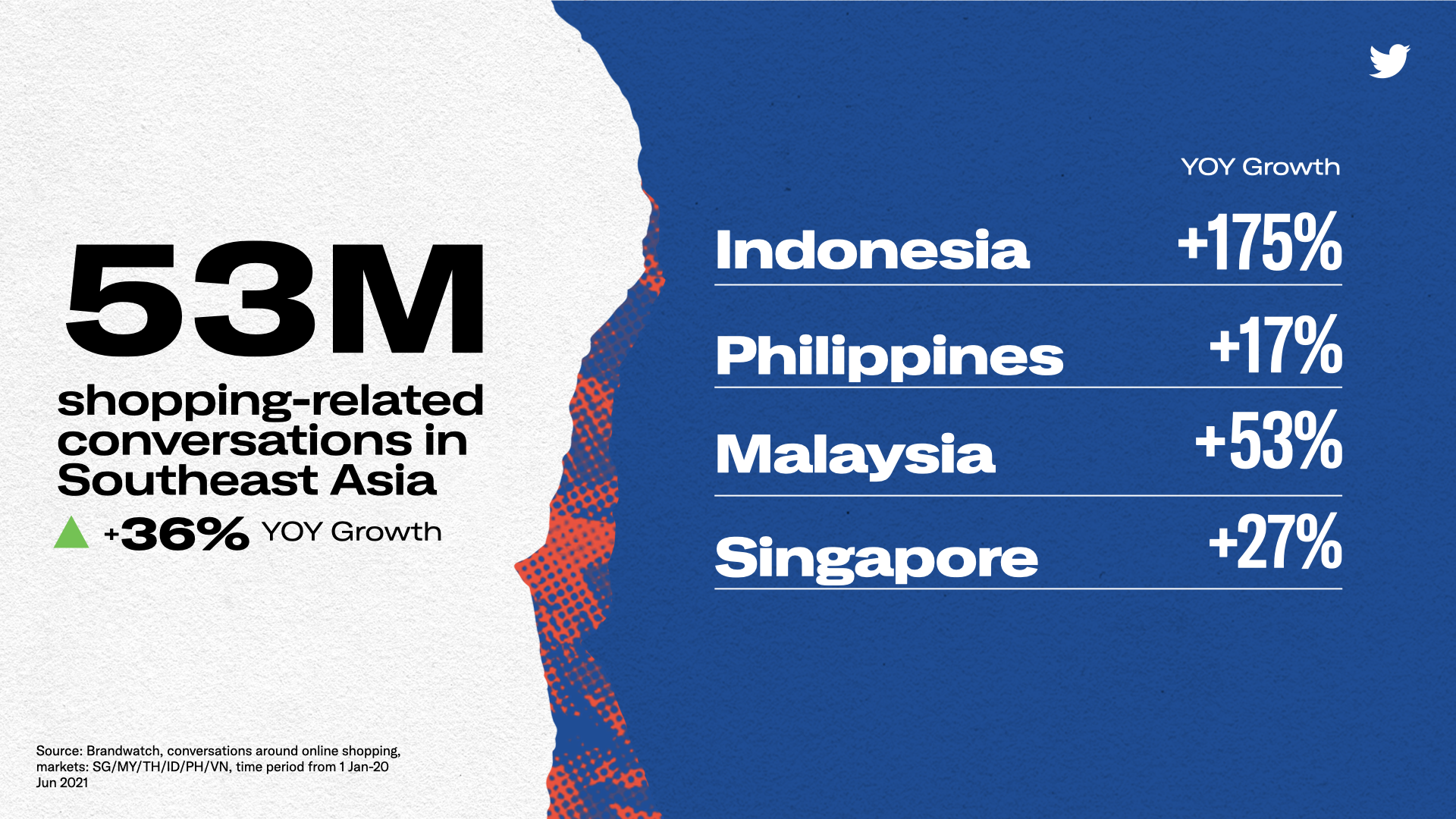 In particular, #ShoppingDays - which refers to big regional celebratory shopping events like 9.9 and 10.10 in Southeast Asia and global ones like Black Friday - are fueling significant spikes in that conversation while providing great insights into Southeast Asian shopping habits during the biggest retail season of the year.

4.  Shopping decisions are influenced by conversations on Twitter

It turns out that conversations on Twitter are a significant online purchase driver. Over 51% of people on Twitter in Southeast Asia are more likely to buy a product when they see reviews from other customers on social media and 37% are more likely to buy when there are lots of 'likes' or good comments8.
Similarly, 73% of people on Twitter in Southeast Asia agree that good conversations raise their intent to search for more information on a product, indicating that conversations on Twitter can indeed drive consideration, amongst other brand metrics. In the Philippines and Indonesia, that number reaches 77% and 76% respectively. Additionally, 50% of people on Twitter across Southeast Asia exposed to advocacy tend to spend time looking for deals (compared to 32% who weren't exposed); in the Philippines and Malaysia, that influence goes up to 69% and 68%9.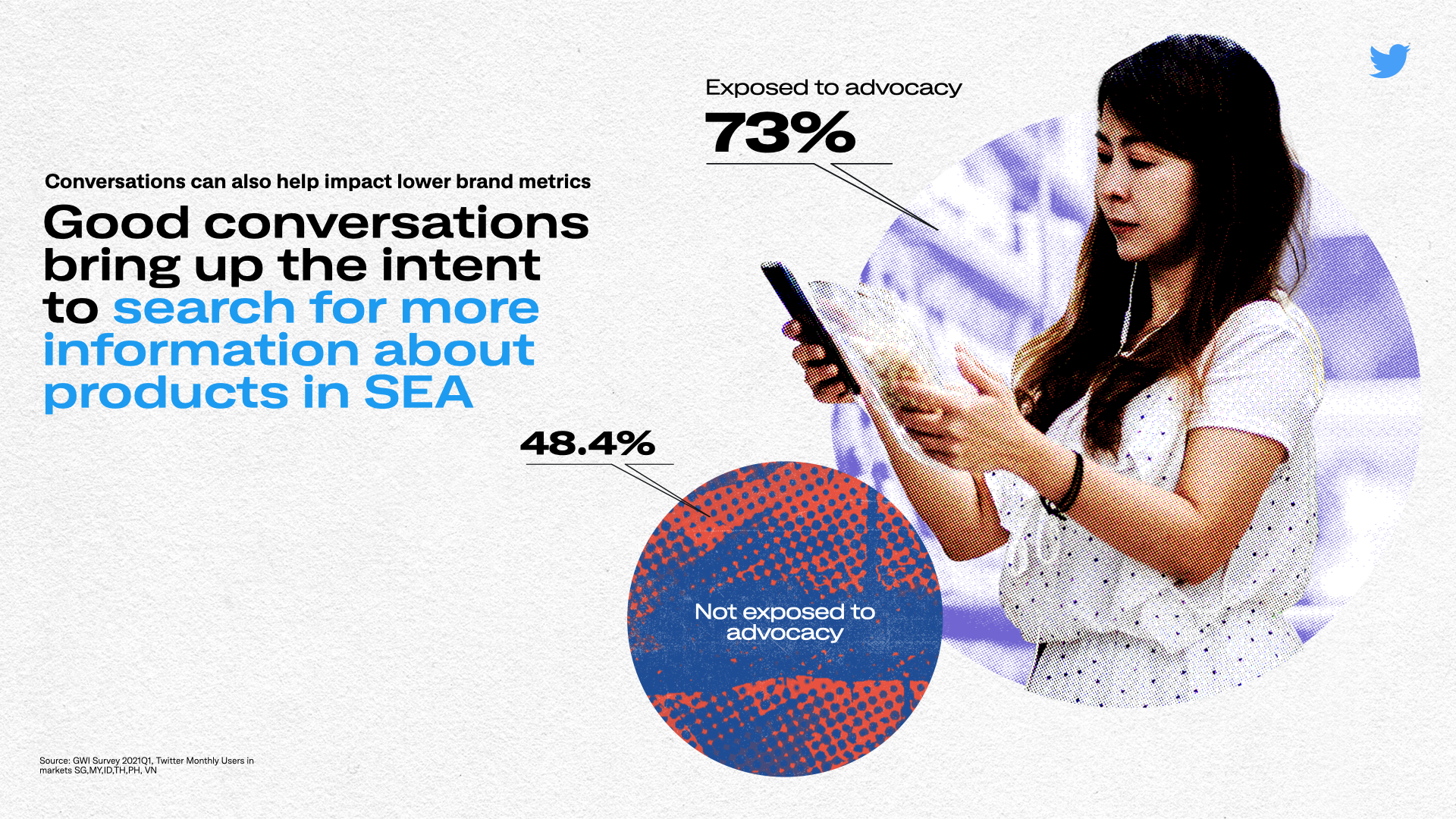 5.  To seal the deal, some mechanisms are more effective

So, how can brands help buyers make their decision? A number of factors are at play when it comes to helping Southeast Asians decide which product or brand to purchase. In fact, on average, brands that drive a 10% lift in conversations on Twitter tend to see a 3% increase in overall sales10.
The features that most commonly encourage people on Twitter in Southeast Asia to buy a product are free delivery (59%), coupons & discounts (52%) and reviews from other customers (51%)11 - otherwise known as the key levers that brands can fully own.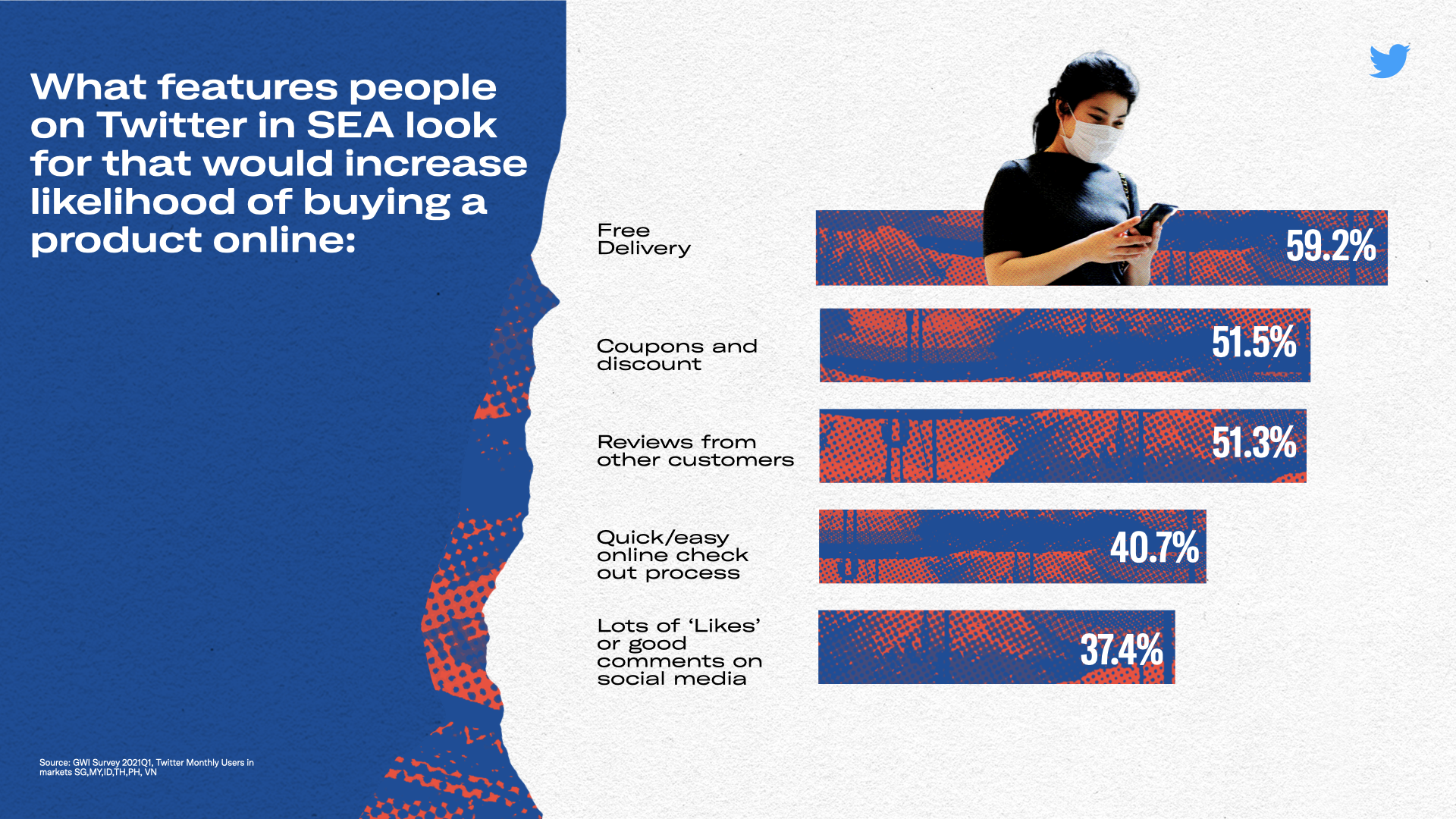 Fortunately, good conversations can incite online shoppers to use said discount codes or coupons. In fact, 61% of people on Twitter who are exposed to advocacy are more likely to use discount codes or coupons (vs. 43% who weren't exposed)12, further asserting why it's crucial to be a part of the overall online conversation.
 
Twitter has always been the go-to place to stay on the pulse of What's Happening. It's also where bigger conversations, passions and concerns are driving society and impacting everyday life. Shoppers Tweet to ask for recommendations, share tips and provide insight into their thoughts and opinions.
To cut through all the noise, brands need to go straight to the top of the conversation. It's where their audience is and therefore the place that matters the most.
Here's how brands can engage their audience and deliver success around #ShoppingDays:
Delight them with a great experience. As many shoppers transition from the traditional bricks and mortar onto digital platforms, they are expecting at least the same quality of experience, if not better. With more access to data than ever, brands who want to thrive can learn what their customers want, and surpass their expectations and delight them.
Connect to the conversation. Being part of the conversation doesn't mean having a one-way conversation. Brands should provide topics of conversation to prompt more people to participate, but they should leave the majority of the 'speaking' - or Tweeting - to their audiences. Let people express what they want to say and let their counterparts reciprocate. Be there, be active, but never take over.
Reinforce the experience. Often the most overlooked step is to nurture conversation with consumers even after the sale is complete. This helps to keep the brand stay top of mind, generate future purchase intent and encourage word-of-mouth recommendations.
For more inspiration on how your brand can make the most out of this year's shopping season, check out our Success Stories, including how Lazada Philippines used a "shoppertainment" strategy to drive conversation and engagement.
A number of key #ShoppingDays are coming up on the calendar. Visit https://business.twitter.com/en/advertising.html to find out how you can leverage Twitter to join in the conversation today.
Methodology:
Twitter surveyed N=14,419 users across 8 markets in APAC (SG, PH, IN, ID, TH, AU, TW, HK) on online shopping behaviours and preferences in May 2021. The insights are supported with additional data from GWI around purchase categories, as well as Brandwatch analysis of volume growth, top themes and sentiment within the online shopping conversation on Twitter from Jan-Jun 2021.
Serene Tay is the Senior Research Analyst for Asia-Pacific at Twitter.
Faridzuan Faris is the Marketing Manager for Southeast Asia at Twitter.
Sources:
[1, 2]  Twitter Insights Survey. Period: May 2021. Markets: SG, PH,  IN, ID, TH, AU, TW, HK 
[3,4, 6, 8, 9, 11, 12]  GWI Survey. Period: Q1 2021. Markets: SG, MY, ID, TH, PH, VN
[5]  Toluna COVID Barometer
[7]  Brandwatch, conversations around online shopping, markets: SG/MY/TH/ID/PH/VN, time period from 1 Jan-20 Jun 2021
[10]  Twitter Meta Analysis. Period: 2019 
Successful marketing efforts start with knowing your audience. Twitter's tools help you dig deep.
You want your message to be heard by the right person. Let Twitter's targeting capabilities help.