Winning the battle for attention: How brands can make multi-screen experiences memorable

Brands need to get smart about how they connect with audiences across screens
The days of looking at just one screen at a time are long gone. Today, our attention is often divided across multiple devices, apps, and platforms. 
We stream our favourite show or movie on our TV, while scrolling through our Twitter feed. We listen to a podcast, while doing admin. We watch a video, while researching something interesting we saw in it. (And let's be honest, we're all guilty of replying to our emails, reading the news, or doing something else on one screen, with a video meeting open on another.)

Marketers know audiences are multi-tasking, even when they're watching the AFL Grand Final. They're not less engaged — quite the opposite. They're more leaned in than ever and are joining the conversation, live, on Twitter.

The challenge is to accurately evaluate how each channel complements one another and what the right strategy is.

Often, the content is solely built for a large-screen experience. The branding may take up a small portion of the real estate. And there's no clear call-to-action or subtitles to help the audience make sense of the content they're seeing.

They might look at their organic and paid Twitter ad campaigns separately to their website or app analytics — treating them as unconnected to the performance of their programmatic TV or radio ad buys. 

This approach provides a short-sighted and incredibly blinkered view of performance, according to Nick Thomas, Chief Investment Officer at MediaCom Australia.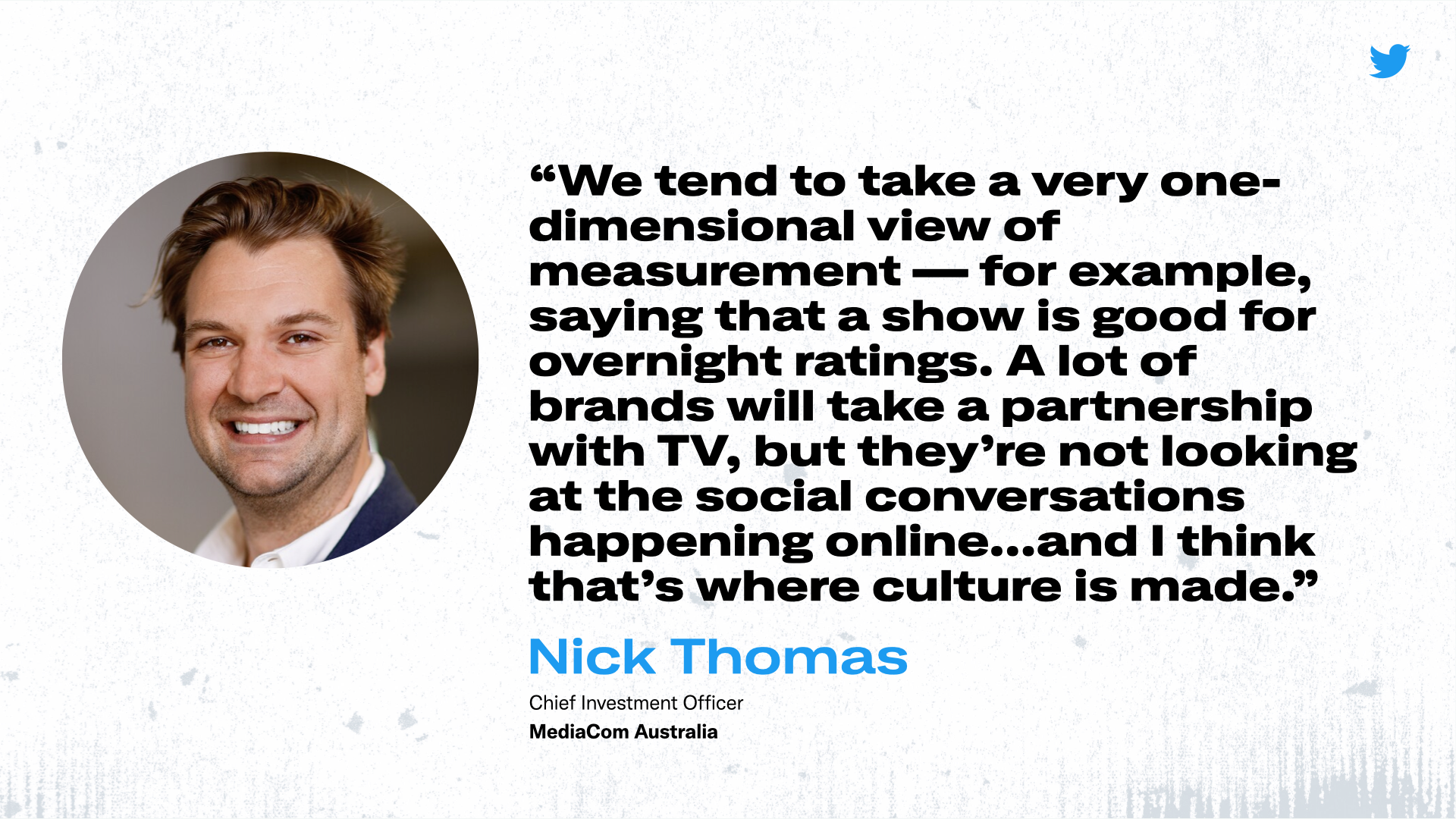 In reality, successful audience engagement is something that often jumps from one channel to another. 
As a brand, you need to make sure you're showing up everywhere your audience is — and in a way that feels authentic, not intrusive. 
Don't interrupt, add value: Embedding your brand in the culture, authentically
People can't invest time in every message they come across on the different devices and platforms they use — there are just too many of them to fit into one day. 
You really need to find your place in the cultural conversations happening to capture your audience's attention. Before you talk, you need to listen. That's the first step to being relevant. 

Recently, there's been a lot of talk about what cultural relevance means in marketing and advertising. William Hasko, Head of Small Business Marketing, Asia Pacific and India, at Dell Technologies, said the battle for attention is really a battle for relevance. 

Being culturally relevant means connecting with your audience by participating in the conversations they're having and the communities they're building.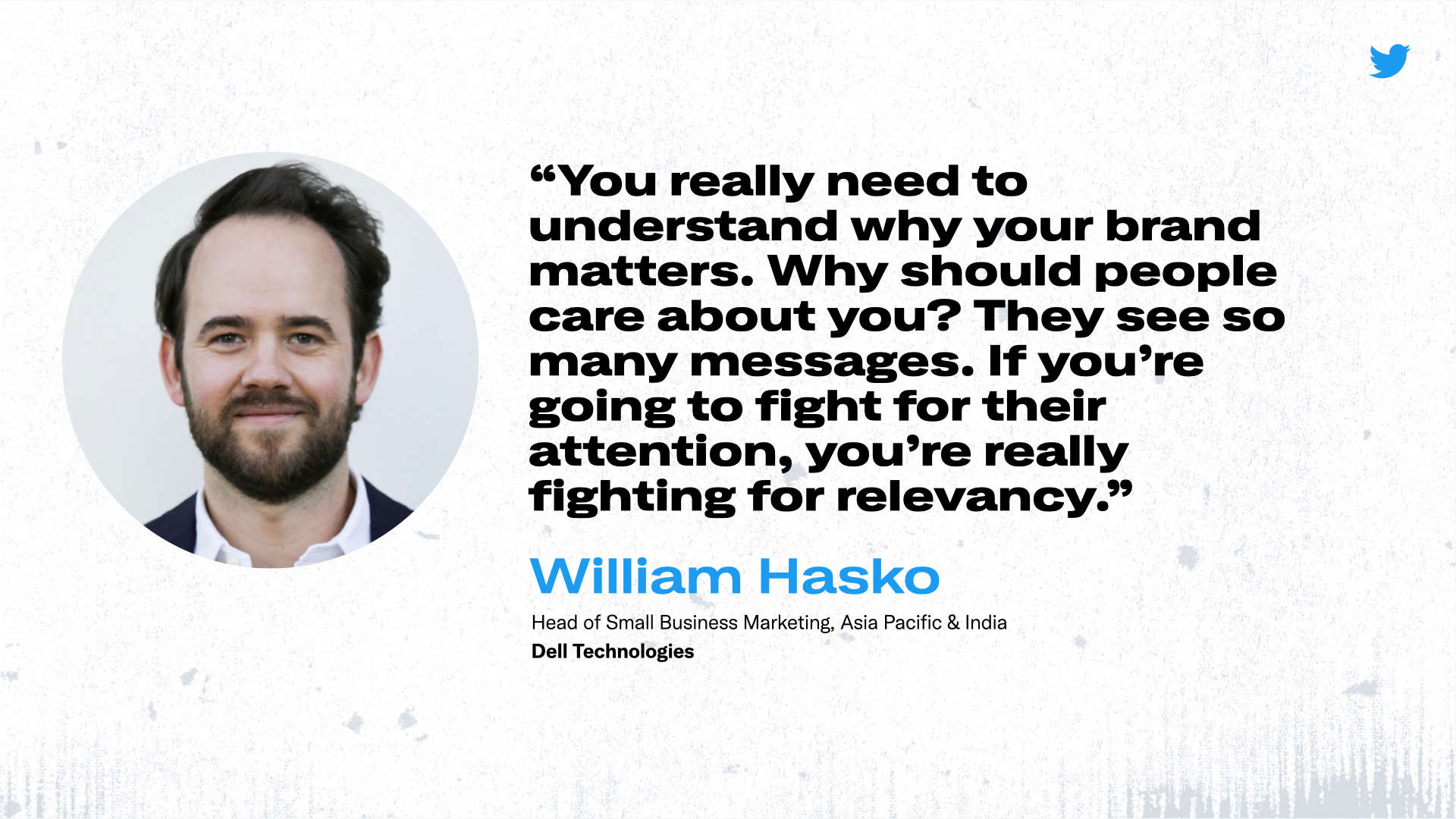 Your messages shouldn't feel like interruptions to their experience. They should feel like they belong in the experience. 
So, brands need to play close attention to the broader cultural conversations that are happening — and have something relevant to say. The Conversion: Twitter Trends 2022 report is a great resource for learning about what people are talking about the most. 

You also have to engage in a way that feels authentic to your audience. The brands people choose to associate with now forms part of their identity — that's why they care so much about what brands truly represent, value, and support. 

Making a cameo in your audience's Twitter feed on special days, events, or other major cultural moments is just not enough. You have to transcend that moment, commit to the conversation, and mean what you say, or your audience will call you out. 

That's why capturing the right tone and speaking the language of your audience is critical. Doing this humanises your brand and shows your audience you care about them as people, not numbers. 

For inspiration, you can learn a lot from football star Josh Cavallo's story of coming out as gay on Twitter. The Adelaide United midfielder changed the game with just one Tweet, sparking conversations people were too scared to have and helping create a culture that embraces LGBTQIA+ people in sports and beyond. 
One brand, one experience
Now that content experiences are spread out, you need to think creatively about how you tell your brand's story consistently and cohesively across all the devices and platforms people use, according to Diane Ho, National Digital Sales Director at Paramount ANZ. 
Your audience wants to interact with one brand, not a series of siloed information channels. 

Think of it as multiple windows looking onto the same garden — the 'garden' being your brand. If one view shows flowers starting to wilt, while another shows them blossoming, you create a confusing story for your audience and risk losing their attention. 

Ultimately, consistency is critical to building connectivity. It drives home your message. It creates a memorable projection of your brand. 

So, watching your TV ads and then engaging with your brand on Twitter should feel like a journey without roadblocks.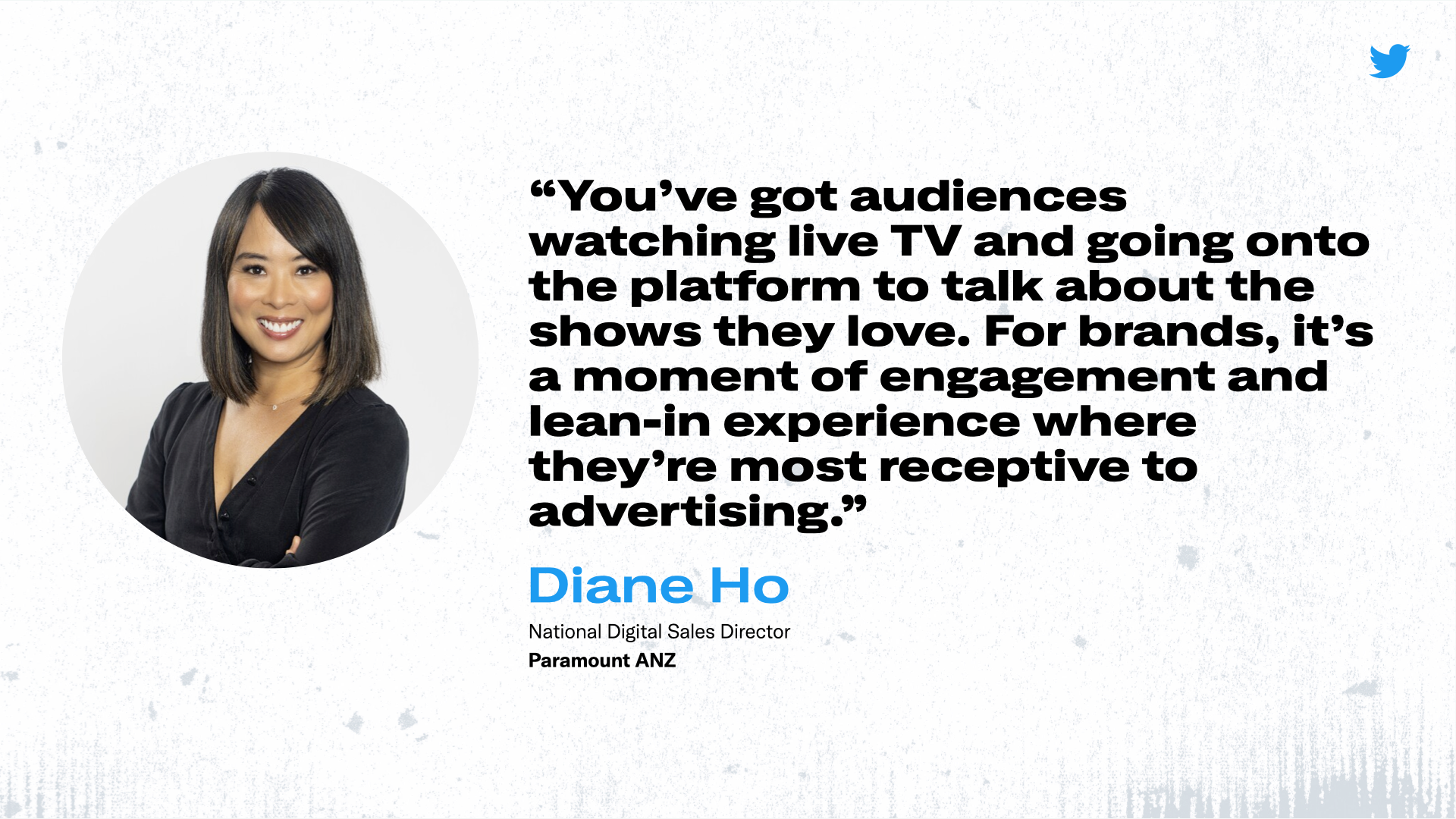 As you plan out your omnichannel strategy, remember consistency is only possible if you have a clear brand personality to project. As you build your brand identity, think about your value proposition, mission, values, and target audience to help inform the right tone of voice and messaging, as well as design elements, like typeface, colours, and images. 
Once you've established a strong brand identity and developed guidelines that can be applied across all your channels, you've set the foundation for great experiences across screens. 

Brands that crack the code to compelling experiences are the ones that will cut through the noise and keep their audience's attention, no matter what channel they're on.