Research
The Conversation:
Twitter Trends Thailand

What are people on Twitter in Thailand talking about?
The world around us is changing. Fast. But how fast? And where is it all going?  Millions of conversations are taking place on Twitter everyday. Discover how the talk on Twitter in Thailand can give us a window into culture and show how brands can stay ahead of what's happening and engage with these conversations in a meaningful way.

Millions of Tweets. Limitless Insight.
Data tells us that the most culturally relevant brands perform the best1. Twitter's outsized role in cultural moments and conversations drives engagement and impact for your brand. There's never been a more important time for your brand to connect with the evolving conversations happening on Twitter.  
So we analysed millions of Tweets from Thailand over the last three years2 to get a better understanding of what people on Twitter in Thailand are talking about. 
From Wellbeing, Creator Culture, and Everyday Wonder to Our Planet, Tech Life, and My Identity, we discovered six cultural trends and conversations on Twitter in Thailand that are shaping our future.
Preview the six trends below and discover how they can help your brand stay ahead of what's happening.
Wellbeing: Embracing and empowering the journey towards self-care and self-acceptance.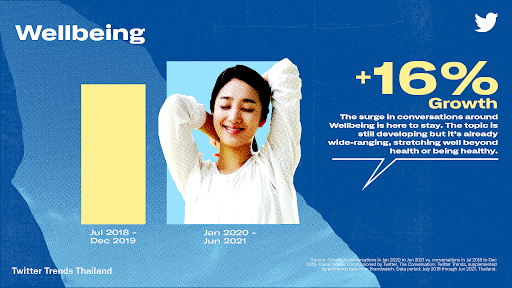 "Getting by" isn't enough anymore. Collectively, Thais are redefining what personal health and wellbeing mean to them and how these can be brought into their everyday life.
Creator Culture: Championing creativity by uplifting the ideas and voices shaping it.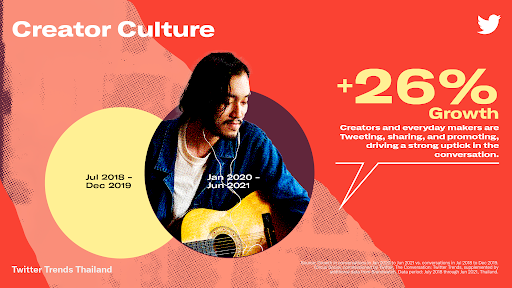 Blurring the lines between work and play while daring to carve their own paths, a new generation of entrepreneurs and everyday makers has emerged. Some are driven by need while others by interest and inspiration. 
Everyday Wonder: Living with positivity and compassion to help escape or elevate the everyday.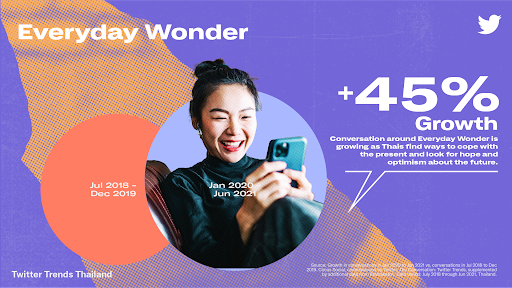 From everyday spiritualism to fantasy-fiction or simpler times in the past, Thais are increasingly looking for ways to connect with one another, as people seek comfort amidst the uncertainties and challenges of the world outside.
One Planet: Supporting a more sustainable future with a desire to do better, together.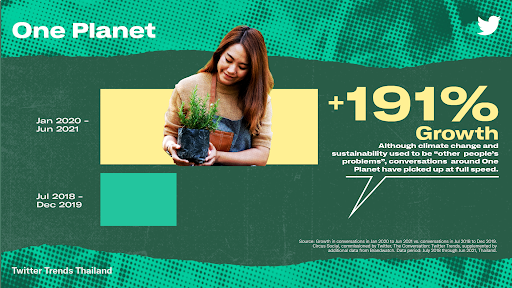 While the environment and sustainability aren't new conversations, they have entered the mainstream. As Thais become more knowledgeable and empowered, they're voicing their concerns and forging action-oriented conversations in hope of making a difference. 
Tech Life: Share your vision for the future to create a more connected way of life.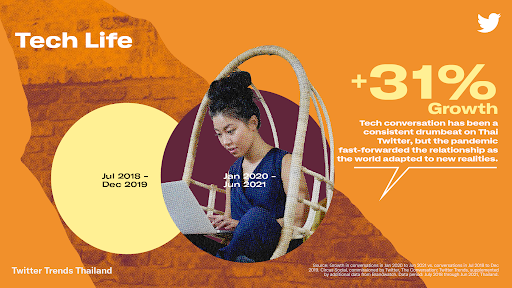 Irreversible and widespread integration of tech into our everyday lives has inspired a new dialogue about the way we live, work, and create. While Thais remain optimistic about new possibilities, there is an underlying concern about the nature of our relationship with tech.
My Identity: Empowering people to embrace their individuality and speak up for their values.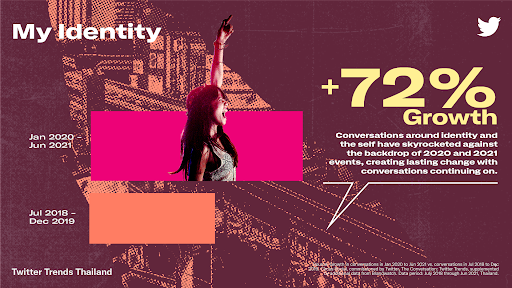 People are feeling empowered to be who they are, in full colour. And Thais become more empowered to do what they believe in and say what they really want to say — purposefully, truthfully and authentically. 
Learning more about these conversations can help us discover what's on people's minds and can help brands stay ahead of the curve.
Ready to connect with what's happening?
Download the Twitter Trends Thailand report now.


Source:
1 Kantar, commissioned by Twitter, Cultural Relevance Research, Dec 2019, USA, Base = 100 US brands tested. Methodology: Correlation analysis, which shows the strength of the relationship for overall brand cultural relevance scores (NatRep) and Q3/Q4 brand revenue (source: Google Finance & secondary sources).
2 Source: Circus Social Data Brandwatch, commissioned by Twitter, The Conversation: Twitter Trends, Data period: July 2018 through June 2021, Thailand.