Research
Six valuable insights for Mcommerce brands in Southeast Asia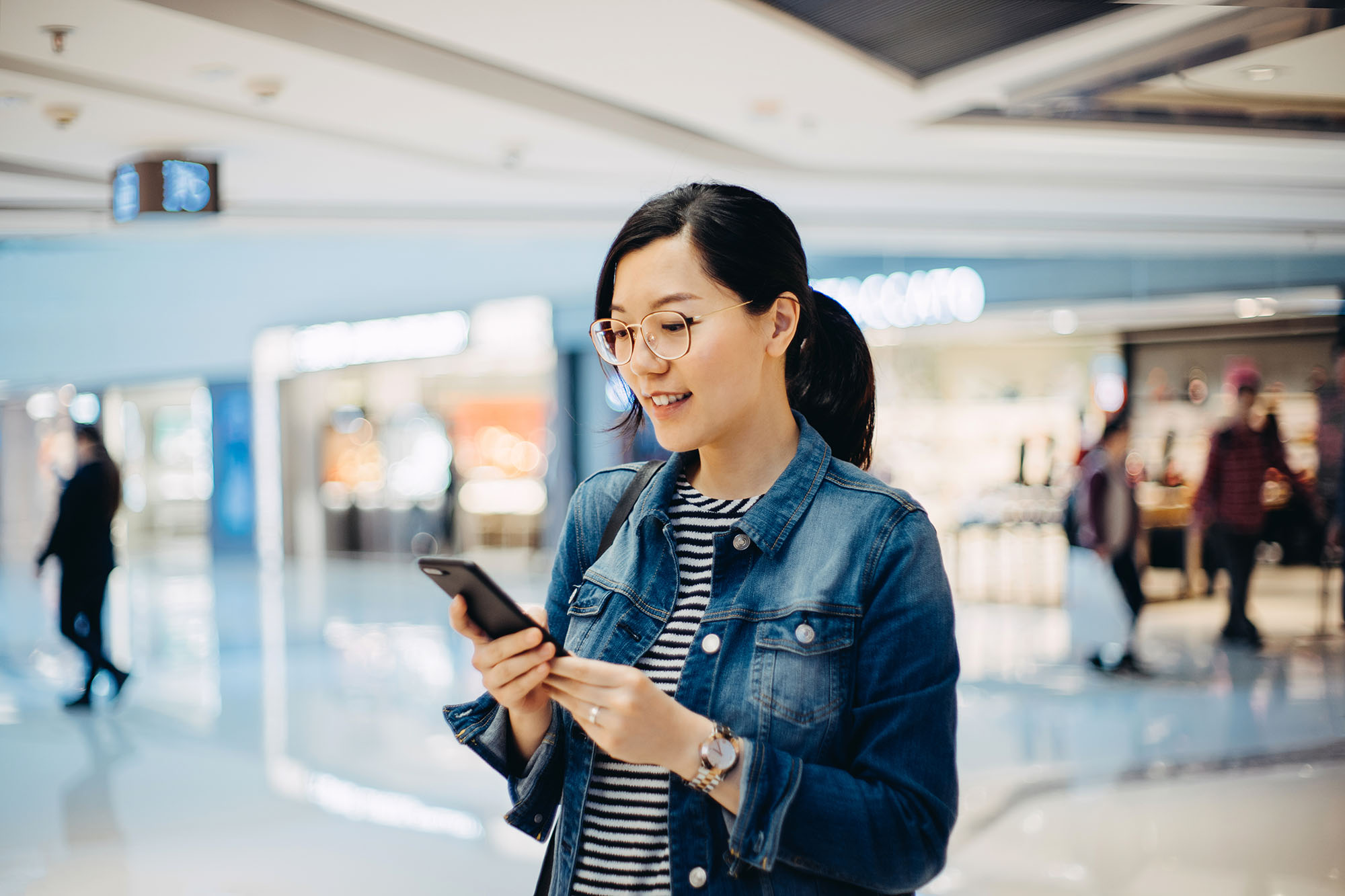 We unveil trends and takeaways all MCommerce brands in Southeast Asia should know. Download the full report to discover how these insights can help connect you to your most valuable and receptive audience.
When it comes to MCommerce, Twitter presents a unique opportunity for brands to reach their most valuable and receptive audience. Our findings show that Twitter users are more likely to adopt mobile commerce and shop more often on mobile. Throughout the consumer purchase funnel, brands have a valuable opportunity to connect with their consumers. Shoppers turn to Twitter to discover the best deals pre-purchase, and the conversation doesn't just stop there. Post-purchase, users also share their steals and let others know what they're shopping for.

Here are six key findings from the Mcommerce research, and opportunities that marketers can explore to entice mobile-first customers and ring up sales.
1. Global MCommerce trends: A snapshot of the bigger picture
Globally, a number of significant trends are shaping the development of how we buy around the world. MCommerce is driving the growth of ECommerce globally, with Southeast Asian (SEA) countries like Indonesia, Malaysia, and Philippines reporting over 30% year-on-year growth on Mcommerce adoption.1
Unsurprisingly, the rise of Mcommerce is being driven by device-savvy millennials, who are more familiar with buying on mobile. 76% of Millennials on Twitter shop on mobile compared to 62% of older users (aged 36 and above). And for some, mobile truly dominates the shopping experience, with 39% of millennials on Twitter using only a mobile device to shop on a weekly basis.2
As Mcommerce continues to change the way we buy, shoppers using Twitter are becoming more open to purchasing different kinds of products and services on mobile. Beyond traditionally mobile-friendly categories like apparel, mobile-resilient categories like furniture are also seeing an increase in consumer intention to buy on mobile. For SEA shoppers, categories like food delivery and money transfer services are mainly purchased via mobile.3
Globally, the cross-border spread of seasonal shopping dates has enabled localised shopping events to go global. China's Singles' Day (11.11) has become an online shopping moment all over the world, and Black Friday sales that originated in the United States has made its way to the Southeast Asia (SEA) region.
2. The changing retail landscape:
The consumer's decision-making journey is getting increasingly fragmented across channels and devices. By understanding how, what, and when consumers are buying, brands can better tailor messaging specific to their customer's online purchase journey. 70% of Twitter users visit an online store and make a purchase online, compared to 63% of non-Twitter users.4 For brands, this highlights the need to develop a mobile-first strategy to engage consumers.
The never-ending quest for innovation is set to bring about even further developments in existing technology. Twitter users are embracing augmented reality (AR) shopping, turning to the platform to share how visualising their purchases through AR has helped them commit to a purchase. Big bets in technology undertaken by commerce companies have not gone unnoticed, with Twitter users praising parcels delivered on time, enabled by automation and robotics technology.
3. The Mcommerce conversation on Twitter is heating up globally and in SEA
In 2018, there were an astonishing 90 million Tweets around 'shopping' and 'sales'.5 SEA markets are among the top 10 countries that Tweet the most about shopping, with Indonesia, Malaysia, and Philippines coming in at 6th, 7th, and 9th place respectively.6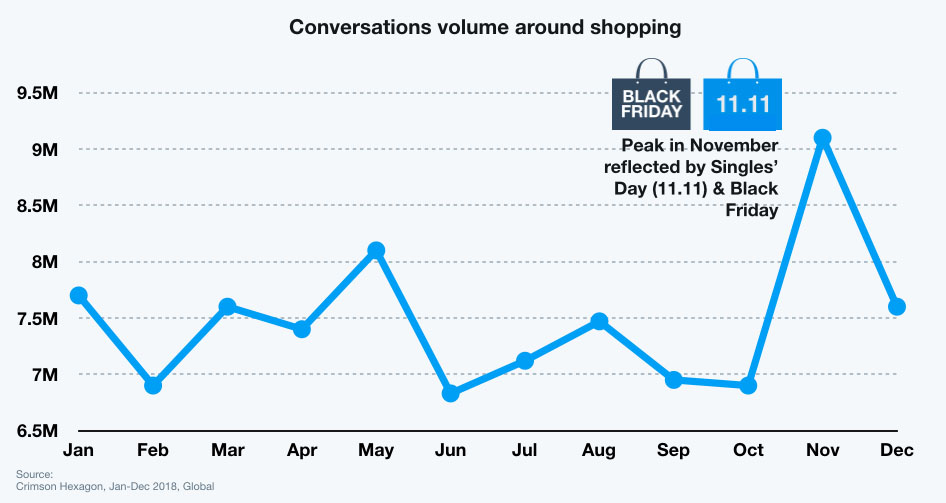 Globally, 71% of Twitter users publish opinions on products, services, or brands on Twitter. At 81%, an even higher number of global Twitter users actively look for opinions on products, services, or brands.7 And when you have access to an audience that is as engaged and receptive, it's clear that Twitter creates earned value for your brand.
4. Most important factors for mobile shopping apps:
When it comes to shopping on mobile, transaction safety, the quality of products sold through the app, and the availability of rewards, rebates, and promotions top the list. For SEA Twitter users, these factors outweigh the importance of app loading speeds and the availability of in-app payments.8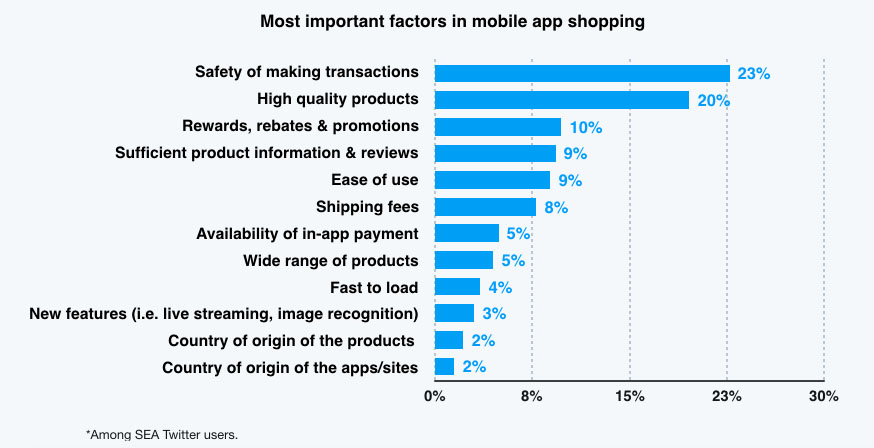 5. Purchases among SEA Twitter users by product category: Mobile or PC?
It's becoming second nature for SEA Twitter shoppers to reach for their mobile device for food delivery services when they start to get hungry. Money transfers are also mostly facilitated through mobile, while larger items that require more retail research and comparison such as home appliances are purchased via desktop.9 Marketers interested in capturing mobile shoppers can look into audience targeting for Twitter users that follow other similar brands.
6. How can brands leverage different purchase behaviours by SEA Twitter shoppers:
In Thailand, shoppers are more reactive to sales than in 
other markets. 44% of Thai shoppers respond "when they see deals, promotions or sales", compared to 35% of Indonesians. Such data can help brands plan for flash sales to capture a market more responsive to such deals.
In the Philippines, Filipinos spend more time 
on researching product information, with 39%  purchasing "after they research a lot about a product or brand" compared to 33% of Indonesian shoppers. Brands looking to capitalize this data should look towards broadening and deepening existing product information on their apps or websites to aid the consumer decision-making process.
Indonesians too, have unique purchasing patterns that differ from other SEA markets. Indonesians tend to only buy when they're "on a mission to buy a product or brand" – 22% do so compared to 6% of Thais.10
Brands that get it right on Twitter unlock opportunities throughout SEA
Whatever your retail sector, there's no doubt that Twitter offers an engaged, leaned in audience who is influential and receptive. Brands are in an excellent position to create brand awareness, tell your brand story, and drive potential customers to your on and offline stores with the Twitter audience.
It's about cutting through the noise and reaching your most engaged and receptive users in the right way, at the right time and with the right offering.
Twitter interviewed 7,500 smartphone owners, aged 18 to 65. For each market, we interviewed 500 smartphone owners including 350 Twitter users and 150 non-Twitter users. The survey was administered across 15 markets: United Arab Emirates, Australia, Brazil, Germany, Egypt, France, United Kingdom, Indonesia, India, Japan, Mexico, Philippines, Saudi Arabia, Thailand, and the USA, and was conducted from Oct - Nov 2018.
Footnotes:
[1-4] Twitter Mcommerce Study 2018
[5] Crimson Hexagon, Jan-Dec 2018
[6] Twitter Mcommerce Study 2018
[7] Kantar News, Discovery & Influence on Twitter ; December 2017
[8-10] Twitter Mcommerce Study 2018