Research
Six insights for marketers in Indonesia to help your brand succeed this Ramadan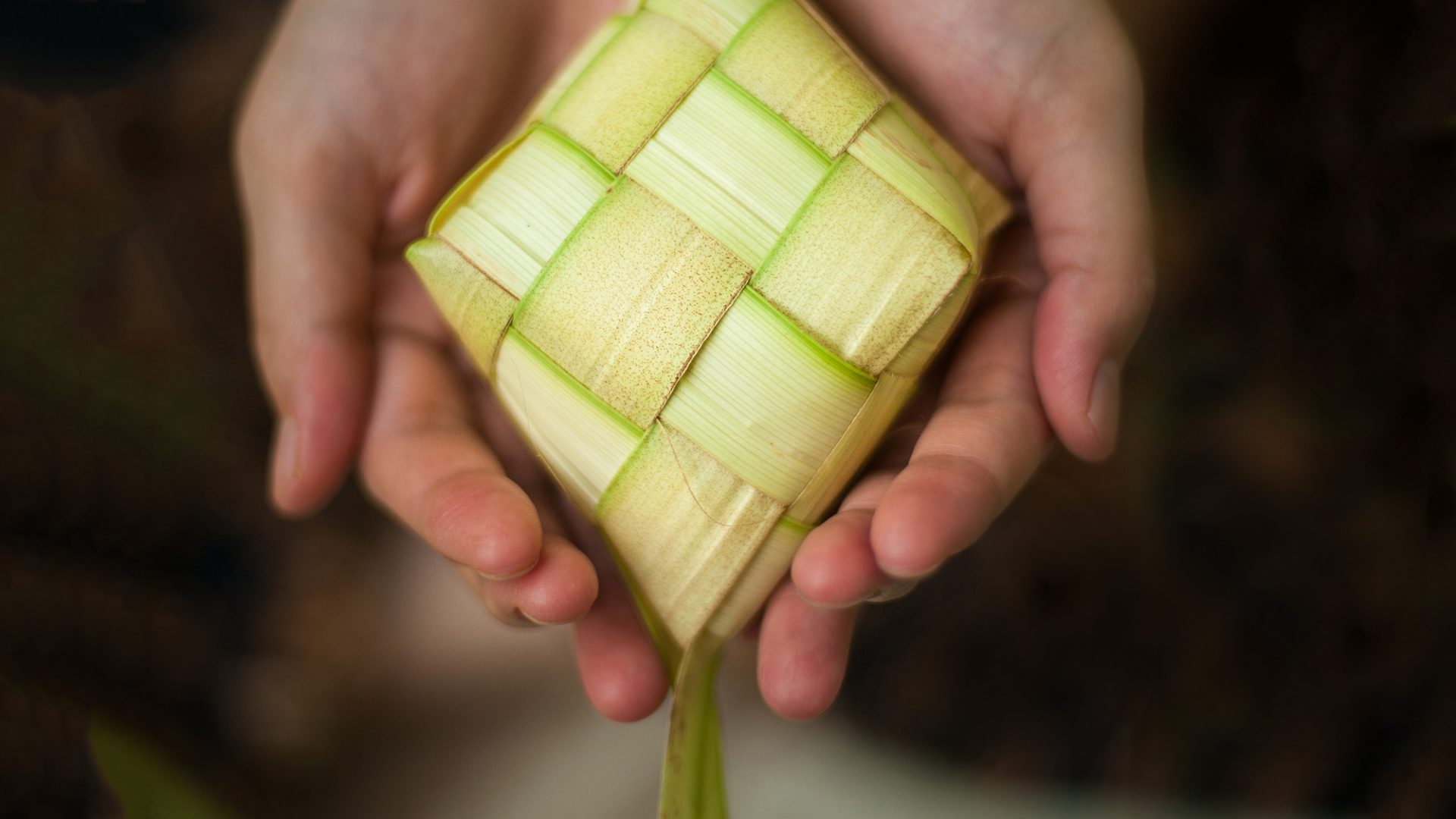 With 133 million Tweets on Ramadan globally, it's clear that Ramadan is happening on Twitter.¹ With Indonesia among the top contributors to the Ramadan conversation globally, here are six audience insights that can help your brand connect to your most valuable and receptive audience on Twitter.
Ramadan comes to life on Twitter
For Muslims around the world, Twitter is where conversations during the holy month of Ramadan come alive. From faith and wellness to food and entertainment, live conversations blossom during the holy month as Muslims in Indonesia and around the world flock to Twitter to share stories and important moments.

A month of self-reflection and spiritual growth, Ramadan also sees significant shifts in daily routines, purchasing patterns, content consumption habits, and conversations.
Here are key insights on how brands and marketers can connect with your most valuable audiences on Twitter.
1. The conversation about Ramadan starts a month before it begins.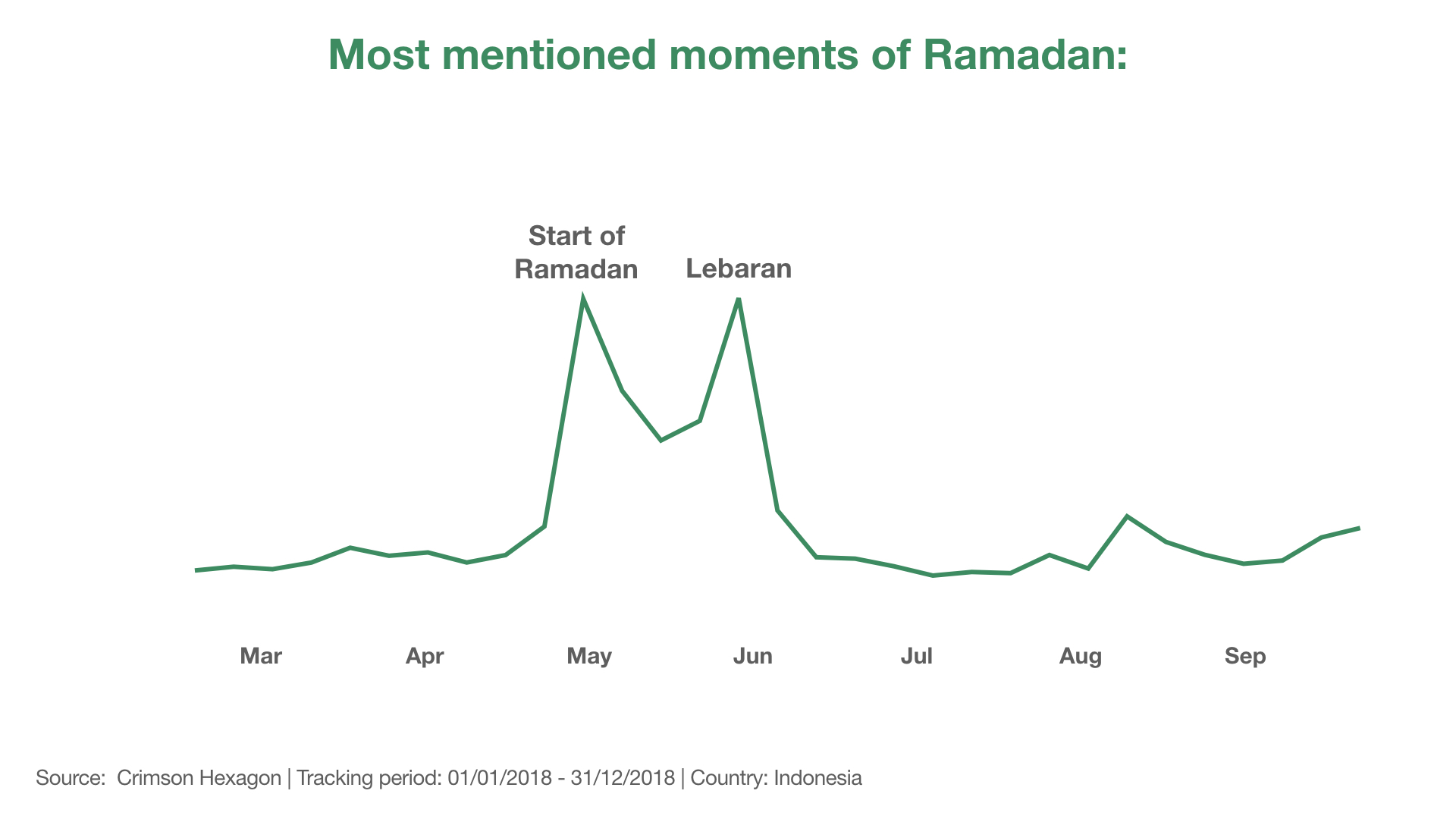 In 2018, there were 133 million Tweets about Ramadan globally.2 As you might imagine for an event of such significance in the Muslim calendar, the conversation begins to rise a month before Ramadan begins.3 At this time, most Tweets are about the first day of Ramadan, which begins when the new moon is sighted, and Lebaran, the holiday that marks the end of the sacred period. Brands planning their social strategy during this period should consider starting campaigns early to maximise engagement with their audience and broaden their sales horizon throughout the Ramadan period.
2. During Ramadan, conversation topics change over the month and throughout the day.
Conversation topics at the start of Ramadan revolve around family, fasting, and prayer. However, towards the end of the sacred month, the topics shift to be around homecoming (mudik) and celebration.4
Before the sun rises at 4am, the volume of Tweets begins to grow, peaking after the breaking of fast between 7pm and 10pm.5 For marketers, this represents a need to stay connected to their audience during key time periods where they are the most active.
3. Social media is the second most popular way for Indonesians to keep in touch during Ramadan.
Most Indonesian Twitter users still cite home visits as the most preferred way to keep in touch with family and friends. Social media is the second most preferred method of keeping in touch during Ramadan, surpassing other options like text messages, phone calls, and video calls.6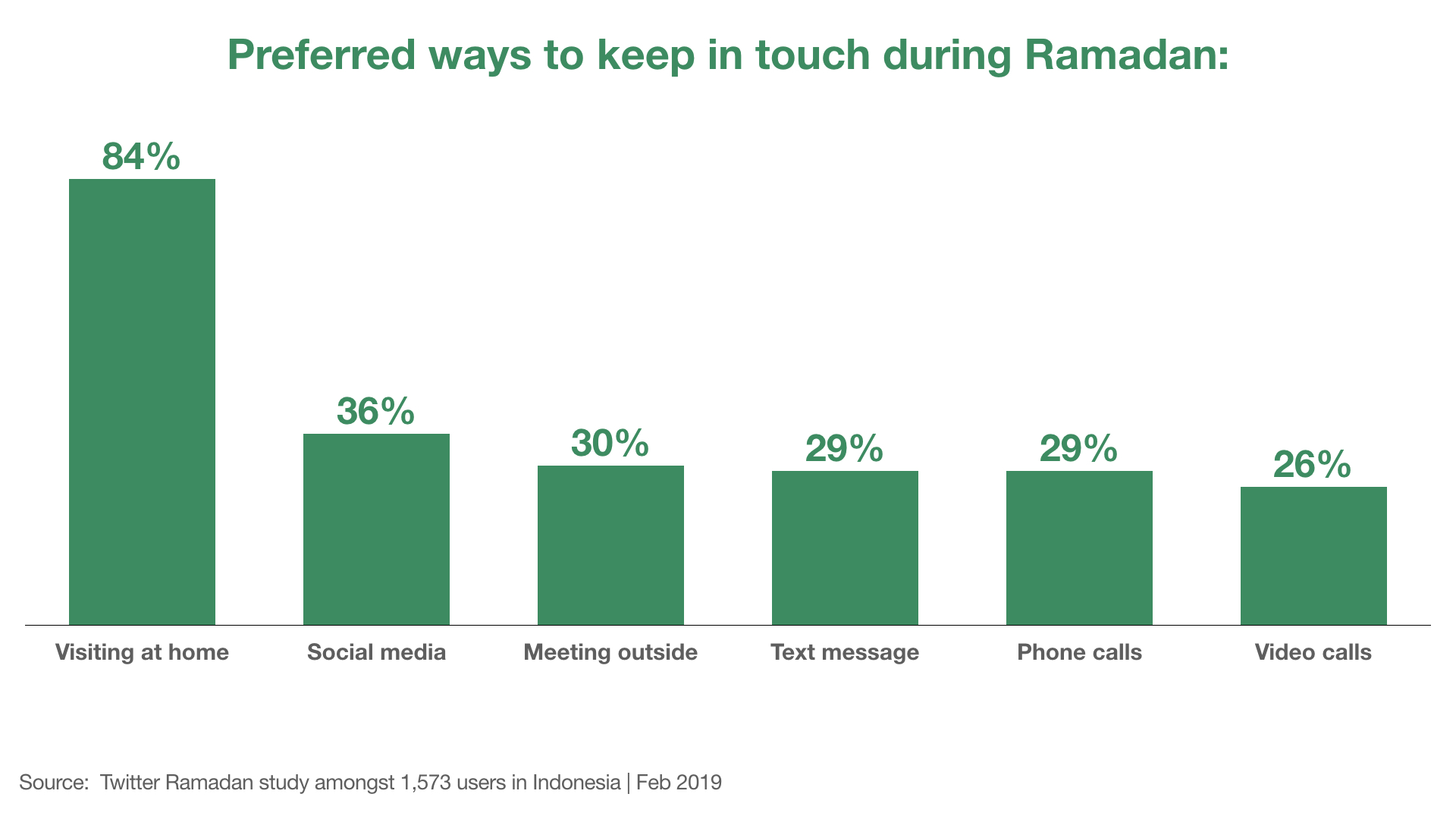 For brands on Twitter, leveraging social gifting for friends and family can help brands be part of the Ramadan moment. Ramadan presents a key opportunity for brands to connect with an audience that's more leaned in and receptive. During Ramadan, content consumption is on the rise, with a 50% increase in user active minutes observed among Indonesian Twitter users. Video content sees an even greater jump in time spent, with an 88% increase in video minutes watched.7

4. Food and cooking content rule during Ramadan.
Given how food (makanan) is often seen as a conduit to bring people and families together during the holy month, food is one of the top content Indonesian users most look forward to on Twitter, alongside religious content (60%). Other content topics users are interested in include comedy (55%), followed by entertainment/pop culture (48%) and health and wellness (39%).8
Because Ramadan is very much about bonding with family and friends over food, 4 out of 5 Twitter users say they intend to cook at home more during the month. In contrast, 1 in 5 will be using food delivery services more heavily. Male users and young working adults are the audiences more likely to order more food delivery during Ramadan.9
Content consumption rises during Ramadan. Sixty-three percent of Twitter users plan to watch more videos and films online than usual during Ramadan.10  With video on Twitter, brands looking to break through the noise can better tell a rich and interactive story through thumb-stopping video content that captures audience attention and aids ad recall. Users also welcome live-streaming, with 71% interested in watching an exclusive, live-streamed show on Twitter during Ramadan.11
5. Ramadan is one of the most anticipated shopping events of the year.
Indonesian users are turning to both online and offline channels to shop during Ramadan, with 1 in 3 users intending to do more shopping in brick-and-mortar stores, while 1 in 4 will indulge in more mobile shopping.12
The purchase decision window is short, with 61% of Indonesian users planning for Ramadan shopping just one week in advance.13 For brands, offers and promotions should be timed towards such shopping patterns to maximise sales.
During Ramadan, the top three categories with the highest purchase intention are clothes/fashion accessories (70%), airline tickets (50%), and home appliances (48%).14
In the spirit of giving, 4 out of 5 Twitter users plan on buying gifts for themselves or others over Ramadan.15 Ramadan also sees high spending on gifts, with the median spend being 500,000 to 1 million IDR.16
6. Travellers turn to Twitter as a key source of deals and advice during and after Ramadan.
'Mudik' is the Indonesian term for homecoming, where people travel to be reunited with friends and family in their hometowns. There were nearly a million Tweets on mudik in Indonesia, with mentions of mudik escalating throughout Ramadan and lasting for two weeks after Lebaran.17

The peak period for booking travel is close to the beginning of Ramadan. Forty-one percent of users who plan to travel over Ramadan book their travel tickets less than two weeks in advance.18

With travel on the minds of so many, information about tickets, including discounts and special promotions, is the number one content travellers want from brands (63%).19
And, as travellers are often in transit and on the road during Ramadan season, top topics Indonesian users would like to see from travel brands are guides to the best routes (48%), entertainment they can view while travelling (47%), and tips to ensure smooth travels.20
Your audience is on Twitter during Ramadan
There's no question that Ramadan is a time when habits change, and user behaviour on Twitter offers a great insight into just how. For brands in Indonesia, Ramadan is a valuable opportunity to connect to your most engaged and receptive audience on Twitter as their sense of discovery is heightened.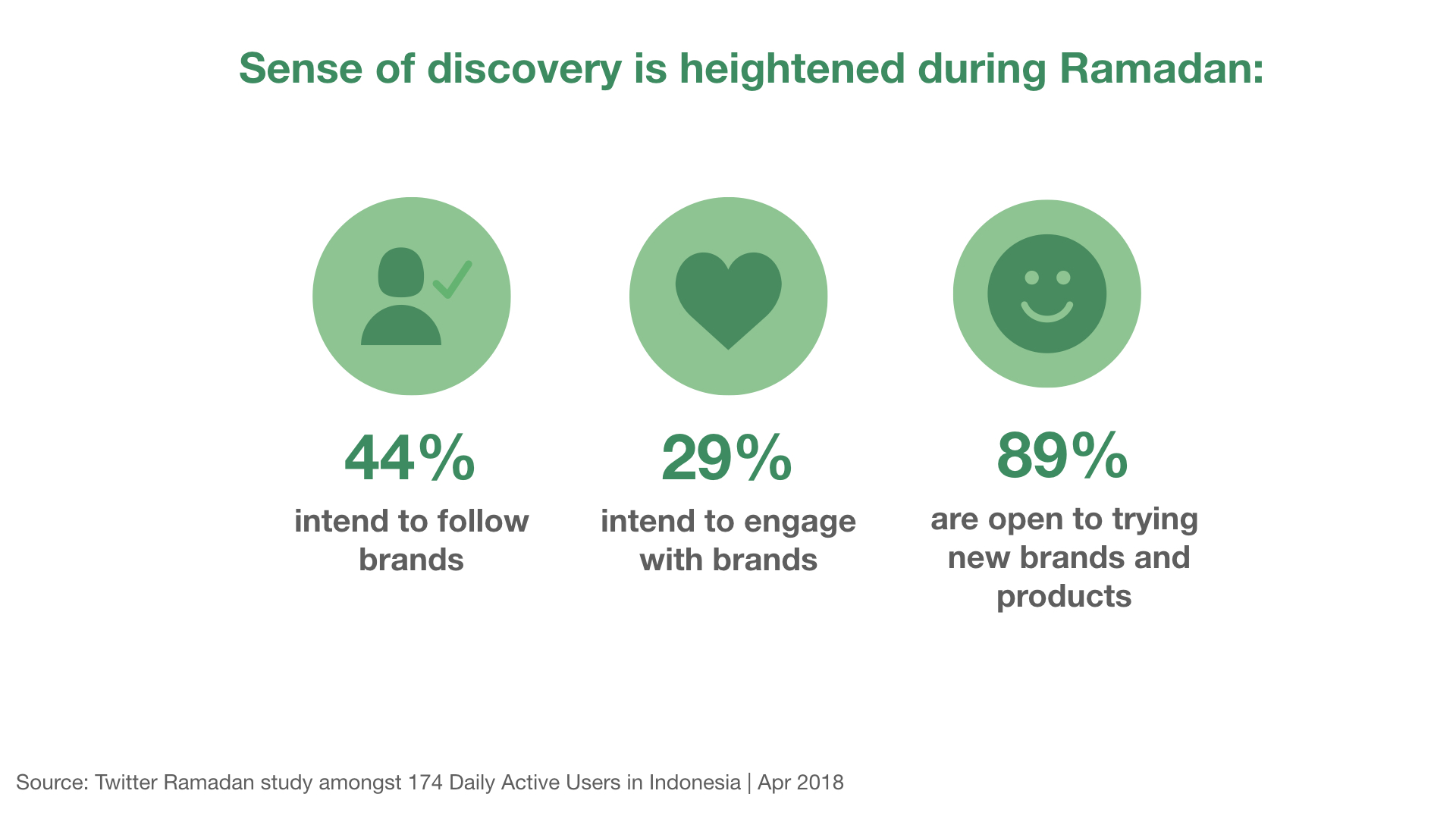 From sponsoring specific days of the holy month to launching something new with custom developed solutions, Twitter presents a powerful opportunity for your brand to connect with what's happening during the holy month.
Please contact AskIndonesia@twitter.com for more information on how Twitter ad solutions can help your brand succeed this Ramadan.
Twitter surveyed 1,573 users in Indonesia through the Twitter platform in Feb 2019. Twitter surveyed 174 Daily Active Users in Indonesia through an online panel in Apr 2018.
Footnotes:
[1-2] Crimson Hexagon/Tracking period 01/01/2018 – 31/12/2018/Global
[3-5] Crimson Hexagon/Tracking period 01/01/2018 – 31/12/2018/Country: Indonesia
[6] Twitter Ramadan study among 1,573 users in Indonesia/Feb 2019
[7]Twitter Internal Data (Daily average during Ramadan 2018 vs. 2017 daily average, Indonesia)
[8-10] Twitter Ramadan study among 1,573 users in Indonesia/Feb 2019
[11] Twitter Ramadan study among 174 daily active users in Indonesia/Apr 2018
[12] Twitter Ramadan study among 1,573 users in Indonesia/Feb 2019
[13] Twitter Global Mcomm Study, Nov 2018
[14] Twitter Ramadan study among 174 daily active users in Indonesia/Apr 2018
[15-16] Twitter Ramadan study among 1,573 users in Indonesia/Feb 2019
[17] Crimson Hexagon/Tracking period 01/05/2018 – 30/06/2018/Indonesia
[18-20] Twitter Ramadan study among 1,573 users in Indonesia/Feb 2019