Insights
Finance Forward: How Twitter is empowering finance and business enthusiasts in India

From new investors seeking advice on understanding the nuances of the stock market to financial experts giving valuable insights on growing wealth — India's passionate finance community is thriving and is actively talking about money, business, crypto, and a lot more on Twitter.
Finance is happening on Twitter
No one is a stranger to the ups and downs of the financial markets, and it's no surprise that actionable information is key to making wise money-related decisions. Twitter helps people ride the information rollercoaster, connecting them with industry news and the latest market trends in real time. Additionally, the community of experts coupled with the products built for the finance community, makes Twitter the ideal place for an enthusiastic audience.
Young, dynamic, and eager to learn, Twitter users in India aged between 18 and 34 are taking the lead in conversations about finance. In fact, 7 out of 10 #Fintech investors on Twitter across India are Gen Z and Millennials.1 In fact, 63% of Twitter users say that they are good at managing money.2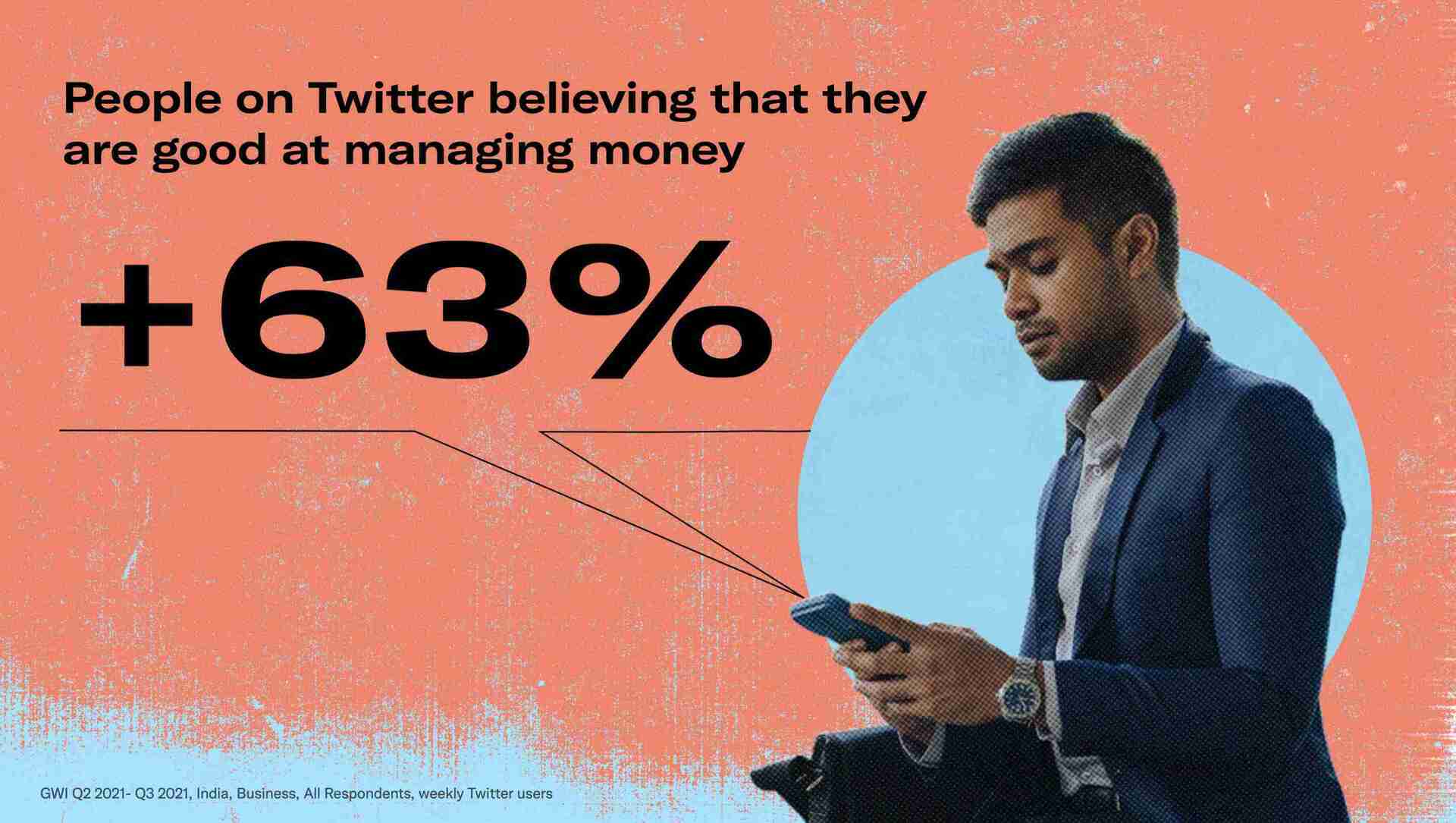 Curious to know what Indians are Tweeting about in Finance? Here are some key insights on #FinanceTwitter:
People on Twitter are prioritizing personal finance
The pandemic has caused several people to pause for a minute and reflect on their financial health in addition to their physical and mental well-being. On Twitter, this has led to a spike in discussions on how to invest, save and spend effectively. 
Spearheaded by an audience composed mostly of financially-minded Twitter users, conversations around personal finance don't seem to be waning anytime soon. In the past year alone, we saw over 43M Tweets on this topic in India. The emoji game is also strong in these Tweets, with
receiving 644K total mentions and
receiving 511K total mentions.3
People on Twitter like to talk about all things Crypto
Want to navigate the ever-changing Crypto trends or discuss the next big NFT? You are sure to find a community of fellow Crypto enthusiasts on Twitter. In the past year, Crypto Twitter has grown by leaps and bounds in India. With over 85M Tweets, there's no doubt that this topic has been
in the country.
But this passionate community not just consists of experts talking about complex financial instruments, but also using hashtags to make conversations around Crypto markets more vibrant on Twitter. For instance, #nft, #bitcoin, #crypto, #bsc were among the most trending hashtags.4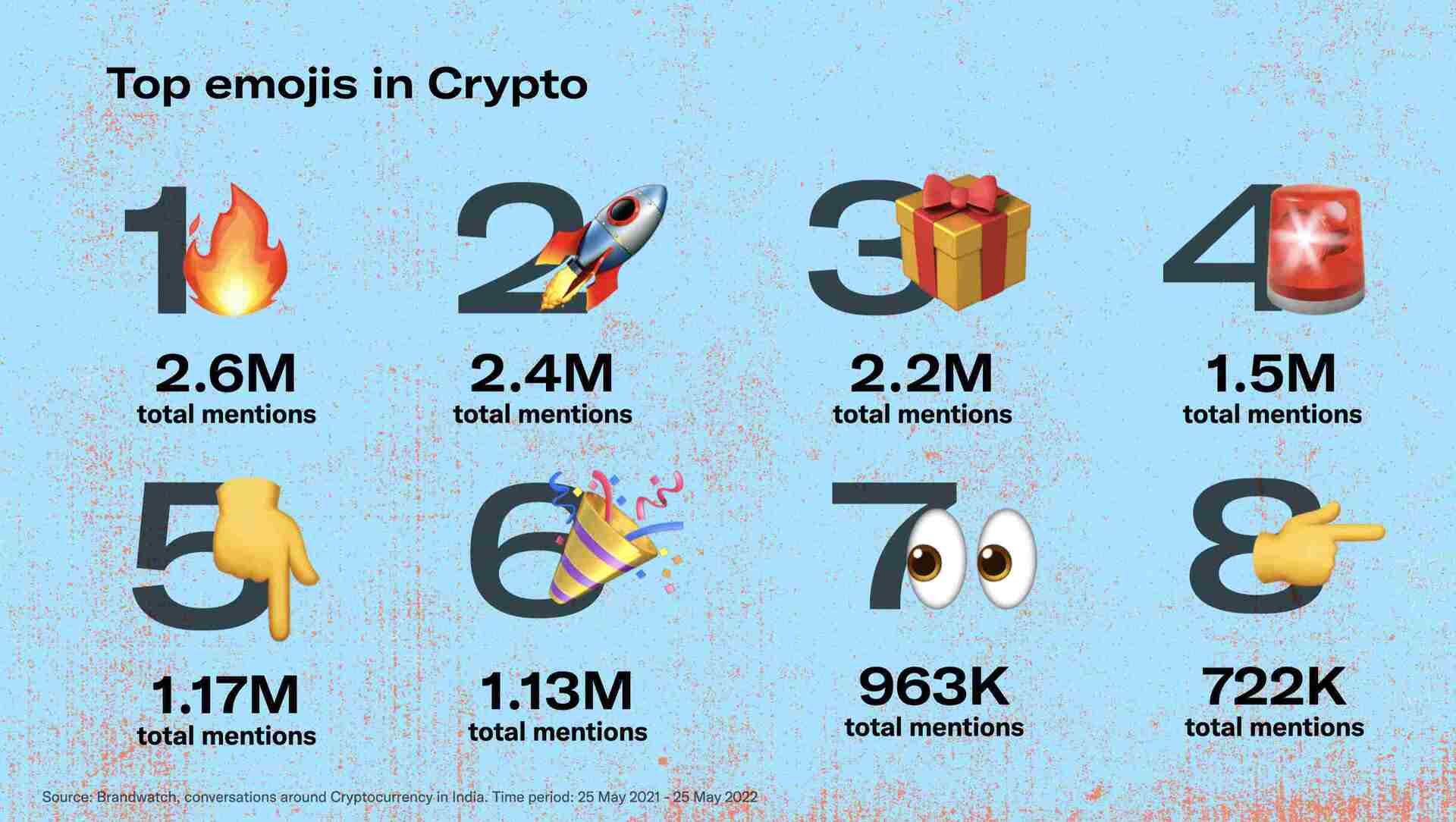 Diverse conversations keeps #FinanceTwitter up-to-speed on business and finance
The pandemic has spurred more people to go online than ever before, helping to digitize knowledge sharing and conversations about wealth, money, and more. Reflecting this trend, people are increasingly taking to Twitter to inform, educate and discuss all things business and finance.
As one of the largest forums for public human thought, Twitter is what's happening in the world of finance and business. From stock markets and digital assets to the latest market trends, conversations on the platform are massive. In the past year alone, there were over 91M Tweets about business and finance in India.5
An uptake in user engagement on Finance Twitter over the past year shows the immense potential of business and finance-related conversations. This is a great opportunity for brands focusing on finance-related services, to tap into this flourishing, youthful and leaned-in audience on Twitter. With such an active community fascinated by fintech, investment, and crypto, it's clear that Twitter is the smart place for finance and investment brands to connect with potential customers.
Source:
1. Twitter Insight Survey. Aug 2021. India. Fintech investors respondents: 193
2. GWI Q2 2021- Q3 2021, India, Business, All Respondents, weekly Twitter users
3,4,5. Brandwatch, conversations around Cryptocurrency in India. Time period: 25 May 2021 - 25 May 2022