Perspective
How gaming conversations powered up on Twitter in 2021 

Gaming conversations have found a place at the heart of Twitter. It's where game publishers, gaming media, popular streamers, esports leagues, teams, players, and commentators come to connect, converse, and keep up to date on all the latest in gaming. And 2021 turned out to be another record year for gaming conversations on Twitter, with more than 2.4B Tweets about gaming recorded, up 14% year on year, and more than 10x higher than 2017. 
Just like the international trend, gaming reached a new level in Australia, with a record number of Aussies becoming gamers for the first time in the last two years. As of 2021, 3 in 5 Aussie Twitter users are either hardcore or casual gamers. 

And Twitter was the place they came together to talk about the biggest moments of the year, such as the release of new games like Halo Infinite, as well as ​​debate the merits of NFTs in video games. 

The gaming conversation continued to build momentum throughout 2021, becoming the second most popular topic in Australia, only slightly behind sports. Tweets about gaming grew by a massive 73% in the second half of the year, compared to the first half. 

On Twitter, live viewing is also a huge part of game entertainment, including watching players in action (46%). Younger Aussie users (below 35 years old) were 4x more likely to watch live esports tournaments and game streams than sports content — including non-gamers. 

Last year, live-streaming platform @Twitch turned out to be the most Tweeted about gaming Handle in Australia, while open-world fantasy game #GenshinImpact took the top spot as the most popular Hashtag. 

Here are the other Hashtags and Handles that made the top list.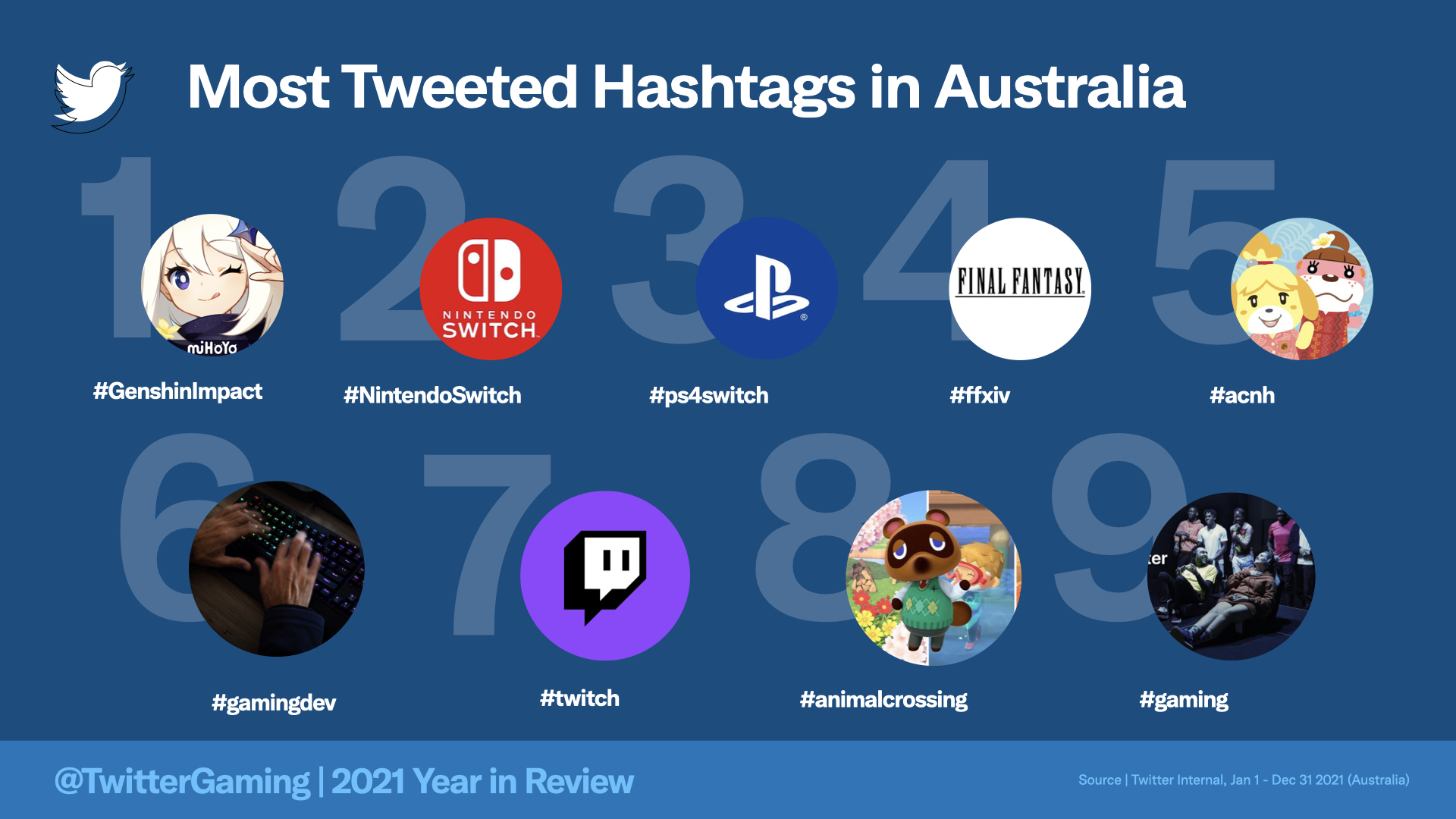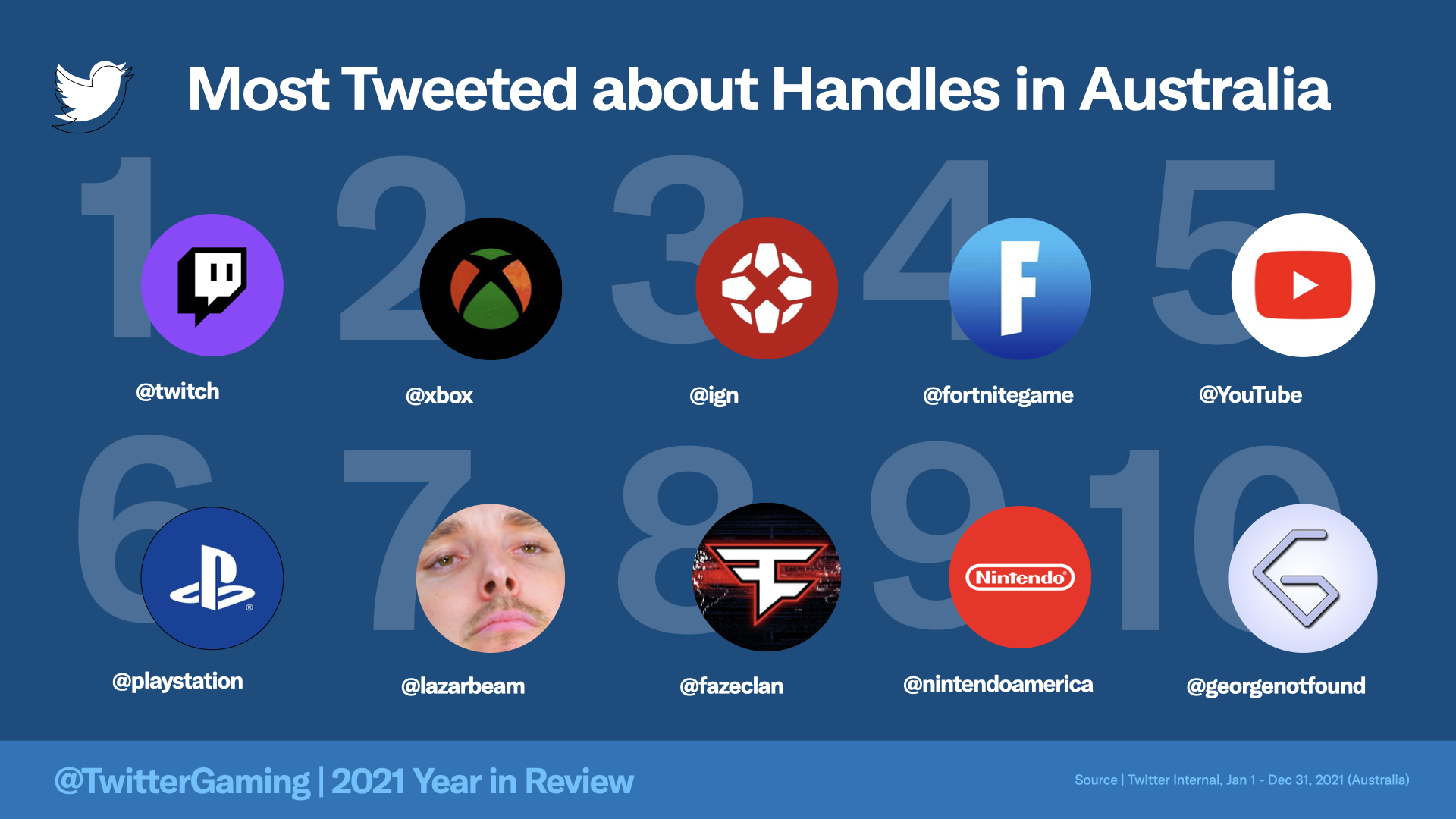 Globally, @GenshinImpact came out on top as the most Tweeted about game in 2021. And over in the world of esports, @LOUDgg ranked No.1 as the most discussed esports team, while @CBLOL was the most Tweeted about esports league. 
Here are the other games, esports teams, and leagues that took a spot in the top 10.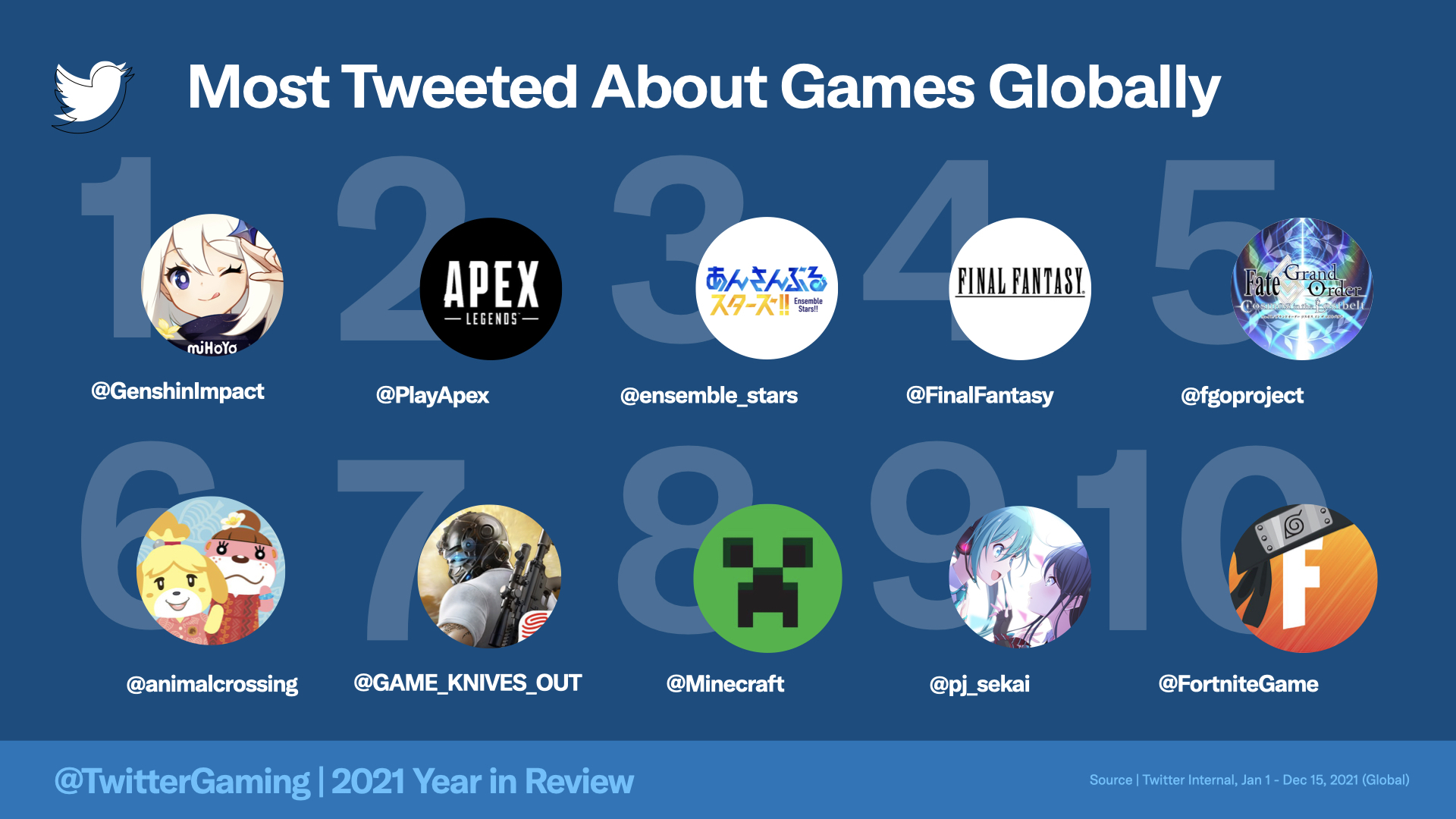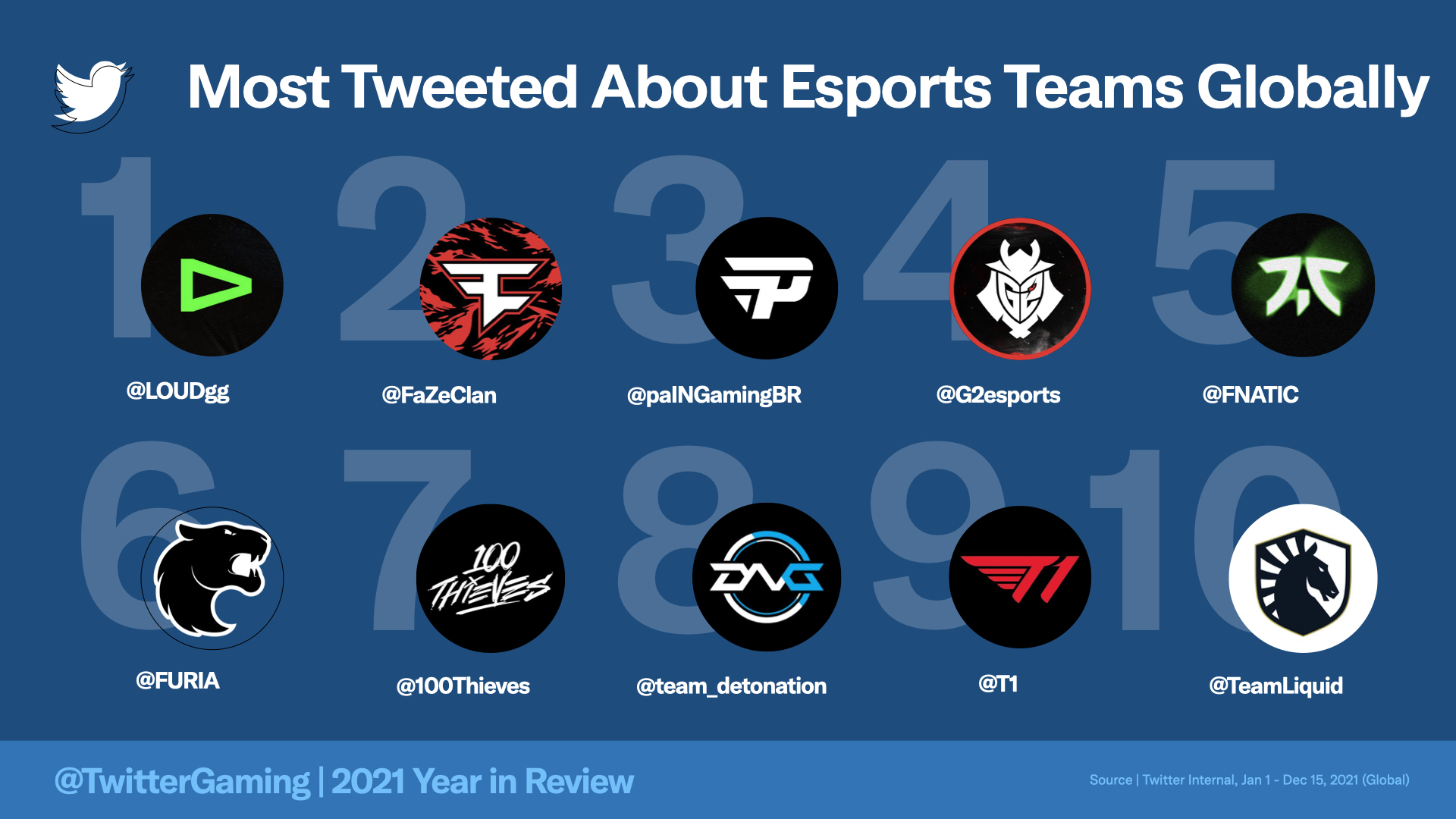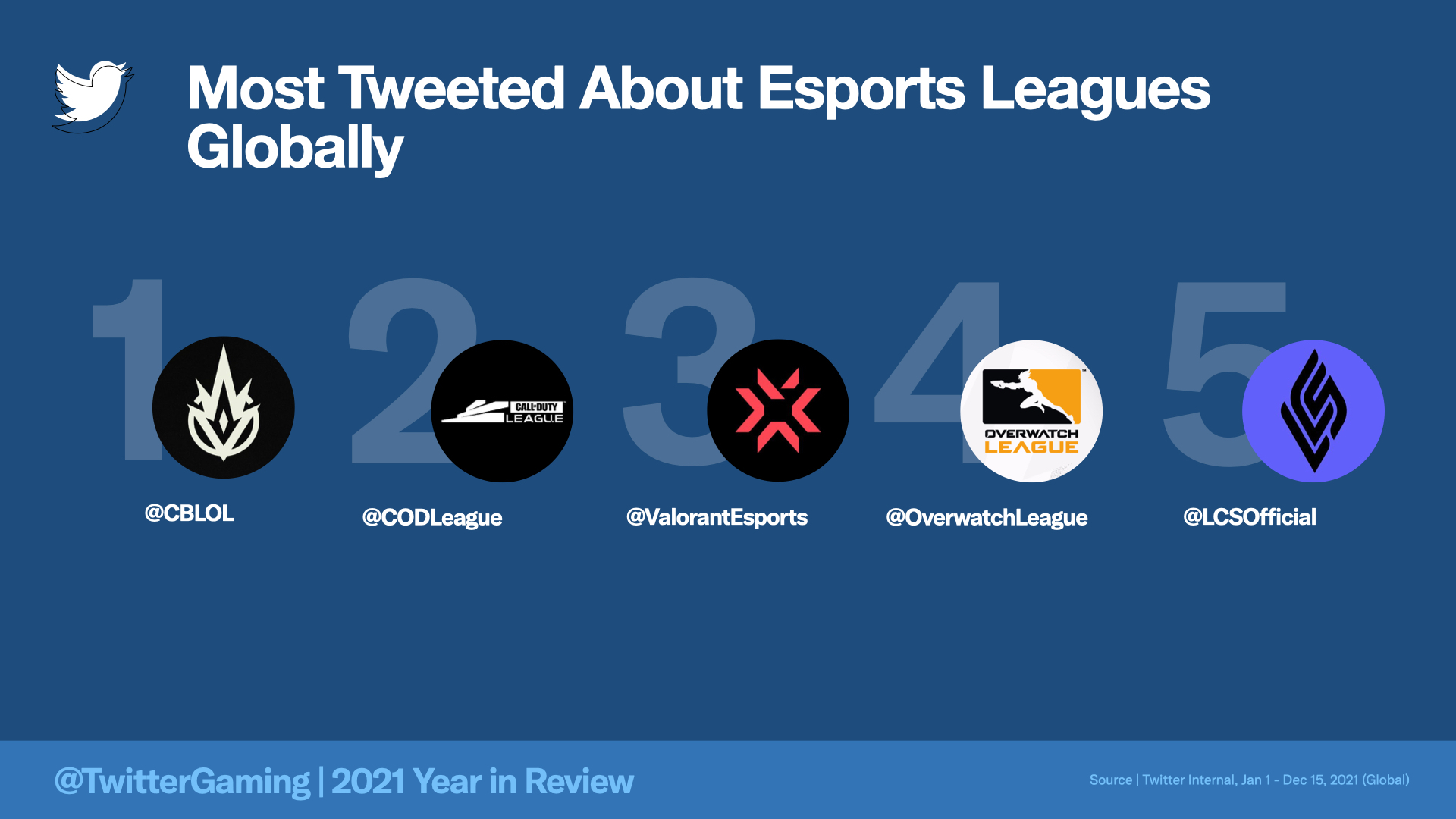 2021 was a banner year for gaming, but there's a lot of hype about what we'll see in 2022. Twitter will be here to help you stay up to date on all of the content and conversations from esports events, like the Call of Duty League, ESL Pro League, Halo Championship Series, Rocket League Championship Series, and Fortnite Championship Series. You can also keep up with Riot Games' leagues, like the LCS, LEC, and VCT, as well as major gaming events like E3, Geoff Keighley's Summer Game Fest, IGN's Summer of Gaming, Gamescom, The Game Awards, and much more.