Research
How brands can lead the conversations during the Ramadan 2022 season in Malaysia

As the country is transitioning to the endemic, Malaysians have adapted to the new habits and now are looking forward to bringing normalcy and celebration back to Ramadan.
People come to Twitter during Ramadan to connect with those who are celebrating, express their feelings and emotions, find entertainment, and get shopping recommendations.
With the Ramadan conversation buzzing on Twitter, here are five insights brands can tap on to lead the conversation and create winning Ramadan campaigns.
1. Despite lingering challenges, Malaysians are looking forward to connecting and doing good during Ramadan
In addition to environmental hardships faced by many Malaysians leading to Ramadan, 86% of Malaysians are concerned about being able to gather with their families for the fasting month. Other issues that are on their minds include providing entertaining activities for their families (40%), monetary issues (29%), and Ramadan shopping (19%)1.
Despite the concerns and obstacles they are facing, kindness stays on the minds of Malaysians. Across all age groups, 60% of Malaysians on Twitter are interested in content to find ways to give back to the community2.
Ramadan is also the month where connection matters and 41% of Malaysians are eager to reconnect with people who are celebrating Ramadan and Hari Raya on Twitter3.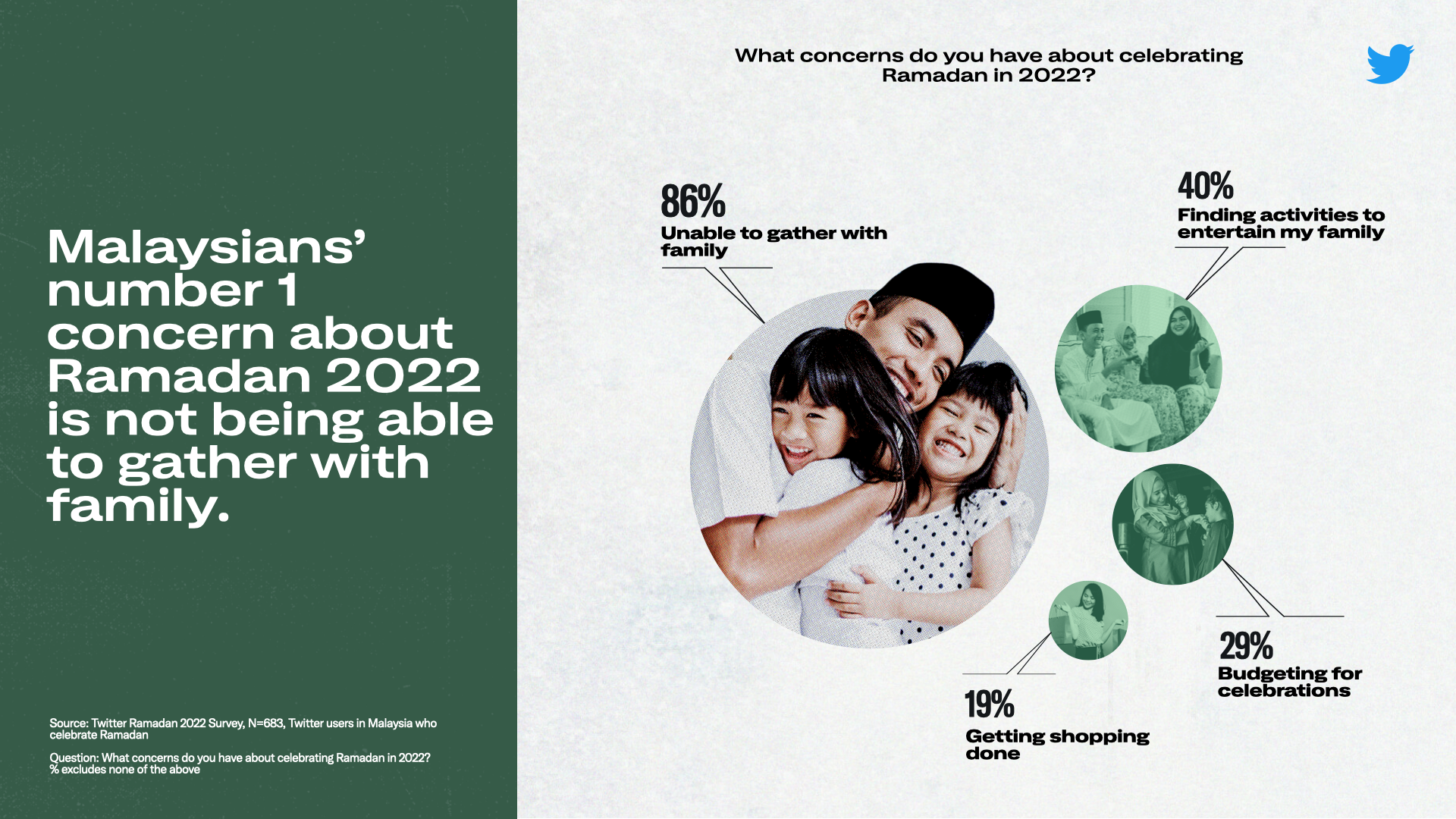 2. Being online is crucial for Malaysians during Ramadan and even when the pandemic is over
Malaysians have adapted to many new habits in the past few years, and for the Ramadan month, expect online activities to be parts of the new order as 2 in 3 Malaysians are planning to spend more time online. 66% of Malaysians on Twitter choose social media browsing as the top activity to do during Ramadan, followed by streaming movies and TV series (51%), online shopping (45%), watching TV (42%), video calls (31%), and ordering food (24%)4.

These new Ramadan online habits are most likely to stay with Malaysians even as the pandemic is over. Malaysians Gen-Zs are more likely to carry on several activities online such as shopping (62%), content streaming (44%), and socialising with their loved ones (44%). Meanwhile, the preceding generations are more likely to do zakat online (56%) and work remotely (46%) post the pandemic5.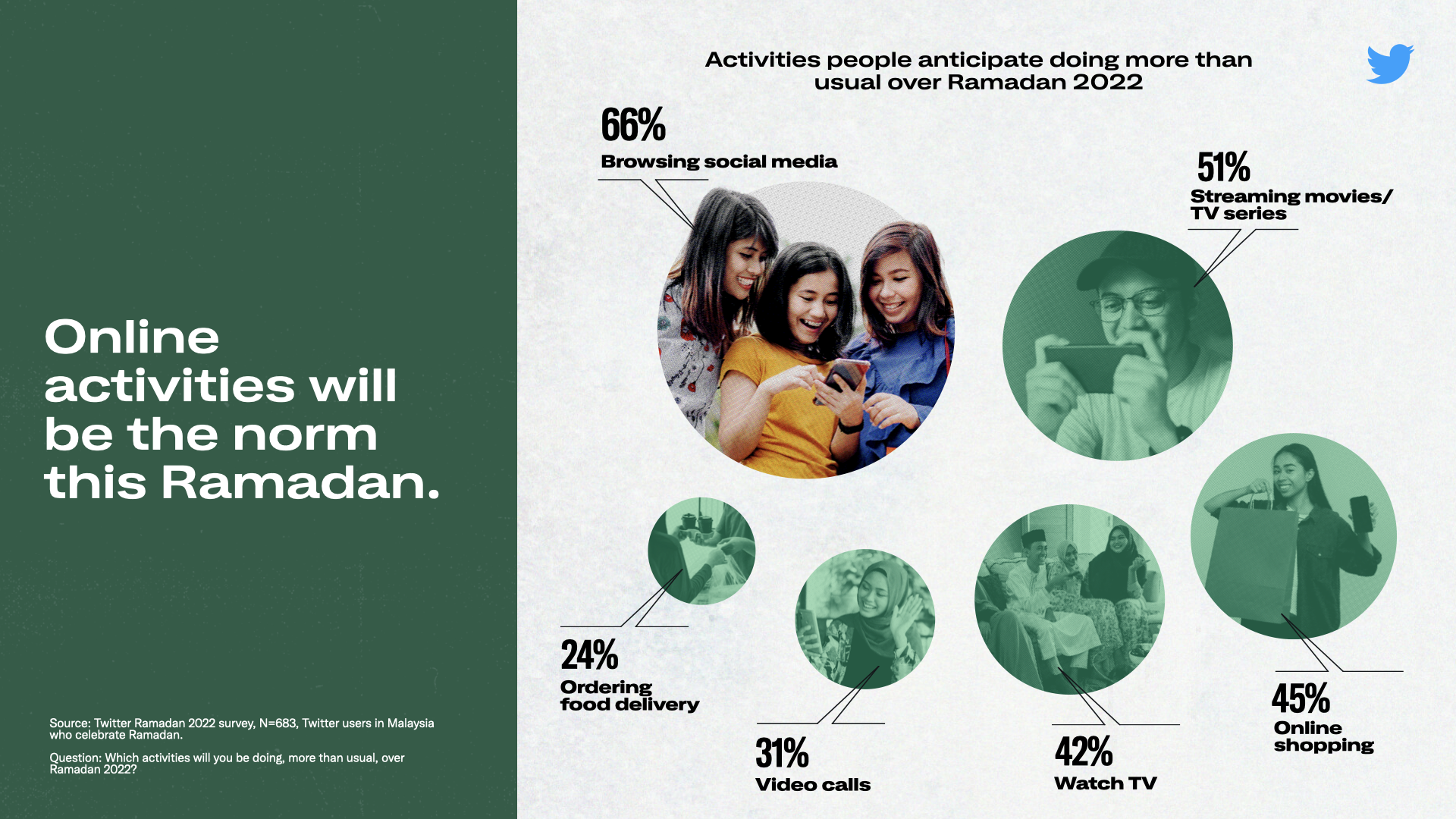 3. Malaysians enjoy a vast range of content on Twitter during Ramadan
Malaysians are looking for joy in lighthearted content on Twitter, especially comedy which recorded a 9% increase from 2021. When it comes to the preferred types of content, Malaysians of all age groups similarly enjoy religious and health/wellness content.
Compared to the 30+ age group, Gen-Zs are more interested in food/cooking, light-hearted content (entertainment/pop culture, comedy) and shopping content, and less interested in news and sports. Meanwhile, those who are in earlier generations are more interested to look for health/wellness-related contents (59%), sports (36%), and current affairs (45%)6.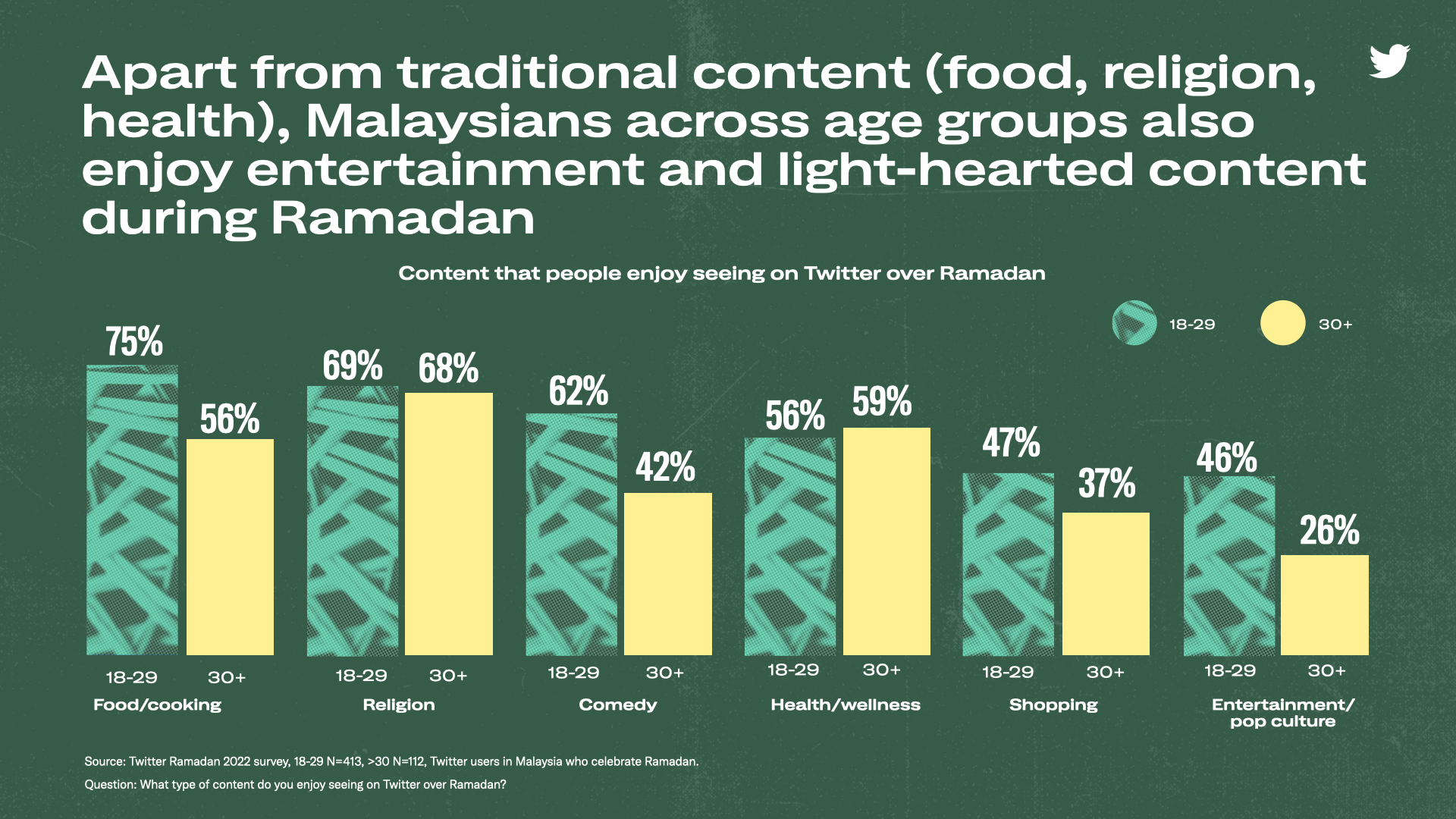 4. Shopping is an increasingly important topic on Twitter
Malaysians continue to go to Twitter to find inspirations and ideas for their Ramadan purchases with 9 out of 10 Malaysians on Twitter are planning to make purchases during Ramadan with 45% anticipating more online shopping. Most of these purchases are staple holiday items such as F&B (80%) clothes and accessories (77%)  personal care products (43%), gifts (33%), and tech gadgets (27%). These are accessible purchases that enhance the Ramadan experience with families and friends7.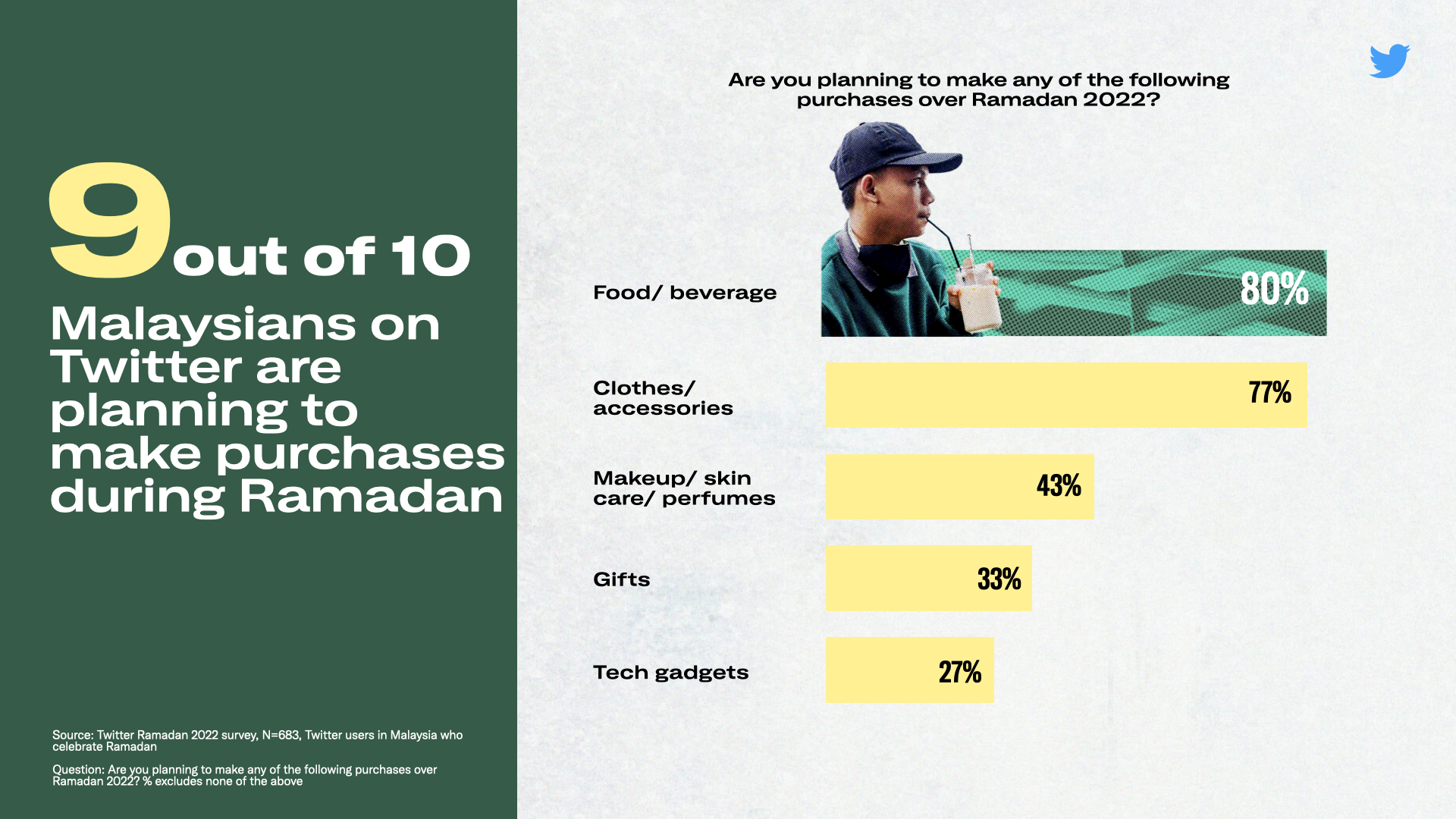 5. When it comes to embracing the digital life, Malaysian Gen-Zs are leading the pack

Malaysians have adapted to many new habits in the past few years. They've come to expect online activities to be part of the new Ramadan habits. During Ramadan, the younger consumers (18-29) are planning to spend a significant amount of time on online activities compared to the preceding generations. From browsing social media (69%), streaming movies/tv series (55%), online shopping (49%), and playing games (28%), being online is key for them8.
Gen-Zs on Twitter are also fully embracing online shopping experiences with 95% of them looking to make various purchases over Ramadan, such as food & beverages (83%), clothes & accessories (80%), and personal care (49%)9.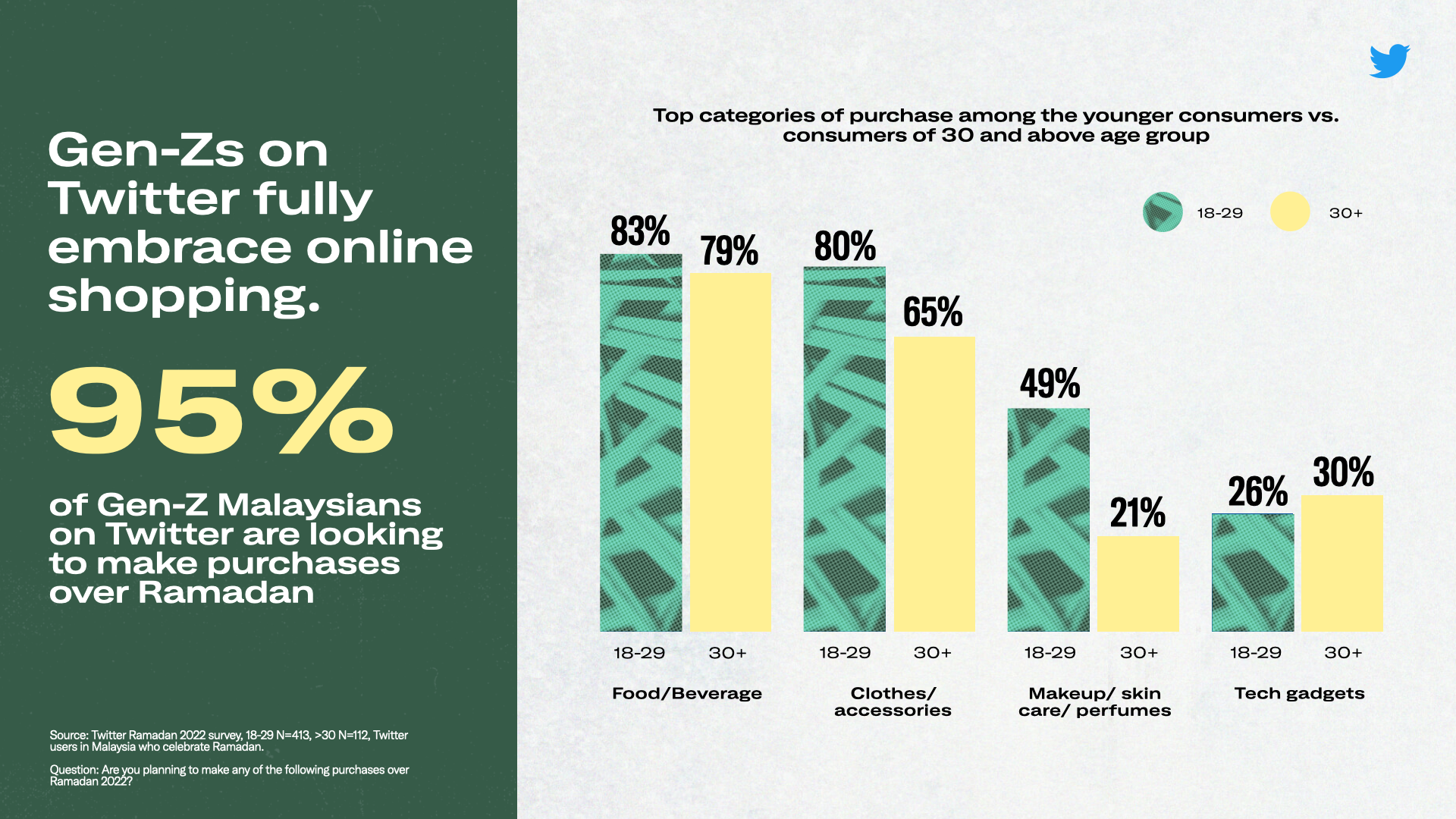 What does it mean for brands
Brands can create meaningful connections with the audience by listening, and responding to the  hopeful and positive sentiments of Malaysians. 
By understanding the 5 phases of conversations during the Ramadan period, brands have the opportunity to pick and choose the right moments to implement the launch strategy for their Ramadan campaigns. By leading the conversations during each of these moments, brands are more likely to stand out.

Be part of consumers' "new habits"
Brands can leverage Malaysians' ability to increasingly adapt to "new habits." Since consumers are open to embracing new changes, this is an opportune time to introduce new products and services. As Malaysians are looking to celebrate this Ramadan both virtually and in the physical world, brands should look at an omnichannel strategy where online and offline touchpoints are integrated.
Connect to their passion points
Brands need to develop campaigns that are the answers to people's interests or what they are looking for during Ramadan. With the increasing demand for entertainment and shopping content on Twitter, brands can align their campaigns to the Malaysians' various passion points during the Holy Month, beyond traditional Ramadan content like religion, wellness, food and cooking… From  comedy and pop culture content to virtual concerts and shopping events, there are several content opportunities for brands to tap on to cut through the noise. 
For more Ramadan insights and solutions for your upcoming campaigns, reach out to the Httpool Team (Twitter's official Sales Partner in Malaysia) at twitter@httpool.my.  

Download the Ramadan 2022 Insights Report for the full insights.

Methodology
To understand expectations and attitudes towards Ramadan 2022, we ran a survey among 718 Twitter users in Malaysia. This was analysed along with a similar study conducted in 2021, which allowed us to study the changes in attitudes towards Ramadan through the pandemic.
We also analysed 63 million Tweets about Ramadan in Malaysia from 2019 to 2021 through Brandwatch. This enabled us to identify and understand changes in conversation trends since Ramadan 2019.
Grace Tang is the Research Specialist for Asia-Pacific at Twitter.
Faridzuan Faris is the Marketing Manager for Southeast Asia at Twitter.
Source
[1] Source: Twitter Ramadan 2022 Survey, N=683, Twitter users in Malaysia who celebrate Ramadan.
Question: What concerns do you have about celebrating Ramadan in 2022?
[2, 3] Source: Twitter Ramadan 2022 survey, N=683, Twitter users in Malaysia who celebrate Ramadan.
Question: What would you be interested to see more of on Twitter over Ramadan 2022?
[4, 8] Source: Twitter Ramadan 2022 survey, N=683, Twitter users in Malaysia who celebrate Ramadan.
Question: Which activities will you be doing, more than usual, over Ramadan 2022?
[5] Source: Twitter Ramadan 2022 survey, 18-29 N=413, >30 N=112, Twitter users in Malaysia who celebrate Ramadan.
Question: Assuming the end of the COVID-19 pandemic, what will you like to continue doing during Ramadan in the future?
[6] Source: Twitter Ramadan 2022 survey, 18-29 N=413, >30 N=112, Twitter users in Malaysia who celebrate Ramadan.
Question: What type of content do you enjoy seeing on Twitter over Ramadan?
[7, 9] Source: Twitter Ramadan 2022 survey, N=683, Twitter users in Malaysia who celebrate Ramadan.
Question: Are you planning to make any of the following purchases over Ramadan 2022
Successful marketing efforts start with knowing your audience. Twitter's tools help you dig deep.
Did someone say … cookies?

X and its partners use cookies to provide you with a better, safer and faster service and to support our business. Some cookies are necessary to use our services, improve our services, and make sure they work properly. Show more about your choices.
You want your message to be heard by the right person. Let Twitter's targeting capabilities help.
Did someone say … cookies?

X and its partners use cookies to provide you with a better, safer and faster service and to support our business. Some cookies are necessary to use our services, improve our services, and make sure they work properly. Show more about your choices.