Research
How brands can lead the conversations during the Ramadan 2022 season in Indonesia

Entering the third year of Ramadan in the midst of the pandemic, though time is still trying, Indonesians have learnt to adapt, and they approach life with much more hope and positivity toward the Holy Month this year.
People come to Twitter during Ramadan to connect with those who are celebrating, express their feelings and emotions, find entertainment, and get shopping recommendations. With the increasing optimism of Indonesians in welcoming Ramadan in 2022, there are wider opportunities for brands to connect with a receptive and influential audience in the most meaningful ways for their upcoming Ramadan campaigns.
With the Ramadan conversation buzzing on Twitter, here are seven insights brands can tap on to lead the conversation and create winning Ramadan campaigns.
1. Indonesians are getting more hopeful towards Ramadan

Third year into the pandemic, although times are still trying, Indonesians are approaching life with much hope and positivity. And for the upcoming Ramadan, 58% expect an improvement regarding the COVID-19 situation before Ramadan in April 20221.
That also reflected on the Ramadan conversations on Twitter, as sentiment around Ramadan continued to be more positive/neutral over the years, reaching 79% in 2021 vs. 74% in 20202.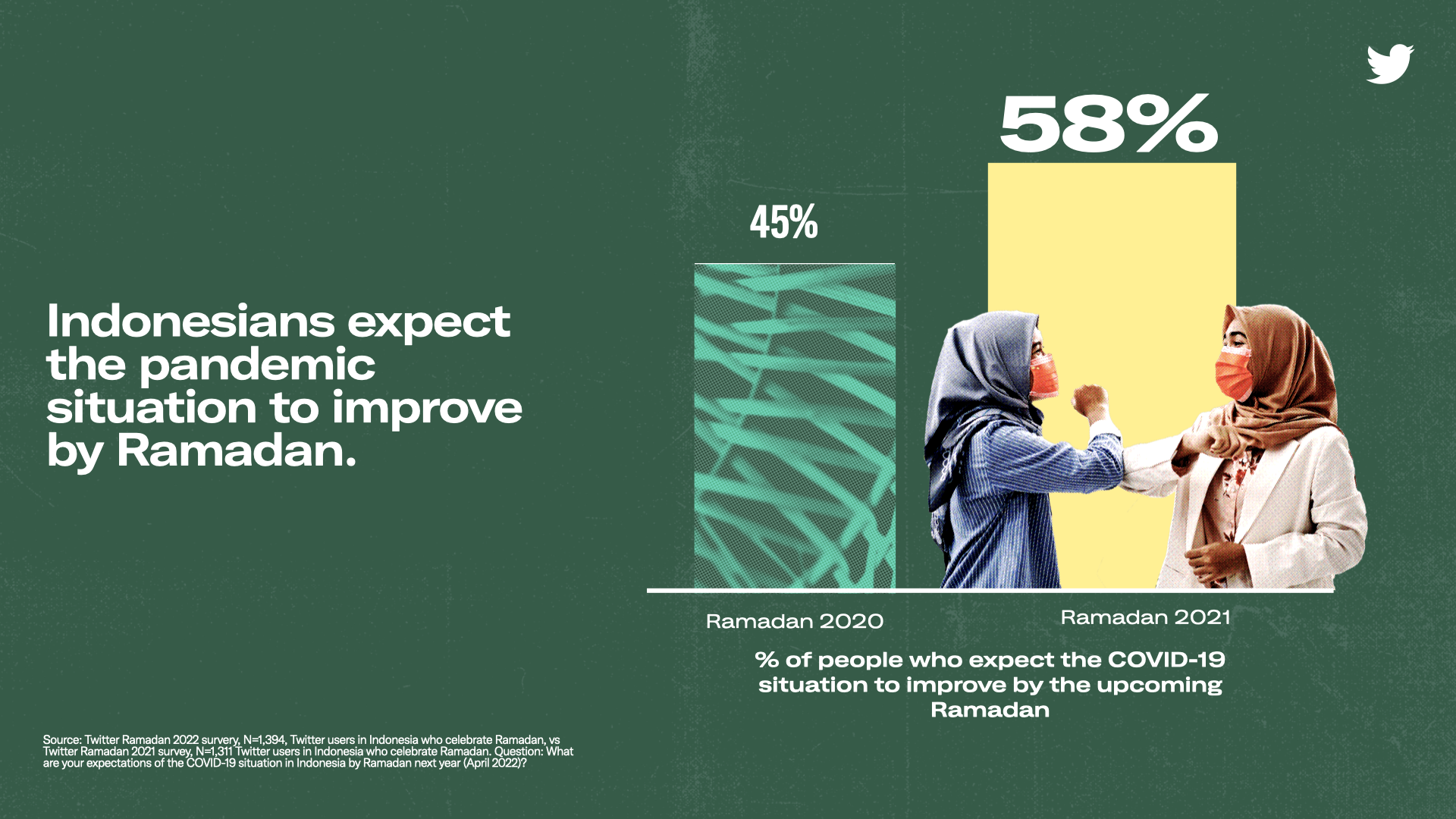 2. People are moving from "coping with the new normal" to "adapting to new habits"
 and "learning to celebrate again"

There has been a shift from the shock of a pandemic Ramadan in 2020 to gradual acceptance in 2021-people are learning how to celebrate Ramadan over the pandemic. The top Retweets in 2020 were more grim and explicitly focused on COVID, while the top content in 2021 leaned into showing the everyday experiences of Ramadan amidst the pandemic.

And for the upcoming Ramadan this year, Indonesians are eagerly looking forward to the return of Ramadan traditions and celebration, whether it is online or in real life.

3. Online activities have grown to be an even bigger part of Ramadan
Indonesians increasingly stay connected through social media, movie streaming, online shopping, and sharing kindness.
74% of Indonesians on Twitter think that they would use social media more during Ramadan this year. For entertainment, 67% of them plan to stream their favourite films or TV shows and another 36% plan to shop online3. People take to Twitter to connect with others who are celebrating Ramadan (44%), and are also eager to find more ways to give back to the community on Twitter (35%)4.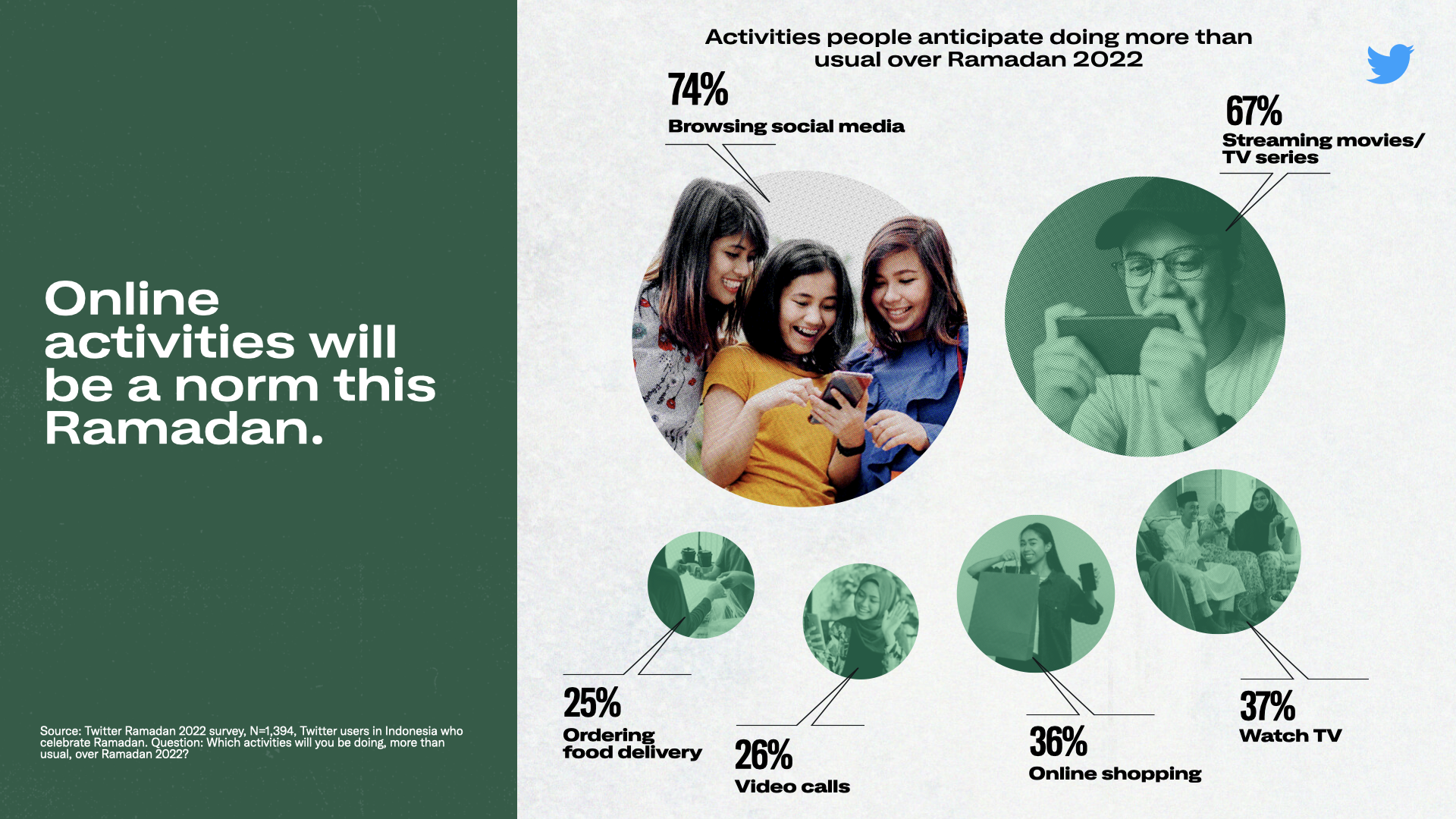 4. Conversations surrounding Ramadan are buzzing on Twitter
The Ramadan conversation on Twitter starts early and has two notable peaks at the beginning and end of the Holy Month. Compared to the average daily conversation over Ramadan, there was an 87% increase in conversations on the first day of Ramadan and a 123% increase on the last day of Ramadan in 20215. 
But Ramadan is not only about the peak moments in conversation. Looking at Ramadan conversations from previous years, there are 5 phases of conversations during Ramadan. That means there are several opportunities for brands to pick and choose the right moments to connect with your audience during the Holy Month.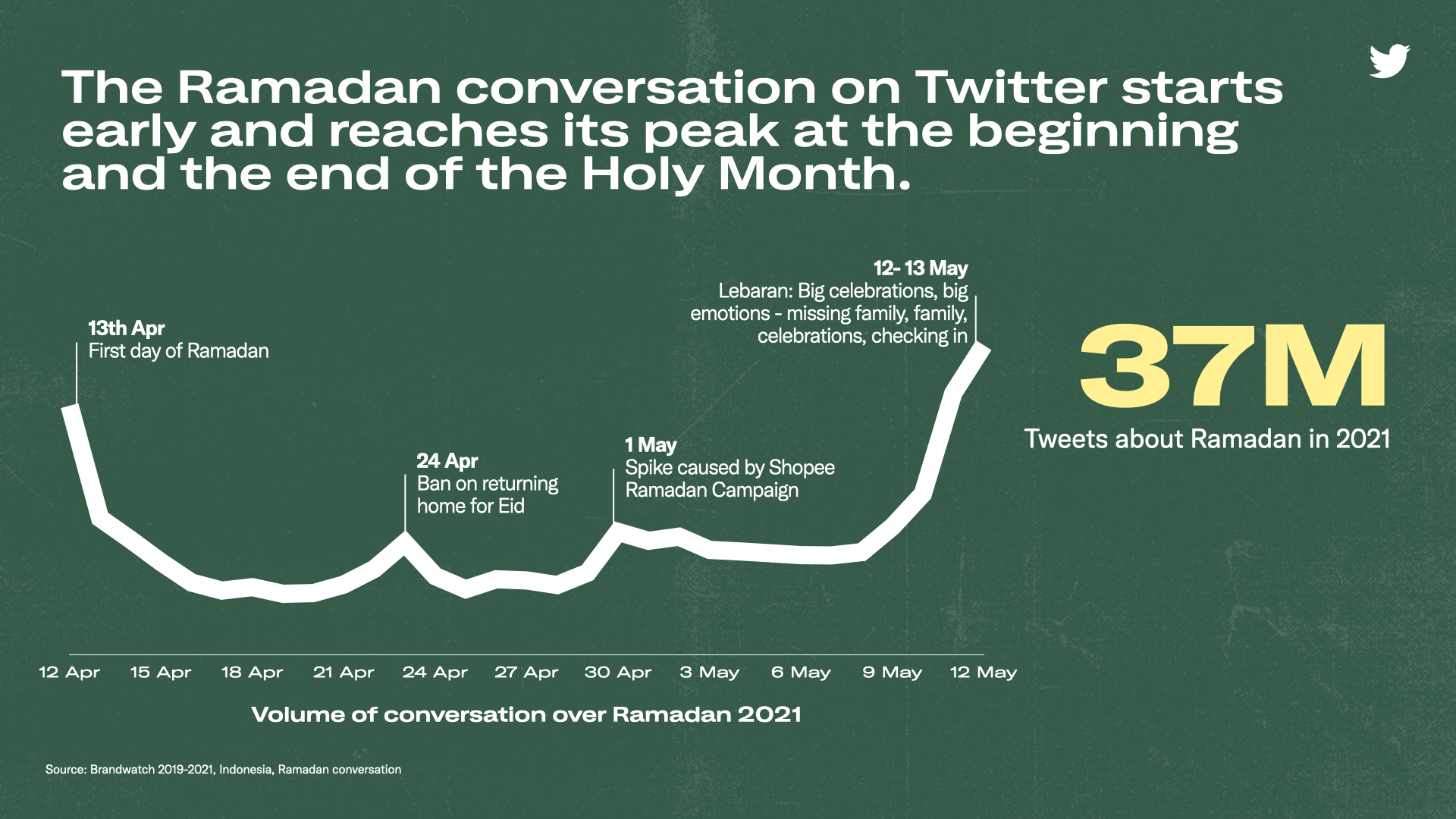 5. Ramadan Twitter is becoming a more expressive space

Emoji has become one of the ways for Indonesians on Twitter to express all their emotions and feelings in an authentic way.
Twitter is becoming a more expressive space with 2.7M emojis used in conversations around Ramadan in 2021, +6% growth compared to previous year6.

Through the emojis in Ramadan conversations, we also see increased expressiveness on Twitter and the shift to a more reflective, introspective nature of expression, with
  overtaking
as the top emoji used over Ramadan in 2021.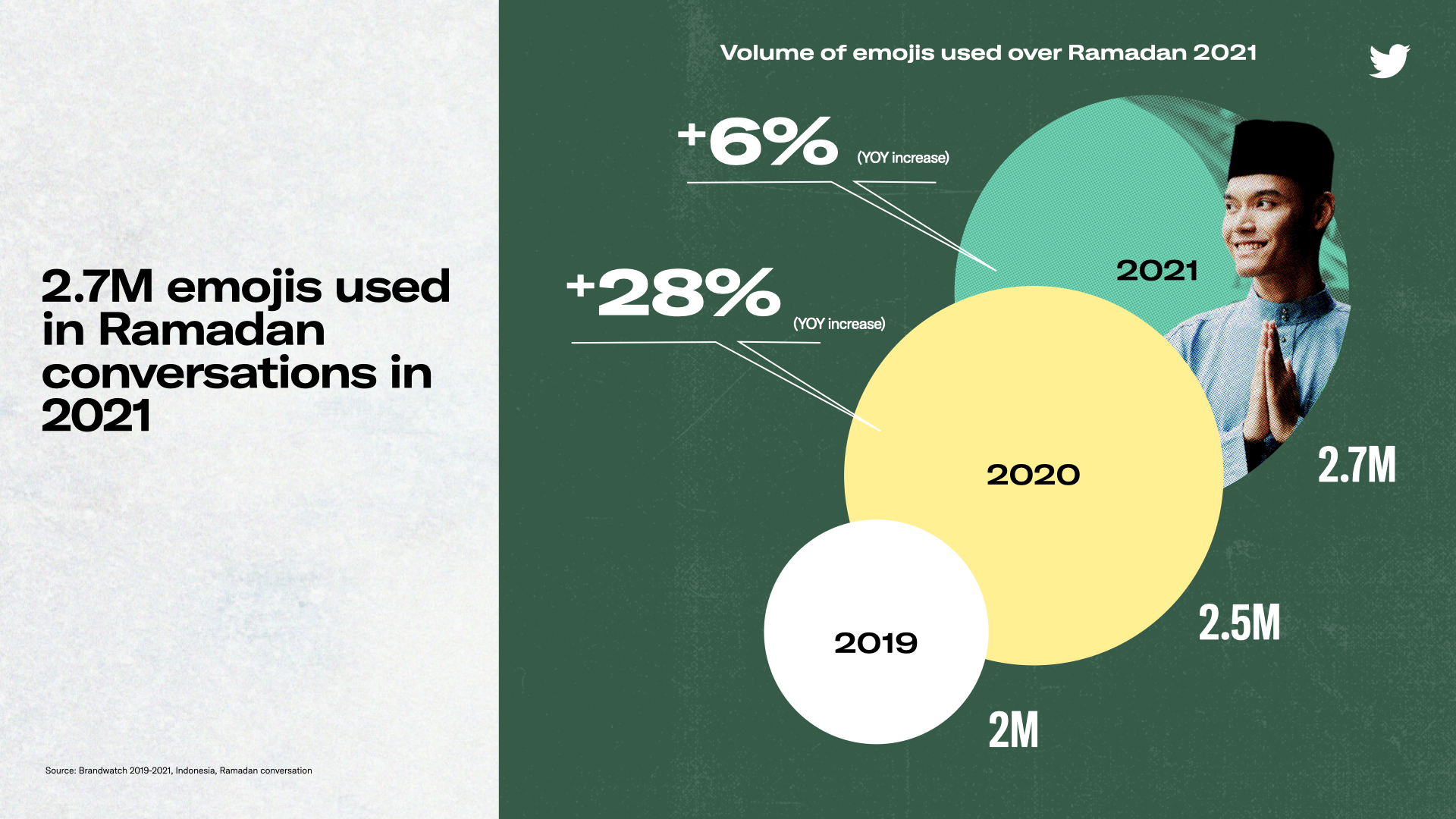 6. Indonesians enjoy entertainment and light-hearted content on Twitter during Ramadan

Lighthearted content topped the chart of what content Indonesians are enjoying the most during Ramadan, with 63% enjoying entertainment and pop culture content, and 61% enjoying seeing comedy content on Twitter. 
At the same time, people want to see less news or politics/current affairs during the holy month (30% in 2021 compared to 36% in 2020)7.

Apart from traditional Ramadan content (prayers, wisdom, staying healthy while fasting, giving back to the community), Indonesians also want to see more virtual performances and concerts on Twitter.

This gives brands plenty of opportunities to tap into the passions of the audience on Twitter, from entertainment, pop culture, comedy to virtual concerts.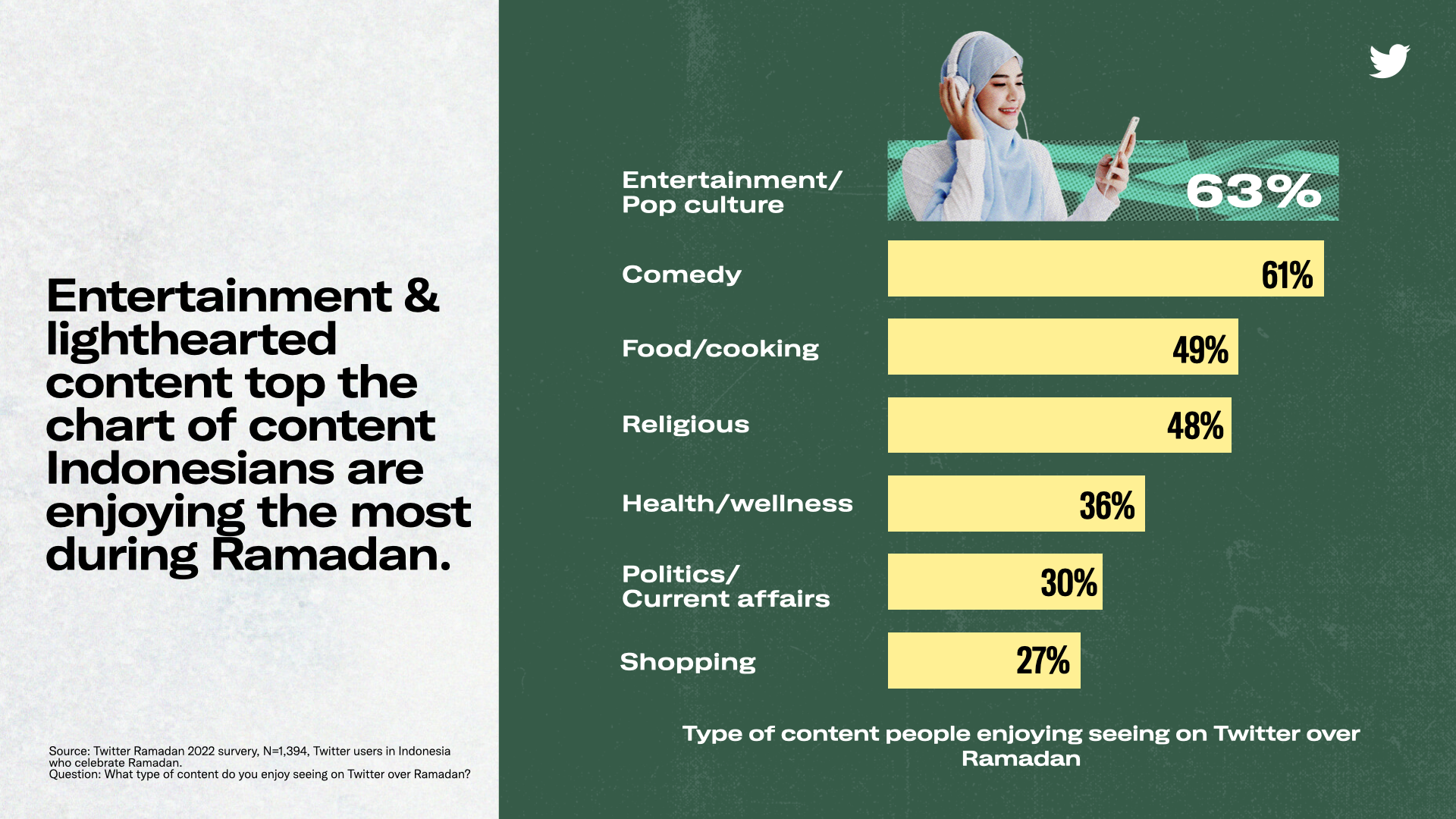 7. Shopping is an increasingly important topic on Twitter
The conversation volume around shopping over Ramadan increased almost 3x between 2020 and 2021. 91% of people on Twitter are planning to make purchases over Ramadan8.  
Most of these purchases are consumables (food, clothes, makeup) and accessible purchases that help people to meet friends and family over the month of Ramadan. 

As Indonesians increasingly come to Twitter to find inspirations and ideas for their Ramadan purchases, brands can tap on the desire for shopping content from those receptive and influential audiences: from deals to product recommendations to shopping events.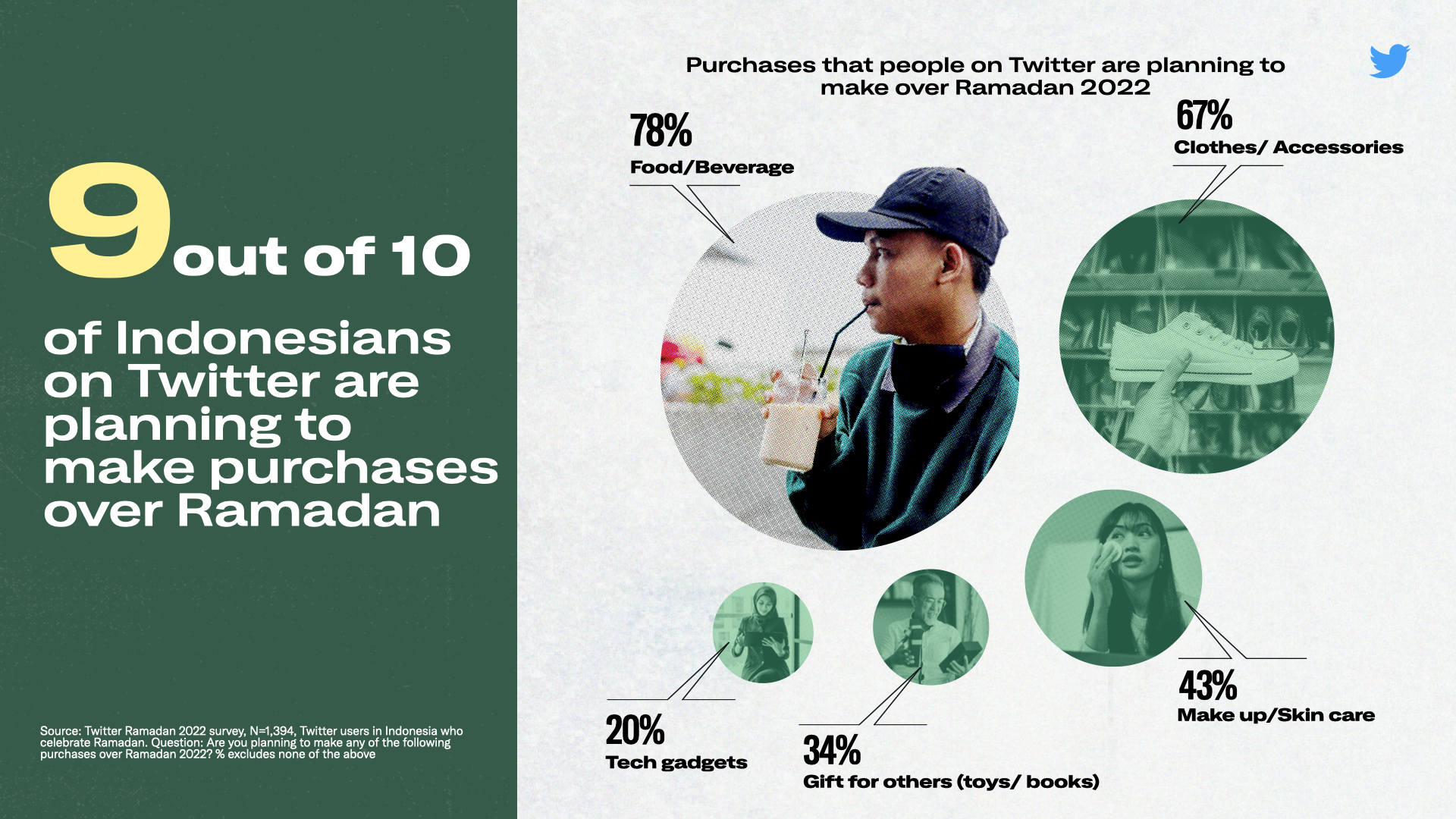 What does it mean for brands
Brands can create meaningful connections with the audience by listening, and responding to the  hopeful and positive sentiments of Indonesians. 
By understanding the 5 phases of conversations during the Ramadan period, brands have the opportunity to pick and choose the right moments to implement the launch strategy for their Ramadan campaigns. By leading the conversations during each of these moments, brands are more likely to stand out.

Growing optimism means new opportunities
The growing optimism for Ramadan 2022 can be an opportunity for brands to develop and launch campaigns with emotional messages that resonate with the audience to drive the conversation and encourage engagement on Twitter. 
Be part of consumers' "new habits"
Brands can leverage Indonesians' ability to increasingly adapt to "new habits." Since consumers are open to embracing new changes, this is an opportune time to introduce new products and services. As Indonesians are looking to celebrate this Ramadan both virtually and in the physical world, brands should look at an omnichannel strategy where online and offline touchpoints are integrated.
Connect to their passion points
Brands need to develop campaigns that are the answers to people's interests or what they are looking for during Ramadan. With the increasing demand for entertainment and shopping content on Twitter, brands can align their campaigns to the Indonesians' various passion points during the Holy Month, beyond traditional Ramadan content like religion, wellness, food and cooking… From comedy and pop culture content to virtual concerts and shopping events, there are several content opportunities for brands to tap on to cut through the noise. 
For more Ramadan insights and solutions for your upcoming campaigns, reach out to the Twitter team at askindonesia@twitter.com.  

Download the Ramadan 2022 Insights Report for the full insights.

Methodology:
To understand expectations and attitudes towards Ramadan 2022, we ran a survey among 1590 Twitter users in Indonesia. This was analysed along with a similar study conducted in 2021, which allowed us to study the changes in attitudes towards Ramadan through the Pandemic.
We also analysed 110 million Tweets about Ramadan in Indonesia from 2019 to 2021 through Brandwatch. This enabled us to identify and understand changes in conversation trends since Ramadan 2019.
Grace Tang is the Research Specialist for Asia-Pacific at Twitter.
Faridzuan Faris is the Marketing Manager for Southeast Asia at Twitter.
Source:
[1] Twitter Ramadan 2022 survey, N=1,394, Twitter users in Indonesia who celebrate Ramadan, vs Twitter Ramadan 2021 survey, N=1,311 Twitter users in Indonesia who celebrate Ramadan. Question: What are your expectations of the COVID-19 situation in Indonesia by Ramadan next year (April 2022)?
[2, 5, 6] Brandwatch 2019-2021, Indonesia, Ramadan conversation
[3] Twitter Ramadan 2022 survey, N=1,394, Twitter users in Indonesia who celebrate Ramadan. Question: Which activities will you be doing, more than usual, over Ramadan 2022?
[4] Twitter Ramadan 2022 survey, N=1,394, Twitter users in Indonesia who celebrate Ramadan. Question: What would you be interested to see more of on Twitter over Ramadan 2022?
[7] Twitter Ramadan 2022 survey, N=1,394, Twitter users in Indonesia who celebrate Ramadan. Question: What type of content do you enjoy seeing on Twitter over Ramadan?
[8] Twitter Ramadan 2022 survey, N=1,394, Twitter users in Indonesia who celebrate Ramadan. Question: Are you planning to make any of the following purchases over Ramadan 2022?
Successful marketing efforts start with knowing your audience. Twitter's tools help you dig deep.
Did someone say … cookies?

X and its partners use cookies to provide you with a better, safer and faster service and to support our business. Some cookies are necessary to use our services, improve our services, and make sure they work properly. Show more about your choices.
You want your message to be heard by the right person. Let Twitter's targeting capabilities help.
Did someone say … cookies?

X and its partners use cookies to provide you with a better, safer and faster service and to support our business. Some cookies are necessary to use our services, improve our services, and make sure they work properly. Show more about your choices.