Research
Eight insights to help brands in Indonesia stand out in the 'new normal' Ramadan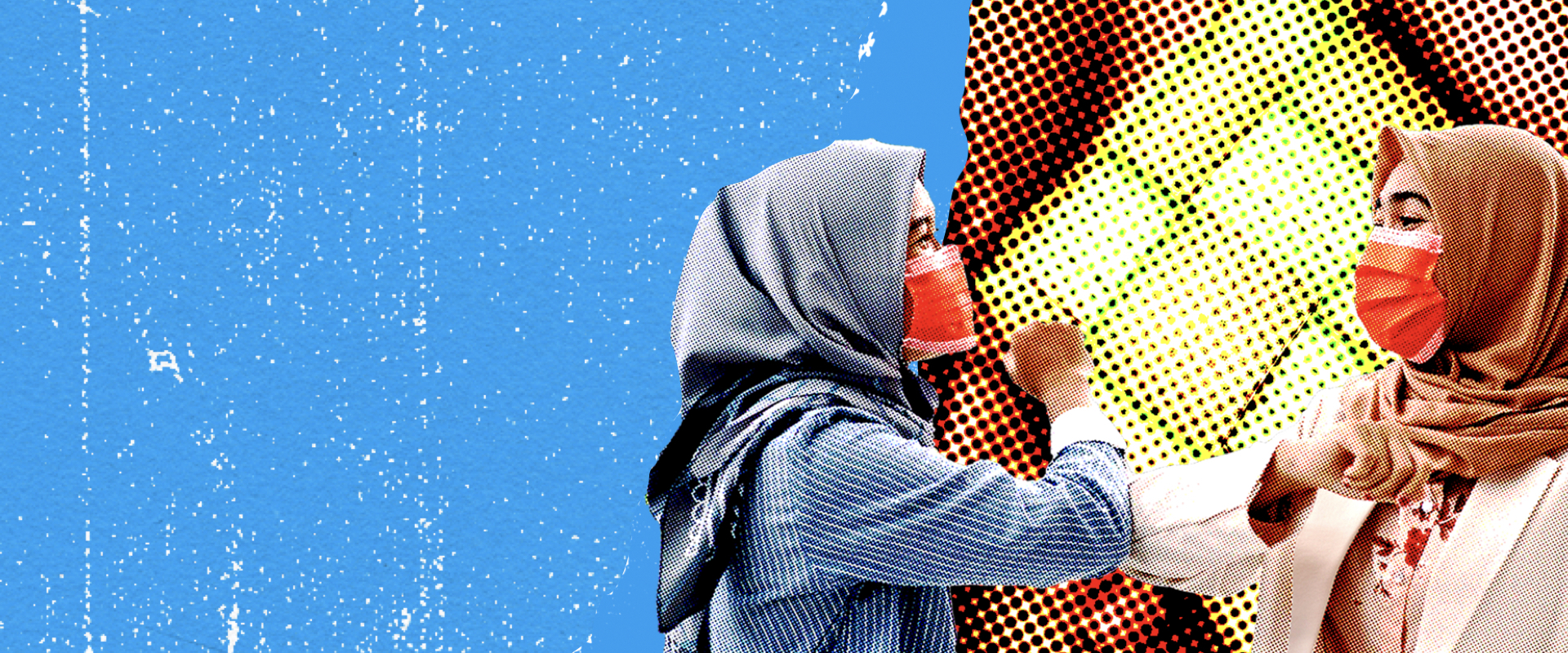 As another "new normal" Ramadan approaches this year, Twitter has become the place for people and brands to celebrate togetherness in a world where we are still apart. The Ramadan conversations on Twitter are more abuzz than ever, with more than 16 million Tweets about Ramadan in 2020. 
Here are eight insights to help brands connect with Indonesian audiences during Ramadan in the new normal.
The month of Ramadan is a time of togetherness, but Indonesians will have to continue celebrating the holy month away from their family and the larger community this year.
Despite a challenging 2020, we witnessed Indonesians adapting to the new normal of constant changes and new traditions of gathering and social activities.
While social distancing measures compelled people to stay apart and indoors, Indonesians found themselves connecting in new and engaging ways, especially in the digital world. We saw an influx of Indonesians on Twitter urging others to #stayathome (#dirumahaja) and adhere to the safety measurements.
As Ramadan 2021 approaches, we predict that this year's holy month will be no different, with social distancing measures drawing Indonesia's largest celebration into a virtual space. As more Indonesians use Twitter to spread kindness, hope, and positivity, Twitter has become the place for people, brands, and communities to celebrate togetherness in a world where we are still apart.
Here are some key insights for marketers seeking to connect with Indonesians during the upcoming Ramadan. 
1. Indonesians are ready for another online celebration in the upcoming Ramadan.
While Indonesians yearn for many Ramadan traditions, people have learnt to adjust to new social norms, and consumer behaviours forged during the pandemic are here to stay. From ordering food (37%), sending gifts (19%), shopping (57%), and donating zakat (19%), Indonesians are looking to continue their activities online this Ramadan.
In the spirit of #Silaturahmi (connecting people), Indonesians are looking to stay connected through online activities and using more applications. Online application adoption is on the rise and it's not stopping.
To make up for the lack of physical visits during Ramadan, people will predominantly use social media apps more (88%) to stay connected, with many planning to stream videos (77%).1
This serves as a good opportunity for brands to provide products and services that could reimagine the Ramadan experience virtually while helping people stay connected online.
2. Despite the challenges, Indonesians remain positive and hopeful.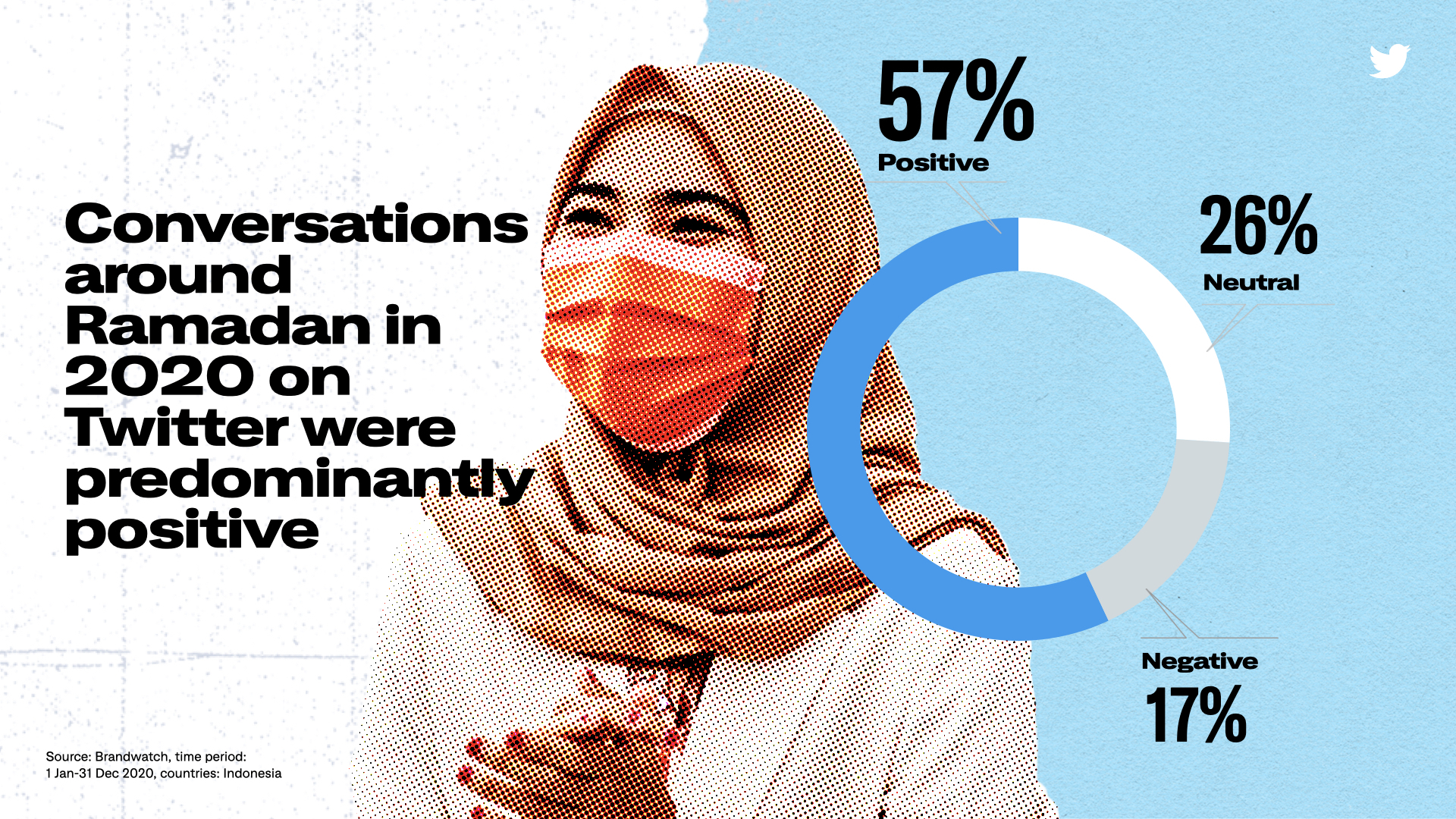 Despite a challenging 2020, conversations around Ramadan 2020 on Twitter were largely positive (57%).2 When asked in December 2020 about their sentiments for entering the new year, Indonesians were hopeful that the country's pandemic situation would improve (45%).3
People on Twitter also recorded a more positive sentiment (+15%) about their personal financial situation for the first time since the start of COVID-19. They also reflected more optimism in December 2020 regarding the economic recovery in the next six months (compared to September 2020).4

With this insight, brands can tap into the positive conversations and adjust the tone of voice while expressing solidarity and empathy during this trying time.

3. Conversations surrounding Ramadan are buzzing on Twitter more than ever.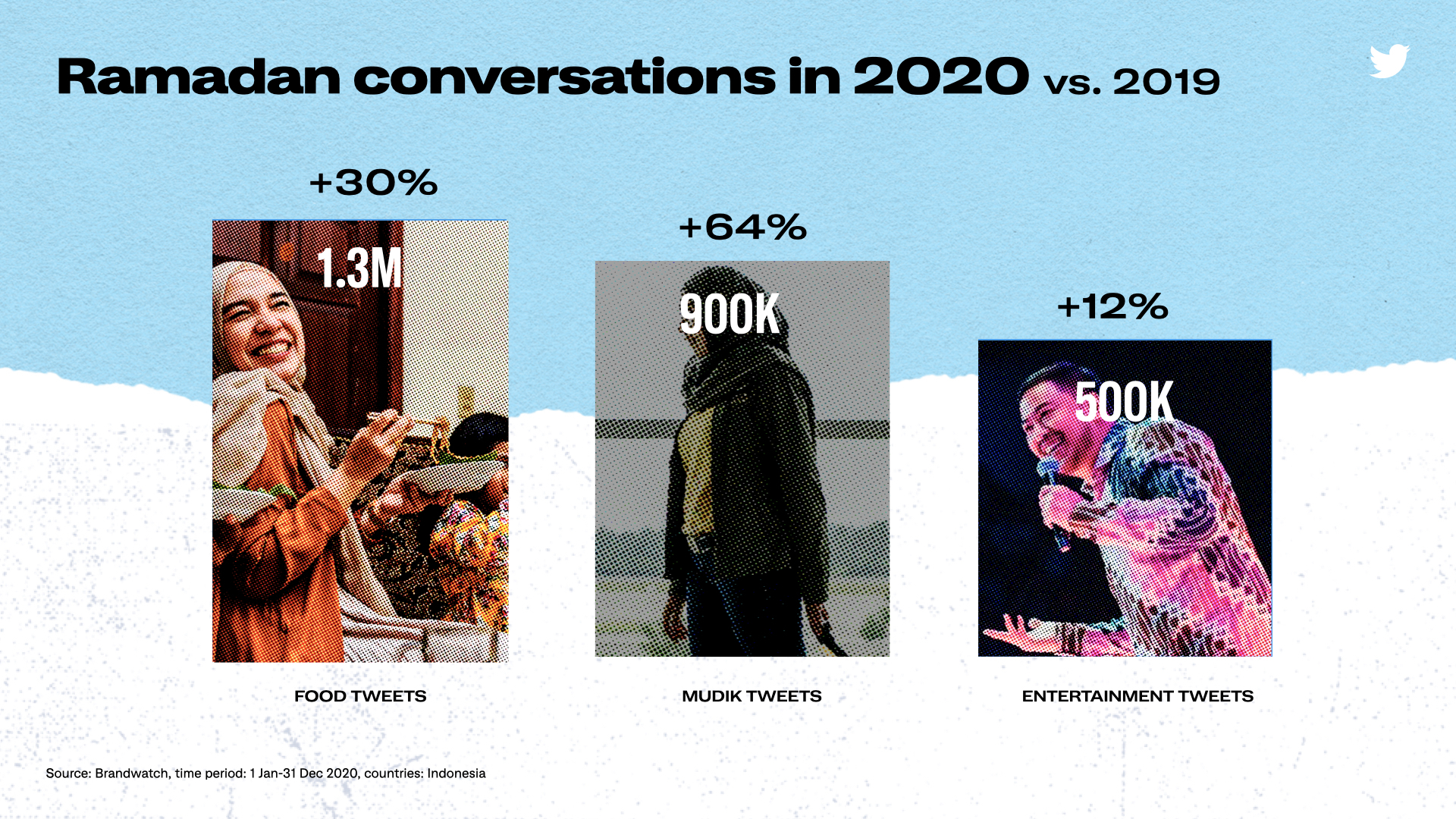 Indonesians Tweet about Ramadan all year long, but conversations begin to peak one month before the holy month. There were 16 million Tweets about Ramadan in 2020, which is an increase of 25% compared to 2019.
Despite observing a different Ramadan, common themes such as mudik (homecoming), entertainment, and food continue to dominate conversations on Twitter:
1.3 million Tweets about food, a 30% increase from 2019

900,000 Tweets were about mudik, a 64% increase from 2019

500,000 Tweets were about entertainment, a 12% increase from 2019
4. People come to Twitter during Ramadan to share hopes, spread positivity, and express their emotions.
From 2020's conversations, we saw Indonesians come together on Twitter to share their hopes, spread positivity, and express their emotions during the holy month. While the top hashtag surrounding Ramadan reflected the reality of the pandemic (#dirumahaja clocked 80K mentions), people on Twitter still held space for festivities with hashtags #Ramadan (54K mentions), #eidmubarak (44K mentions), and #lebaranbarengshopee (42K mentions) emerging just as prominently.
People also kept loved ones in mind, with Ramadan conversations centring on family and togetherness. At 5 million mentions, these conversations made up 33% of the 2020 Ramadan conversation in Indonesia.5
We predict family and togetherness conversations will continue to increase and will be one of the most Tweeted topics during Ramadan 2021, and brands can look to integrate these themes into their campaigns.
5. Social commerce is happening on Twitter.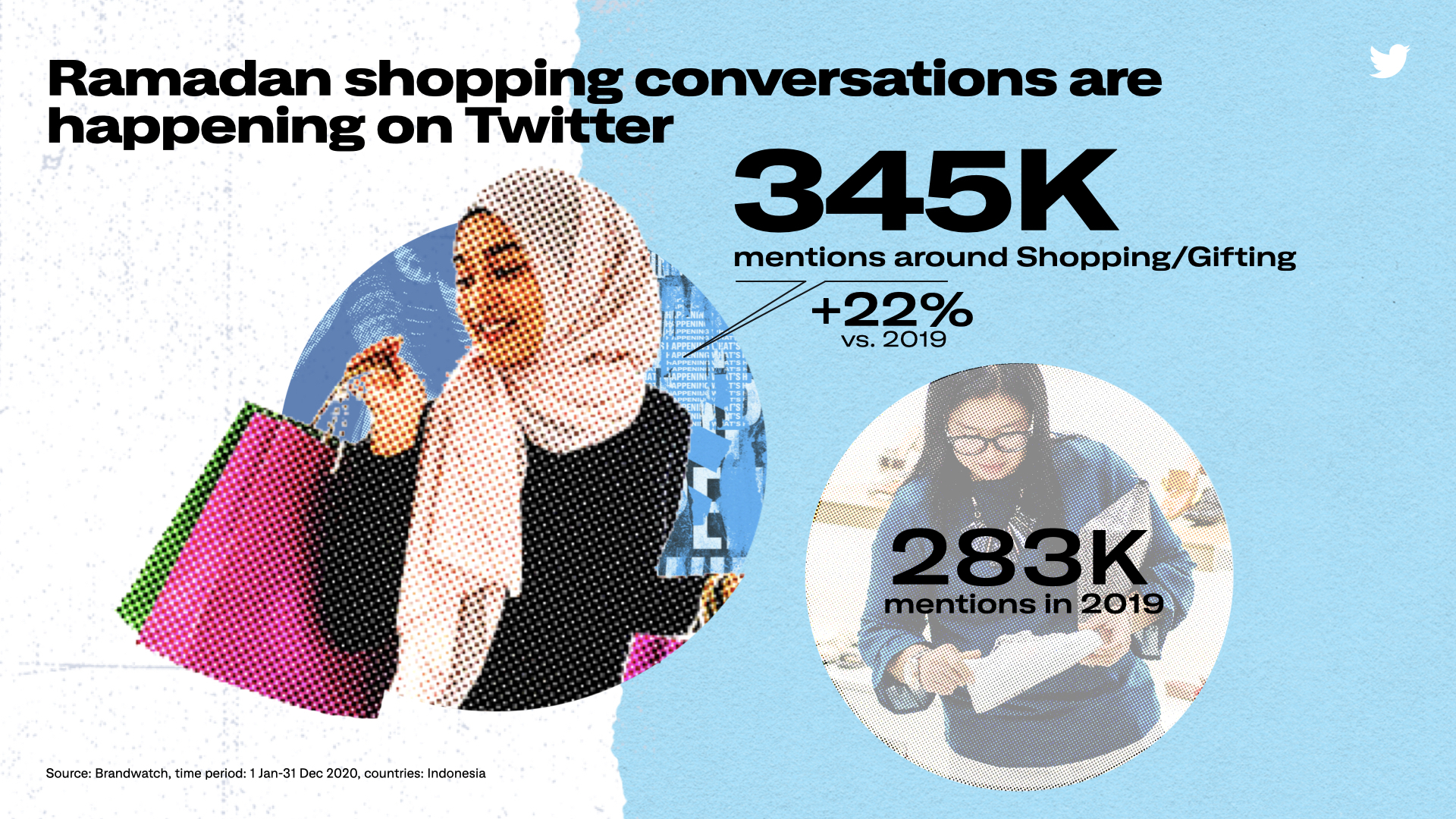 In 2020, there were 345K mentions on shopping and gifting, a 22% uptick from 2019. We foresee that this trend will continue to rise as we enter Ramadan this year, as people on Twitter are more likely to inform friends and family of new products (65%), whether it's something they've purchased or are planning to buy.6
A more digital Ramadan this year means people are willing to shop online (42%) and talk about it during the holy month.7 
As people on Twitter are gearing up to shop online and talk about it, brands should be ready to be part of the conversation on Twitter where it happens.
6. People on Twitter are willing to spend more and are more likely to own the latest tech devices.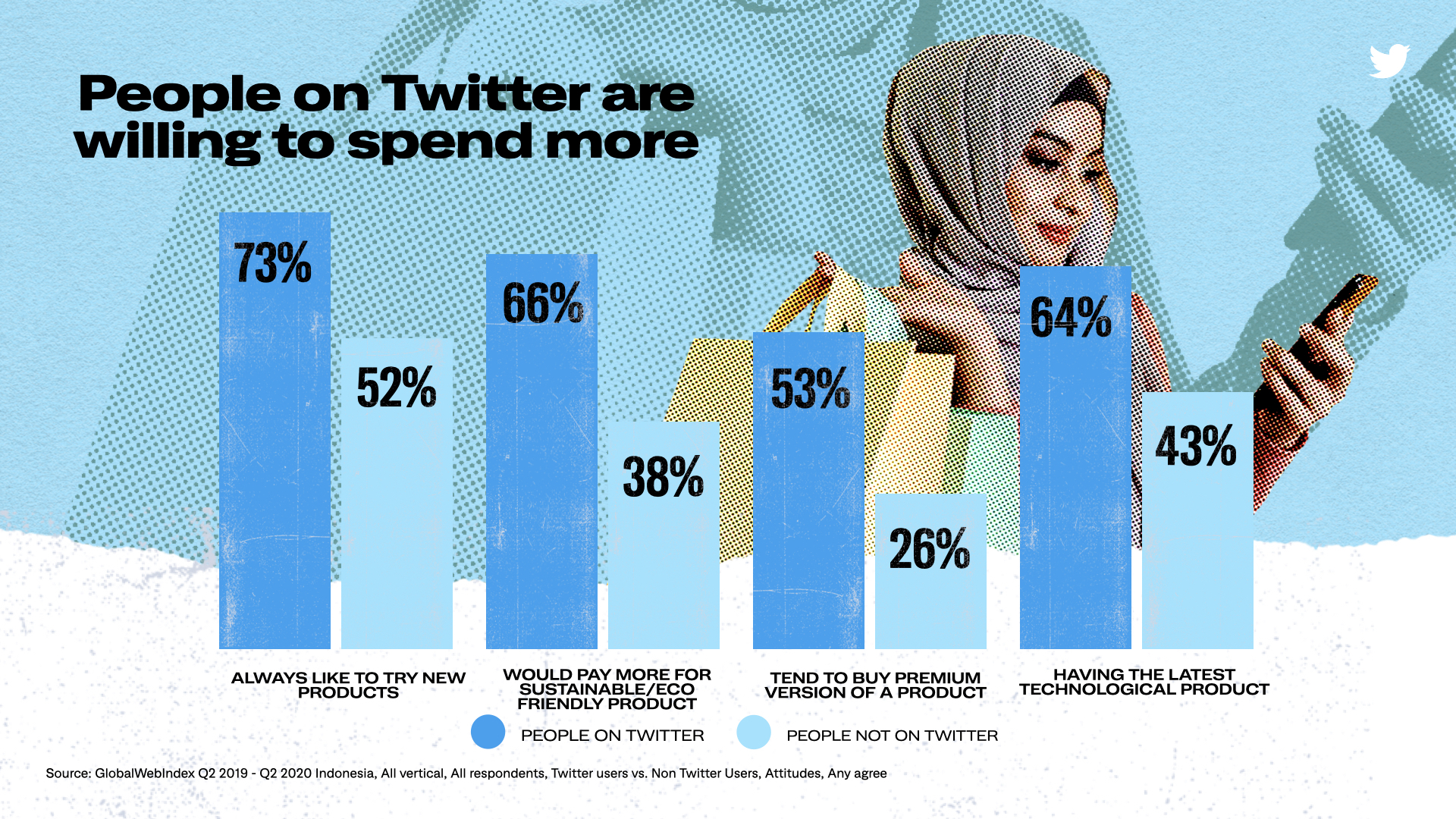 Brands can expect a more vibrant social commerce scene happening as people on Twitter are more willing to try new products (73% vs. 52% of people not on Twitter).
They're also likely to own the latest technological product (64% vs. 43% people not on Twitter) and are more willing to pay more for sustainable and eco-friendly products (66% vs. 38% people not on Twitter).
People on Twitter also tend to buy the premium version of a product (53% vs. 26% people not on Twitter).8
This willingness to spend makes people on Twitter a valuable audience for brands seeking to launch new products, services, or promotions this Ramadan.
7. People on Twitter are brand conscious and receptive to brand advertising.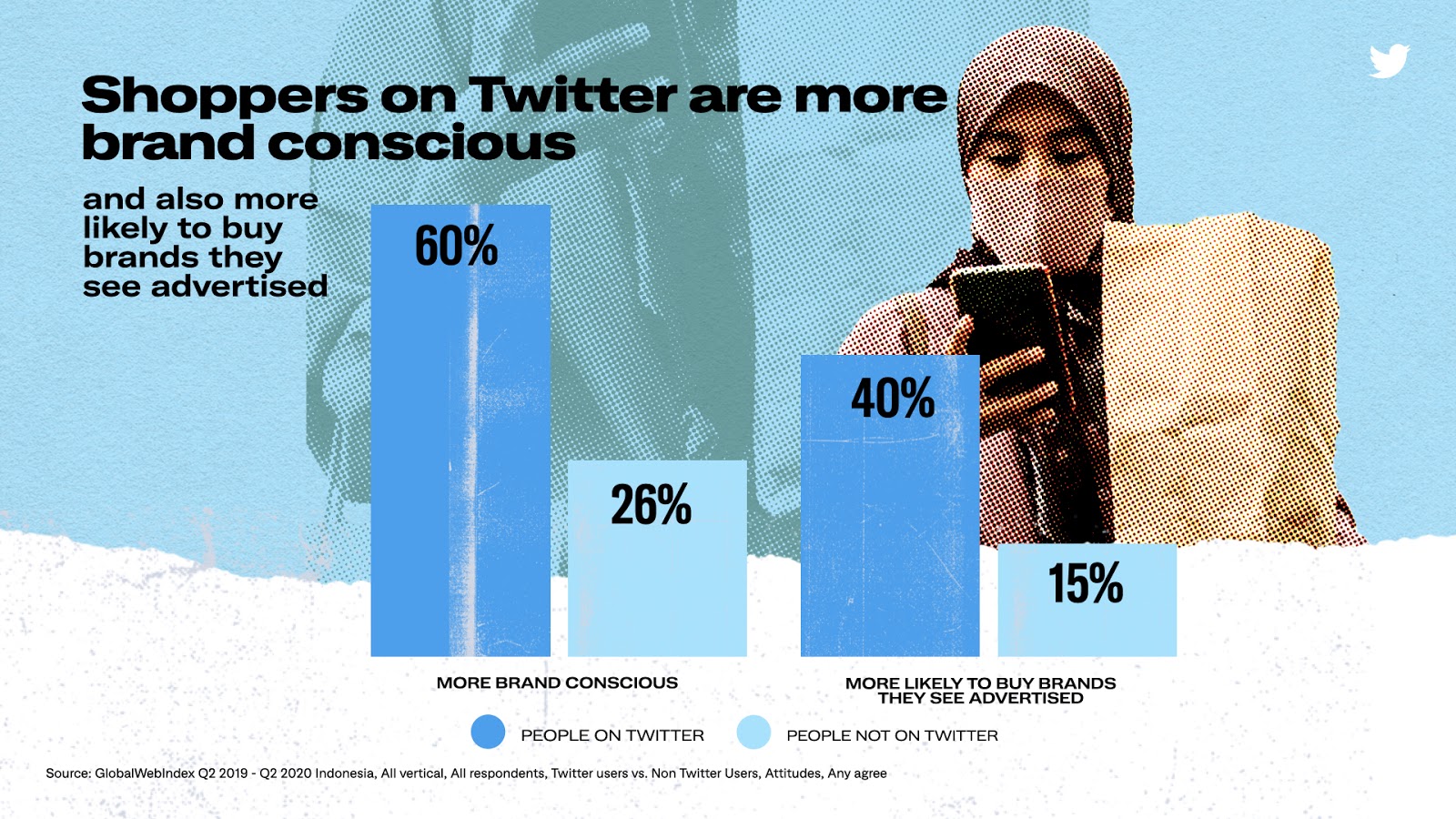 People on Twitter are more brand conscious (60% vs. 26% of people not on Twitter) and more receptive to advertising (40% vs. 15% of people not on Twitter) as they tend to buy brands they see in advertisements. Brands should leverage this period and double down on advertising on Twitter to reach this receptive audience.
People on Twitter also think it's important to be well-informed (87% vs. 81% of people not on Twitter). With 64% of people on Twitter seeking expert opinions before purchasing products and services (vs. 51% of people not on Twitter), brands can map out content that resonates with people on Twitter this Ramadan. From posting "how-to" content to product reviews and expert voices on Twitter, there are multiple ways for brands to capture the attention of this leaned-in audience.9

8. People seek entertaining content and levity on Twitter this Ramadan.
With more time spent at home, people on Twitter are seeking more entertainment (57%), comedy (51%), and food-related content (56%) this Ramadan. 
With entertainment content seeing the highest increase compared to the previous year,10 brands can take this as a cue when developing their content strategy this Ramadan.
What this means for brands
With these insights, marketers and brands can better connect with a leaned-in and receptive audience on Twitter during Ramadan by tapping into the conversation surrounding kindness, positivity, entertainment, and social commerce. Twitter reflects Indonesians' compassion and hopes all year round, but even more so during Ramadan. In this vein, marketers have the opportunity to create campaigns that reward kindness while bringing people, communities, and brands together, despite being physically distanced during the holy month.
For more Ramadan insights and solutions for your upcoming campaigns, reach out to the Twitter team at askindonesia@twitter.com. 
Methodology:
Utilising Brandwatch, we analysed 16 million Tweets around Ramadan 2020 in Indonesia to understand key themes and how the conversation has evolved from 2019. This is supported by a survey run amongst Twitter users (n=1,311 in Indonesia) covering attitudes and behaviours over Ramadan in 2020, and expectations for Ramadan in 2021.
Serene Tay is the Senior Research Analyst for Asia-Pacific at Twitter.
Faridzuan Faris is the Marketing Manager for Southeast Asia at Twitter.
Sources:
[1,3,7,10] Twitter Ramadan 2021 survey, n=1,311 Twitter users in Indonesia who celebrate Ramadan
[2] Brandwatch, time period: 1 Jan-31 Dec 2020. Country: Indonesia
[4] Twitter Consumer Confidence survey, Indonesia, Dec 2020, Net Sentiment metric (% of Total Positive - % of Total Negative)
[5,6] Brandwatch, time period: 1 Jan-31 Dec 2020. Country: Indonesia
[8,9] GlobalWebIndex Q2 2019-Q2 2020 Indonesia, All vertical, All respondents, Twitter users vs. Non Twitter Users, Attitudes, Any agree
Successful marketing efforts start with knowing your audience. Twitter's tools help you dig deep.
You want your message to be heard by the right person. Let Twitter's targeting capabilities help.