Insights
Cricket is happening on Twitter

Twitter is the roar of the stadium and the fans are excited!
In India, Cricket is a sport that needs no introduction. And if it's happening in Cricket, people are talking about it on Twitter. The game always manages to unite people in India, much like the chant 'Sachin, Sachin'. You could almost hear it, right?
Twitter is the roar of the stadium. The Cricket season is a unique opportunity for brands and marketers to spark conversations in the ever-growing and engaged #CricketTwitter community and be a part of the game. 
Fans have always turned to Twitter to feel closer to the field — this behaviour has only gotten more prevalent as people are looking to share the experience with others. Brands on Twitter can tap into the pulse of this vast community, by connecting with fans who celebrate all things Cricket. After all, 67% of the online population in India are Cricket fans.
All through the year, fans flock to Twitter for sharing their views about various matches and tournaments. Whether it's Rohit Sharma's match-winning performance, IPL rivalry between Mumbai Indians and Kolkata Knight Riders or just the rush of live-Tweeting, there are endless reasons which bring Cricket fans to Twitter. In 2021 itself, we saw over 96.2 million Tweets around Cricket in India. It's clear that the talk continues to sweep the nation. Not that we are complaining!
The cheer of the crowd is louder than ever
Every ball, sixer, wide, wicket - the commentator in every Indian comes out! Last year, over 4.4 million users across India Tweeted their love for Cricket. That's a tough target but if anything can chase it down, it's 2022. Good thing it's off to a flying start already!
Twitter is your brand's ticket into a stadium full of Cricket fans. You get the best seat in the house, alongside our enthusiastic and engaged audience. More importantly, it's an all-access pass that allows your brand to connect to every moment in every game. 
A whopping 75% of Twitter users in India are fans of Cricket. The dynamic nature of the platform helps your brand leverage organic conversations. Whether it's pre-match buzz or post-match analysis, the conversations continue well beyond the actual game. On Twitter, Cricket never sleeps!
In 2021, there was a lot of positive sentiment crossing the boundary (apart from many 4s and 6s). Cricket was associated with a massively positive/neutral sentiment of over 94%.
The conversation is happening. All the time.
Every year, Cricket rules the trending hashtags chart as fans can't stop Tweeting about the game. Whether it's #TeamIndia or #WhistlePodu, this is a sport with a strong hashtag game!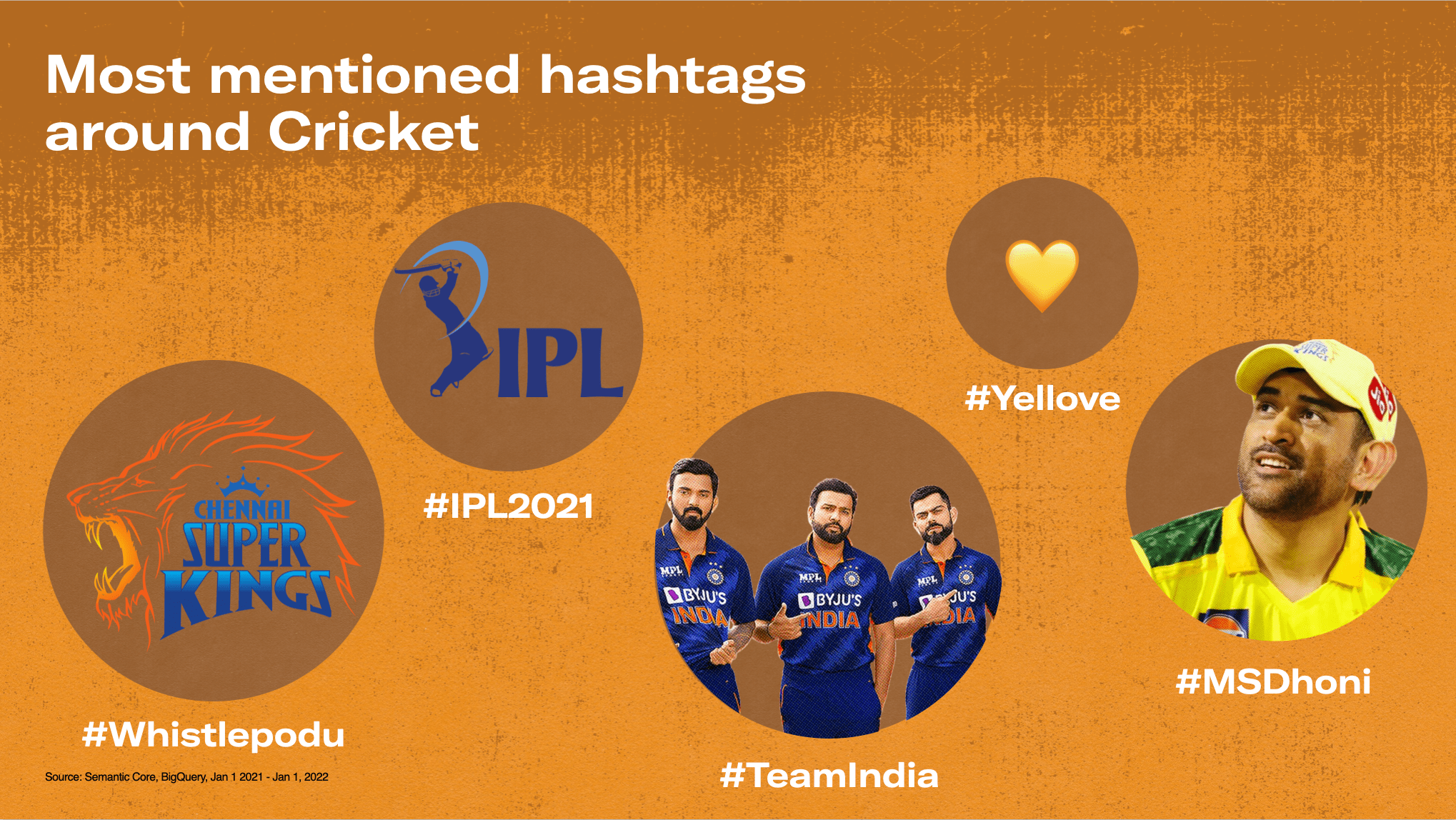 Twitter has made connecting with the biggest names of cricket as easy as ever. Whether it's your favourite player or your beloved team, they are all right here.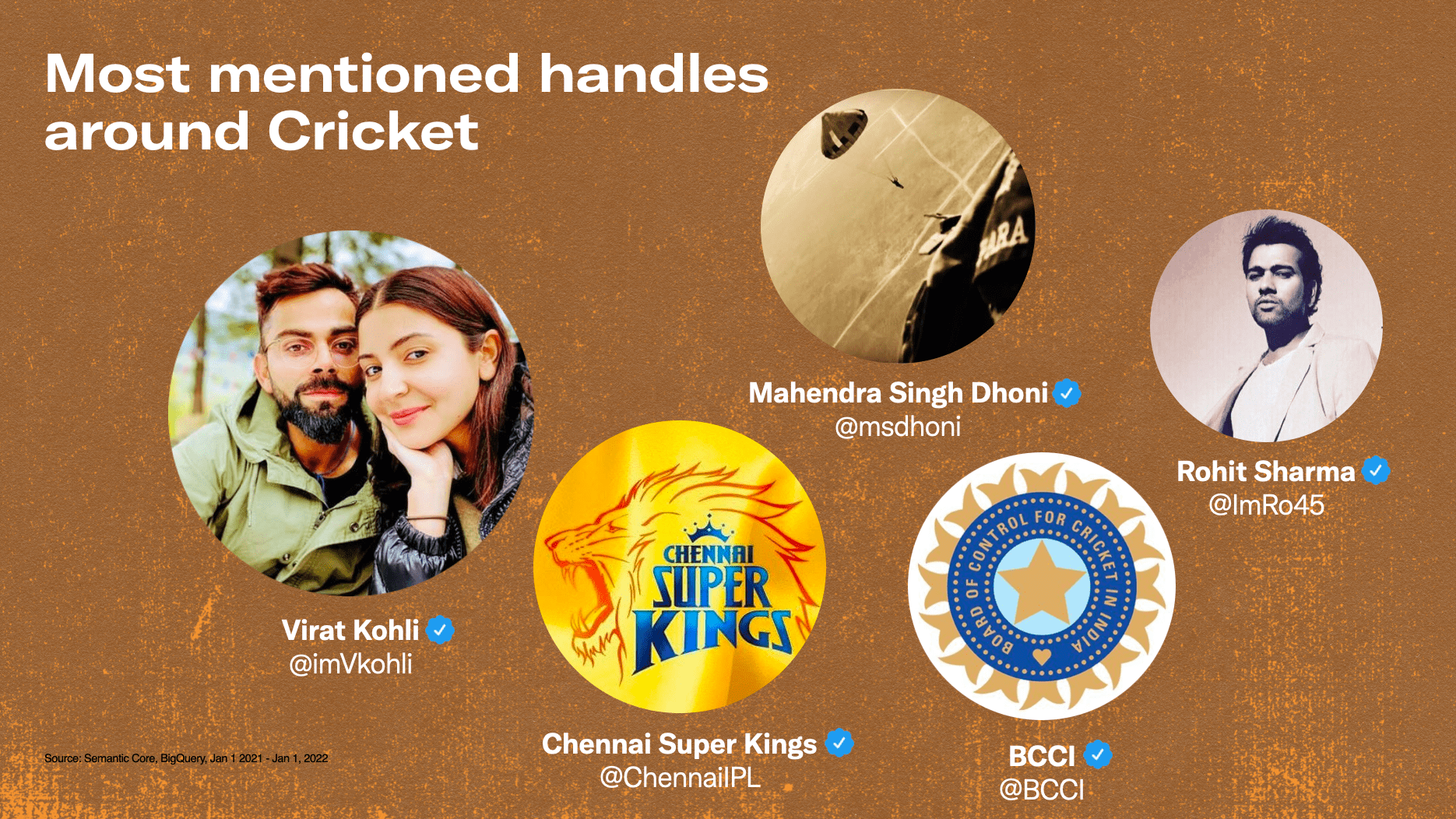 Brands, get your game face on!
When your brand interacts with real-time topics like Cricket, it establishes lasting connections with fans and helps cultivate brand loyalty. The campaigns enjoy a wider reach which goes a long way in turning the online audience into customers. 
Twitter's unique tools and ad solutions serve as an ideal medium for advertisers to increase brand awareness, promote product offerings, and meet campaign KPIs. Brands have the opportunity to connect with the passionate #CricketTwitter community like never before, so it's the perfect time for everyone to get back in action.
Disclaimer: The above article is intended solely to convey the most relevant information and Twitter does not claim or suggest any commercial association with the Indian Premier League.
Source:
1. GlobalWebIndex, Twitter users in India, Q3 2021
2. Source: Semantic Core, BigQuery, Jan 1 2021 - Jan 1, 2022