Perspective
How Aussies are counting down to the World Cup 2022
The countdown to the World Cup is on! 
2021 was a huge year for football on Twitter. In the A-League, Melbourne City (@MelbourneCity) won its first ever men's Grand Final, while cross-town rivals Melbourne Victory (@gomvfc) claimed the W-League title, off the back of an unforgettable extra-time corner kick by Kyra Cooney-Cross (@kyracooneyx).
Internationally, the "It's coming home" chants were heard around the world as @England came within a lion's whisker of lifting its first major trophy since 1966, the Super League came and went, and there was big news in the transfer market as Ronaldo and Messi moved clubs.
In a big step forward for the round-ball code in Australia, FIFA (@FIFAcom) announced that Australia and New Zealand will co-host the FIFA Women's World Cup in 2023. A record-breaking $200 million TV rights deal with Ten saw the A-League and W-League get unprecedented coverage on Australian screens, while US private equity firm Silver Lake invested $140 million in the A-League.
Now, with only months to go until the World Cup in Qatar, 2022 is set to be even bigger.
It all kicks off at the Al Bayt stadium in Qatar on 21st November — but the anticipation and excitement surrounding football's first-ever winter World Cup is already building. 
Even people who normally have no interest in the beautiful game get swept up in the excitement that surrounds a major tournament, and enthusiasm has never been higher.
People love to Tweet about football and the Football conversation in Australia on Twitter is up 15% since January 2019. That offers brands a massive opportunity to connect with the sport and the fans to build relevance in the lead-up to what is arguably the most-watched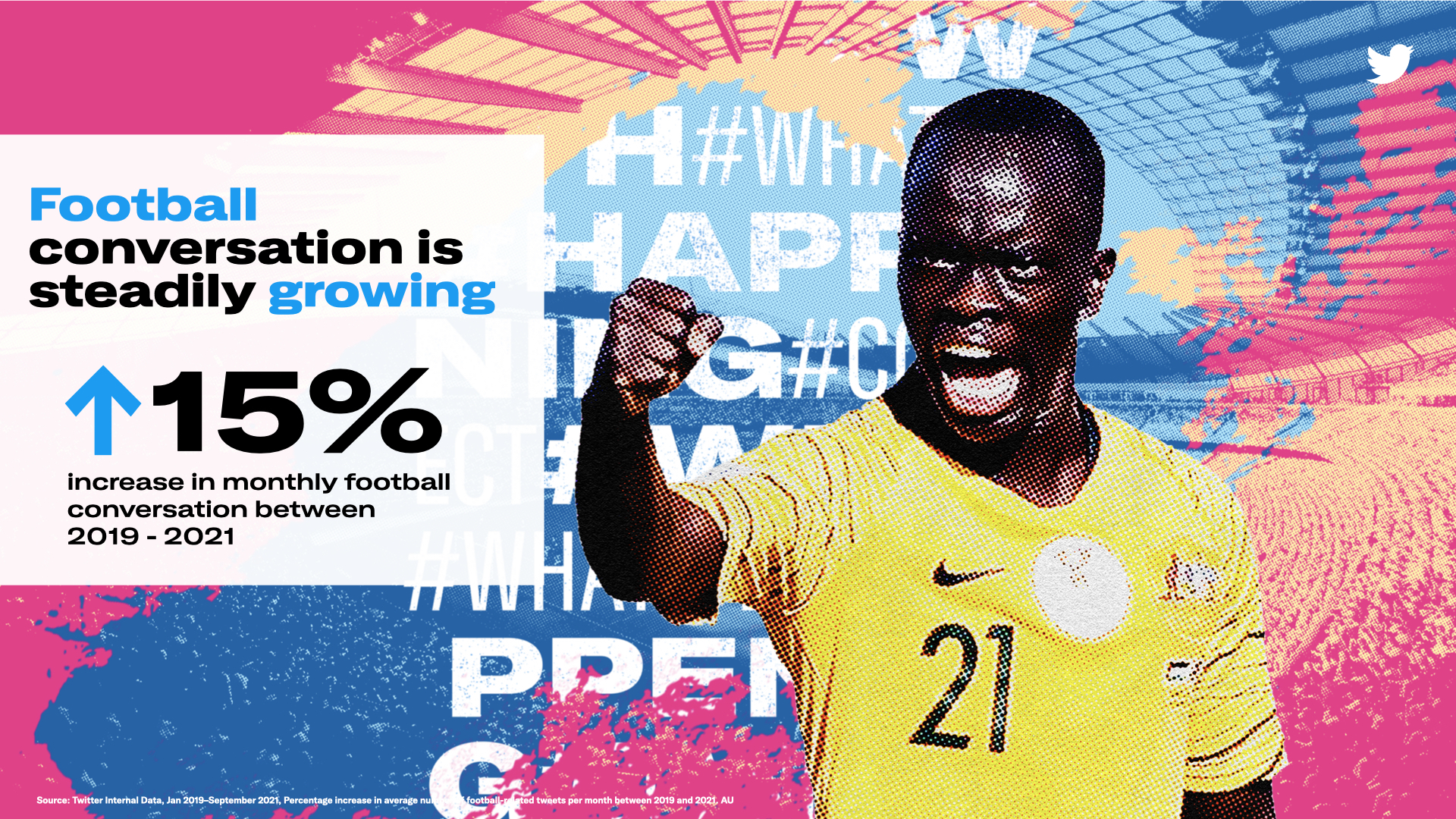 Twitter, like football, is all about moments. It's the best place for fans to keep up with every kick, share every goal, and debate every decision — but it's not just during the 90 minutes of a game that people want to talk about it.
The circus surrounding football never sleeps. Whether it's to barrack for our favourite A-League club, the Socceroos, the Matildas, or the international leagues there's always something football-related to Tweet about. 
When @Cristiano returned to @ManUtd in August there were 7.7M Tweets about the transfer in seven days, although that wasn't enough to eclipse @TeamMessi's move to @PSG_inside earlier in the month, which generated 10.7M mentions. It goes to show that even on Twitter the two GOATs are constantly competing.
These are events that transcend the sport itself and spill over into other areas of popular culture, inspiring memes, starting conversations, and leading to crossover moments. Take the joke in @TedLasso about actors Ryan Reynolds and Rob McElhenney buying @Wrexham_AFC, which led to the National League side being sent some of the fictional coach's trademark biscuits by @AppleTV. 
It's not just the sheer volume of Tweets that prove Twitter is the home of football fans either. Over the past year, a survey found that 65.7% of people on Twitter said they regularly watch, follow, or have an interest in football, meaning they are 1.6x more likely to be football fans than non-users are.
Combine that with the fact that Twitter's audiences have been shown to be active, receptive, and influential.  With 44% of people saying their use of Twitter while watching TV has increased, it is the perfect platform for advertisers to engage with supporters in real time during every game.
While a year might still feel like a long time to go until kick-off in Qatar, there are plenty of opportunities ahead for brands to start making connections to football and building an audience. 
The final round of World Cup qualifiers takes place in March 2022, while the UEFA Nations League returns in June and September. Even if the Socceroos don't make it, there are still opportunities to connect, with the UK, France, Argentina, Spain, Italy, and Brazil being the six most talked-about national teams.
So, no matter how well The Socceroos or any of the other home nations perform at next year's World Cup, brands should start building a connection to football now if they want to ensure their Q4 campaigns are winners.
Source:
1. Twitter Internal Data, Tweet conversation for Cristiano Ronaldo, 25 August–1st September (Global).
2. Twitter Internal Data, Tweet conversation for Lionel Messi, 8–12 August (Global) 
3. GWI. Waves: Q2 2021, Q1 2021, Q4 2020, Q3 2020 Q: Which of these sports/sporting activities do you regularly follow, watch or have any interest in? And which of them do you regularly watch on TV, watch online, or watch/attend in person? = Football. Twitter MAUS, Non-Twitter MAUs, Gen Pop. (AU)                         
4. Twitter Insiders, TV Viewing Behaviors, Global March - July 2020