Case Study
How the U.S. Census Bureau got people on Twitter to #ShapeYourFuture

+63%
higher click-through rate2
+257%
increase in survey starts1
The U.S. Census Bureau had a lot on their plates going into 2020. They'd spent more than a year carefully planning the launch of the first-ever online census survey, which would make it even easier for people to be counted. However, 2020 had other plans. 
In a year like no other, the Bureau was met with a difficult challenge: finding a way to drive awareness around their inaugural online survey in the midst of a pandemic. Fortunately, Twitter had a solution that would encourage everyone — from younger people to those in underrepresented communities — to participate in one of the most important census surveys of our time.

The Bureau turned to Creators to help drive awareness and participation for the #2020Census. At the same time, it aligned with premium entertainment content and current events, such as the NFL draft, to amplify message relevance and turnout. They also leveraged Twitter's takeover products to drive awareness and keep the census top-of-mind (and top-of-the-timeline). Here's how they pulled it off:
Create awareness ahead of time with a Brand Reminder
By liking a Tweet, people could opt-in to receive notifications about when the #2020Census would be available to them.
Connect with key audiences across every community
The Bureau used a Branded Emoji, as well as Video Website Cards in Spanish to drive awareness and action within multilingual communities.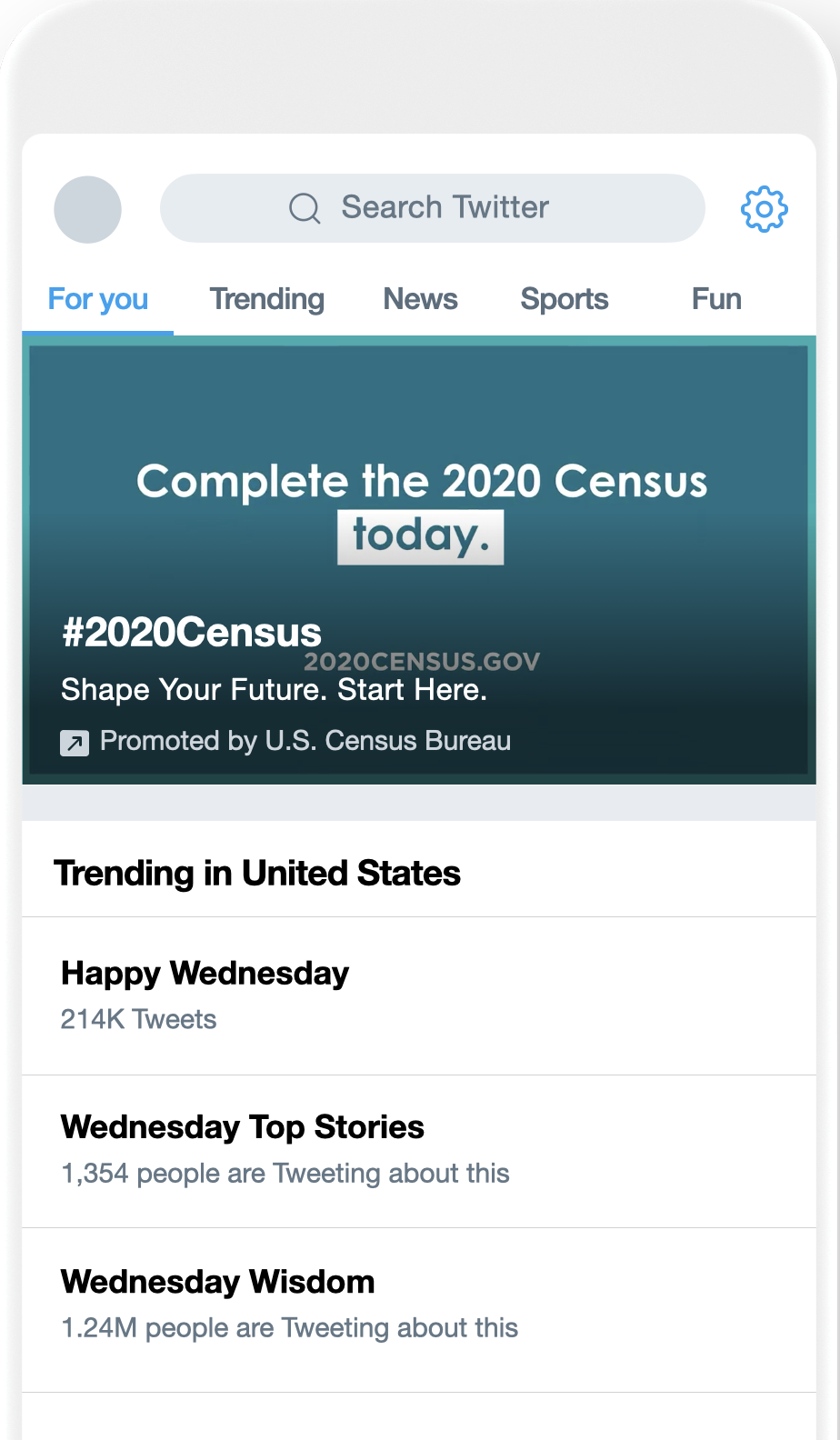 Launch your message at scale with Twitter Takeover
The Bureau combined a Promoted Trend Spotlight with First View to own top-of-timeline placement for 24 hours and drive mass awareness around the launch.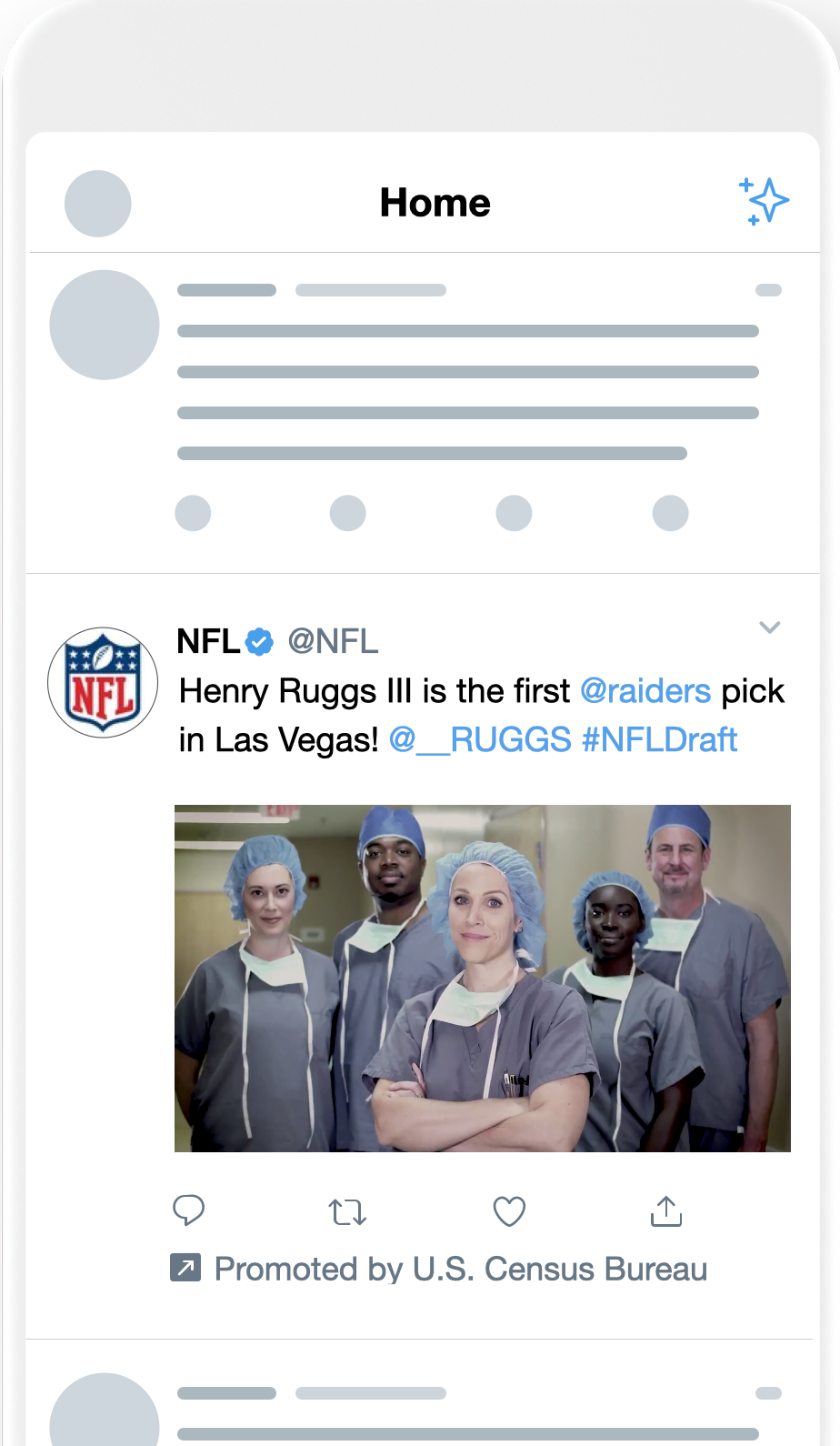 Engage with audiences using Amplify Pre-roll
The Bureau paired pre-roll video ads with premium sports content, such as the NFL draft, to increase survey completions and connect with people using relevant themes like frontline workers.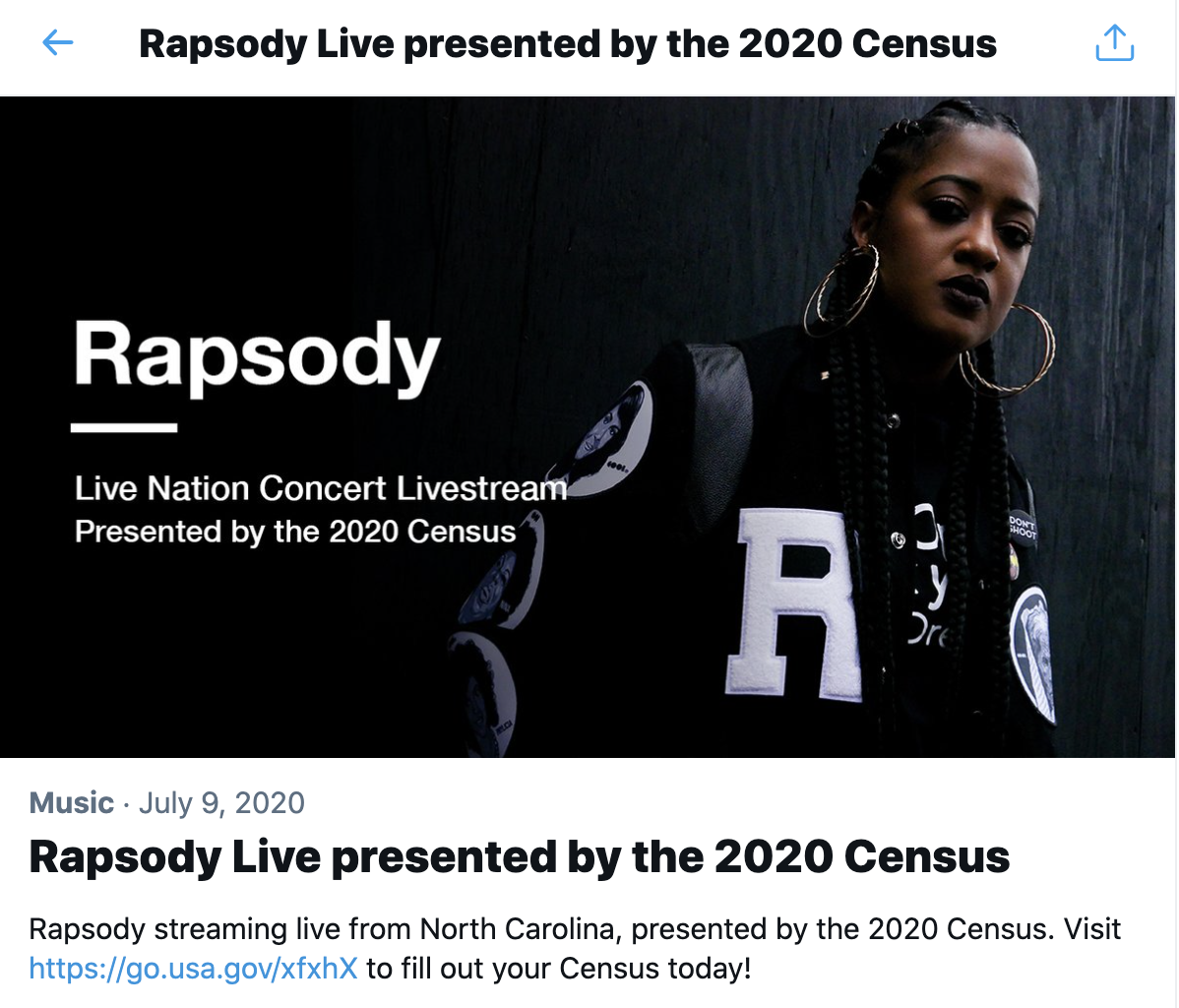 Pair your message with a premium Amplify partnership
The Bureau partnered with Live Nation to host a livestream concert called #RapsodyLive. Using a Live Event Page, the Bureau gave Rapsody a platform to discuss the importance of census participation.
Partner with creators to elevate messaging
With racial injustice conversations top of mind during this time, the Bureau partnered with ArtHouse, Twitter's in-house content creation team, and enlisted authentic activist voices to highlight the importance of survey participation, especially in underrepresented communities.
According to the U.S. Census Bureau Public Information Office, #Census2020 participation increased from previous years and reached 99.98 percent response rate by the end of the self-response and field data collection operations. In fact, the Bureau was the largest government advertiser of 2020, surpassing all performance benchmarks.
The numbers speak for themselves. Click-through rate for the campaign surged — 63 percent higher when compared to the industry benchmark. This was largely propelled by the ArtHouse influencer campaign, which generated a 3.3x higher click-through rate.3

The Bureau also broke ground as the first government advertiser to run an Amplify Sponsorship with Live Nation. This led to 738K #RapsodyLive live-stream views, 5.7M unique visitors reached and pre-roll video view rate that was 58 percent higher than the government benchmark.4

By using real people who shared their real stories — and by explaining why participation this year was so crucial — Twitter provided the Bureau with a way to knock at people's digital doorstep. Hear more from the Deputy Chief of the U.S. Census Bureau:
Twitter helped the 2020 Census campaign reach underrepresented communities at a time when representation matters most. By partnering with key influencers who have a platform and a voice, the campaign and engagement on Twitter encouraged young and minority audiences to complete the 2020 Census and ensure their communities are counted.
Sources:
1. United States Census Bureau Public Information Office, October 19, 2020. "2020 Census Response Rate Update: 99.98% Complete Nationwide
2. Twitter Internal, 2020
3. Twitter Internal, 2020. Data compared to Q2 Government benchmark
4. Twitter internal, July 8, 2020 - July, 26, 2020, Global