Case Study
How Bravo raised the bar and surprised fans with its 'Real Housewives of Potomac' premiere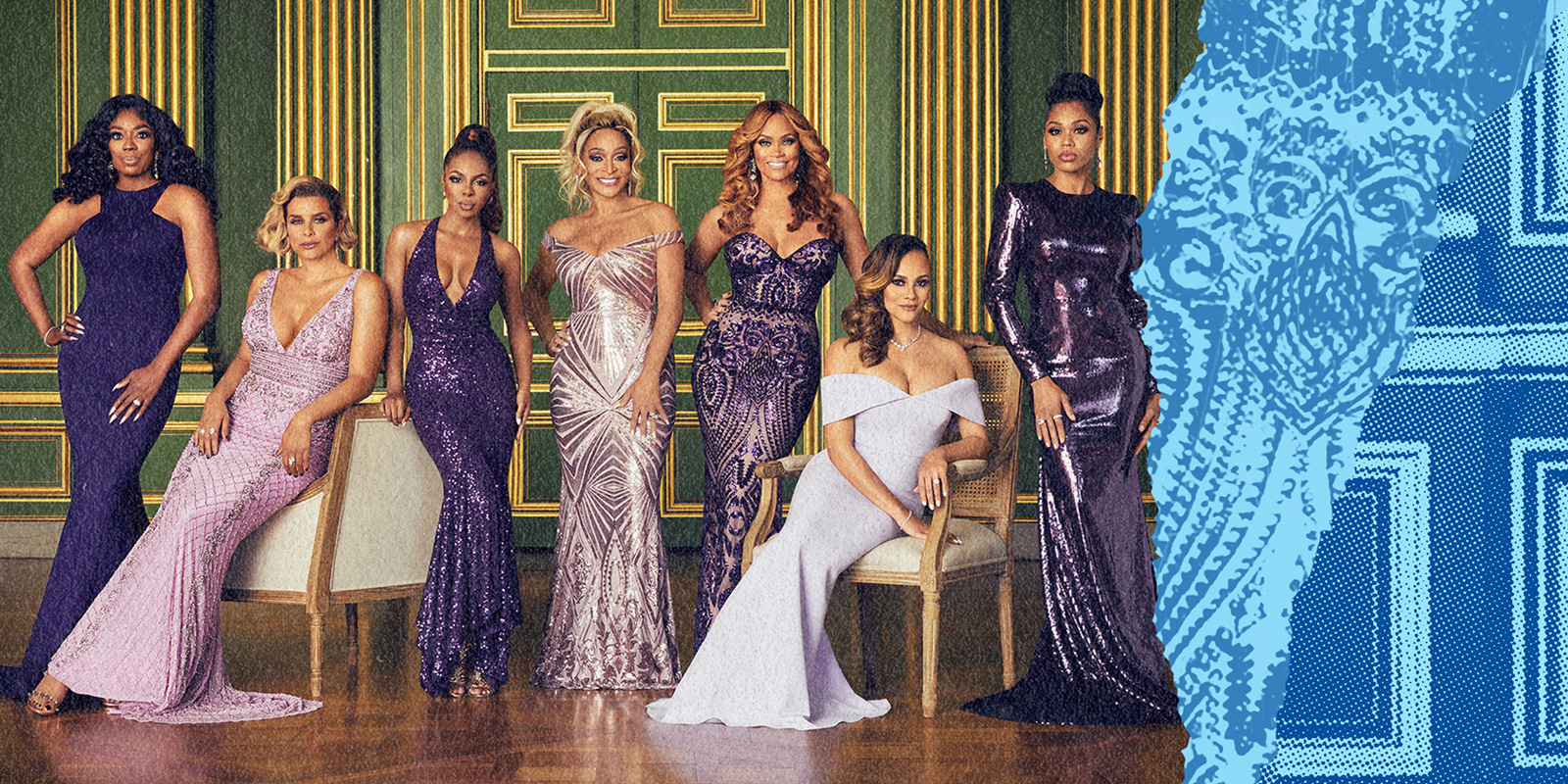 +1,446%
lift in conversation
+612%
lift in unique Tweet authors
"The Real Housewives" is more than just a media franchise. It's an institution, a revelation — or at the very least, a spectacle with so many Tweet-worthy moments that Bravo is constantly being challenged to one-up itself. The season premiere of the franchise's Potomac edition was particularly challenging, however, in a year when Housewives and Housewives fans were staying home. 
In a year as unpredictable as 2020, 63% of people surveyed on Twitter said Tweets about their favorite topics make them feel more connected while physically separated from others.1 Knowing this, Bravo wanted to find a new way to connect fans with their favorite queens from RHOP so that it could amplify tune-in and give viewers what they want. The best way to do that was by partnering with Twitter. 
Bravo knew Twitter would be the perfect platform to connect fans with the RHOP cast. So it came up with a plan. Rather than sitting at home watching by themselves, Bravo would use Twitter to surprise and transport fans straight to the Potomac River by streaming the second episode of RHOP in its entirety on Twitter, one week before it aired on TV. 
As fans enjoyed the early release, Bravo would host a #RHOPWatchParty on Twitter to provide exclusive live commentary from the cast. Here's how the network did it.
To create buzz and build awareness early, Bravo encouraged fans to set reminders for a special early viewing of episode 2 during the #RHOPWatchParty.
Lean into show talent to increase opt-ins.
Bravo enlisted the cast to Tweet about the #RHOPWatchParty reminder, amplifying reach to its loyal fanbase.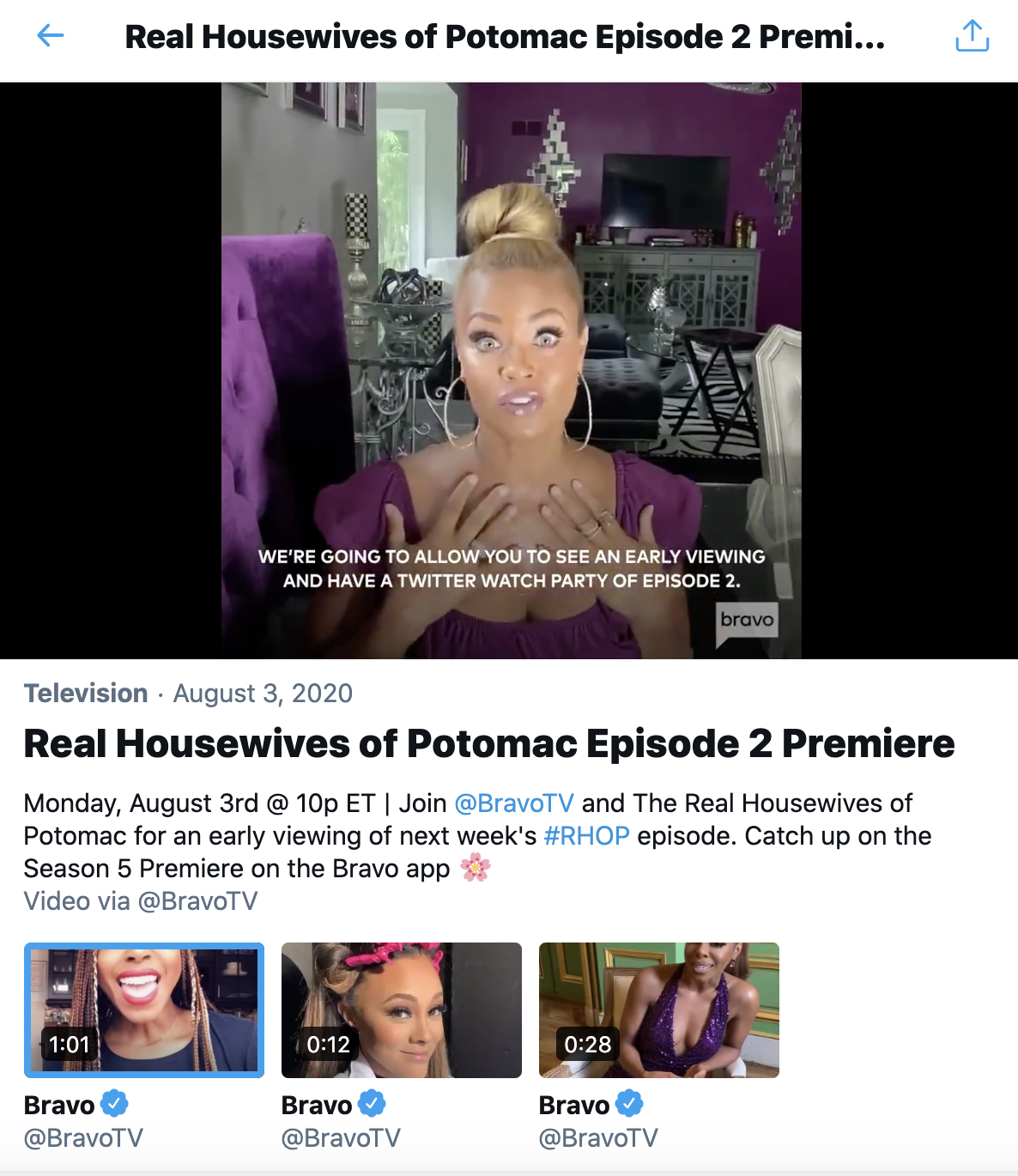 Stream the episode and host a watch party on a Live Event Page.
Knowing its passionate fanbase, Bravo broadcast RHOP season 5 episode 2 on Twitter and hosted a watch party featuring live commentary from the cast in a curated conversation tab.
Share replays to increase viewership of the episode.
For anyone who missed the early viewing of episode 2, Bravo used the replay card (a feature of the Live Event Page) to remind fans to catch up.
Sustain engagement with fans after the watch party.
Bravo continued to drive conversation around RHOP season 5, using a poll to engage fans and test their fandom with trivia questions.
Maintain top-of-mind awareness to drive weekly tune-in.
After the watch party, Bravo continued to run sustaining media around season 5 using videos to remind fans to tune in to the show every Sunday.
The Twitter watch party was the night to remember. The average watch time during the #RHOPWatchParty was 11.5 minutes — the highest ever for a Twitter watch party.2
People weren't just watching. Twitter saw a +1,446% lift in conversations around "Real Housewives of Potomac" and related keywords.3 That surge was largely fueled by the +612% lift in unique Tweet authors around "Real Housewives of Potomac" and related keywords.2

Whether you're launching a new season or a new product, Twitter is where the party's at.

Sources:
1. Twitter Insiders, US Only, April 9-13, 2020, n=727
2. Twitter Internal, 2020
3. Brandwatch on behalf of Twitter, June 26-August 7, 2020