Case Study
The latest installment of FINAL FANTASY XV dominates E3 gaming conversation
200%
lift in daily conversation
53.8%
increase in purchase intent*
Square Enix drummed up a frenzy of excitement around its much-anticipated release in the FINAL FANTASY role-playing video game franchise. The biggest gaming conference of the year, E3, was the perfect time to increase purchase intent prior to game launch. @FFXVEN seized the opportunity to own the conversation, rapidly driving mass awareness of FINAL FANTASY XV among loyal and new audiences.

The company engaged its universe of @FFXVEN fans across Twitter by asking them to Tweet their #XVreasons for playing FINAL FANTASY XV.

To reach an even larger audience, Square Enix ran a Promoted Trend. The company successfully increased engagement by adding Promoted Tweets that delivered premium content like a cinematic video trailer and GIFs that showcased gameplay and features.

1. Drive awareness with Promoted Trends.
@FFXVEN ignited the #XVreasons campaign with Promoted Trends that lifted the brand's hashtag to the top of the Trend list. Naturally, this sparked conversation among new and loyal fans alike. And in this case, the Promoted Trend generated more than 56M impressions for #XVreasons.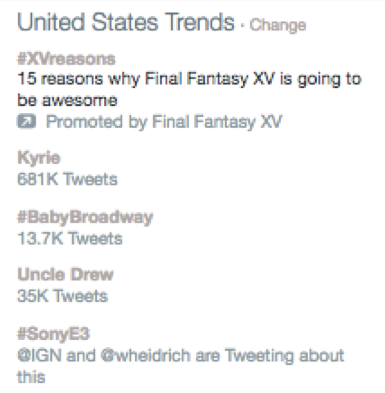 2. Deliver engagement with Promoted Tweets.
@FFXVEN supported the #XVreasons Trend with Promoted Tweets that delivered engaging content that included a video trailer and GIFs to showcase heart-pounding gameplay and features. This doubled the daily conversation of @FFXVEN and sparked a 5x increase in new followers.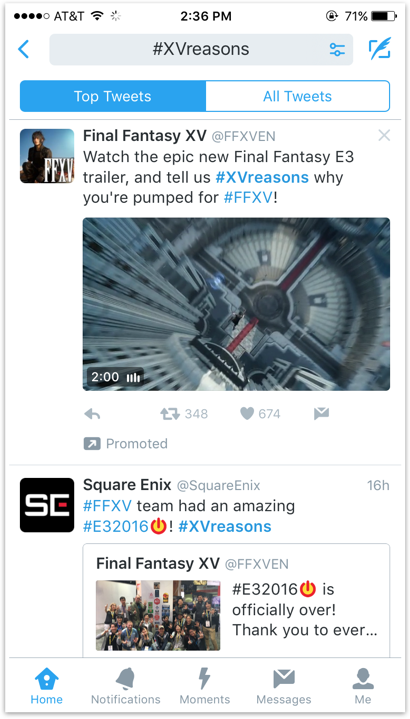 @FFXVEN experienced, not only a massive increase in engagement and discussion, but ultimately in purchase intent. Before this prerelease blitz, the seven-day average TrueVoice share of conversation on Twitter was 14%. That tripled to 42% on the day of the Promoted Trend, representing a 200% increase in share of conversation. Public opinion and quality score for the brand increased 47.5%, while loyalty rose 57.7%. It all contributed to a 53.8% increased purchase intent.*
*Among competitor average vs. seven-day average before the campaign. Source: Brand Insights.
Reach your most valuable audience at scale when it matters most.
Brands are connecting with people on Twitter in unique and creative ways. And so can you.