Case Study
How Samsung used Twitter to launch and sustain awareness for its new Galaxy Note9
15%
increase in conversation
7%
lift in positive sentiment
With 85% of conversation happening within 48 hours of launch, how do brands sustain awareness for their products well after launch? This is the question Samsung (@SamsungMobileUS) had to answer after the live-streamed launch of its new phone, the Galaxy Note9, on Twitter and leading up to its release in stores three weeks later.
Learn how Samsung leaned into Twitter's receptive audience to successfully build awareness and sustain interest for its new phone three weeks after launch. 
On August 9, 2018, Samsung unveiled its newest device, the Galaxy Note9, live on Twitter. Sales for the Note9 would begin three weeks later. Samsung knew that diversifying its ad formats could boosts brand awareness — in fact, using up to three unique formats for launch campaigns can drive up to 8% higher increase in brand awareness versus using just one format.1 Use a Promoted Trend Spotlight
To create anticipation for its live-stream announcement of the Note9, Samsung took over the most valuable placement within the Explore tab with its Unpacked ad.
This high-impact, visual Spotlight placement enabled Samsung to build awareness and drive conversation around its upcoming launch. Reveal using Live Brand Studio
Samsung live-streamed the launch of the Note9 using Twitter Live Brand Studio to drive conversation on Twitter amongst its audience, who would receive a notification on launch day when the stream began. 
With one simple click, people were taken directly to the live stream, where they were given front row seats to conversations happening around the event. The live announcement was a huge success, drawing in 53% more viewers than Samsung's launch of the previous model on Twitter the year before. Stay top of mind with a Brand Reminder campaign
To sustain awareness and keep the Note9 top of mind for its audience leading up to its release in stores, Samsung created a "Brand Reminder" campaign leveraging Twitter's Promoted Tweet. By liking the Promoted Tweet, people opted in to receive Tweets featuring offers and incentives, "how-to" video content, and reminders about its release date, all over the next three weeks leading up to the Galaxy Note9 going on sale.
After liking the first Tweet, people immediately received a personalized Tweet notification back from Samsung providing additional details about the phone, along with videos about the device. Drive pre-orders with reminders
One week later, subscribers received Tweet notifications including special offers encouraging them to pre-order the device.
Samsung highlighted the Note9's top features that excited people during the live stream. Send a day-of-release push notification
When the phone hit stores on August 24, Samsung sent subscribers a Tweet announcing its launch and provided a link to order on Samsung's website.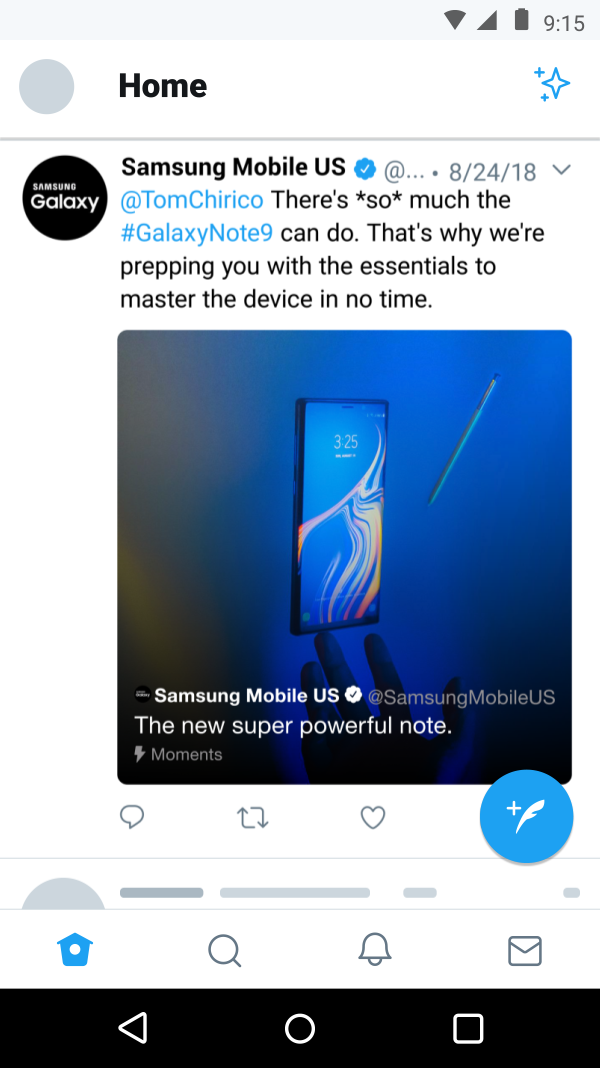 Follow up with continued product education
Samsung followed up one week later with essential tips on how to use the new phone.
Samsung's launch drove 15% increase in conversation and 7% lift in positive sentiment compared to its previous launch.2 Positive lift was driven across all tested metrics among those exposed to website click/conversion objective media.
From the Galaxy Note9's launch on Twitter to its release in stores, Samsung connected with Twitter's engaged audience to create a personal relationship at every point of the purchase funnel and sustain awareness for the Note9 weeks after its announcement.
Footnotes:
1. Nielsen Brand Effect (US/UK/JP/CA), Q3 2015 - Q3 2018 Launch campaigns, n=340 studies, 1,319,018 respondents. Studies paid for/analyzed by Twitter.
2. Twitter-commissioned study: Crimson Hexagon, Twitter Galaxy Note9 Launch Day Recap, August 2019, USA