Case Study
Frank's RedHot Fires Up Fans with #TweetSomeHeat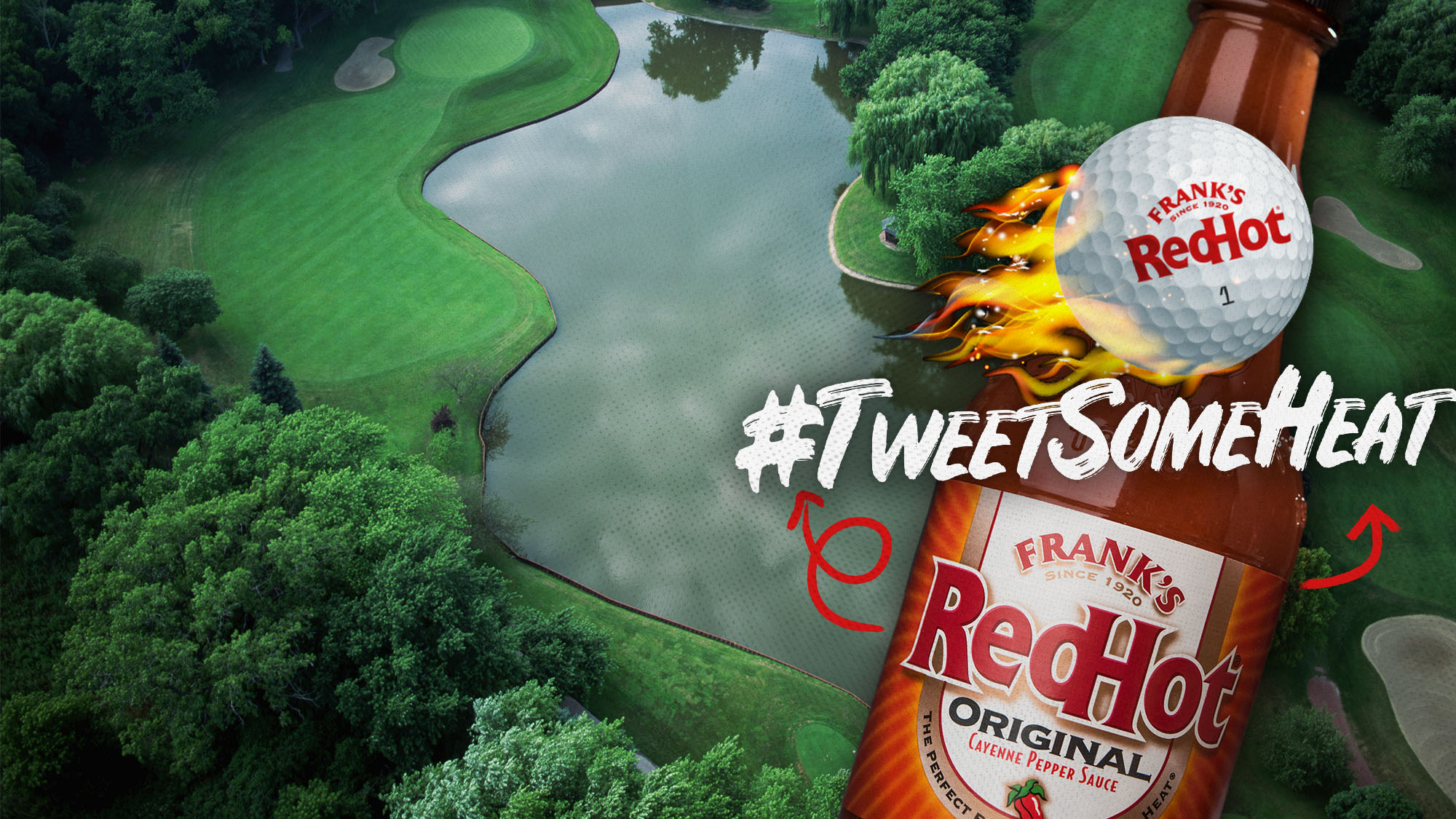 2.1X
increase in positive sentiment
55X
increase in new daily follower rate
Eli Manning (@EliManning) made a stunning debut on Twitter after linking up with Frank's RedHot (@FranksRedHot) for a televised golf tournament known as "The Match." For fans, it was a welcome break from the lull in sports broadcasting in recent months. For Frank's RedHot, it was an opportunity to connect with a moment that matters to its audience. And brands that are connecting to what's happening on Twitter are 41% more likely to be seen as culturally relevant by their audience.1 Here's how the spicy friendship came together.
Frank's RedHot saw an opportunity to engage with fans in a meaningful way by partnering with Eli Manning. With its creative agency partner Grey Group, the company was able to effectively tap into the cultural event by sharing hot takes throughout the match using the brand's signature hashtag, #TweetSomeHeat. The dialogue not only provided a warm welcome for Eli to Twitter, but encouraged others to participate in the conversation by using #TweetSomeHeat during the event. This kept Manning and Frank's RedHot at the center of the conversation as the two built brand association through playful Tweets.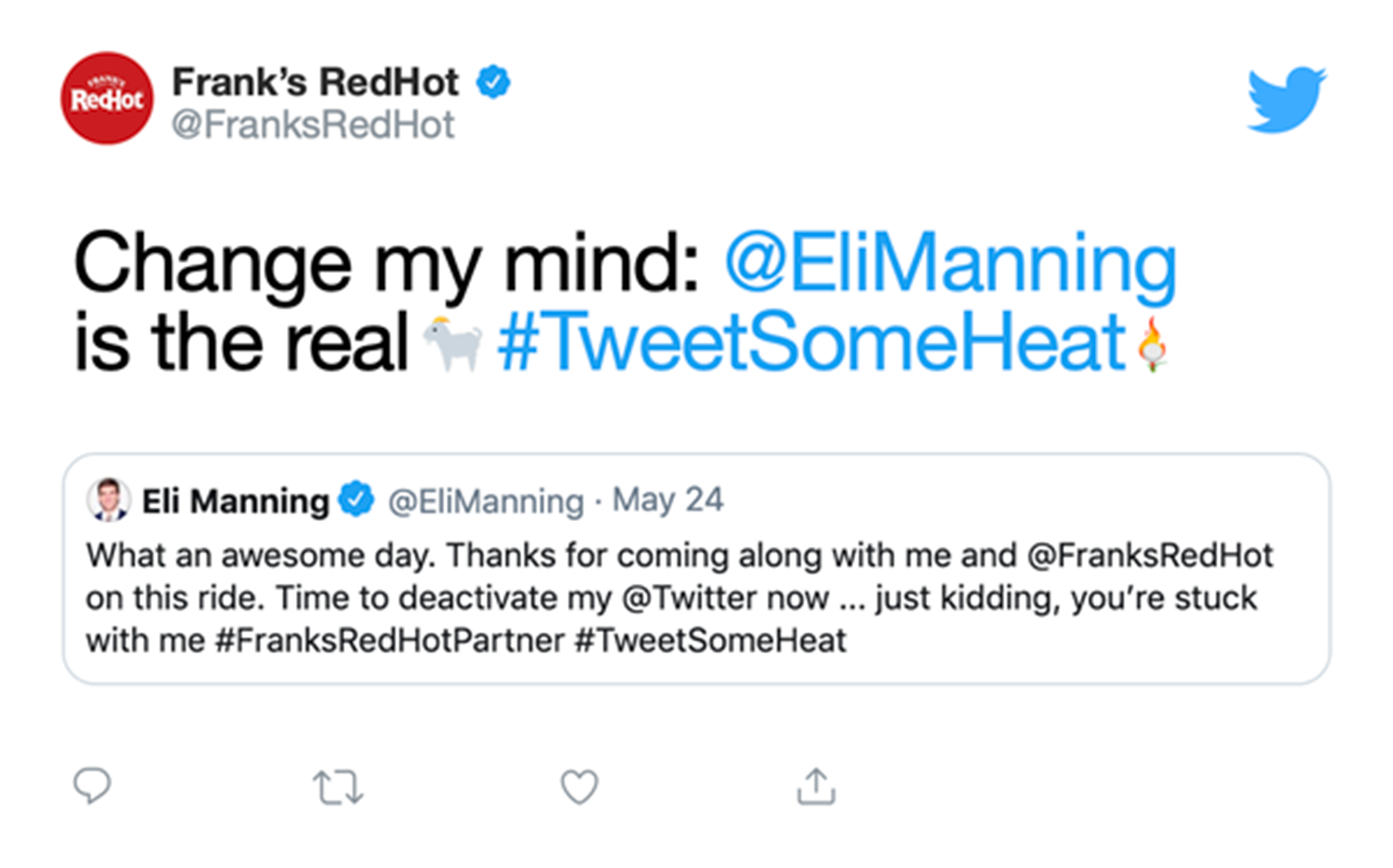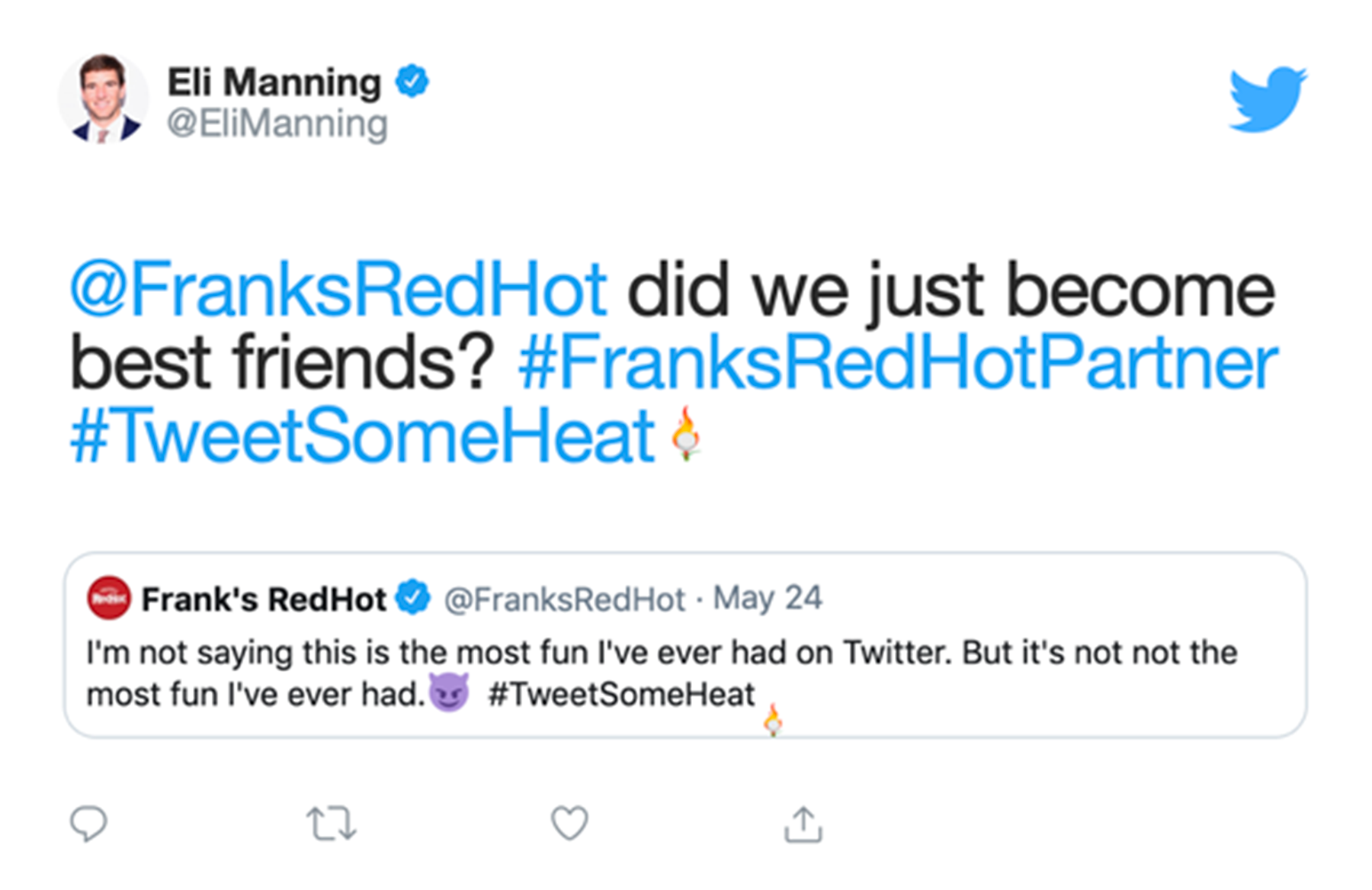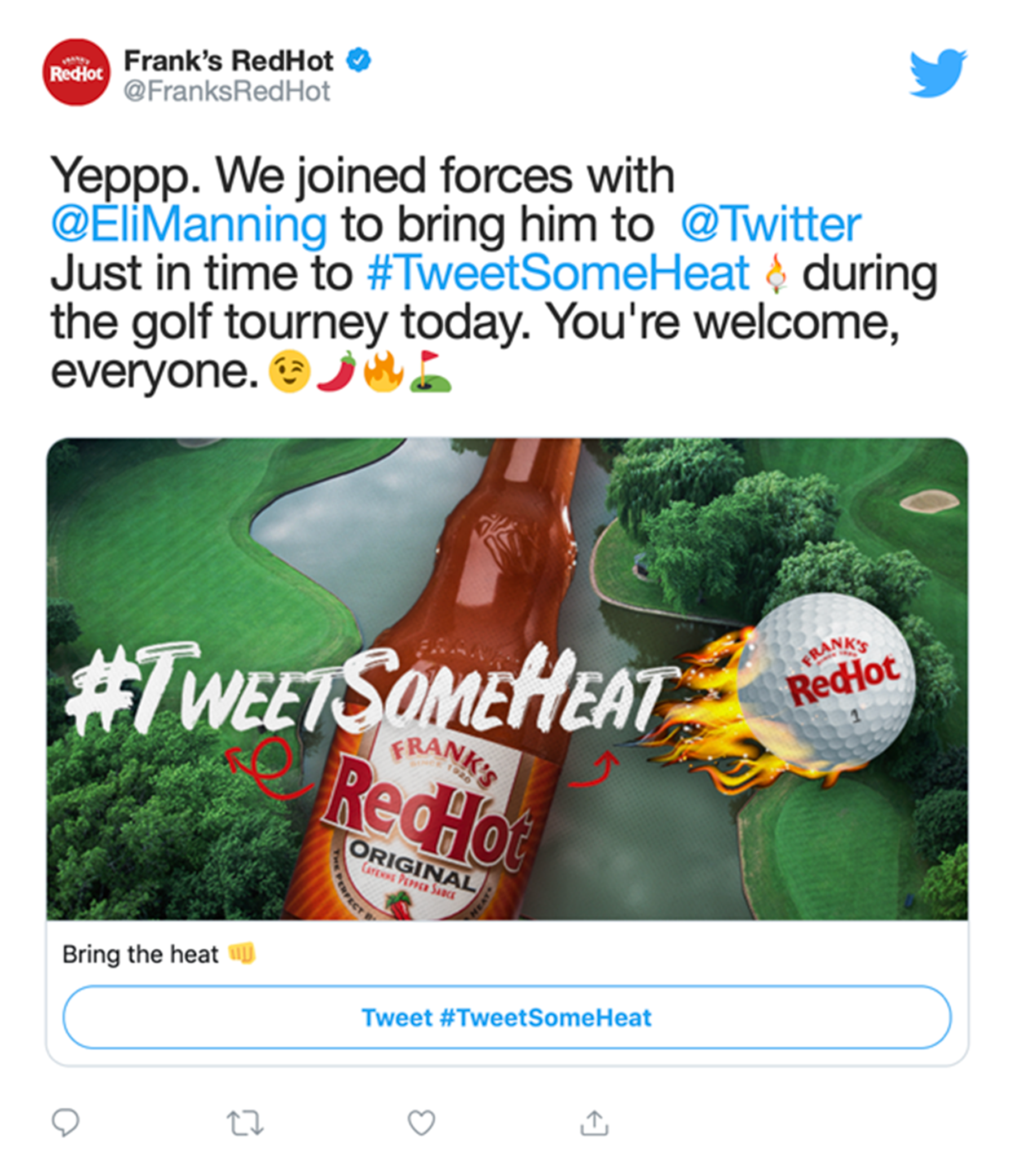 Partner with top-tier talent to drive engagement.
By partnering with the former Giants quarterback, Frank's RedHot was able to extend the reach of its partnership with Manning by using their back-and-forth as a springboard to connect the larger conversation happening on Twitter.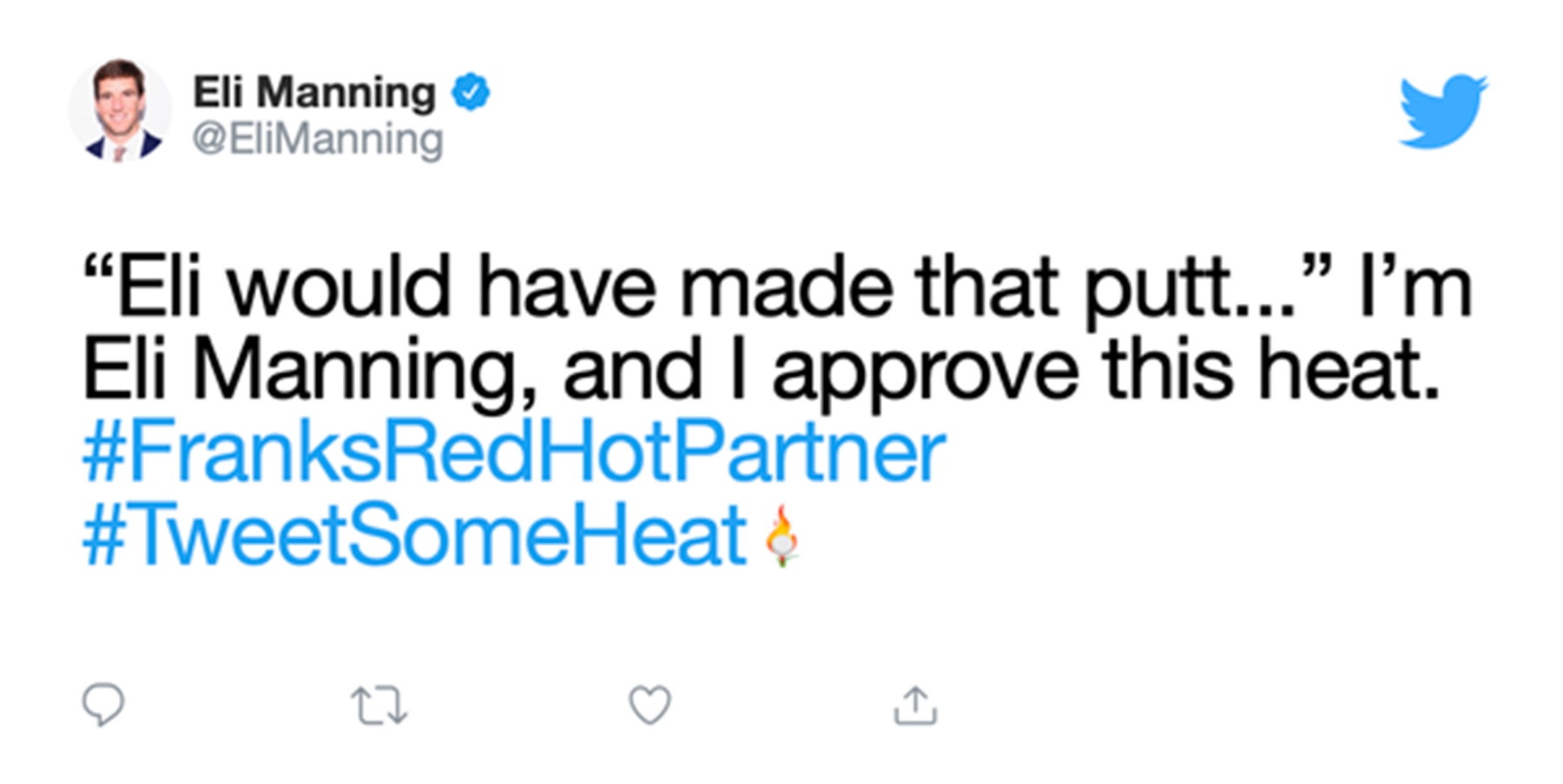 Take part during the peak of the conversation.
Frank's RedHot was able to build cultural relevance in real time through its conversation with Manning, who reported his brother's game live from the links.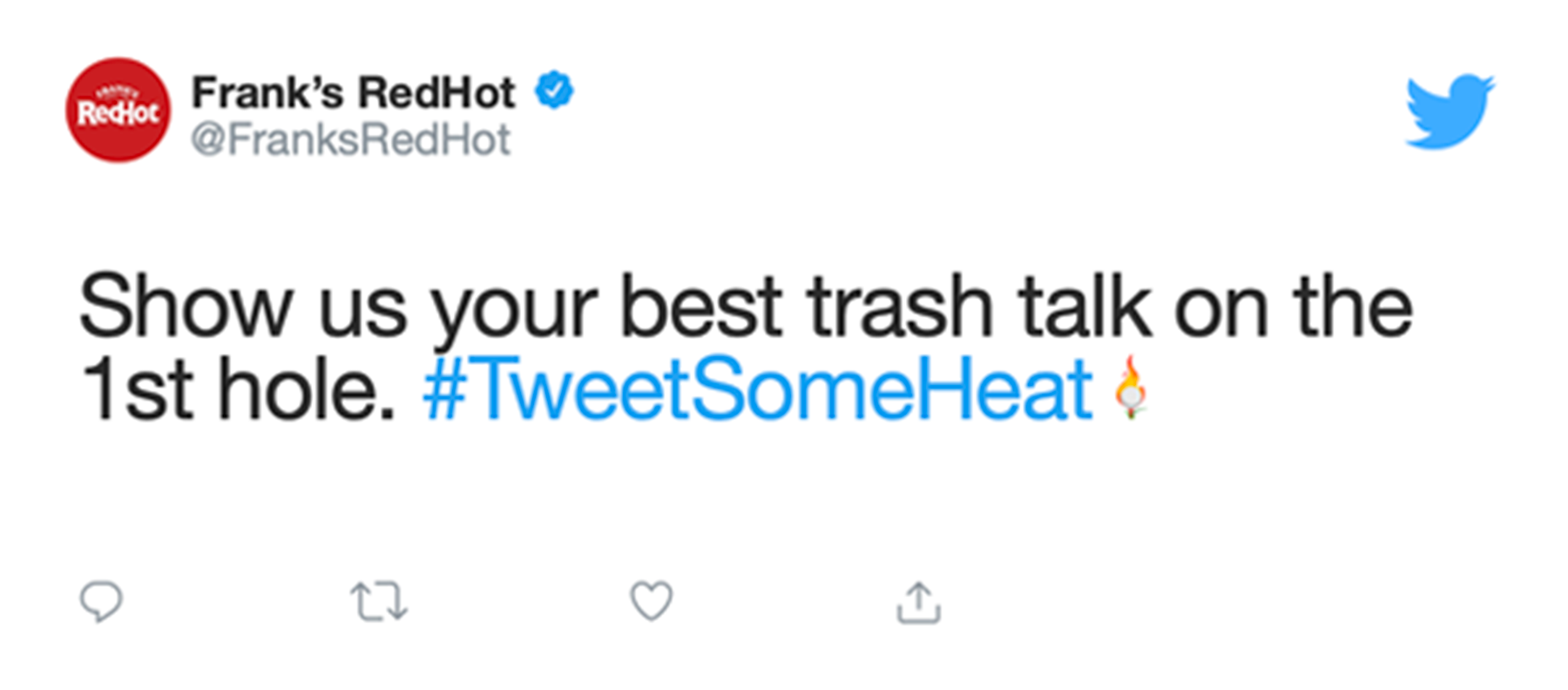 Include clear and persistent branding
Throughout "The Match," both Frank's RedHot and Manning used the brand's signature hashtag, #TweetSomeHeat — and encouraged others to use it, as well — to push Frank's RedHot to the forefront of the conversation.
The partnership between Frank's RedHot and Manning was a scorching success. Frank's RedHot saw a 2.1X increase in positive sentiment during the match compared to the previous month leading up to the event.2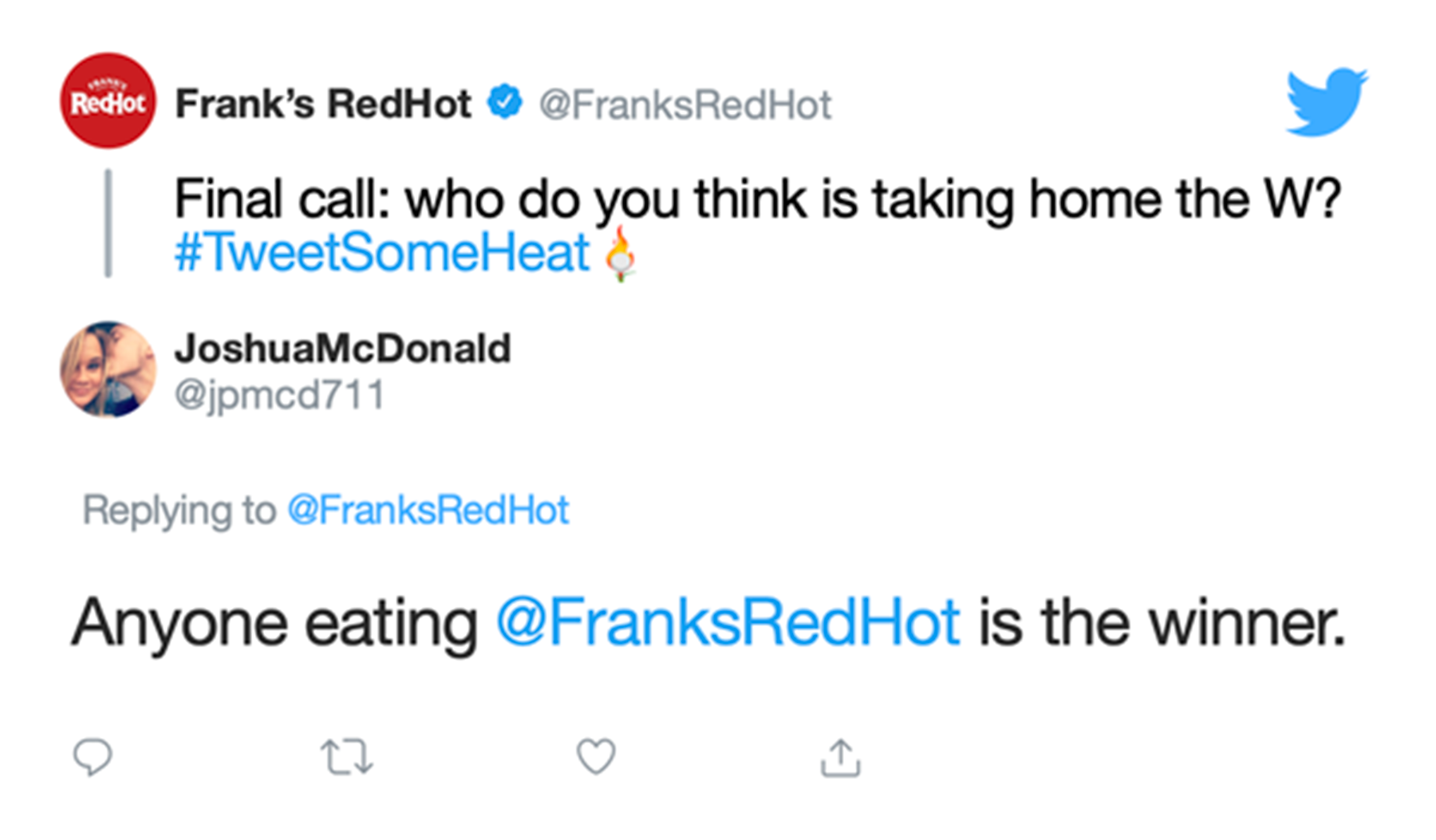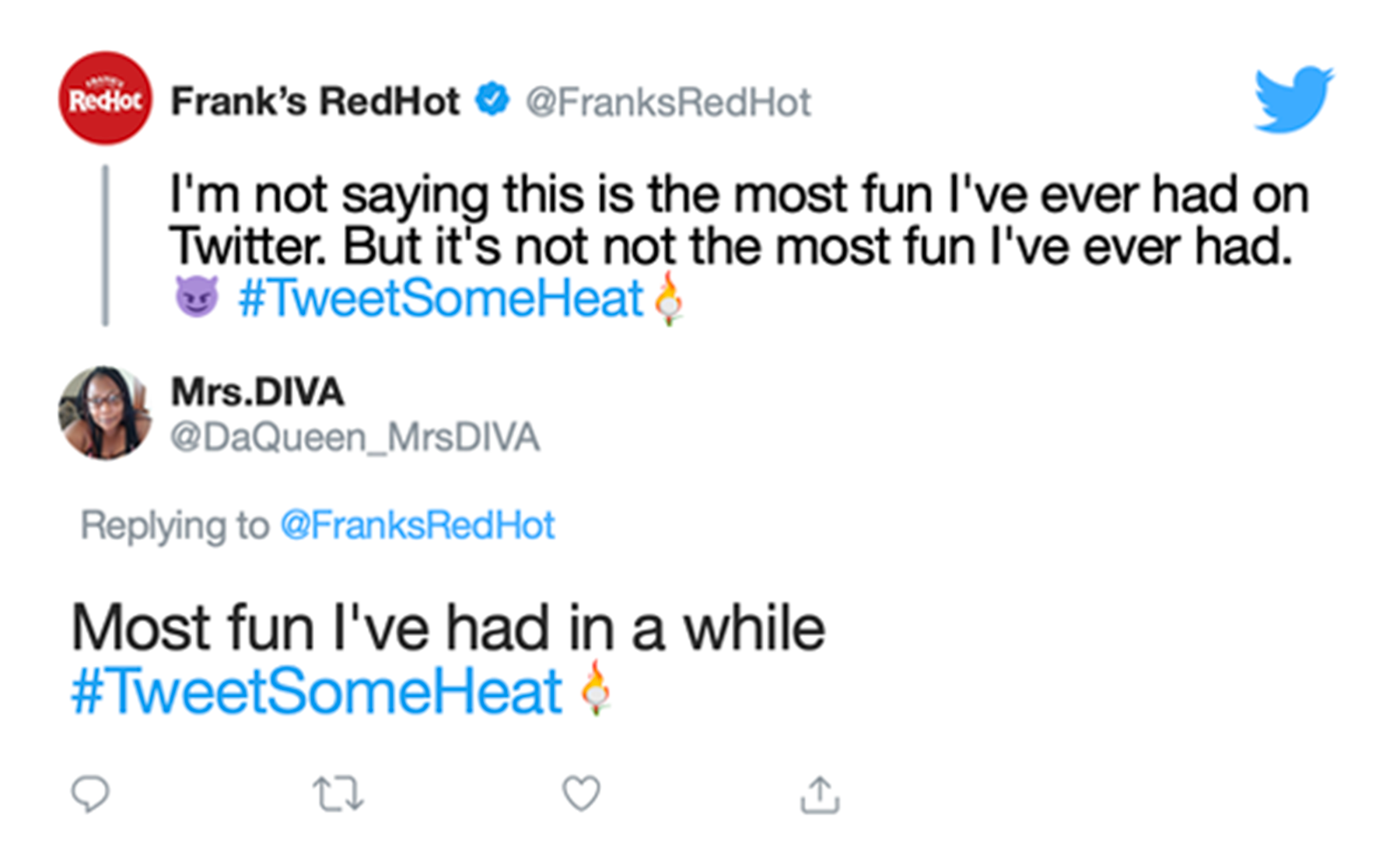 On top of that, new followers flocked to the brand's account after seeing how engaging and fun it was on Twitter. Frank's RedHot saw a 55X increase in daily follower rate compared to the monthly average before the campaign.3 It just goes to show — when it comes to driving cultural relevance, Twitter is the place to get your fans fired up.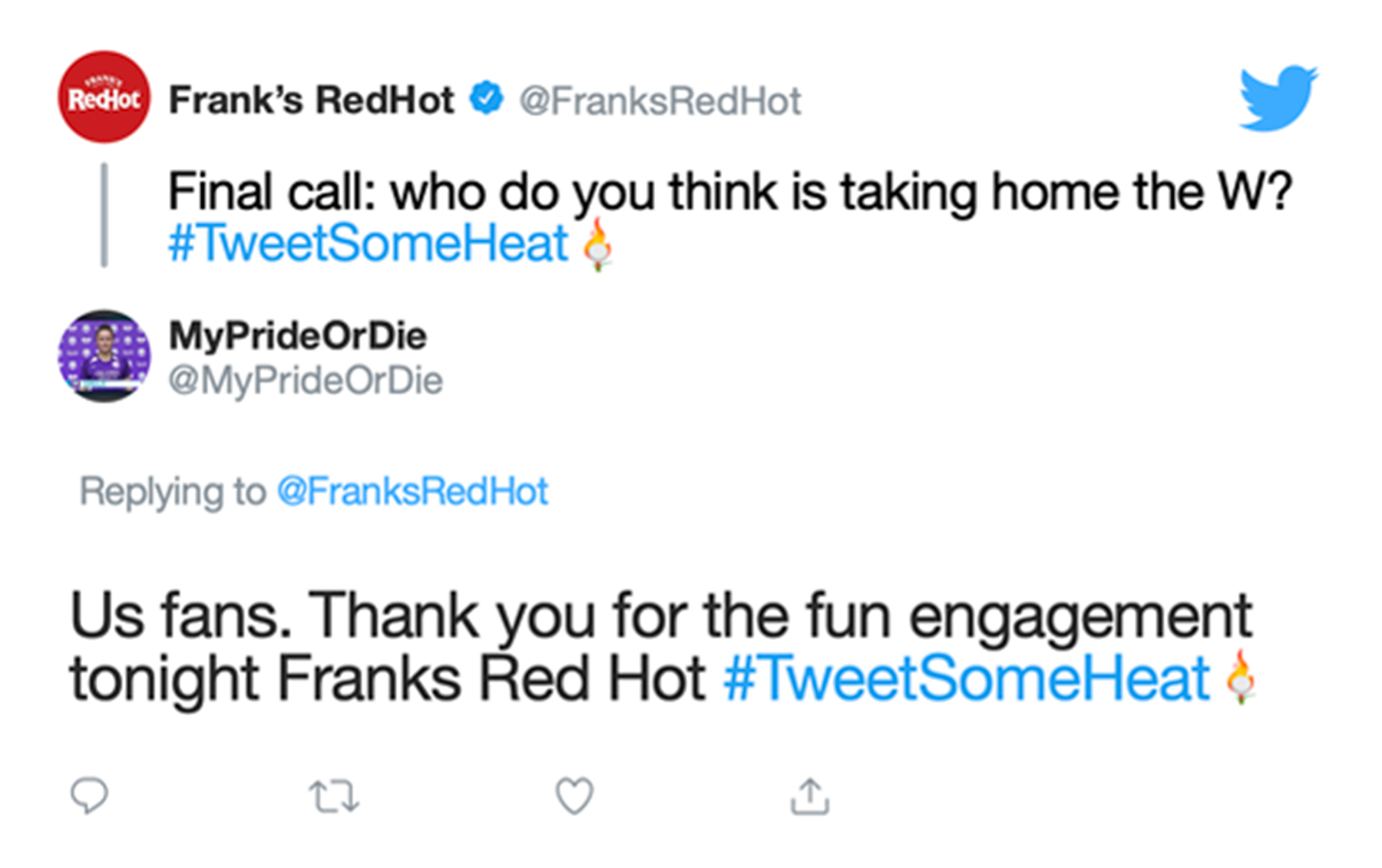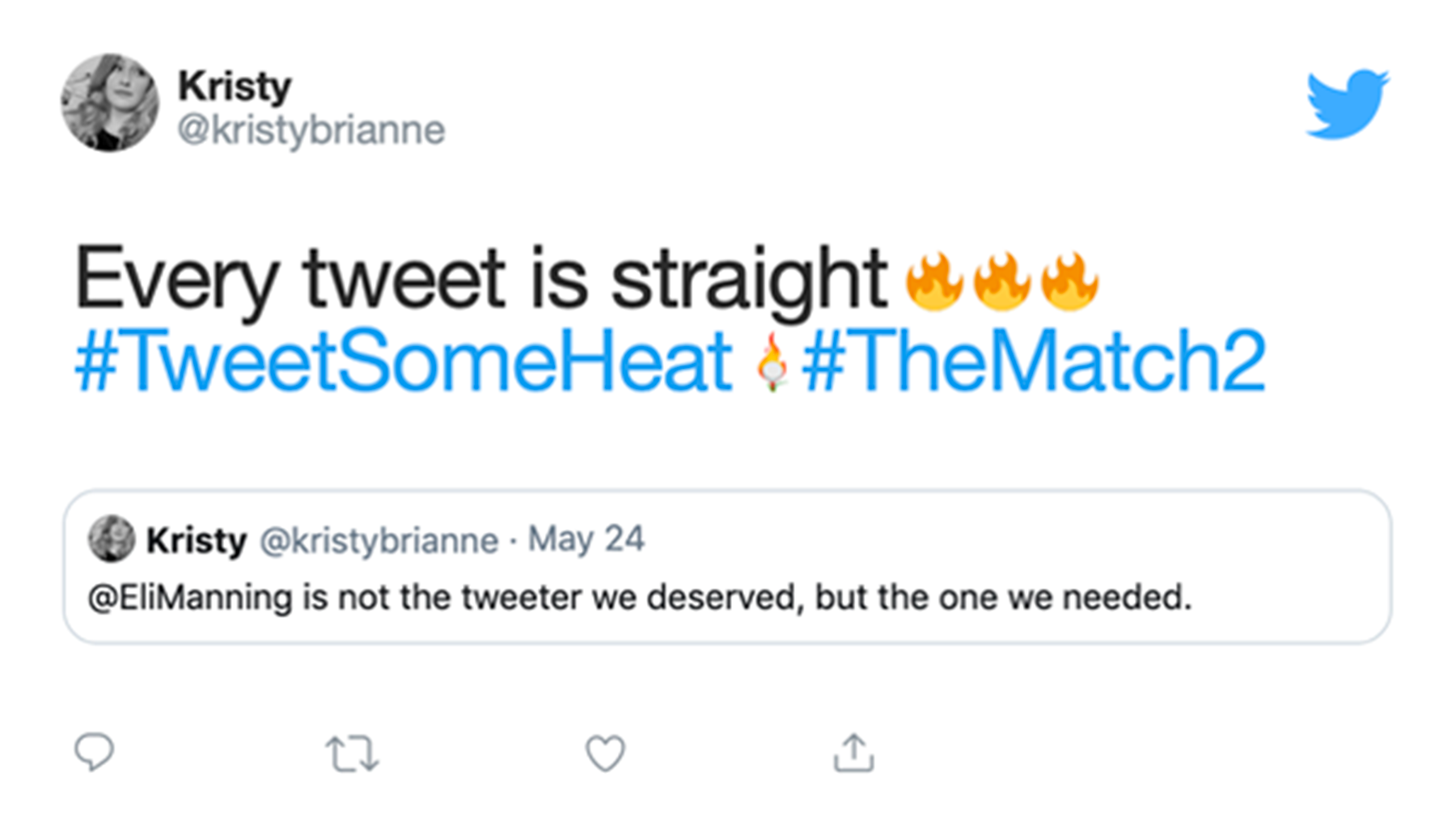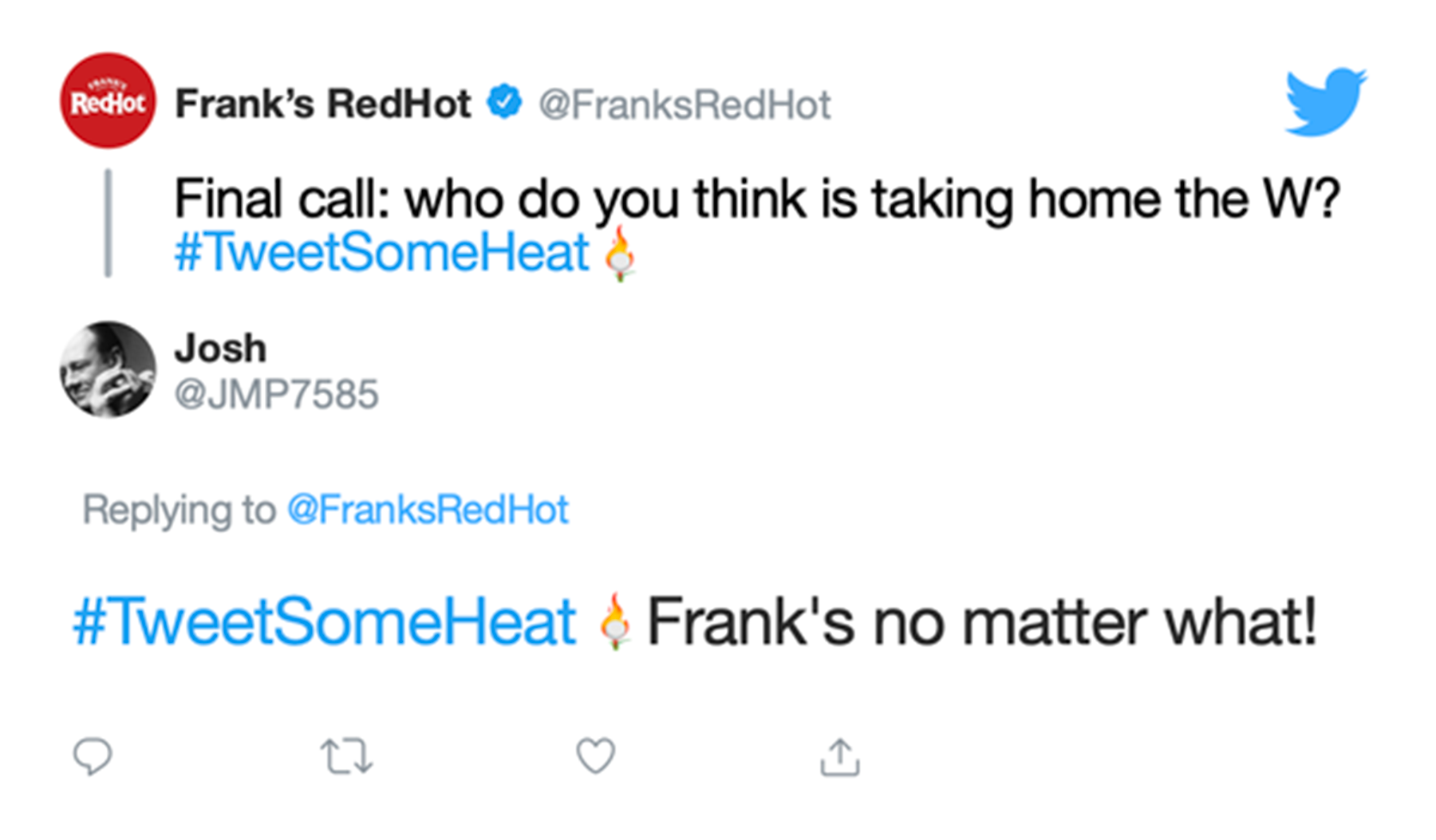 Sports give us something to do. We cheer. We yell. We eat! Given the cancellations of key tentpole moments, like March Madness, we had to think differently about when and how we engage our consumers. The Match was the first return of major competition. To be part of the conversation and fuel that competitive spirit, we paired America's #1 hot sauce with another game changer, Eli Manning, a Frank's fan and two-time Super Bowl MVP.
Sources:
1. Kantar & Twitter cultural relevance research, total population,100 US brands tested, Dec 2019
2. Crimson Hexagon 5/24/20 vs. average positive sentiment 5/1-5/23/20
3. Twitter Internal, 5/24/20 vs. average follower rate 5/1-5/23/20, Global