Case Study
How CVS Health and WebMD got health-conscious people's attention on Twitter

It's no secret that health and wellness have taken on a new level of importance in people's lives. At the start of 2020, there was a 54% increase in conversation on Twitter around these topics, and brands like CVS Health that were looking for unique and authentic ways to reach their customers took note.2
CVS wanted to communicate that it was the trusted partner for taking the guesswork out of affording prescriptions. It also wanted to send the message that it could help customers maintain their overall health. 

Leaning on Twitter's portfolio of premium video content around health and wellness from top tier publishing partners, CVS decided it was the perfect place to launch its strategy.

What happens when you pair a leading source for trustworthy, timely health and medical news, with a household brand that is focused on helping people on a path to better health? You get a customized Twitter Amplify sponsorship between WebMD and CVS Health, surrounding the health and wellness conversation on Twitter. 
CVS decided to extend their O&O campaign and further align their brand with @WebMD on Twitter. WebMD is a true content source for people on Twitter, as they regularly share health-related videos. Using Twitter's premium video sponsorship offering — Twitter Amplify — CVS's brand pre-roll played ahead of videos that were relevant to topics CVS consumers care about, and complement their campaign objectives. This partnership also helped to increase and establish trust among consumers with CVS, because they are aligning with a trusted publisher, WebMD. 

Here's how it played out.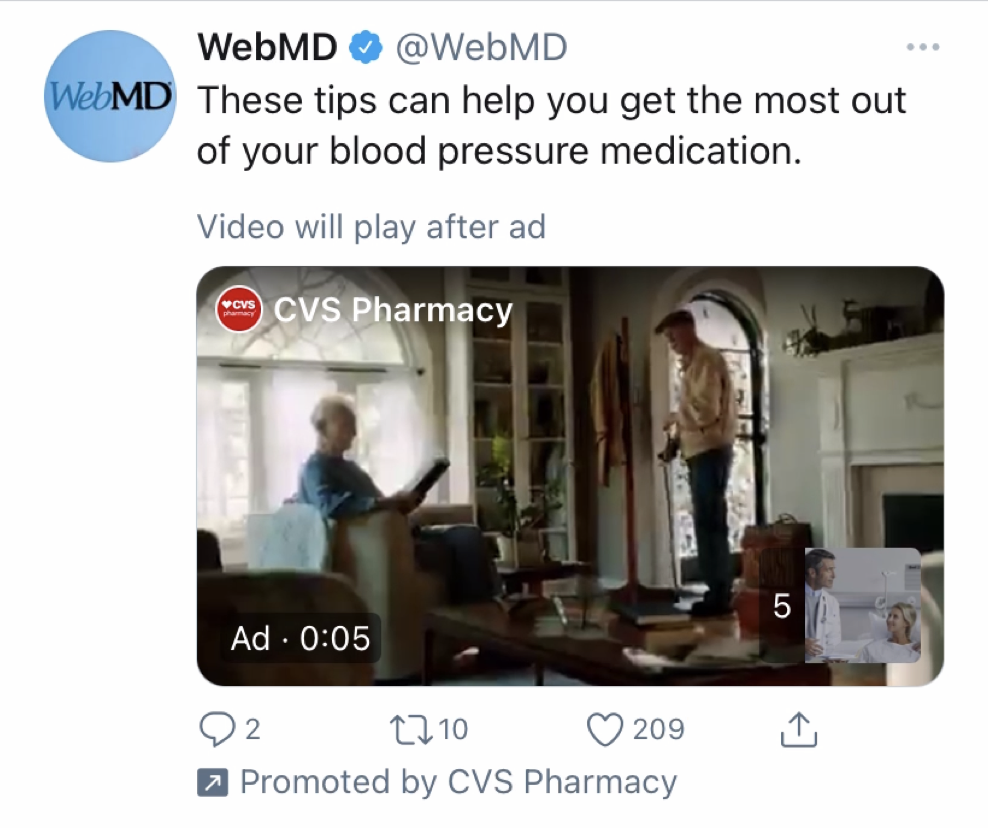 Extend your digital sponsorships to Twitter
CVS and WebMD had an existing partnership across WebMD O&O channels, and in an effort to innovate and increase their reach, impact, and awareness, they extended their video campaign to Twitter with Twitter Amplify.
Pair seasonal brand priorities with time-specific content
WebMD created a year-long content strategy that hits on different themes depending on the time of year, ranging from spring allergies to mental health awareness and the flu. This posed an opportunity for brands like CVS to align their own seasonal brand priorities with the content that people seek out during those seasons. And doing it with a trusted publishing partner like WebMD ensured brand safety for CVS.
Increase brand trust with trusted sources
CVS targeted previous health and wellness content viewers with Website Cards to inspire a click to CVS.com.
Help grow the conversation
To help extend the stories of the content it sponsored, CVS used website Cards and Sponsored Moments, which helped CVS tell a larger, and longer form story with a more detailed message around their specific objectives.  By diversifying its product mix, CVS reached consumers at different phases while on the platform and successfully stayed present as it communicated around the topics of health and wellness.
CVS's alignment to WebMD's premium video content brought it the trust and reach it needed to stay present in the minds of its health-and-wellness-focused consumers. In fact, people on Twitter watched at a 1.5x higher view rate than our prognosis (or pre-roll benchmark), culminating in 30 million pre-roll views in just three months. 
Overall, CVS's sponsorship of WebMD content was 1.5x more efficient than even the cost-per-view benchmark, a great way to close out a successful Amplify Sponsorship series.

Sources:
1.  Twitter Internal, January - March 2021
2. Twitter Internal data, timeframe 1/24/2020-4/1/2020 US only, percent change in comparison to February avg, retrieved in April. Source: Twitter Internal, US & English language only.