Perspective
Why should your brand connect with next year's awards season moments?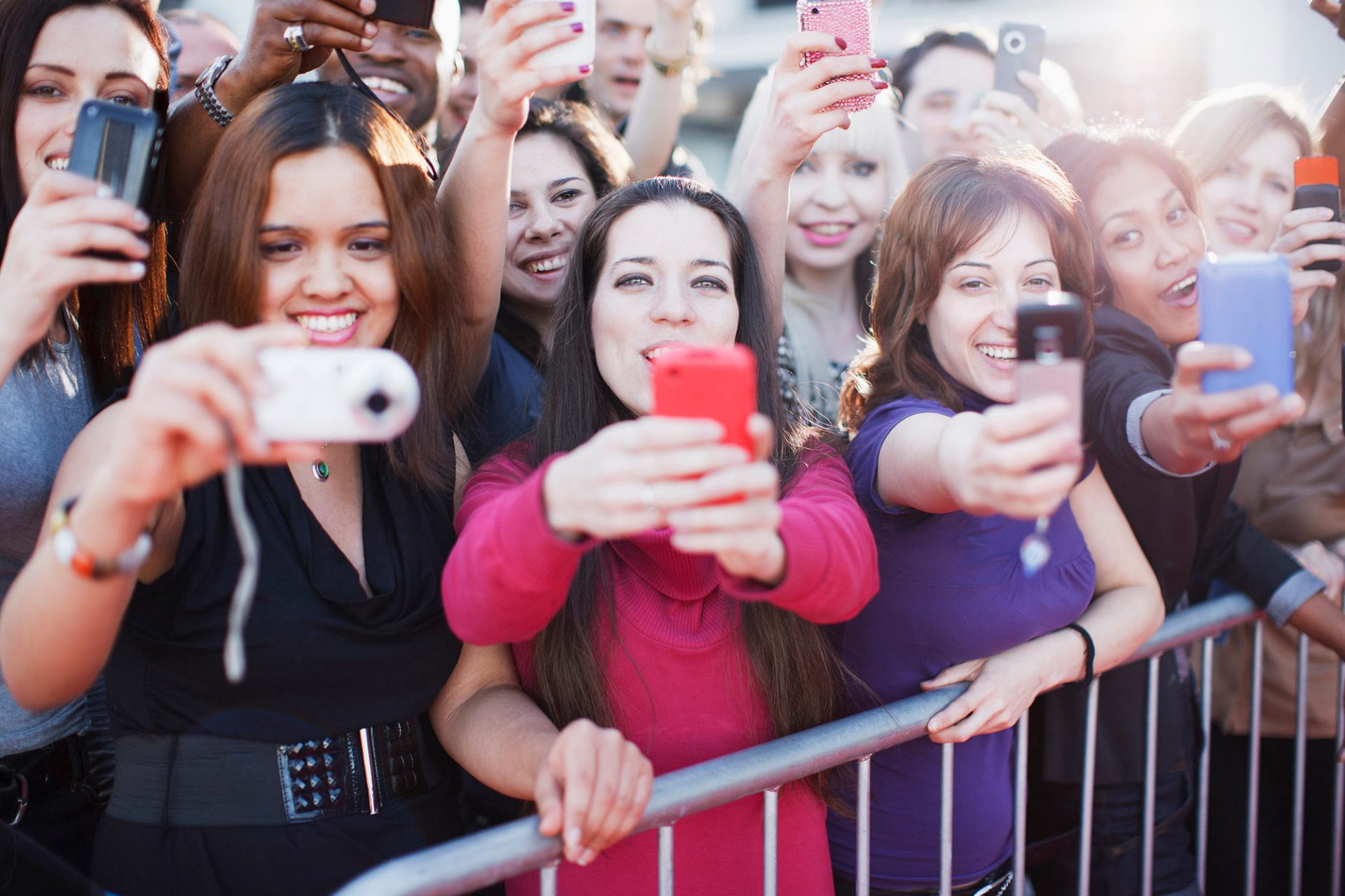 Fans of film, music, and television will gather on Twitter to watch the awards and celebrate Hollywood's biggest nights.
Awards season is coming, and excitement is building on Twitter as people come together to celebrate next year's nominees and winners in the entertainment industry. The Golden Globes will kick things off on January 5, honoring excellence in film and television. The Grammys will follow on January 26, and the season will come to a close with the film industry's Academy Awards on February 9. 
From pre-awards predictions to post-show commentary, there will be tons of show-related content to talk about, and fans on Twitter will be there every step of the way. They'll dominate the conversation the moment the nominees are announced and create opportunities for brands to connect their messaging with these cultural moments.
Why is this important? Connecting with awards show season can help your brand establish its cultural relevance, a factor that makes up 23% of consumer purchase decisions.1 Here's what we know about this media-obsessed audience.
This is an entertainment-loving crowd
The way people consume content is changing — we've noticed that 81% of red carpet awards show fans watched while also on Twitter.2
The majority of Twitter's red carpet fans are under 34 years old. They're interested in cinema (60%) and music (71%). And they're more likely to post their opinions about film (+167%) and music (+42%) than people on other leading social platforms.3 4
This receptive and influential group makes it easy for brands to connect, especially as viewers leave other leading social platforms for Twitter when watching these events.5 On awards nights, people come to Twitter to make the viewing experience more fun.
Their timelines are filled with excitement
Awards Show Twitter is lively and enthusiastic. People become fashion experts as they rate and review red carpet looks, and they're quick to turn funny celebrity reactions into memes. And in 2019 awards show conversation grew at a 54% rate year over year 6 — that's a lot of Tweets.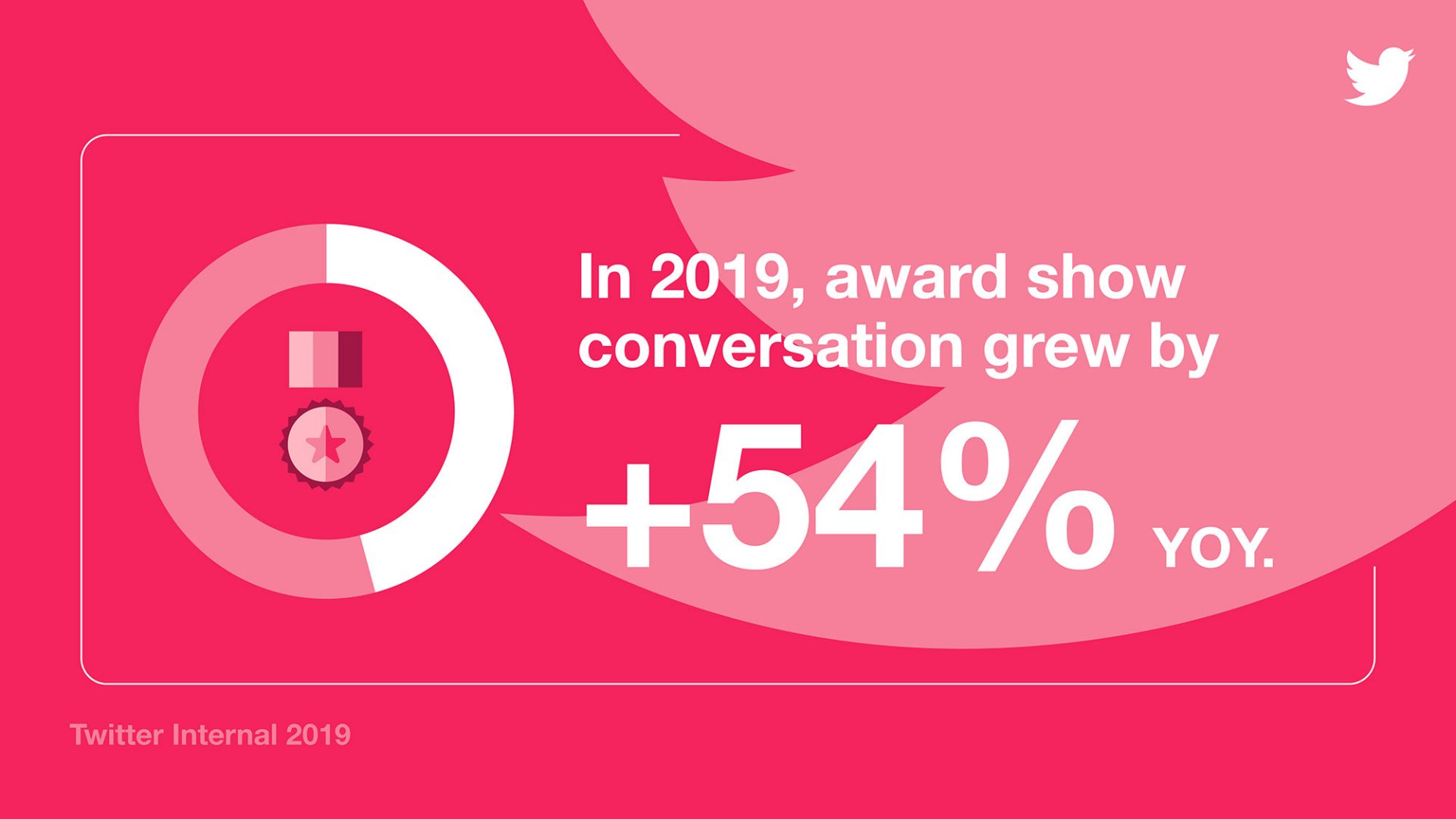 The most popular hashtags this year referenced the shows themselves, in addition to the winners in the biggest categories.7 8 9 But while conversation volume peaked on show night, it began much earlier in the day and continued into the days after. 10 11 12 
They celebrate red carpet fashion
This audience was eagerly Tweeting during all the awards shows, but especially during music's biggest night in 2019, when a whopping 65% of people on Twitter were watching the red carpet.13
Last year, for example, a 128-carat diamond necklace worn by a renowned pop icon-turned-movie star made Twitter headlines.
And the conversation was mostly positive. In 2019, talk of "best dressed" celebrities overtook "worst dressed" commentary at a 19:1 ratio, a significant change from the 3:1 ratio we saw the year before.15 
While these looks made headlines, accidentally iconic moments also took the top spot, like when a model holding a tray of water bottles photobombed the A-listers posing in front of her.
Live from Twitter, it's awards show season
In the past, television networks and media giants defined the public's understanding of these cultural moments. Today, the conversation is open, public, and instant, and the people shape what's happening. That's why it's essential for brands to connect with awards show season.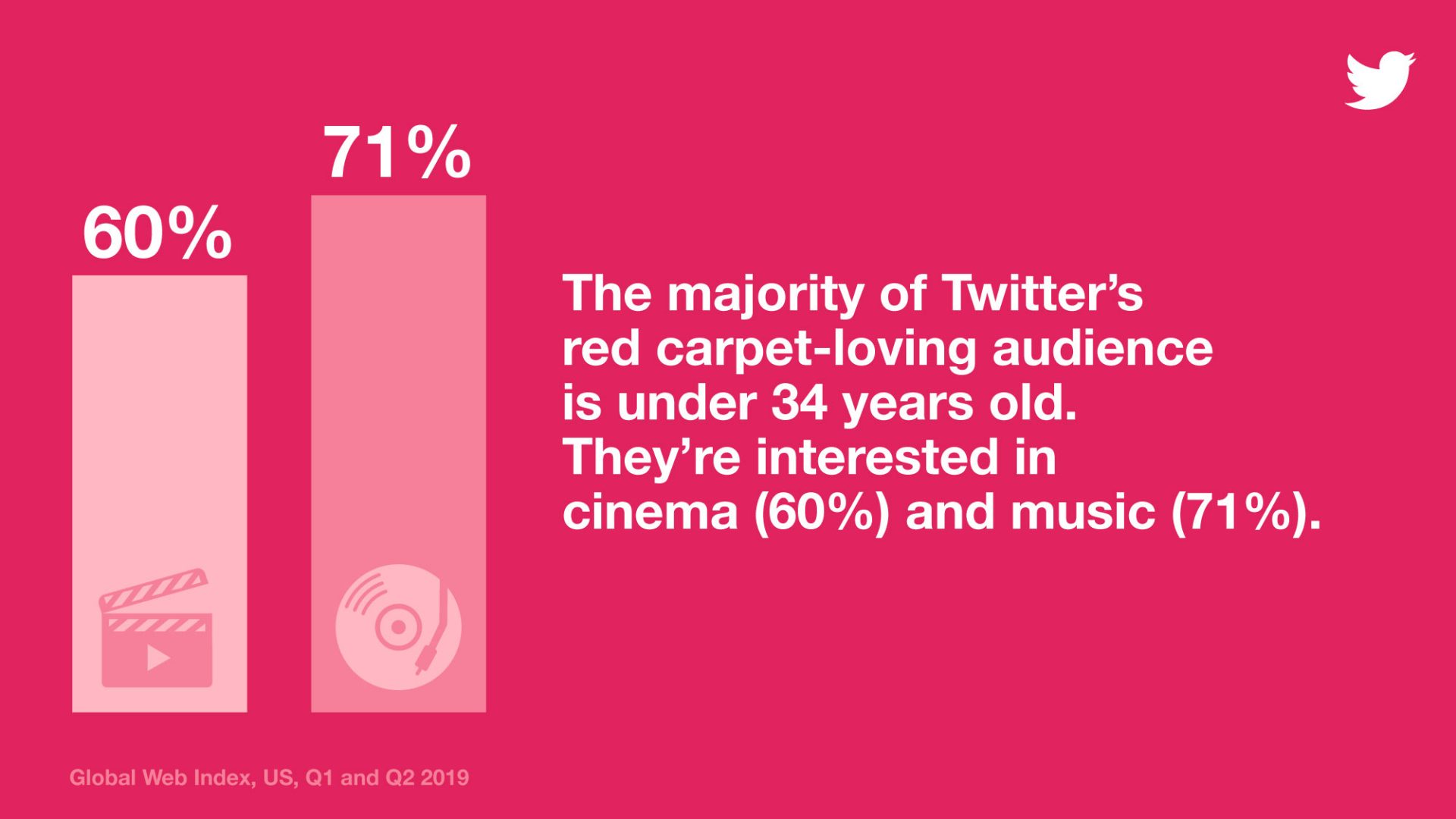 Next year, Awards Show Twitter will come alive the moment nominations are announced. Typically, conversation has ramped up about two hours before the show starts, rising 264% from 6pm to 7pm, and another 66% from 7pm to 8pm.16
Brands, don't miss out on this major opportunity to connect with what's happening. Start preparing your awards season campaign so you can join the conversation, earn your audience's attention, and build cultural relevance.
Sources:

1. MAGNA & Twitter, "The Impact of Culture" research, 2019, US/CA/BR/UK
2. Twitter Insiders, Awards Show Research, US, 2016 *Twitter users who watch red carpet awards shows
3. Global Web Index, US, Q1 and Q2 2019
4. Global Web Index, US, 2019
5. Custom Daypart Analysis, comScore Media Metrix & Mobile Metrix, US, UK, Brazil; Twitter commissioned 
6. Twitter Internal 2019
7. Twitter Internal, US, Feb 27, 2018 to 2019, Retrieved October 2019
8. Twitter Internal, US, Feb 17, 2018 to 2019, Retrieved October 2019
9. Twitter Internal, US, Jan 13, 2018 to 2019, Retrieved October 2019
10. Twitter Internal, US, Feb 17 to March 3, 2019, Retrieved October 2019. Audience: Global Twitter Users. Data retrieved Sept 2019
11. Twitter Internal, US, Feb 3-17, 2019, Retrieved October 2019. Audience: Global Twitter Users. Data retrieved Sept 2019
12. Twitter Internal, US, Jan 1-13, 2019, Retrieved October 2019. Audience: Global Twitter Users. Data retrieved Sept 2019
13. Crimson Hexagon. Data is pulled from Nov 1, 2017 to Feb 2, 2018, Twitter commissioned
14. Twitter Internal, US, Feb 3-17, 2019, Retrieved October 2019. Audience: Global Twitter Users. Data retrieved Sept 2019
15. Twitter Internal Data. Time range: January 6, 2019, 4pm to January 6, 2019, 8pm EST. Audience: Global Twitter Users. Data retrieved Sept 2019
16. Twitter Internal Data. Time range: January 1, 2016 to January 31, 2019. Audience: Global Twitter Users. Data retrieved Sept 2019