Research
Why should your brand connect with big events on Twitter?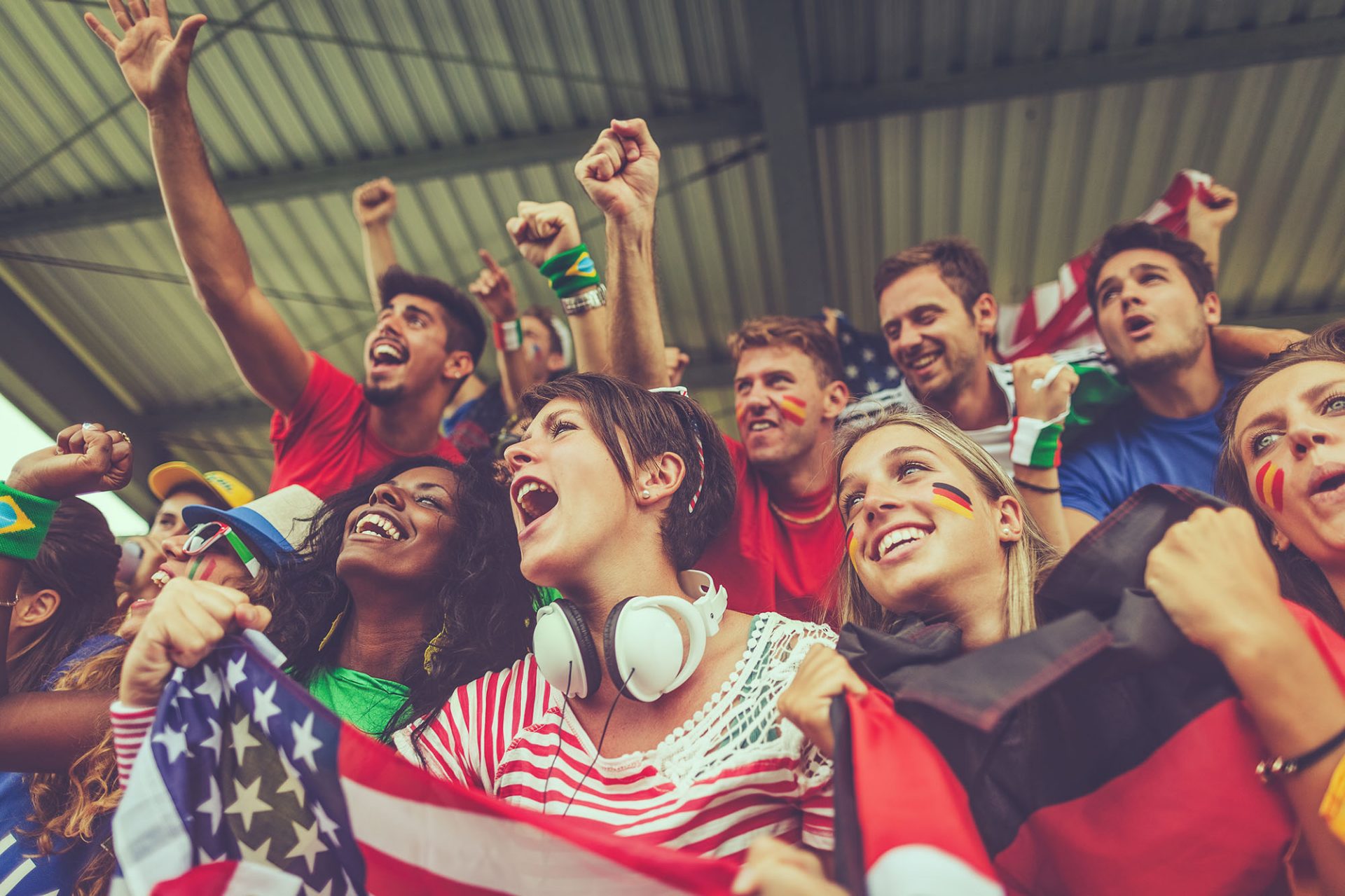 The Olympic Games in Tokyo start next July. Here's what we know about the conversation happening on Twitter.
Last year, at only 17 years old, an American snowboarder competing in Pyeongchang surpassed her international competition to win the gold medal at the women's halfpipe competition. But it wasn't all smooth riding for the wunderkind, who went online between runs to Tweet about her nerves — and her cravings for savory snacks. 
"Wish I finished my breakfast sandwich but my stubborn self decided not to and now I'm getting hangry," Tweeted the athlete. Three hours later, she was at it again: "Could be down for some ice cream rn." And later: "Oh and I also had 2 churros today and they were pretty bomb so if you ever get nervous go eat a churro."
It was sage advice coming from someone who had just outperformed her athletic competitors on the world's stage. Naturally, ice cream and frozen treats brands took notice, all of which took the time to connect with this cultural moment and establish their cultural relevance. 
The snowboarder's "hangry" Tweets were a great opportunity to earn the attention of consumers, but it isn't always easy for brands to cut through the noise. Twitter can help make that connection. Behind price and brand reputation, cultural relevance drives 23% of a consumer's purchase decision, according to a Twitter-commissioned study with IPG and Magna Global.1 Brands who successfully take part in these globally relevant moments earn consumer preference.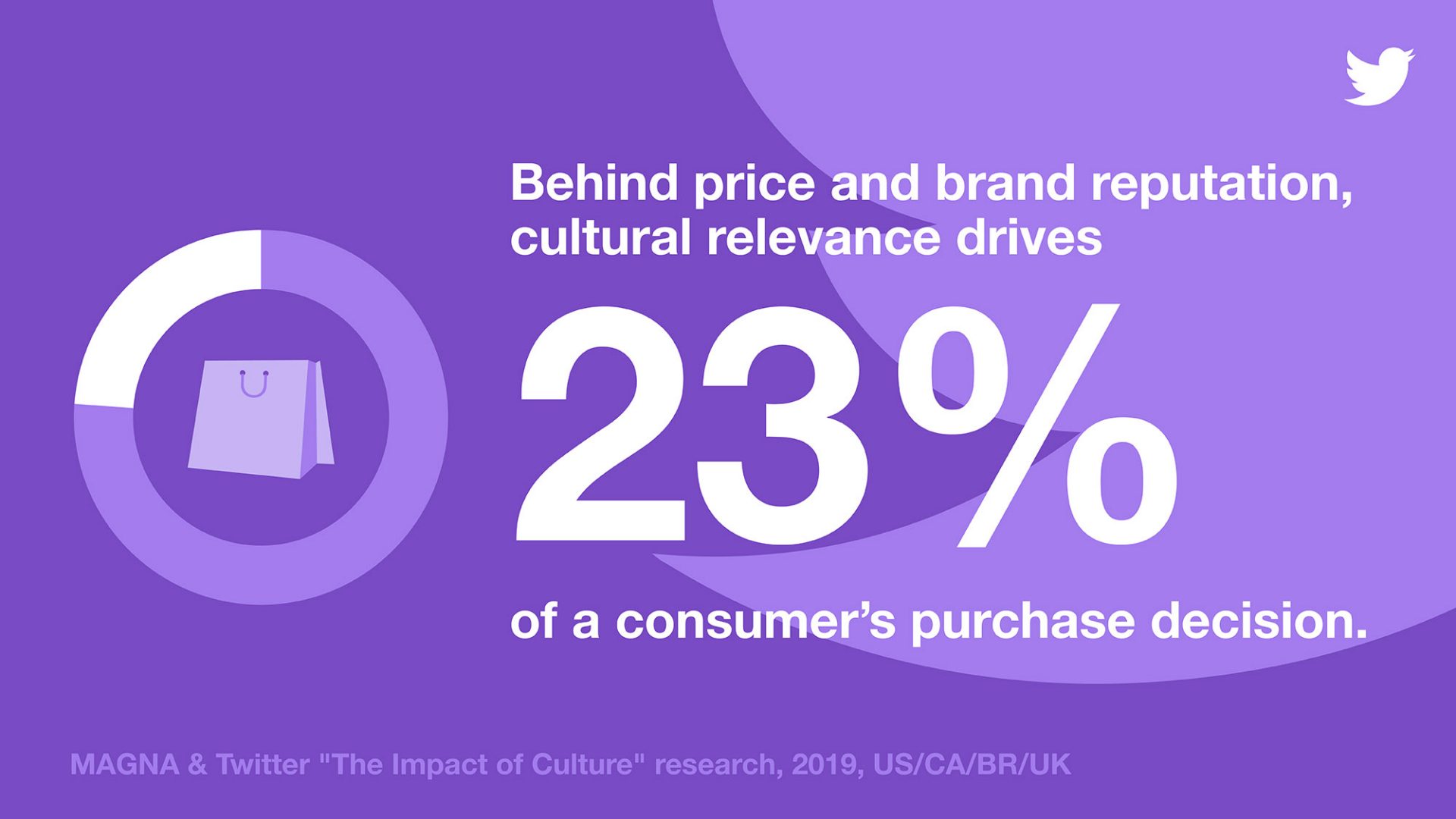 July 2020 will see the biggest and most important cultural event of the year, an imperative opportunity for brands to connect with their consumers. In the past, culturally relevant interactions gave brands the opportunity to see lifts in four essential categories: message association (+18%), brand awareness (+8%), brand preference (+7%), and purchase intent (+3%) (Nielsen Brand Effect).2 Next year, your brand will have the chance to get in on the action.
Audiences for the Big Games keep a close eye on Twitter
Tokyo will soon hold the world's attention for a few short weeks, and so will Twitter. People will be shifting their gaze between their timelines and television screens to take in as much of the competition as possible. Twitter helps people feel more connected to the events happening thousands of miles away, because they get to share the nail-biting excitement with their fellow viewers. In 2017, Kantar News found that 71% of the most dedicated viewers feel Twitter gives them closer insight to the stories happening on and off the field.3
In an internal poll, 61% of people told Twitter Insiders they saw Rio-related content and information on Twitter before anywhere else, like when @claref242 got the real play-by-play on the platform while she watched the competitions on TV.4


There's no place like Twitter during these massive cultural gatherings, and while people on the platform are enjoying the events, they're also paying attention to brands that are keeping it real.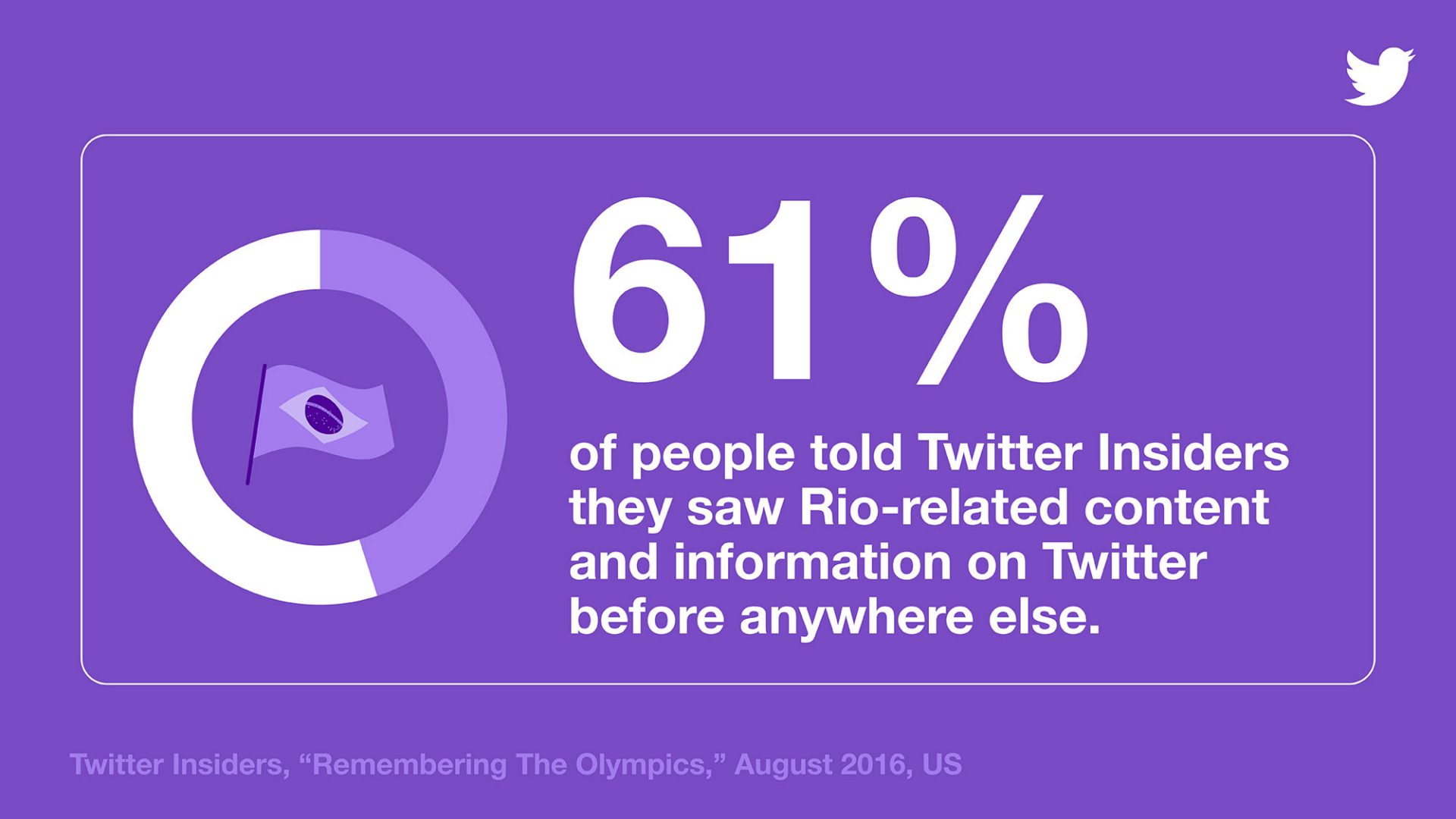 Fans of the Big Games on Twitter are influential
While it won't be easy for brands to break through the clutter during this big cultural moment, Twitter can help you connect with fans who are uniquely influential and receptive. According to the Global Web Index (GWI), 70% of them tell friends and family about new products and services they learn about on Twitter.5 They're also receptive, taking the time to engage with brands that associate with major sporting events, like in Rio three years ago. And they drive results: 75.1% of world sports fans on Twitter like to try new products, a 15% jump from people who aren't on Twitter.6
This is a global, cross-generational audience. While everyone — from Gen Zers to baby boomers — is watching along with the world on the big screen, they're also Tweeting about different sports and engaging in conversations about what's happening off the court, slopes, and beams. For example, this gymnast's Tweet saw the 2016 event's most engagement, even though it had nothing to do with her competing.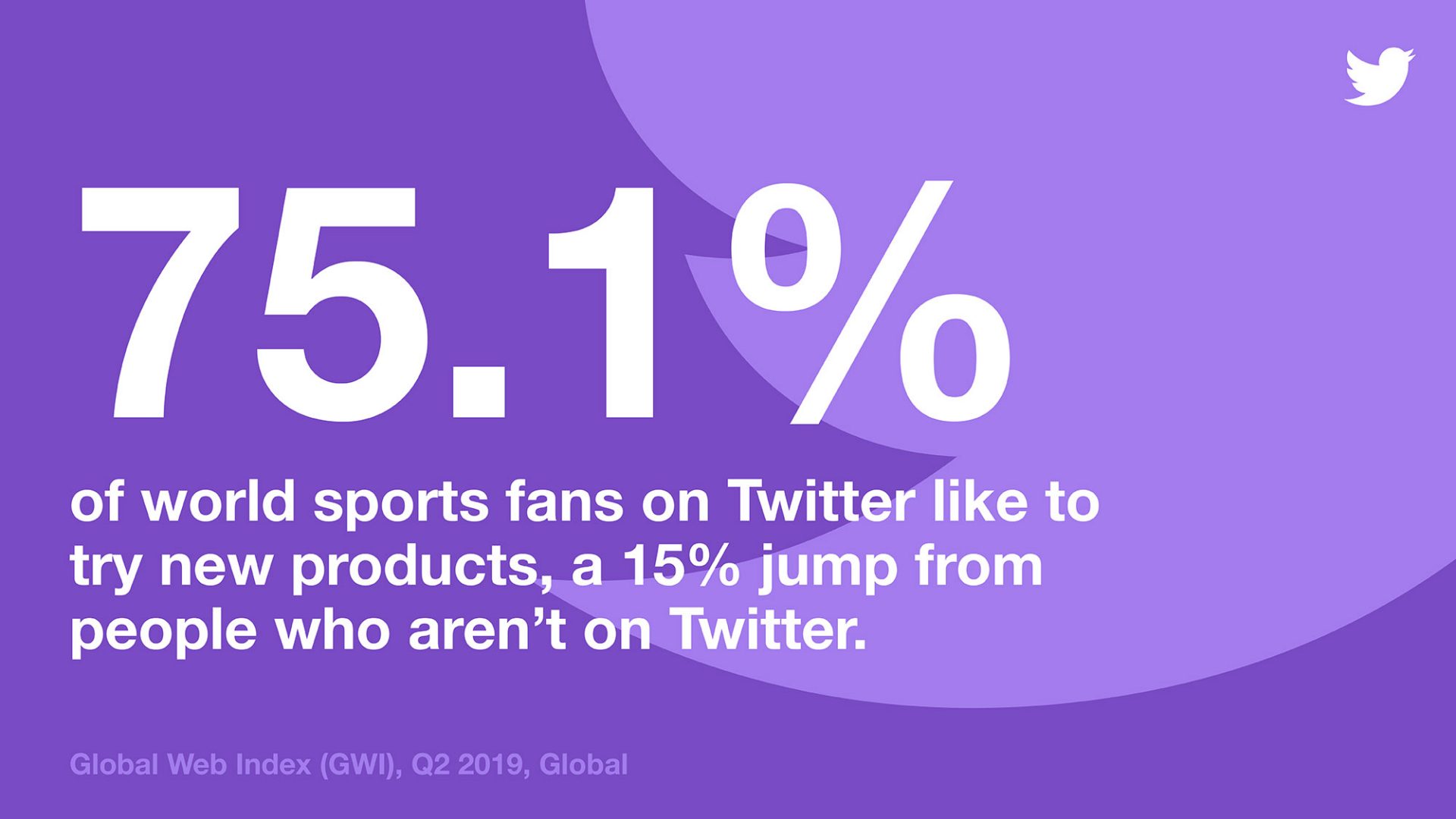 All this culminated in fans spending more time on Twitter during the two and a half weeks than on any other leading social platform, according to data from Custom Daypart Analysis, comScore Media Metrix & Mobile Metrix.7
It's not too early to start thinking about engaging with fans
In years past, Twitter found that most brands wait too long to join the conversation, usually Tweeting only during the events. In fact, there were 9 million games-related Tweets in the off-season alone, an opportunity few brands took advantage of.8
Brands can connect in the moments leading up to the events by listening and leaning into their authentic voice. And after the last medal is handed out and the torch's flame fades, they should follow up on the momentum they gained when the conversation peaked to continue the messaging around their brand.
From sharing swoon-worthy behind-the-scenes videos to commenting on the unbeatable stats of young athletes, 2020 will be a paramount opportunity for brands to build their cultural relevance and connect with what's happening on Twitter.
Sources
1. MAGNA & Twitter "The Impact of Culture" research, 2019, US/CA/BR/UK
2. Nielsen Brand Effect (US/UK/JP/CA), Q3 2015 - Q3 2018 Connect campaigns
3. Kantar News, Discovery & Influence on Twitter, December 2017, Global, 15791 Monthly Twitter Global users, using Twitter to publish or consume news
4. Twitter Insiders, "Remembering The Olympics," August 2016, US
5. Global Web Index (GWI), Q2 2019, Global
6. Global Web Index (GWI), Q2 2019, Global
7. Custom Daypart Analysis, comScore Media Metrix & Mobile Metrix (Event vs. average of 3 weeks prior during same day of week & airing time vs. other social platforms)
8. Twitter Internal, Tweets from March 1, 2018, to March 1, 2019