Insights
What's happening next: how to plan for college basketball's biggest month on Twitter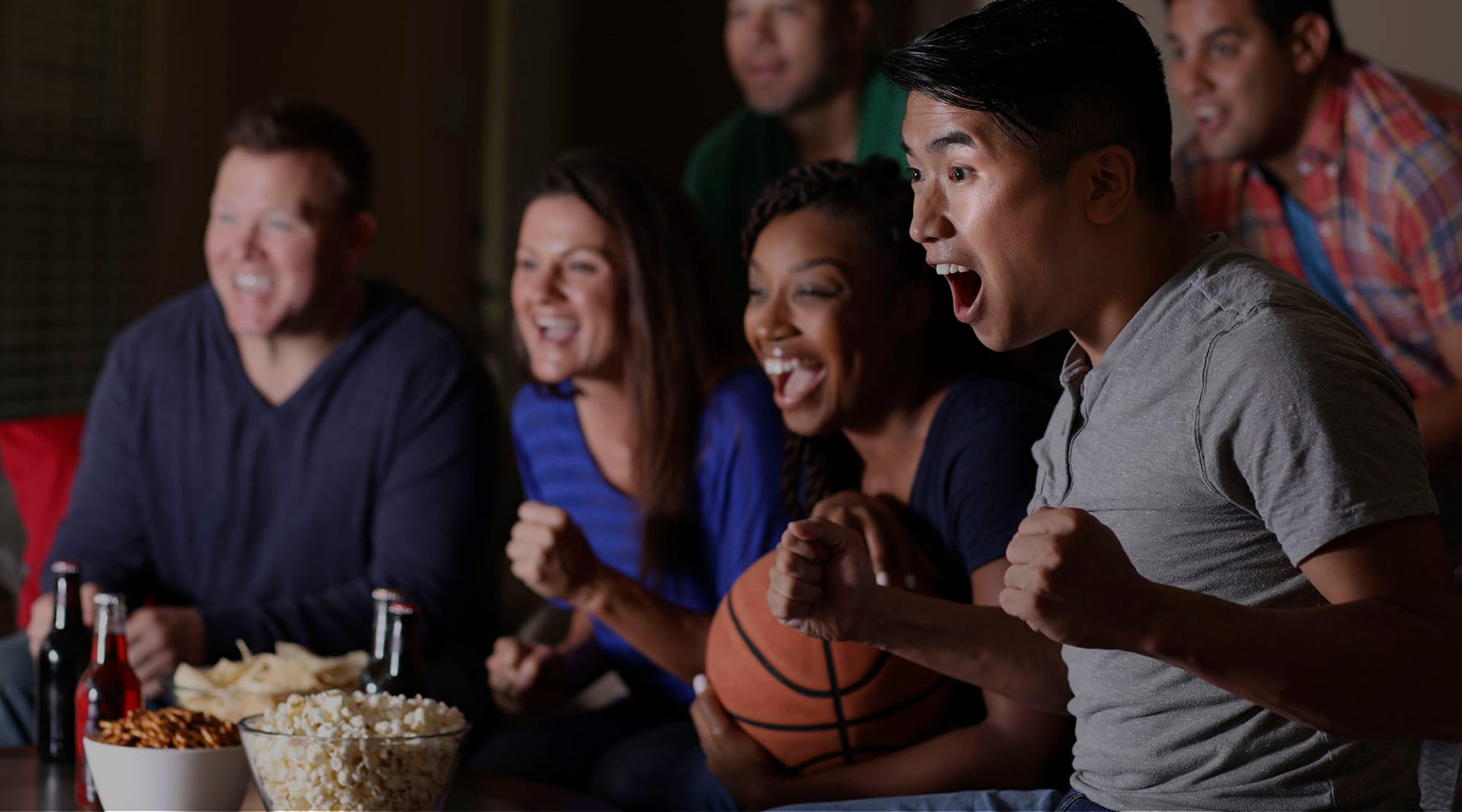 As college basketball prepares for its annual tournament, savvy marketers are already planning how to reach Twitter's audience before, during, and after the games. Here are audience insights to inform your campaign.
Twitter's sports audience is already huge and it's only getting bigger. There were over 29.4 billion total searches about sports in the past year, representing +8% growth since 2016-171. As sports fans search for score updates, replays, statistics, and more, they're deeply engaged with the content on Twitter. And because they're actively paying attention, they're much more receptive—and that's a major opportunity for brand messaging.
As a major part of the sports conversation, college basketball is the perfect opportunity to get in front of our engaged and receptive sports audience. Here's a breakdown of why this audience is so valuable:
The audience is massive: Over half of the people on Twitter are college sports fans, and 86% of college sports fans2 on Twitter plan to follow college basketball in March.3

They're in it until the end: 78% of college sports fans plan to watch the entire tournament.4

They prefer Twitter: 55% more college sports fans visit Twitter over a major social media competitor for Division 1 basketball content.5

And they're Tweeting like crazy: 72% of college sports fans are on Twitter during live broadcasts of college basketball games.6

They're active before the games begin: 73% plan to use Twitter during Selection Sunday.7

And once the tournament starts: In 2018, over 11 million Tweets were sent during the tournament.8

And after it's over, too: 69% plan to use Twitter during the post-game shows.9
Fans have made it clear they want brands to join the conversation during college basketball's biggest month. They wish more brands would use Twitter to participate in the game itself, and they like seeing brands use Twitter to offer special deals related to sports games. They also want to see brands sharing game content on Twitter, and to see brands participate in the conversation on Twitter about a particular game.10
Fans also want brands to provide content about games. Score updates are the most frequently requested content, with 88% of fans interested. In-game highlights came next, at 82%. That was followed by records/stats (75%) and behind-the-scenes footage (69%). The fans have spoken, and the good news is there's enough room for any brand to join the conversation with highly shareable content.11
We tracked the conversation around the big tournament to see who's Tweeting and what they're Tweeting about, so marketers can fine-tune their campaigns and create relevant content for this receptive audience.
Who's tuned in and Tweeting about the tournament?
The conversation on Twitter is driven entirely by people who are obsessed with their brackets. Collectively, this group is known as "bracketeers." Bracketeers come to Twitter to lament over busted brackets, discuss bracket strategies, and share or seek the best approach to a bracket.

This audience mostly Tweets about creating their bracket using public forms like the one on college sports' official website. Bracketeers also cite winning money and goodies as the main reason to participate. A total of 55% Tweet about participating to win money, goodies, or gifts, and 45% Tweet about participating because it's fun and social.
Many bracketeers shared their strategy for picking teams on Twitter. 36% of total Tweets discussing filling out brackets also mentioned how specific teams were picked. The top ways people chose teams include flipping a coin, having pets pick the teams, and getting help from kids to fill in the bracket.
Twitter actively participates in similar brackets — such as food and music — that are inspired by the college tournament. One such bracket, inspired by a popular animation studio, received 92,000 likes, 42,000 Retweets, and approximately 1 million votes. Using brackets as a format to pit movies against each other was a great way to reach a wider audience that's not particularly interested in college basketball.
Pro tip: Using your brand or product, play into the relevant theme of brackets to drive brand awareness and recall among an engaged audience.
A popular fast food chain let basketball fans generate their brackets entirely through Twitter DMs. Fans could revisit their bracket to check their progress, and prizes were offered throughout the tournament. Using Twitter to create brackets presents a huge opportunity to capture an engaged audience while driving home a brand message.
When does the conversation around college basketball's biggest month happen on Twitter?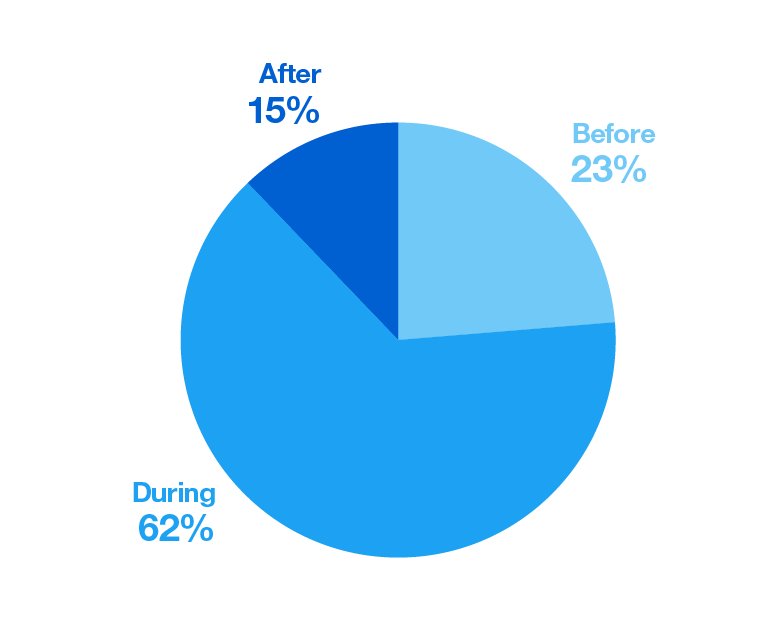 Before the tournament, people come to Twitter to talk about brackets and share their excitement for the games. 32% discuss and share brackets, 27% express excitement, 22% come to support a specific team, and 19% come for Selection Sunday.

The conversation heats up on Selection Sunday, with a 34X increase in Tweets compared to the week prior.

During Selection Sunday, anticipation and impatience were both growing. There were 8,000 Tweets about how people were excited to see brackets and how they felt restless waiting through the tournament selection show. "Reveal" was the most used keyword among the pre-tournament anticipation Tweets.
Pro tip: Loyal basketball fans are eagerly waiting for bracket reveals on Twitter. To capture your most engaged sports fans, expand beyond the tournament's milestone days to capture the entire event window.
During the tournament, people Tweet about everything from how their brackets are doing, to watching the games live, to what they're eating and drinking.

What do people Tweet about during college basketball's biggest month?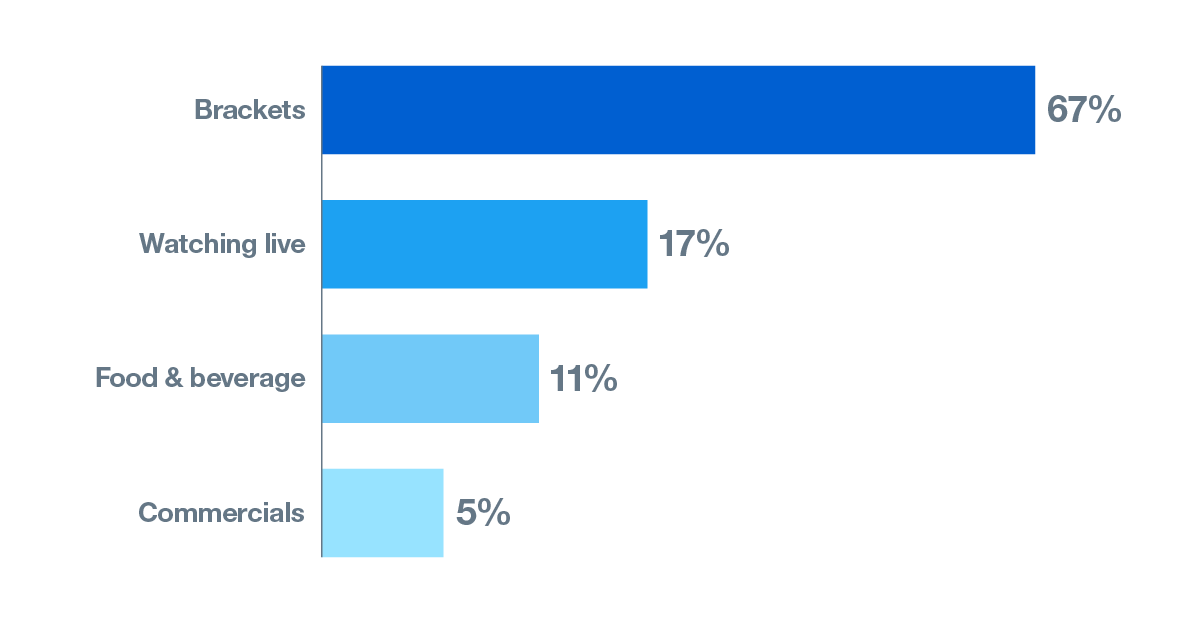 Where is Twitter's audience watching the games? Most Tweet about watching at work, followed by at the stadium, at home, or at a bar.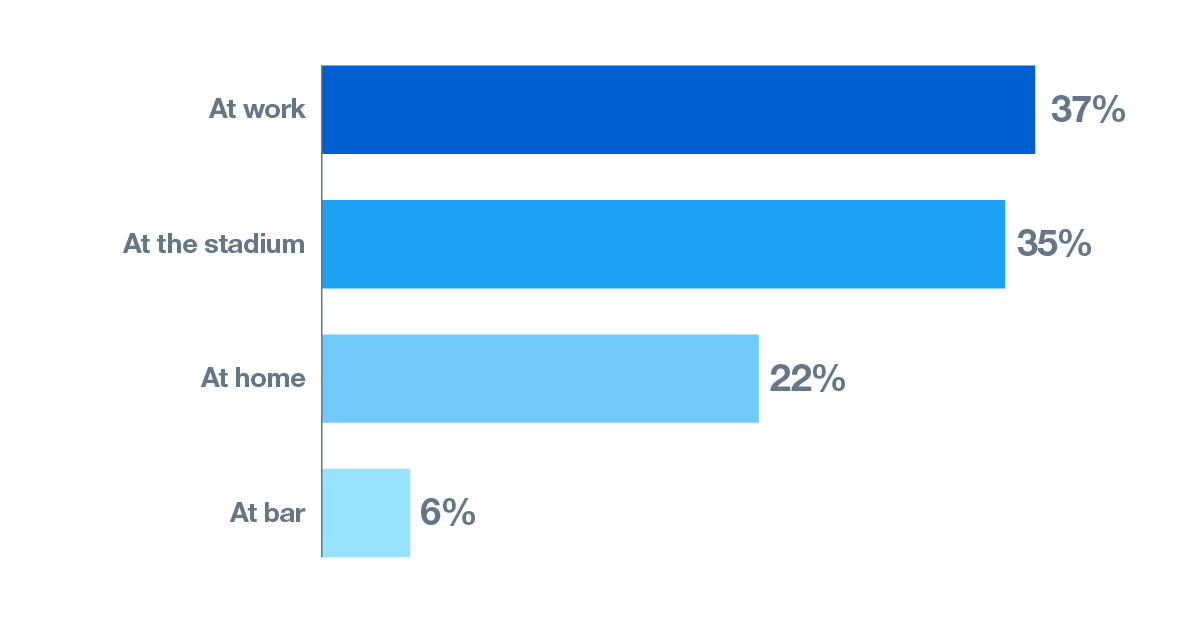 Despite this fact, people on Twitter Tweet about vastly preferring to watch the games with family: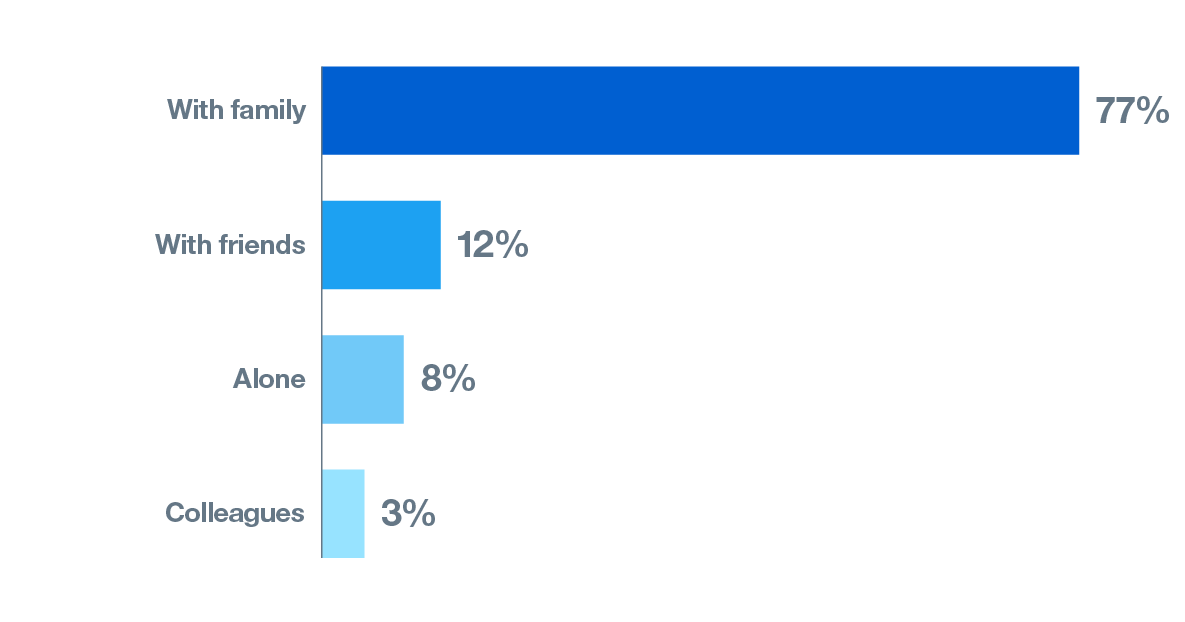 When it comes to the preferred method of watching the big tournament, people on Twitter Tweet about watching games on TV, followed by laptops or computers.

How do people on Twitter watch the college basketball tournament?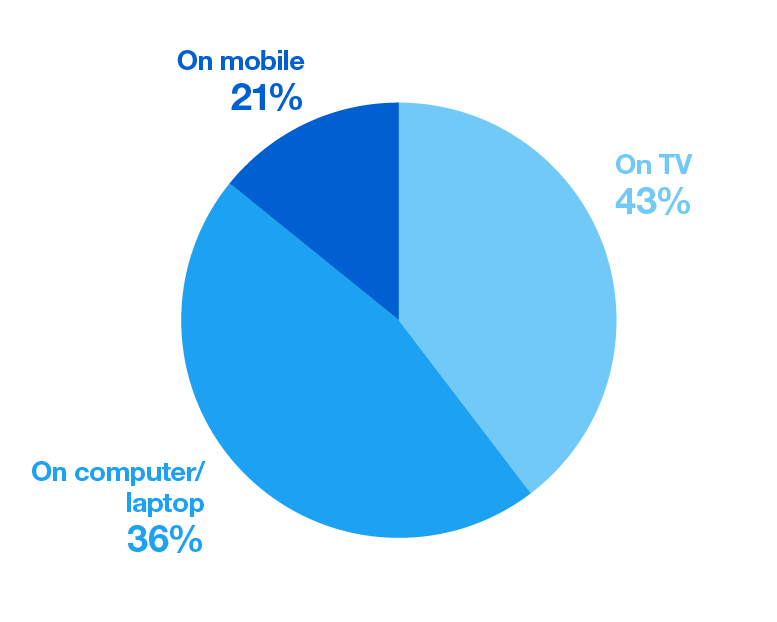 Game fans love food. There were a whopping 200,000 Tweets about indulging in food or drinks during the games. 41% of Tweets about food were sent between 3pm and 8pm. And there were more than 5,000 Tweets during the tournament that shared recipes of what they were cooking or suggestions for game day snack ideas.

Pro tip: Food aficionados are active throughout the games, searching for inspiration. Your brand can jump in the conversation with relevant content around dishes and recipes.
After the championship game, people Tweet about everything from game highlights and analysis to sports merchandise and commercials.

What do people Tweet about when the college basketball tournament is over?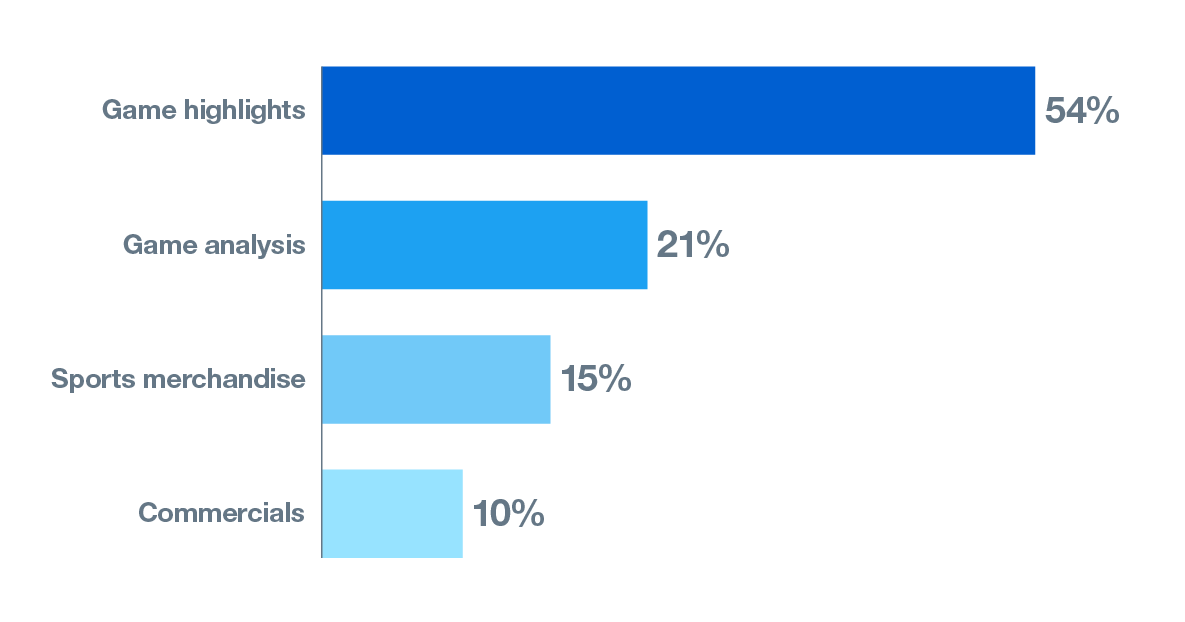 There were 18,000 Tweets in the week following the championship match about searching for information on team merchandise. Hats, hoodies, and jackets were the most Tweeted items. 19,000 Tweets expressed sadness about the season ending. "Sad" and "miss" are the most Tweeted words by the audience.
Pro tip: Game conversation continues post-tournament. Capitalize on the opportunity to sustain the conversation after the final game ends.
What does this mean for marketers?
Marketers have a major opportunity to get in front of Twitter's college basketball audience. From Selection Sunday through the end of the tournament, people on Twitter are talking about their brackets, Tweeting their anticipation and excitement, sharing their opinions about players and games, and looking for party ideas and game merchandise. Rather than scrolling through their timelines, they're actively engaging with the content on Twitter. This means they're more receptive to new ideas, including messages from brands. Twitter's college basketball audience is huge, engaged, and open-minded, and getting in front of them with relevant content could mean a slam dunk for your brand.
Crimson Hexagon. Data is pulled for English language Tweets of users in the USA from Jan. 28, 2018 to April 2, 2018.

Footnotes:
1. Twitter Internal. Searches for sports on Twitter from March 1, 2017-February 28, 2018 vs. March 1, 2016-February 28, 2017.
2. Twitter-commissioned study: "NCAA Audience" n=496 Twitter users who follow college sports
3. Twitter-commissioned study: "NCAA Audience" n=496 Twitter users who follow college sports
4. Twitter-commissioned study: "NCAA Audience" n=335 Twitter users who follow March Madness
5. Twitter-commissioned study: "NCAA Audience" n=496. Twitter users who follow college sports among people who use both Twitter and Facebook regularly
6. Twitter-commissioned study: "NCAA Audience" n=496 Twitter users who follow college sports
7. Twitter-commissioned study: "NCAA Audience" n=335 Twitter users who follow March Madness
8. Twitter internal data
9. Twitter-commissioned study: "NCAA Audience" n=335 Twitter users who follow March Madness
10. Twitter-commissioned study: "For the Love of the Game" n=122 Twitter users who follow sports
11. Twitter-commissioned study: "For the Love of the Game" n=122 Twitter users who follow sports