Insights
What you can learn from the best customer care brands on Twitter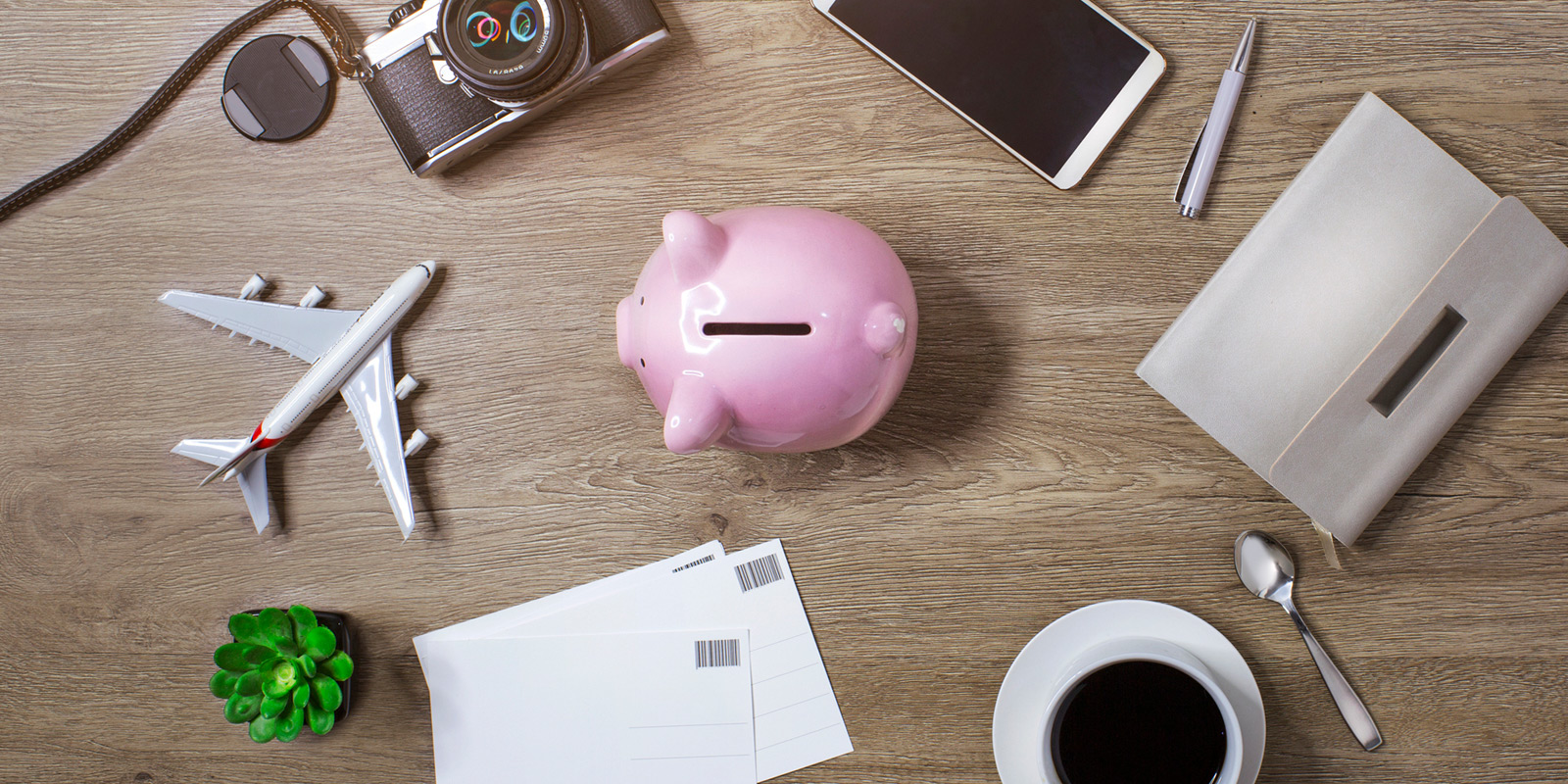 We partnered with Sprinklr and analyzed more than 450 million customer Tweets and more than 22 million brand Tweets globally to learn from the top brands doing it best. Here's our biggest takeaways.
Twitter is the place people go to share everyday experiences. Whether it's Tweeting about a great shopping experience or asking for help on a lost order, people think of Twitter first. That's why 2 out of 3 people surveyed choose it over other social networks to get in touch with brands.1
"From AM to DM: Twitter customer care in a 24/7 world, Insights by Sprinklr" is a customer care report that analyzes nearly half a billion Tweets to find the customer support best practices across industries. Below are some of our biggest takeaways to help you deliver customer care with impact. All of the best practices below led to higher care scores for brands.
1. Own it and deliver savings
Sixty-four percent of people surveyed feel it is important for a brand to take ownership of issues.2 It builds trust with customers, especially when followed up with a solution that delivers savings of some kind. A great example of this is offering free shipping for a replacement when an item gets lost in the mail. When a customer Tweets at a business and receives a response, they are willing to spend 3-20% more than a customer who didn't receive a response on an average priced item from that business in the future.3
Who does it best? Airlines and restaurants.
Airlines and restaurant brands both score high on best practices for offering savings for customers while taking ownership.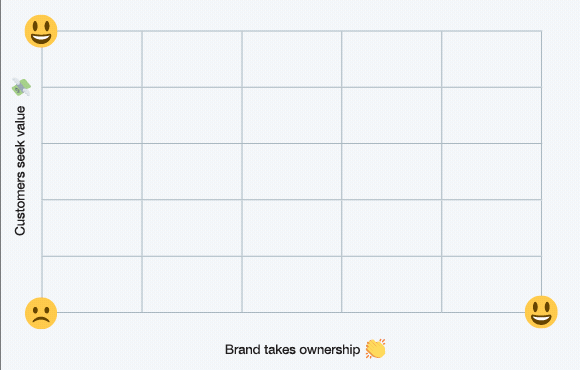 Sprinklr data, global, July 2019-June 2020
The top performers in customer care on Twitter respond back to Tweets 3X faster and respond to 8X more Tweets than others despite receiving 10X more incoming Tweets.4 Across the board, how quickly brands get back to customers differs across industries.
Who does it best? Airlines and logistics.
Top airlines and logistics companies are the fastest at responding to Tweets. The top-performing care brands in these industries respond to half their incoming Tweets in four hours or less. For example, retail and apparel brands aren't as speedy as airlines or telecom. A missed flight needs an urgent response right away, whereas exchanging a shirt size may not be as pressing of a matter.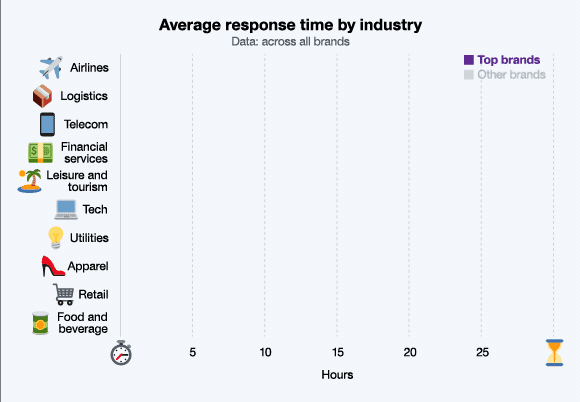 Sprinklr data, global, July 2019-June 2020
Top brands in customer care respond quickly, but they also do so consistently. The steady purple line for top care accounts shows the steady rate top care teams respond same-day to customers. Ever-changing response times make a brand unpredictable which is not a great experience for customers.
Who does it best? Logistics.
The median response times for logistics brands are about 2.5 hours and the top accounts reply in half the time it takes other logistics accounts.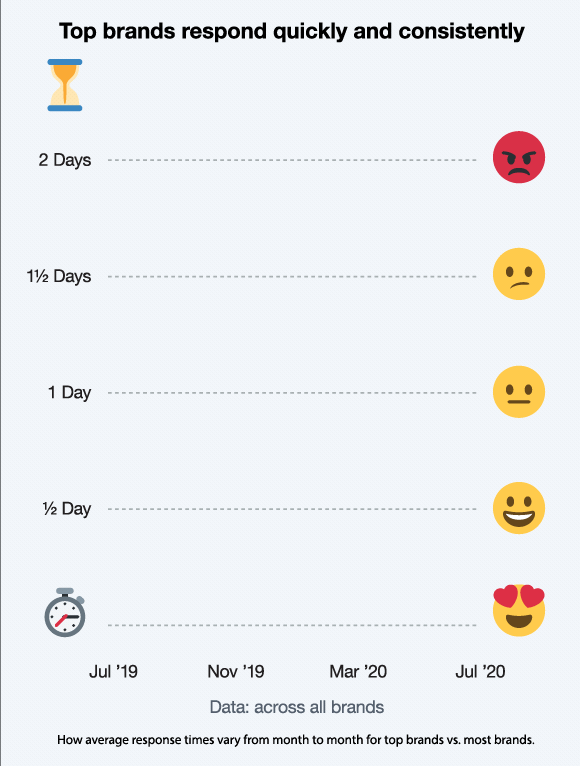 Sprinklr data, global, July 2019-June 2020 
From March to June 2020 during the global pandemic, brands saw a 15% increase in the volume of customer inquiries and mentions, compared with the volume they received from December 2019 to February 2020.5 It's important that brands maintain consistent response rates to customers no matter what. What can help: adding a dedicated customer care account to your brand.
It's easy for people to know when brands are using canned responses to Tweets. Forty-five percent of customers want human interactions when they engage with brands on Twitter.6 Sprinklr looked at which industries have playful interactions with customers to see which ones Tweet GIFs, make customers laugh, or include a customer's name.
Who does it best? Food & bev.
Food and beverage brands know how to use humor to connect with customers. This industry is one of the most likely to use GIFs in its replies to customers and to elicit laughter.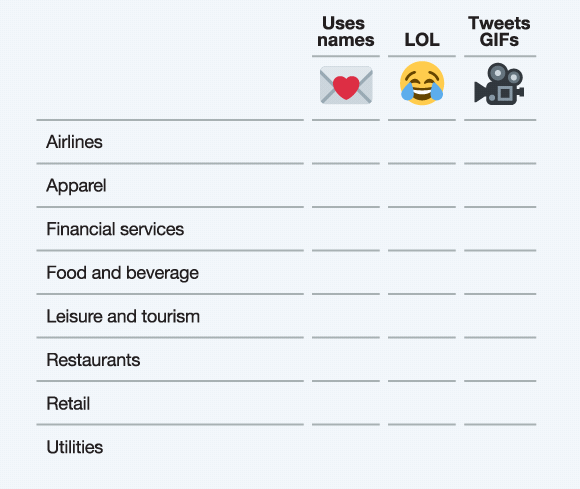 Sprinklr data, global, July 2019-June 2020
Customer care is an important part of any brand's strategy for building their brand and keeping customers happy. To learn more about the Sprinklr care score, read the full report here.
Kim Wu runs partner marketing for Twitter's Developer and Enterprise solutions team. Her goal is to showcase the powerful capabilities of the Twitter Official data partners to provide greater value for brands and researchers. Follow her on Twitter @kimwu.
Source:
1. Twitter Insiders US. Research conducted with Sparkler. Fielded Aug. 24-Sept. 1, 2020. Methodology: We surveyed 502 US Gen Pop consumers and 560 Twitter Users about their preferences, attitudes, and past experiences with customer care on social media sites.
2. Twitter Insiders. Q22. What are the most important things a brand needs to do when providing support to customers on Twitter? Please select up to 5. Base: Twitter users (n=1,149)
3. Applied Marketing Science for Twitter. Aggregated customer service study, Jan-July 2016, values represent calculated price elasticity compared to people who didn't receive customer service on Twitter.
4. Sprinklr data, global, July 2019-June 2020
5. Sprinklr data, global, July 2019-June 2020, 1,228 accounts were evaluated for this report.
6. Twitter Insiders. Q22. What are the most important things a brand needs to do when providing support to customers on Twitter? Please select up to 5. Base: Twitter users (n=1,149)